I would like to thank you for arriving here to check the details of the newly launched WordPress theme for Adsense, Admania on one of the grand theme marketplaces, ThemeForest.
I'm sure that you will be amazed at the features and customization options of this WordPress advertising theme. 
Let's get into the matter!
Do you want to make money from the ads on your website or blog? Are you puzzling about the placement locations of the ads where your readers would like to click?
If your answer is "Yes" for both of my questions, then you have arrived at the exact place that would solve your concerns.
We have several times insisted that the look & design of the website plays a vital role in the user experience and get search engine paybacks as well.
You have to balance between the content and ads, because the more ads you add, the more your site looks spammy. Moreover, inserting ads at the irrelevant places would spoil the user navigation. 
As a result, your readers would get frustrated, and they will never come back to read your content.
So, what would be a solution for the less CTR? How can it be improved?
Being an Adsense user & a theme designer, I would say that the click-through rate of the ads can be enhanced by inserting the advertisements at the logical points and with the exact ad size. Do you agree with me?
To help the webmasters like you, I have specially designed a best WordPress theme for Adsense Ads and affiliate banners that would let you incorporate the ads at the strategic locations. Therefore, your audience would be nudged to click them.
You might be thinking about the features of my ad-friendly WordPress template, Admania and yes, now it's time to look at its impressive details.
Admania – Introduction
Admania is a stylish WordPress Theme exclusively designed for Adsense users and Affiliate Marketers to place ads at the highly clickable areas of their website. It is a user-friendly theme which is absolutely optimized for speed as well.
The 4 different layouts of this high CTR WordPress themes have a precise look to grab the attention of your audience and induce them to hit the ads that you have placed.
Layout 1 – It has an exact appearance design with which you can insert the ads on the sidebars and in-between the homepage posts.
Layout 2 – It contains the smart look with ad fixing options at the tactical positions.
Layout 3 – Incorporating the ads to the homepage posts in a natural manner is the best part of this fantastic design.
Layout 4 – It has dynamic slider section and let you set the attractive ad banners with a lot of CTR potentials. 
Apart from the ad optimization, features of Admania include Social media integration, SEO, Custom widgets, and Mobile responsiveness and unlimited color customization options. 
Moreover, the single post page of every layout looks unique and hence you could get a stunning & exclusive design for your WordPress site to stand out from the horde.
Since this eye-catching Adsense ready WordPress theme would help you insert the attractive ads at the maximum places of your website or blog without annoying your visitors, you will get a better CTR and CPC from them.
Where Can You Place Ads With Admania WP Theme?
So, where do you want to keep the ads on your site?
I have provided a hell lot of options to fix your Adsense & affiliate advertisements on the Homepage, blog posts and other pages.

You can set the ads at
1. Header (both right & left)
2. After Header
3. Sidebars (Floating ad option included)
4. Just below the Featured section (Homepage)
5. After Grid post section (Homepage)
6. Above the Footer section (Homepage)
7. Below the Post Title (Post page)
8. In-between the content (Post page)
9. After nth paragraph (n- you decide) (Post page)
10. After content (Post Page)
11. After Newsletter subscription (Post page)
12. Sticky Ad at the right bottom (Post page)
Note: The same ad fixing options of the post are available for pages as well!
Highlights of Admania Ad-Friendly WordPress Theme
Now, check the fine qualities of this best Adsense WordPress theme!
1. Front End Ad Editor
You can add or edit the ads directly on the theme (not at the backend) through the front end ad text editor.
2. Add Ads In Different Formats
You can insert the Ads in 3 different formats like HTML Ad code, Google Responsive Adsense code or Image link ad.
3. Floating & Sticky Ad
The possibility of adding the floating Ad at the sidebar and sticky Ad at the right bottom of the single post page is the unique beauty of this Ad responsive WordPress theme.
4. Remove Ads On Specific Pages
If you don't want to show the ads on a particular page or posts, you can remove them by entering the category/tag Ids.
5. Slider & Featured Section
To showcase the important content on the homepage through the Slider and Featured format, we have provided these finer features.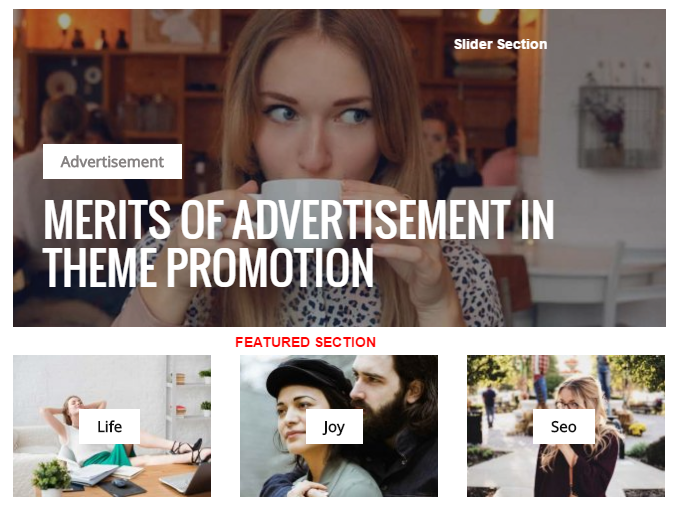 You may display the posts through 3 different ways by entering
a) Category Name
b) Post Ids
c) Multiple Category Ids
You can also adjust the count to show the number of posts in the slider section of this best WordPress theme for Adsense users. 
6. Detailed Documentation
Since we have focused on making an ad responsive theme with simple customization features, you will not struggle in setting up the theme and Ads.
If you still need assistance, you may go through the detailed document with enough screenshots that we have primed for the theme buyers.
You may also reach me through sakthi6600@gmail.com for further help (if needed). 
Wrapping Up
If you have started a WordPress blog or website to earn from advertisements (either Adsense or affiliate ads), then you should get the high-converting Adsense ready theme.
Also, it would be better to have a user-friendly template with easy to customize options to set up the color and other settings so that it will boost your revenue from Adsense.
I hope that you will accept my viewpoint in purchasing the ad-friendly WordPress theme as it would help you get higher CTR on your ads.
Instead of changing the Ad sizes and Ad placements, consider getting the Ad-ready WordPress theme that is compatible with responsive Ad units.
I have kept all these matters in mind and created this well-optimized WordPress theme for advertising. 
As it is a simple to use template that comes with front end ad editor and allows inserting advertisements on the commonsensical spots on your website, you don't need to worry about the high CTR.
So, what are you waiting for? It's right time to make your site more appropriate for displaying ads with our Admania WordPress theme and generate massive revenue.
Now, it is your turn to react! Do you like our Ad-optimized WordPress theme and its unique layouts? Could you feel that it will be a best WordPress theme for Adsense niche sites?
What is your opinion about the features of Admania? Would you like to suggest any particular quality be included in the template layouts?
Please leave your valuable thoughts and ideas in the comment section, so that I can perk up my design skills to offer the best WordPress themes with the best user experience.
Now, you may spend a few minutes to have a look at the preview of Admania 🙂
Editor Rating

Rated 5 stars

Spectacular
$17
---
Reviewed by:

Published on:

Last modified:
---