I can guesstimate that you would like to know some fast loading WordPress themes and get the best blazing speed template for your business site as Google is considering the page load speed as one of the ranking factors. 
Your decision is right and here is the proof!

Source: Googleblog.com
So, I would like to appreciate your keenness in getting a quick loading WP theme for your site, and yes, it is the correct judgment that would give you a lot of benefits.
Being a WordPress blogger for the past four years, I'm familiar with the benefits of purchasing the attractive, SEO optimized, responsive, conversion focused, speedy design for a WordPress site as these are the primary aspects that decide your business success.
Let's come to the point now! I have done my best in gathering the 10 Best WordPress Themes that load rapidly.
But before getting into the theme details, let me reveal the importance of having the fastest loading responsive theme for WordPress site.
Why Fast Loading WordPress Themes?
You should have a prompt loading site in seconds for the three top reasons!
1. Get Love from Search engines – As I said early, Google and other search engines hate slow loading websites and never give the top rankings in SERPs (Search engine page results). So, it is a smart idea to buy the premium WordPress theme that is light in weight.
2. Give Pleasure To Audience – Studies have shown that the most of the internet users expect the pages to load in seconds; otherwise, they would hit the "Back" button of the browser.
3. Surpass The Niche Competitors – If you have tried several ways like offering valuable content, implementing the SEO strategies and social media participation to beat your opponents, you may now get the hasty WordPress theme to perform better than them.
10 Excellent WordPress Themes That Load Blazing Fast
Check the top 10 lightweight WordPress themes and select the best one suitable for your business website!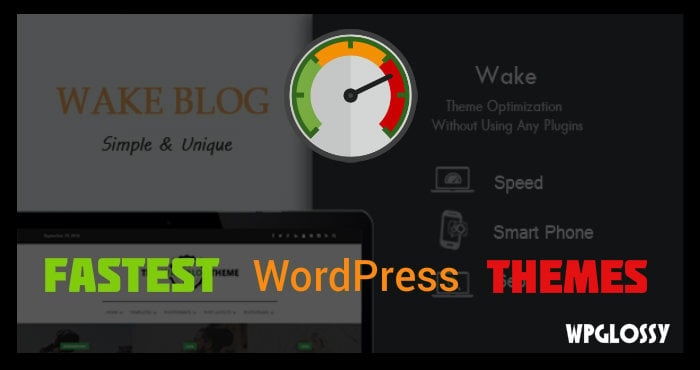 1. Schema
You might have some questions about Schema from MyThemeshop in mind like,
Is schema is the fastest WordPress theme?
Is it good for SEO?
What the heck features does it have?
Will it please the visitors and search engines?
And much more!
I would say that the Schema is the super fast WordPress theme that boasts killer features like secured, clean codes, user-friendly settings, and of course quick loading capability.
I have seen most of the niche bloggers are using this speedy theme to provide the best user experience and rank well on the search engines as well. Even I have used this theme for my event blogging, and I was playing well with my blog.
Although it supports inbuilt review system, shortcodes, rich snippet, ad management system, custom widgets and integrated social media, it remains unaffected by anything in terms of speed.
These are the key reasons to recommend this energetic WP theme for the passionate bloggers and internet marketers.
Let's check the speed score of Schema!
2. Divi
Divi from Elegant Themes is a popular WordPress theme that lets you build the website that can load under 1 second. 
Having the insightful front-end visual editor for the real-time design is really an unusual feature of this insanely fast theme.
 It comes with responsive editing and a wide range of customization settings which requires no page refreshes.
You will enjoy its pre-made customizable layouts and modules like CTA, contact form, Sidebar and much more widgets without any loading speed loss.
You would like to see the speed performance of Divi, and here it is!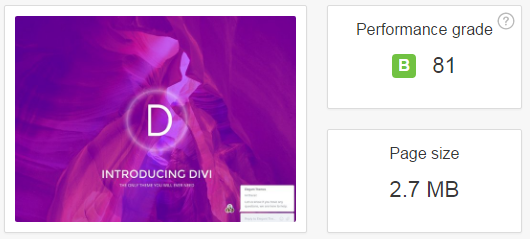 3. SEO WP
SEOWP is the quickest multipurpose theme from ThemeForest. It is primarily focused to meet the SEO factors like speed, responsiveness, proven codes with no bugs, Rankie SEO plugin, and few more additional features to perform the SEO analysis.
For better loading speed, the line CSS codes have been removed from the section. Besides, they have reduced the number of requests and homepage site for the same reason.
You can get the SEO related Icon and Images in this template. More than 9K users have purchased this speed optimized WordPress theme, and they have given their positive feedbacks.
It is getting regular updates to tweak the performance, and the developers claim that it can load under 3 seconds.
Have a look at the speed score of SEO WP ThemeForest theme!
4. Metro Pro
There is no doubt that the Genesis framework has been built with precise codes and hence it could load fast. As it is more secure and schema integrated to support SEO, I'm using a Genesis child theme on this blog, wpglossy. 
Metro is one of the fast loading WordPress themes that would let you make an eye-catching, ultra-modern and vigorous site.
It is more likely to customize this theme without any coding knowledge since it contains the easy-to-fix settings like custom page templates and widgets.
As it is extremely slim in weight that could boost your conversion rate to the maximum, I'm listing out this active WordPress theme in this post.
It will give a pleasurable look on both Desktop and Mobile devices since it has HTML 5 markup. 
Now, it's time to have a look at the speed of the Genesis Metro Pro Theme.
Get METRO Genesis WordPress Theme
5. Sahifa
If you're a looking for a modish, slender WordPress theme that loads amazingly fast, then your pick should be the Sahifa theme.
It is a magazine based theme that comes with responsive layout. More than 20 thousand people have bought this lively theme for WordPress, and most of them have given the 5-star ratings.
I have purchased this SEO optimized theme for one of my technology blog (litabi.com), and its speed is pretty good.
It has a wide variety of choices in the settings with which we could make an attractive site to give a visual treat to our visitors.
Truly speaking, I didn't check the speed of this fast responsive WordPress theme when buying, but a few days back I came to know that it is one of the quick reacting WordPress themes and hence I have installed this cool design for my new tech blog as well.
I know that you are so eager to check the speed of the Sahifa theme. Without further ado, have a look now!
6. Luxe by Thrive Themes
If getting the uncluttered but luxurious WordPress theme is your craving, then you should opt the Luxe by Thrive Themes without any second thought. Its code has been optimized and kept as clean for speed optimization. 
Moreover, to avoid slowness, this distraction-free lightweight template has optimized related posts gallery, automatic image optimization, and lazy load comments. 
I'm sure that you will adore the impressive features like Autoresponder, CTA opt-ins and excellent theme options of this noise free theme. 
Be familiar with the speed loading time of Luxe from Thrive themes by looking at the below picture!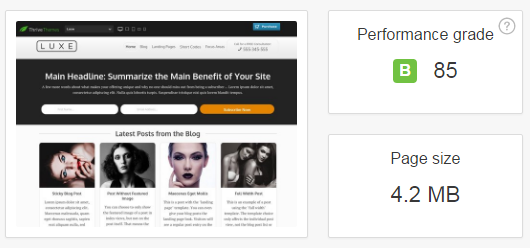 7. Nexus
Nexus is a dynamic theme from Elegant Themes that could load quickly with its best coding practices. It often undergoes security audits and thus, you never need to bother about the safety concerns. 
As it comes with the Homepage builder, custom widgets, responsive design, Shortcodes and attractive templates, you can build the stunning websites with it. 
I specifically listed this high-quality theme in this post as its files are well coded for faster loading time and ensure great safety. This clean layout has ad preferences at strategic locations as well. 
Its content modules, unlimited color choices and SEO options are adorable that adds power to the fast loading nature like having the ice on the cake. 
Make sure that you are having a glance at the speed score of this fastest WP theme!
8. Newspaper
Like Schema, NewsPaper theme is also built by MyThemeShop with massive fast loading ability. It is the best selling theme of MyThemeShop as it boasts responsive design, Adsense optimization, parallax scrolling, etc. 
Let's assume that you're an avid blogger who desires to build the content-rich WordPress site with less loading time which in turn reduces the bounce rate, and then you should get this clean coding theme without any hassle. 
This speed optimized WordPress theme has a beautiful & professional design that would grab huge eyeballs and convert them into loyal visitors.
With its intuitive tabbed homepage layout, you could make the fast navigation as well. Make your eyes ready to look at the cool speed count of NewsPaper MTS theme.
Get NEWSPAPER WordPress MTS Theme
If you want to get the similar type of perfectly optimized, fast loading theme for WordPress from ThemeForest, have a look at the details of the light, fast, stunning & best selling WordPress design, NewsPaper7.
9. No Sidebar Pro
As I said early, Genesis themes are meant for fast, secure and versatile. No Sidebar Pro theme is a beautiful WordPress blog theme from StudioPress that encloses the minimal design, but that could give a maximum impact for your site. 
It may not be a suitable theme for every WordPress user as it doesn't have the sidebar. But I feel that it is the best feature as there wouldn't be any distraction elements which treats your audience in a proper manner and allow them to get what they are exactly looking for. 
So, if you are searching for a light and uncluttered layout to provide the most excellent online experience for your site readers, then you may acquire WordPress fast theme wholeheartedly. It will never let you down in terms of loading speed. 
Just have a sight at the grand speed marks for this premium WordPress theme, you will come to know that my pick is the best!
10. Wake
Last but not the least! I would say that it is the best WordPress theme that loads incredibly fast without any third-party plugins. 
Wake is the recently launched theme in the ThemeForest for the passionate bloggers who would like to make their site impressive for the search engines and mobile readers as well.
This fast-loading, SEO-friendly and mobile optimized WordPress theme comes with gorgeous templates and layouts which would let you create the dazzling site for your business.
Its customization features are simple and thus you don't need to be a code-savvy person to get the personalized effect.
Even though it contains the slider section to highlight your outstanding content and custom widgets for user engagement, its loading speed doesn't get affected.
I believe that the designers of this theme have predicted the requirements of enthusiastic site owners and hence showed a keen interest in creating a high-speed WordPress theme.
Never checkout without having a quick look at the remarkable page speed score of Wake theme.
How To Find The Fastest Loading WordPress Themes?
I have used Pingdom Tools to show the speed performance of the themes that I have mentioned in this post.
In case, if you come across an exciting theme and crave to get it, you may use the below tools and check its loading speed quality.
I would suggest you check the speed of any WordPress theme before buying as the fastest theme WordPress could perform better than the themes with average loading speed.
Final Words
A lightweight theme can improve the page loading speed of your site drastically and nudge your audience to come back for sure by getting a good user experience. 
Most of the theme designers have recognized the speed essentiality and focus on this aspect to offer the best & fast loading WordPress themes. So, finding out the WordPress fast loading theme is not a rocket science these days.
However, to help you to some extent in terms of time saving & buying the worth design, I have collected the swiftly loading themes for WordPress.
Please don't get fastest FREE WordPress themes! Do you know why? Check the reasons Why Purchase Premium WordPress Theme?
I hope that I have assisted you in the right way that met your requirement. So, what's your opinion on these lightweight WordPress themes? Which nippy WordPress theme would you like to get?
Do you know or use any other fastest WordPress theme framework? Leave your valuable input in the comment section; let's discuss the WP themes that rush to load fast.