Exciting GreenGeeks 2022 Discount
For this Year 2022, GreenGeeks is offering an exciting discount offer!
Just $2.95/Month
Offer Ends Soon, Get Started Now!
---
I'm using the two Green web hosting services, GreenGeeks and InMotion for my blogs.
Through this blog post, I would like to compare the features of these hosting providers.
Before beginning the battle "GreenGeeks Vs InMotion", let me tell you some essential things about the hosting servers.
"Hosting Is The Endurance Of The Website"
If you get the cheap or unreliable hosting service, you will meet the server down trouble that makes your site lifeless.
During the downtimes, how can your readers get the information that they need or able to purchase the product/service that you are selling from your site?
If they often get frustrated with the "Site Unavailable," would they return to your site again?
I hope that you have the answer to my questions!
Choosing a reliable hosting service would not only give a pleasurable experience to your visitors or clients, but it would also help you get love from the search engines so that you can perform better than your competitors by getting good SERPs (Search Engine Ranking Position).
I have apparently given some helpful instructions to choose the best hosting for your website.
You know, I'm a person who cares about the environment a lot and always keep my surroundings clean. As I'm an online freak, I would like to keep the web clean and green as well.
Thus I'm using the Green website hosting services like InMotion, GreenGeeks, and HostGator Cloud for my blogs and I'm delighted with the server performance of these companies.
I have seen that the site founders (like you) are struggling to choose the hosting services that boast the same features and hence decided to do the host comparison posts.
When I carefully look at their requirement, they would like to evaluate GreenGeeks hosting with its toughest competitor InMotion hosting.
Yes, if you too strive to select the best one from the two reputed green web hosting companies, then this piece of content is for you!
Note:
I have been blogging since 2013, and I'm using several hosting services for my blogs.
The viewpoints that I'm going to share is my personal experience, and they may conflict with the views of other users.
GreenGeeks Or InMotion, Which Is The Best?
Before getting into the battle, "GreenGeeks Vs InMotion," let me tell you some essential points of both green hosting companies!
GreenGeeks – It is a green energy web hosting leader that has been successfully surviving in the hosting industry for more than nine years. Being a complete hosting solution provider for more than 35000 customers, GreenGeeks would like to make the necessary investments to enhance its excellent service qualities.
InMotion – It is an old hosting player than GreenGeeks that earned an A+ rating from the Better Business Bureau and the top score from CNET. The primary goal of InMotion hosting is to delight its customers with excellent service & support, and it might be the reason for its growth and fame.
Now, let me compare the significant features of GreenGeeks and InMotion!
#1. Server Performance
Evaluating the server performance of the hosting services is critical, and thus I have kept it top in my GreenGeeks Vs. InMotion web host comparison.
You might think "Why the uptime of a site is so important?". You may read the importance of server performance and Uptime through this post What is Uptime in Web hosting?
GreenGeeks mainly focuses on server failure prevention as they know that the online business unavailability would annoy the customers. Hence, it is providing maximum uptime through its high-quality servers.
I have been using its WordPress hosting service for the past six months, and my site's server performance is maintaining at 99.9% (just only one downtime for very few minutes).
Check the latest uptime status of my blog hosted with GreenGeeks (recorded last 20 hours)!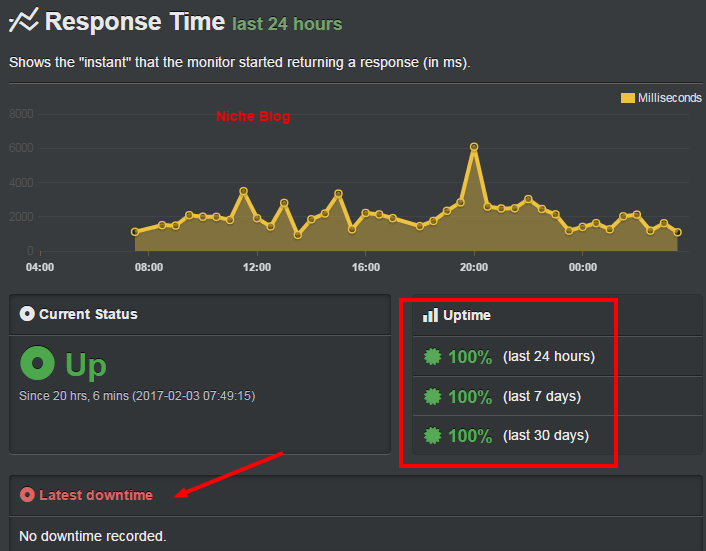 When it comes to InMotion hosting, I'm delighted with the server routine, and yes it has achieved no downtime during my monitoring phase.
The uptime of Wpglossy is 100%. Not only for me, but most of the users have also obtained excellent uptime and reliable server service from InMotion.
Check the excellent Uptime performance of this blog (WPGlossy) hosted with InMotion!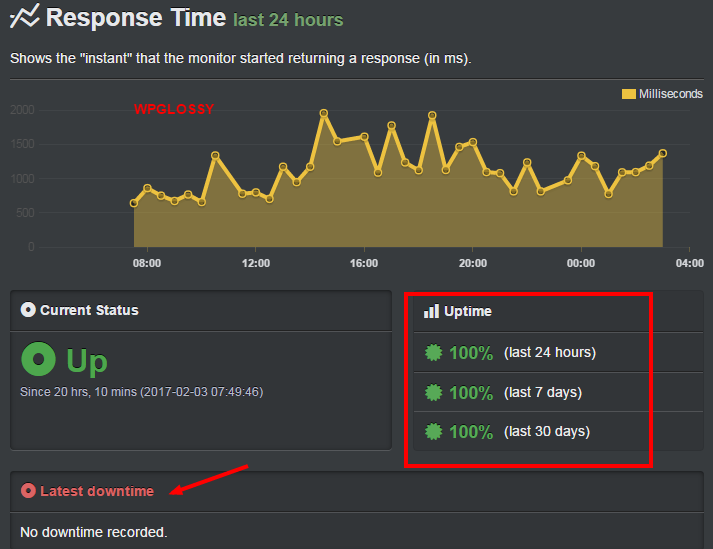 Winner – GreenGeeks & InMotion
#2. Technology
You might wonder, how these green hosting companies could offer an unfailing service for its customers. To support my viewpoints of server performance, know about the server technology details of GreenGeeks and InMotion.
GreenGeeks has a well-planned infrastructure, and its network is routed by Cisco and Juniper switches. The servers are powered by the latest generation Intel Xenon processors with 64 GB memory and RAID 10 SSD storage for maximum performance.
The data centers of GreenGeeks have well-equipped systems to protect the customers' data from fire and other potential disasters.
State-of-the-art technology has been incorporated in InMotion hosting to provide a reliable staying power for your website. They have purchased the line servers from DELL and server routers from Brocade & Cisco systems.
The data centers of InMotion are placed in the safest places on Earth. They are fully redundant and climatic controlled. The company keeps on investing in millions of bucks on hardware every year to meet the requirements of the customers.
Winner – GreenGeeks & InMotion
#3. Security
Choosing the hosting service with enhanced security features would help your data stay safe from hackers, malware, and intrusion codes.
GreenGeeks keeps your site safe through custom security rules. SiteLock is a helpful (Paid) security feature of GreenGeeks, and it will scan your site against SQL injection, cross-site scripting, and other vulnerabilities that you need to look for.
You can get the SSL certificate with just a click and hide your domain registration data as well. If you get the WordPress hosting service of GreenGeeks (like me), you will get automatic updates, real-time scanning, brute force, and DDOS scanning. Free nightly backup is also available, and therefore you can feel safe.
Like GreenGeeks, InMotion also offers improved security features like SiteLock and SSL. Your site will be monitored in a consistent manner, and you may utilize the Shell access, hotlink, and Leech protection safety features.
In my InMotion hosting review, I have mentioned that this best hosting for WordPress has protected my blog from the hacker attack. Yes, the technical team has found some unusual activities through the WordPress admin login, and thus they have disabled it for some time.
The support team had intimated me about this security concern and suggested me to change the password. I don't have any worries with my site data as it is entirely safe with InMotion!
Winner – GreenGeeks & InMotion
#4. Speed
You might wonder, what is the importance of having a quick load site?
Not only your readers but also the Google and other search engines like the fast loading website. So, you should get the most rapid hosting service to establish your footprint on the web.
The usage of the best hardware with an inbuilt PHP caching system is the speed highlight of GreenGeeks. It allows us to choose the appropriate and closest data center from several choices and integrate CDN as well.
You would get HTTP and MYSQL tweaks for the fast blasting performance.
Even though this green hosting company has the speed as mentioned above and claims that it is the fast WordPress hosting at a low price, I'm wholly unsatisfied with my site loading performance when compared to InMotion Hosting.
InMotion comprises a unique feature for Speed, Max Speed Zones through which you can use the best data center from the multiple choices and premium bandwidth providers. This feature is unseen in its rival, and hence it earns the credit "Fastest Hosting Service."
I don't have any complaints with the InMotion speed as its shared hosting plans use ultra-reliable Samsung SSD drives to diminish the data retrieval times and quick content delivery to my audience.

#5. Price
Calculating the affordability of the hosting services is a must for the newbies and tight budget site owners.
I'm happy with the reasonably priced pricing plans of GreenGeeks! Instead of explaining the pricing details in the text, I have created a table for easy understanding!
| | | |
| --- | --- | --- |
| | | |
| | | |
| | | |
| | | |
| | | |
| | | Available (But not affordable) |
| | | |
I'm using the Power plan of InMotion for my blog that costs around $8 per month. However, I have purchased the affordable WordPress hosting plan from GreenGeeks, and it just costs around $3 per month.
So, if I compare the price and value of GreenGeeks and InMotion, GreenGeeks is the leader and winning the game.
Even though the VPS and Reseller hosting plans of InMotion are economical than GreenGeeks, it is worth to buy GreenGeeks plans as they offer excellent RAM storage than InMotion!
Winner – GreenGeeks (70% Discount)
#6. Customer Support
I can understand that you would like to ensure the trustworthiness of the hosting service to deal with your technical problems quickly yet professionally.
GreenGeeks provides 24 X 7 top-notch customer support for its users and making their hosting experience fantastic. They have professionally qualified technicians to assist with your hosting difficulties.
So, if you are a non-tech savvy person, you don't need to bother about the technical aspects of your server service. You may reach them anytime through chat & Email and call them Monday to Friday from 9 AM EST to Midnight EST and during the daytime on weekdays.
My experience was good with GreenGeeks support as they reacted well to my quires and migrated my blog from old hosting without any downtime. They are always available and helpful for my struggles, and thus I don't have any criticism with their assistance.
InMotion also has the No.1 support team, and they treat us with the respect that we deserve. Offering premium support for the success of your project is the dignity of InMotion.
They can speak at your level and guide you in the right direction. You may use any communication channels like Phone, live chat, Email, and Community-based Q & A.
I'm admiring the friendly customer service of InMotion, and they have existed for my tech issues at all times. I used to get the best replies and good assistance for my blogs.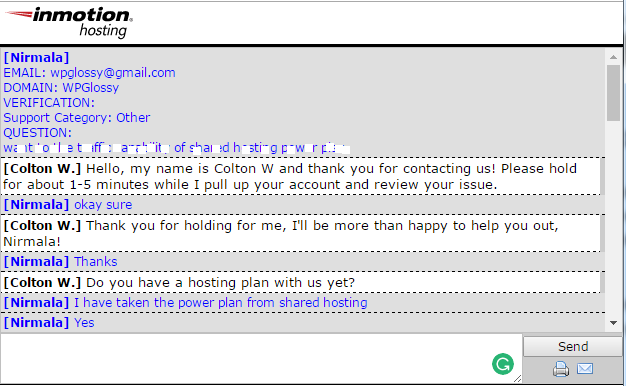 With my previous hosting provider, my blog got virus attacked through the security holes, and thus I have moved to this fast web hosting service. During migration, they handled my blog with a lot of care and monitored against malware codes.
Winner – GreenGeeks & InMotion
#7. Green Energy
If you are an environmental care enthusiast like me, then you should opt for the green web hosting service for your business site.
I have listed some best Green Website Hosting Companies where you can get enough information about "What is Green Web Hosting?" and a list of such server service providers.
GreenGeeks is an industry-leading green web hosting provider since they replace three times the amount of energy used by their servers with wind power. If they purchase 1X of power from the grid, they return 3X of power produced by the wind to the grid.
So, if you get GreenGeeks green web hosting plan, your website will be hosted on a server powered by 300% wind energy, and therefore it will not leave any carbon footprint on the internet.
We must appreciate their efforts in lowering greenhouse gas emissions and generating Wind energy. The company also makes sure that they use less energy for their servers and avoid running their office equipment when they are unessential.
InMotion also understands the importance of having an eco-friendly web. Thus, they are reducing waste, increasing recycling, and stopping paper usage wherever possible.
As they much care about energy consumption, they have founded their first-ever data center in Los Angles. The company uses advanced outside Air cooling technology to cut down the cooling costs by nearly 70% and reduce the carbon output by more than 2000 tons per year.
Both the green hosting companies, GreenGeeks and InMotion have been patterned with the non-profit organization and planting trees for every hosting sale that they make. However, there is no doubt that GreenGeeks is the leader of Green website hosting.
You may also have a green badge on your site and proudly say that you are making the web green. I'm very much impressed with the ecological quality of the servers, and I feel proud that I'm not making the internet to get pollute through my blogs.
Winner – GreenGeeks (70% OFF – Sign Up Now)
#8. Other Features
If I compare other features like user-friendly Panel with all essential software, Disk Storage, Email accounts, Bandwidth, FTP accounts, SSH, .htaccess support, MYSQL hosting, automated backups, Google Apps integration, and free marketing extras, both the hosting biggies have similar qualities to serve the best for their clients.
Both GreenGeeks and InMotion have high business credibility, social media presence, and website popularity as well. These Linux-based hosting providers have earned positive and negative reviews from the users.
Beginners can get helpful guides and video tutorials from these green hosting providers to troubleshoot the common technical difficulties.
All the features of InMotion and GreenGeeks have been compared! Let me conclude my opinion so that it would help you get the exact hosting service provider according to your requirements.
Winner – GreenGeeks & InMotion
Managed WordPress Hosting Ability Of GreenGeeks
How much traffic can the managed WordPress hosting of GreenGeeks handle? – It might be a million-dollar question in your mind.
My Answer – As they have zero limitations on Disk space and bandwidth, the managed WordPress hosting of GreenGeeks can handle around 800 hits every day without any trouble.
If you're getting more than 1000 hits every day, then you may upgrade the WordPress hosting plan of GreenGeeks to ECO Premium that costs around $24.95 Monthly and $239.40 yearly.
I'm using the upgraded hosting plan of GreenGeeks.
How Much Traffic Does The Power Plan of InMotion Shared Hosting Can Handle? – I have received this question from the reader.
My Answer – The Shared hosting (Power Plan) can handle thousands of daily hits. However, if you get several thousand of daily traffic, it would be better to go with the InMotion Hosting VPS plan.
GreenGeeks has been working hard to beat the InMotion for customer satisfaction. But, who is the leader, and how?
1. GreenGeeks Beats InMotion in Price
GreenGeeks is a green web hosting giant! It is beating the Launch & Power plan of InMotion in Price and value through its cost-effective, all-in-one shared & WordPress hosting of GreenGeeks. So, if you are specific about the budget, go with GreenGeeks.
2. InMotion Better than GreenGeeks In Speed
I have explained the speed qualities of InMotion and GreenGeeks, and yes, InMotion is the swiftness champion. Though there is not much speed variation between these two services, I would suggest InMotion if you are particular about the fast loading site.
Final Words Of My GreenGeeks And InMotion Hosting Comparision
As the last words in my evaluation, "GreenGeeks Vs. InMotion," I would like to tell you that both are highly reputed hosting companies who serve the customers well through their high-performance server service. As they possess the same features, it is somewhat tough for me to say which is better.
I'm using GreenGeeks for the past six months and InMotion since last year, and I didn't face any issues till now. I feel very comfortable with these green hosting services and worth value for the money that I spent.
Get GreenGeeks for 2 major reasons
Eco-friendly

Affordable pricing plans
Sign Up GreenGeeks For Special Discount
Go with InMotion for 2 main favors
Speed

Large refund period – 3 Months
Sign Up InMotion Hosting For Exclusive Offer
If your priorities are Performance, Latest Technology, Security, and Customer Support, you may get any hosting package from GreenGeeks or InMotion without any hassle. I'm sure that you will find great satisfaction in their reliability and support.
I hope this GreenGeeks versus InMotion Hosting comparison would help you evaluate their features and select the top green host for your website.
Now, you tell!
Which green hosting service do you wish to purchase, GreenGeeks or InMotion? Were my viewpoints helpful? Which hosting are you using right now?
What is your opinion on my comparison post, GreenGeeks Vs InMotion green hosting? Share your thoughts in the comment section, let's discuss!
You must also check GreenGeeks Vs SiteGround, GreenGeeks Vs HostGator, and GreenGeeks Vs A2 Hosting to know who is the direct winner.
Also, if you need any clarification on these services, please ask, I'll share my previous experience so that you can choose the best hosting for your website or blog.