With over 36% market share and almost 6 million active sites, WooCommerce is undoubtedly the undisputed king of eCommerce platforms. And its flexibility and plethora of third-party plugin support ensure no stopping its domination.
The third-party plugins are not limited to enhancing the eCommerce experience but also offer marketing and promotional opportunities from your WooCommerce admin panel.
With a whopping 1.2 billion monthly searches and generating the majority of ad clicks, Google Shopping is one marketing channel you cannot simply ignore as a WooCommerce retailer.
In this article, I will explain why you need to use Google Shopping and check out the best WooCommerce Google Shopping plugins that can help you reach millions of potential customers.
Let's dive in.
Why should you use Google Shopping?
Before we delve into the benefits, let's first learn what Google Shopping is.
Google Shopping is a price comparison shopping engine where eCommerce retailers like you can list and promote your products. You can list your products for free and run paid ads on this platform.
Now, let's check out some statistics.
76% of the money spent on retail search ads goes to shopping ads.
85% of all clicks on Google Ads or Google Shopping campaigns come from shopping ads.
46% of all product searches start on Google.
Google Shopping has an average CPC of $0.66.
Conversion rates for Google Shopping ads are 30% higher than text ads.
Benefits of Google Shopping for WooCommerce Retailers
There are many reasons why Google Shopping is useful for merchants like you. Some benefits of using Google Shopping are as follows:
Increased visibility
Google Shopping boosts product exposure by placing ads next to search results when potential buyers look for exactly what you're selling. Increased brand awareness and targeted website traffic can result from such exposure.
Targeted audience
Thanks to Google Shopping's refined targeting options, you can advertise your products to people actively looking for them. This raises the chances of contacting interested parties who are also likely to make a purchase.
Product Comparison
Google Shopping is a shopping comparison tool that lets users see how items from multiple stores stack up against one another regarding price, customer ratings, and availability. Differentiating your products from the competition in terms of price, quality, or other features can give you an edge in the market.
Enhanced user experience
Google Shopping improves the shopping experience by providing a beautiful and straightforward interface for consumers to peruse available products quickly. Users can more easily evaluate and select products that meet their needs thanks to the platform providing relevant information such as images, prices, and ratings.
Mobile shopping
With the popularity of mobile devices, Google Shopping has been enhanced for use on these devices. This increases your chances of selling to the growing population of people who prefer to shop on their mobile devices.
Easy product management
The platform's back-end tool, Google Merchant Center, makes managing and updating your product listings easy. Your product data will always be up-to-date thanks to the simplicity with which you can add new products, update existing ones, and monitor efficiency metrics.
Ad customization and optimization
You can personalize your product ads, establish bidding strategies, and enhance your campaign's effectiveness with Google Shopping. With this degree of control, you can fine-tune your advertising efforts and get the most out of your budget.
Increased conversions
With more information, shoppers are more likely to purchase after clicking on a Google Shopping ad because product images, prices, and ratings are included. Because customers will know exactly what they're getting when they click the ad, CTRs and conversion rates can improve.
How to promote products on Google Shopping?
Before discussing the best Google shopping plugin for WooCommerce, you must know how to list your products on this shopping engine. There are three primary things to run ads on Google Shopping.
A Google Merchant Center account
A Google product feed for WooCommerce
A Google Ads account
You can sign up for a free Google Merchant Center account with your Gmail. Then upload your WooCommerce product feed to that account.
Google Merchant Center will fetch that information from the feed and display them on its platform as organic listings. You must sign up for a Google Ads account using the same Gmail to run product ads on Google Shopping.
After that, link that Google Merchant Center account to the Ads account. Finally, create a shopping campaign to run ads.
For traditional ads, we manually create the ads with text, images, keywords, and other details, but for Google Shopping Ads, you don't need that. Google Ads will fetch the product data from the product feed you uploaded in the GMC (Google Merchant Center) account and generate the ads automatically.
When a user clicks on one of your product ads or entry, it will take them to your WooCommerce product page. Therefore, the product feed is the breeze between Google and your Woo store. Hence, this is the most important thing you need to promote your products on Google Shopping.
What is a product feed?
A product feed is a CSV, XML, or TXT file that contains information about your Woo products. All your WooCommerce product data are structured under attributes such as title, price, image, description, etc.
Different channels have different attribute requirements and guidelines for the product feed. Google Shopping feed attributes are the specific product data fields that you include in your product data feed when uploading your products to Google Merchant Center.
These attributes provide detailed information about your products and help Google understand and categorize them correctly for display in Google Shopping results.
You can create a product feed manually using spreadsheet software like Open Office, Microsoft Excel, or Google Sheets. However, manually creating and managing a product feed file will be a big hassle for a large or busy store.
You can use a WooCommerce Google product feed plugin to automate connecting your WooCommerce store to Google Shopping.
10 useful WooCommerce Google shopping plugins
WooCommerce is a monster of a plugin with built-in features, and its supported plugins make it an eCommerce behemoth. If you want to promote your WooCommerce products on Google Shopping, plenty of WooCommerce Google Shopping plugins make the process simple and more efficient.
Look at the 10 best WooCommerce Google Shopping plugins to list your products and get wide exposure!
1. CTX Feed – Google Shopping Feed Plugin
CTX Feed is a must-have WordPress Google shopping feed plugin if you want to promote your products on Google Shopping. It removes all your worries about generating and connecting a Google Shopping product feed.
You can generate a product feed with just a few clicks and almost without effort. Along with Google Shopping, you can create product feeds for 130+ channels with this WooCommerce Google shopping feed plugin.
Let's quickly review how to create and connect a Google Shopping product feed using this plugin. You can install the free version from the WordPress repository.
Click on Make Feed once you install and activate the Google shopping feed plugin WordPress.
From the Template, select your channel. The plugin will automatically populate all necessary attributes.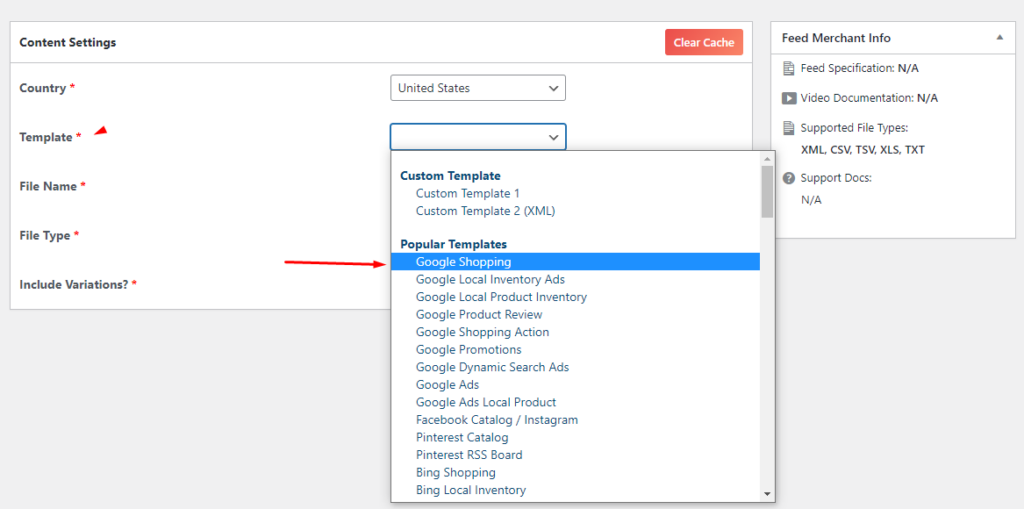 Select the file type and click the Generate button, and your job is done. The plugin automatically collects your WooCommerce product information and generates a product feed file.
Afterward, go to Manage Feeds to download your feed file or copy the feed URL. You can delete, edit, regenerate, and view the feed from different settings.
The features that make CTX Feed the best Google shopping WooCommerce plugin are the automatic update and URL feed connection. You can enable automatic updates for all your feed files, and the plugin will collect every change you make in your product pages and update the feed files.
You can set specific intervals after which your files will be updated. Instead of downloading and uploading, you can connect your feed file through URL/HTTP/FTP/SFTP methods.
Google Merchant Center supports connecting your products through URL (Scheduled Fetch option).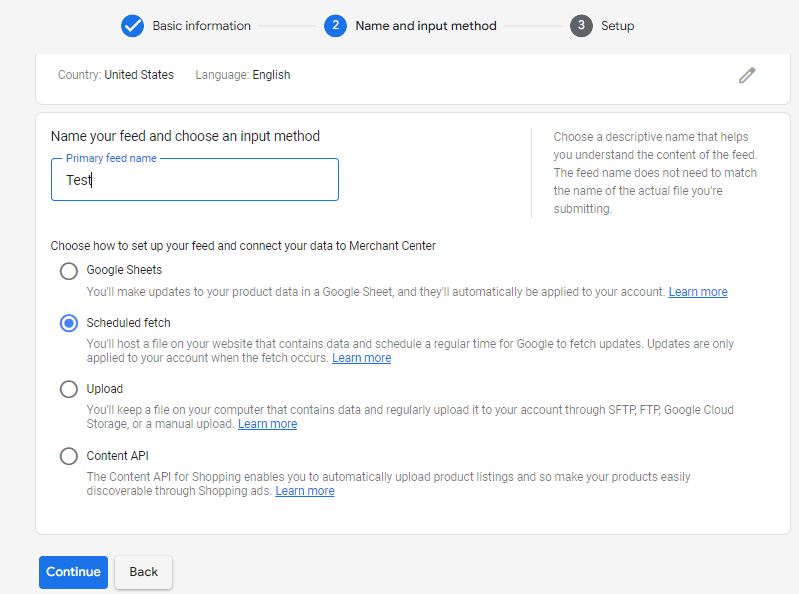 When you make any product changes, Google fetches those changes with the help of CTX Feed automatically and updates listings.
Key Features
Supports 130+ channels, including price comparison engines, marketplaces, and social media.
Automatically updates all your product changes.
Collects all your Woo product data automatically to generate feed files.
Allows you to create specific feed files or exclude specific products.
Supports unlimited products and feeds, allowing you to upload all your products without restrictions.
Provides 100+ pre-configured templates for various marketplaces, saving you time and effort in researching individual attributes and field requirements.
Supports 5 different feed file formats: XML, CSV, TSV, XLS, TXT, and JSON, ensuring compatibility with different marketing channels.
Supports all WooCommerce product types, including Bundle, Composite, Mix and Match, and Subscription products.
Customizable templates for personalized marketplaces and the option to create custom templates for complex XML feed files.
2. Pixel Manager for WooCommerce
Pixel Manager for WooCommerce is a comprehensive plugin that allows you to track and collect valuable data from your WooCommerce shop for conversion optimization, remarketing, and reporting.
It supports various pixel providers such as Google Analytics, Google Ads, Facebook Pixel, Microsoft Pixel, TikTok Pixel, and more. The plugin offers advanced features like data privacy compliance, customizable output filters, standardized output for better comparison, payment gateway accuracy report, automatic conversion recovery, and compatibility with most web browsers.
It also includes integrations with popular platforms like Google Ads, Google Analytics, Meta Ads, HotJar, and more. The premium version offers additional features like advanced order duplication prevention, enhanced conversions, and support for various advertising platforms.
Key features
Tracks WooCommerce shop visitors and collects valuable data for conversion optimization, dynamic remarketing, and reporting.
Supports various pixel providers like Google Analytics, Google Ads, Facebook Pixel, Microsoft Pixel, TikTok Pixel, and more.
Payment gateway accuracy report to identify conversions lost due to redirect issues.
Automatic Conversion Recovery (ACR) feature to recover lost conversions.
Tracks all eCommerce events and offers advanced pixel features.
Exceptional tracking accuracy, simple user interface, and constant innovation.
Integrates with popular platforms like Google Ads, Google Analytics, Facebook Ads, etc.
3. Google, Facebook, Retargeting all-in-one Marketing
The "Google, Facebook, Retargeting all-in-one Marketing" plugin by Kliken is designed to help WooCommerce businesses grow their sales quickly and easily. This is one of the AI-powered WooCommerce Google Shopping plugins.
With this plugin, you can reach potential customers by browsing the web, searching on Google, or using Facebook. It also allows you to retarget your existing customers, increasing conversion rates and sales.
The plugin's all-in-one marketing platform is user-friendly and helps you reach high-intent customers, outperform your competition, and achieve significant sales growth while reducing conversion costs.
Setting up your shopping campaign is a breeze and takes less than 10 minutes. You can define your target audience and preview your ads for free, with no credit card required.
Once you're ready to grow your sales, select a monthly budget, check out, and watch your business thrive. Kliken's Ai Powered Marketing automates everything you need to promote your products on Google, Facebook, and the Open Web.
Key features
Reach potential customers on Google and Facebook
Retarget existing customers to increase conversions
Affordable advertising budgets starting at $5 per day
Automates product promotion on Google, Facebook, and the Open Web
Creates or links a Google Merchant Center Account
Accesses Google Product Listings and surfaces across Google
Runs Google Shopping Ads campaigns across various platforms
Tracks sales performance and campaign results
Ai-powered optimization for effective marketing
4. Google Listings & Ads by WooCommerce
Google Listings & Ads by WooCommerce is a plugin that helps businesses reach millions of shoppers on Google through free product listings and ads. It allows you to sync your store with Google Merchant Center and take control of your product feed.
This is one of the easiest-to-use WooCommerce Google Shopping plugins. With this plugin, you can easily showcase your products to potential customers and expand your reach.
The attribute mapping feature of this plugin gives you full control over the product information you send, saving time and allowing your products to stand out. Syncing your accounts allows you to streamline your marketing efforts and gain insights into shopper behavior.
The plugin also offers Performance Max campaigns, which are paid ads that help you reach more shoppers across various Google platforms. These campaigns are designed for eCommerce and automatically create ads based on your product feed.
Key features
Enables you to sync your product feed with Google Merchant Center for better control and visibility.
You can map attributes to optimize your ad spend and make your products stand out.
Lets you streamline your marketing efforts by syncing your accounts and gaining valuable shopper insights.
Allows you to launch product-based Performance Max campaigns to reach more shoppers across Google properties.
5. PDF Invoice & Packing Slip for WooCommerce
When promoting your products on Google Shopping, your target is to reach potential customers and sell your products, right? You would also want to convert your buyers into loyal returning customers.
To do that and increase your reputation, you must fulfill your orders properly. Invoice and packing slips are an integral part of your order fulfillment process. Generating these documents manually for every order wouldn't be a good idea but rather a hassle. That's where Challan – PDF Invoice & Packing Slip for WooCommerce plugin can save your day.
Using Challan, you can automate the generation of invoices and the attachment of those invoices to order confirmation emails. In addition to that, it allows you to quickly generate downloadable credit notes, packing slips, and shipping labels, all at the click of a button.
With the assistance of Challan's versatile settings, you are able to make a wide variety of modifications to your invoices. By using this plugin, you will be able to give your WooCommerce invoices a unique appearance and feel by including several different custom fields.
In addition, it gives you the option to pick from many pre-designed templates and add a background image to your design. You can include components of your brand, such as a logo, an authorized signature, a custom footer, paid stamps, and so on.
In addition, the template for the invoice can be completely personalized by using CSS. Downloading multiple copies of your WooCommerce invoices and packing slips at once is also possible with this plugin.
Key features
The invoices are made automatically when the customer finishes the checkout.
Lets you manually download packing slips, invoices, credit notes, and shipping labels.
You can change everything about your invoice template.
Allows you to add your company's logo, a paid stamp, signature, and custom footer notes.
It has several ready-made templates and lets you add an image to the background.
6. Google Ads ROI Optimizer
Google Ads ROI Optimizer by Commerce Direct is a powerful Google Shopping plugin that utilizes machine learning to generate personalized savings for you and your repeat customers. By integrating with this plugin, you can build direct relationships with loyal customers by offering discounts.
The tool identifies eligible returning customers who contribute to inflated acquisition advertising costs and encourages them to shop directly, resulting in cost savings for both parties.
With customizable messaging and seamless integration with your shopping cart, this tool optimizes savings using AI/machine learning technology. It also offers configurable options for distributing ad cost savings.
Key features
Machine-learning technology to detect and reward loyal customers
Customizable messaging and design for a frictionless customer experience
Identification methodology using visitor (Cookie ID) and/or user login ID
Seamless integration with shopping cart and existing traffic flow
Optimization of cost savings using AI/machine-learning
Configurable options for distributing ad cost savings
7. Conversion Tracking Pro for WooCommerce by weDevs
Conversion Tracking Pro for WooCommerce is a powerful plugin by weDevs that allows you to send conversion data from your WooCommerce store to popular ad platforms like Google, Facebook, Twitter, Bing, and more.
With advanced conversion tracking capabilities, you can track user-triggered events, retarget your audience effectively, and optimize your ad campaigns. The plugin supports multiple platforms, including Facebook with multiple pixels and product catalogs, Google Ads, Twitter Ads, Microsoft Advertising, Perfect Audience, and even custom platforms through JavaScript tracking scripts.
This plugin can gather valuable user behavioral data, track your business performance, improve ad targeting, and boost your return on investment (ROI) from paid media investments. It's a convenient solution for WooCommerce users seeking to enhance their conversion tracking and marketing efforts.
Key features
Allows you to connect multiple ad platforms (Google, Facebook, Twitter, Bing, etc.)
Lets you track trigger-based events for better retargeting
Quick and easy installation process
Control access to settings by user role
8. MonsterInsights
MonsterInsights is a Google Analytics plugin for WordPress with over 3 million active installs. It simplifies connecting your WordPress site with Google Analytics, allowing you to make data-driven decisions to grow your business.
The plugin enables you to enable advanced Google Analytics tracking features without coding. It provides an analytics dashboard within your WordPress dashboard, showing actionable reports focusing on the most relevant stats. It is one of the most popular WooCommerce Google Shopping plugins.
MonsterInsights offers features such as events tracking, eCommerce tracking, custom dimensions tracking, page speed reports, popular post tracking, and more. It aims to make Google Analytics easy and accessible for all users, providing insights that can help optimize your website, improve conversions, and drive business growth.
Key features
Easy setup with a few clicks
Advanced tracking features
Built-in Google Analytics Dashboard
Customized reports for actionable insights
Real-time statistics
Compatibility with the latest Google Analytics updates
Pro version available for expanded functionality
9. Google Shopping Integration for WooCommerce
Google Shopping Integration for WooCommerce is one of the WooCommerce Google Shopping plugins that allows you to showcase your WooCommerce products on the Google Shopping platform.
With an easy setup and configuration process, you can create and connect your Google Merchant and Google Ads accounts. The plugin enables you to automate the bulk upload of products from WooCommerce to Google Shopping, set up and manage paid ad campaigns for your products, and create custom product profiles.
It also provides a dedicated activities section to track your product upload activities.
Key features
Integration with the Google Shopping platform
Easy setup and configuration
Bulk upload of products from WooCommerce to Google Shopping
Set up and manage paid ad campaigns
Custom product profiles for mapping with Google Shopping categories
Reconnect accounts if needed
Dedicated activities section to track product upload activities
10. Google Ads & Google Shopping Feed plugin by Clever eCommerce
The last in our list of WooCommerce Google Shopping plugins is the Google Ads & Google Shopping Feed plugin. This plugin allows you to automate various aspects of your Google Ads campaigns.
It generates keywords, creates your Google Merchant feed, and sets up Google Shopping campaigns, Google Search Ads, Google Display Ads, and Google Remarketing Ads.
You can modify banner styles, update products and categories, and personalize your campaigns. The plugin streamlines campaign creation saves time, and optimizes your budget with automated bid strategies. It supports multiple languages and offers easy installation and configuration.
Key features
Automated keyword generation based on your products and categories
Creation of Google Shopping campaigns
Ability to modify banner styles, including font, color, and logo
Easy installation and configuration process
Supports multiple languages
Wrapping up The Best WooCommerce Google Shopping Plugins
Again, 46% of customers come to Google when they want to buy some products. And Google Shopping is the best place for customers to check out a product. If you are a WooCommerce store owner, you must promote your products on this platform to increase conversions.
And the best WooCommerce Google Shopping plugins I have listed in this article will help you promote your products on Google Shopping and grow your business. So, which plugin would you like to install and get great exposure for your products?