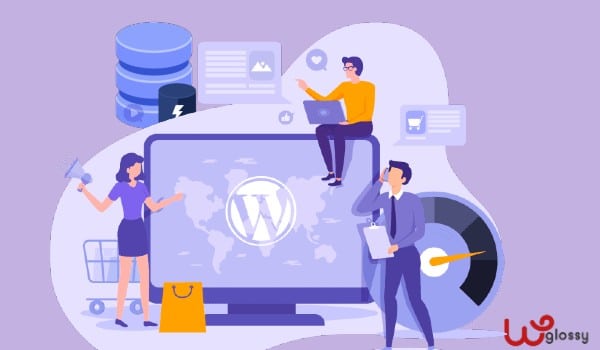 Are you looking for some best Cache Plugins for WordPress to enhance the site performance? Well! a good cache plugin not only reduces the loading time of the web pages but also contributes highly to a better user experience.
Many different cache plugins are available for WordPress websites that provide various features at different prices. Because of this, selecting the cache plugin that satisfies your needs can be challenging.
In this article, I'm gonna talk about the top 6 best cache plugins to use in 2023 for the WordPress website that you must use to boost its performance and user experience.
Before getting into the discussion, let us take a moment to understand what caching is and what its benefits are.
What is caching?
To understand caching, let us first understand how a website works. When you visit a website, you request the server to fetch a set of data for you.
The data can be an image/video/text file or a combination. When the server fetches the data for you, you get to see the website's content. A big chunk of this data is repetitive, e.g – the loading screen image, header menu, footer, etc.
Now, in the case of caching, a chunk of repetitive data is kept in a separate memory location (RAM) for faster access. This makes the whole process of fetching data from the server and showing it to the user much faster. Thus, the page loads more quickly.
Benefits of Caching
Using the best Caching Plugin for your website has multiple benefits:
Caching makes the process of fetching data from the server faster that reduces the page loading time and improves the responsiveness of the webserver.
It also contributes to a smooth user experience as the user feels less lagged while using the website.
Under high traffic conditions, the cache becomes useful because part of the data is already stored on a separate disk, ensuring stable bandwidth even if a large amount of traffic is occurring.
6 Top WordPress Cache Plugins For Fast Loading Site
Let's take a look at the 6 Best WordPress Cache plugins that can make your site load faster!
1. WP Rocket
WP Rocket is one of the well-known premium WordPress cache plugins on the market. Today, over 2 million websites are using WPRocket as their cache plugin, including some top companies like Themesale, Codeable, Beaver Builder, etc.
It's pretty simple to set up, and you don't need to have any prior experience. All you have to do is install and activate WP Rocket. In case, if you get stuck at any point, just get help from the community and tutorial blogs.
Pros of WP Rocket
WP Rocket has a beginner-friendly interface, so even those without previous experience can use it.
This excellent cache plugin supports both page caching as well as browser-level caching to improve website loading speed.
Uses lazy loading for images and video files i.e., the content is only loaded when the visitors scrolls down to that area.
Makes your website load faster by compressing and combining CSS and JS files.
JS files are only loaded when the audience interacts with the site, so initial page load times are reduced
Using cache preloading, WP Rocket creates a cached version of your website as soon as you make some changes to it.
It offers options for optimizing your database so that you will access data more quickly and automatically clean up your database.
This brillant plugin lets you integrate with any popular CDN service or use their own RocketCDN to improve international traffic loading times.
On service renewal, you'll get 30% off.
All plans has a14-day money-back guarantee
Cons of WPRocket
It costs a bit more than other cache service providers.
For long-term users, lifetime plan is not available. The maximum subscription period is 1 year and yes, you should renew your subscription each year.
For faster solutions, there is no live-support option.
Pricing
WP Rocket offers three plans with annual billing. When renewing your membership, you will get a 30% discount for the next two years.
Single: Support for one website priced at $49/year.
Plus: Support and updates for three websites priced at $99/year.
Infinite: Support and updates for unlimited websites priced at $249/year.
2. LiteSpeed cache

Litespeed cache is by far the best option for you if you want a free cache service for your WordPress website. It is an all-in-one site acceleration plugin provided by most hosting service providers with their shared hosting plans.
Although this add-on works best with LiteSpeed servers, you may use it on any web server like NGINX or Apache. It supports almost all popular WordPress plugins, there will be no compatibility issues.
Pros of LiteSpeed cache
For websites with high traffic or with a lot of pages, LiteSpeed cache is the best option.
It can also be used for caching private pages e.g. logged in accounts
It supports object caching i.e., the results of database queries can be stored to make the process of fetching information from the database faster.
It optimizes the images to make their size smaller without tampering with their quality.
As it is open-sourced, you will receive frequent updates and it will be optimized over time.
There are separate caching options for mobile devices and for laptops.
Using the QUIC.cloud CDN, it is possible to cache web pages even when you are not on a LiteSpeed server.
Has support for almost all WordPress plugins. Also use the LiteSpeed API for those who don't support the LS cache.
Cons of LiteSpeed cache
A significant drawback is that you have to use the LiteSpeed server to use some advanced features of this cache plugin. Other than that, It is an excellent option for you.
Pricing
This WordPress extension is open-sourced and is available for free. However, to use some advanced features, you should host your website on a LiteSpeed server for a fee.
3. Breeze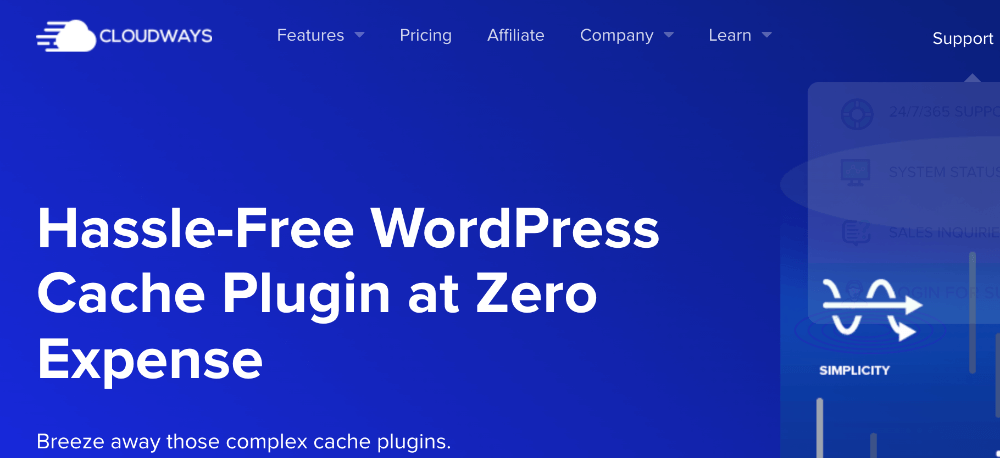 Breeze is a WordPress cache plugin available for free with Cloudways hosting plans. Breeze cache works with Varnish cache, which comes pre-installed with Cloudways servers to give you a better page loading speed and smoother user experience.
Using Breeze, data can be stored at a memory location within the CPU itself, which makes fetching data faster than any other form of caching. It also employs CDNs to improve the performance of content-heavy websites.
Pros of Breeze cache
The installation and setup process is pretty simple and straightforward.
Supports internal caching for faster speed
Supports file exclusion i.e., prevent caching of specific kinds of files or URLs
Support WordPress multisite
It minifies the CSS and JavaScript files to reduce the amount of data fetched on each call and number of fetch requests made to the server.
Uses Gzip compression to lessen the file size that in-turn improves the site loading speed.
Optimize the database to decrease the time taken to fetch data from it
Supports automatic cache purging i.e., removing the cache memory contents after a certain amount of time.
As it comes free with Cloudways hosting plans, you get 24/7 customer support from the expert team
Pricing
Breeze cache plugin can be used free of cost, but you need to have support for Varnish cache.
4. FlyingPress

FlyingPress is a premium WordPress cache plugin developed by Gijo Varghese, a name famous for his work on the speed and optimization of WordPress websites. Although the plugin is still pretty new, it has received positive reviews all over the internet.
Unlike other cache plugins, FlyingPress removes unwanted CSS from your website to speed up the loading speed of a webpage. It also delays the loading and execution of unimportant scripts to decrease the server's number of queries.
On top of that, FlyingPress is cheaper than most paid WordPress cache plugins. Just give FlyingPress a try and use some of its innovative features.
Pros of FlyingPress cache
FlyingPress has a pretty simple and easy-to-understand user interface. Installing and setting it up is also very straightforward.
Essentially, cache preloading provides automatic caching of webpages when some changes are made to them.
Optimize the site loading speed by removing unnecessary CSS
Hovering over the link preloads the URL in the browser
Loads and executes scripts/media files only when the user interacts with them, decreasing the number of queries made to the database. On the other hand, it prioritizes the loading of important scripts and information
Minifies CSS and JS files to improve the page loading speed
Automatically adjust the height and width of CSS boxes to prevent page layout shift
Optimized for Google web fonts
Option to add FlyingCDN, a custom distributed network for better and faster delivery of static files
Cons of FlyingPress cache
Few bugs are seen as the service is still in its initial days
This plugin does not perform like the industry leaders like LiteSpeed Cache and WP Rocket
Pricing
FlyingPress has four plans with a yearly billing option:
Personal: caching for one website at $60/year ($42/year during renewal)
Developer: caching for five websites at $150/year ($105/year as renewal fee)
Professional: caching for 50 websites at $250/year ($175/year on renewal)
Agency: caching for 500 websites at $500/year (renewal fee is $350/year)
5. W3 Total Cache
W3 Total Cache is a freemium and open-sourced WordPress cache plugin that is popular among WordPress users. According to their website, it is the only hosting agnostic Web Performance Optimization (WPO) framework for WordPress.
The plugin provides almost all the features a standard cache plugin should have, including minification, HTTP compression, and cache preloading. It also supports WordPress multi-sites.
With the premium plan, you can speed up your website by up to 10X. So, consider using this excellent resource if you prefer a cache plugin that works with all WordPress plugins and is free to use.
Pros of W3 Total cache
In its free version, you will get all the standard services that a cache plugin should provide.
It improves web performance even during high traffic periods.
Improves the performance of your website through page caching, object caching, and browser caching.
Optimizes the file size by minifying and combining HTML, CSS, JS files, and even pages and posts.
Lazy loading ensures that the media files are loaded only when the user reaches that part of the webpage.
Caching support for mobile devices also.
CDN is provided for faster loading speed for audiences at remote locations.
Being open-sourced, the plugin is always optimized to give you the best performance and you will not face any major bugs while using it.
Supports all types of hosting solutions like shared hosting, VPS hosting, and dedicated servers.
Cons of W3 Total cache
The interface is pretty confusing and not at all beginner-friendly.
There is no customer support system for the free version. To resolve issues, you must use online forums and documentation. The ticket support feature is available in the pro version.
Pricing
It is free to use, but to access some premium features like CDN support, fragment caching, WordPress rest API caching, and AMP support, there is an annual fee of $99.
6. Surge

The best thing about the Surge cache plugin is that you don't need to worry about configuration or setup. After installation, you need to type "surge" and give it the directory address where your web pages are stored, and Surge will handle the rest.
This best Cache plugin for WordPress can handle heavy traffic on your website even with a low-end server. So it can be a great option if you have a static website to publish.
Pros of Surge
Surge generates static HTML files for your bsite, resulting in faster loading of pages and quicker queries to the server
Helps you deploy your static website for free without any hassle from the command line interface itself.
It allows you to customize the error pages for your site and provides automatic SEO friendly URLs.
Cons of Surge
It works best only with static web pages
Pricing
Surge is a free plugin. But, if you want some additional features like unlimited projects, custom domain, cross-origin resource sharing, custom redirects, and password protection, you need to pay a monthly fee of $30.
Conclusion – Which Is The Best Cache Plugin For WordPress?
It is challenging to choose one WordPress cache plugin from the above list since they all serve different purposes. It is best to look into the features of each plugin and then select the one that best suits your needs.
Still, if you ask my opinion, I would say go with LiteSpeed cache if you want a free plugin to optimize your site for speed.
For those looking for best-in-class service and willing to pay for it, WP Rocket is the best option. Nonetheless, you can always look into the other cache plugins mentioned in the list and experience them to choose the best cache plugin for you.