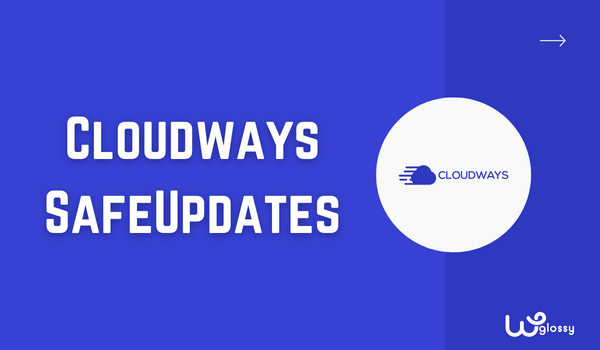 How about using a fast and secure web hosting that automatically detects, tests, and updates your WordPress applications without breaking your site? It would be fantastic, right? Hereafter, you don't need to worry about outdated versions, core updates, and vulnerabilities.
What are all these about? As a proud Cloudways hosting user for the past five years, I should explain their newly introduced security feature, SafeUpdates. Besides, I would like to guide you to activate this fresh feature for your site through step-by-step instructions. You may also watch my Video tutorial for easy understanding.
Let's begin with a brief explanation of Cloudways SafeUpdates!
What is Cloudways SafeUpdates?
Cloudways SafeUpdates is an automation process to update your WordPress Core files. As it saves time and improves site security, you may focus on your business growth without worrying about maintenance tasks.
Using a Visual regression test, this premium safety feature of Cloudways ensures the applications updates don't break your site. It simplifies your workflow; yes, a click is required to complete the procedure in minutes.
It is an excellent move by the Cloudways team to boost our website security by having the recent version of the apps. If any unexpected error happens during the process, it will roll back the changes and return your site to the previous working state. 
How Does Cloudways SafeUpdates Works?
Cloudways SafeUpdates makes a list of themes and plugins with their current version. Then, it will check for the new versions and shortlist the applications to be updated. During this process, it supervises your website for proper working and confirms that it is always available.
This Cloudways security feature has two modes!
On-Demand – To manually run the updates from the Dashboard.
Automatic – To automate the updates through a schedule at your convenient time.
Now let's see how the Cloudways safeupdates work when you choose either of the modes mentioned above.
It undergoes five stages!
When you click the "Activate SafeUpdates" button, it will show your theme and plugin applications. Now, you should pick your desired applications to be updated. Hit "Update."
It takes your site back up, and the five-stage process will start!
Stage 1 – Building Staging Site
After the updates are triggered, the SafeUpdates features will build a staging site. As you know, it is a replica of your website, and yes, all the updates will be carried out in this secure environment.
Stage 2 – Syncing Staging Site
As the name implies, it will sync all your files to the staging site.
Stage 3 – Updating Staging Site
In this stage, screenshots will be taken for validation.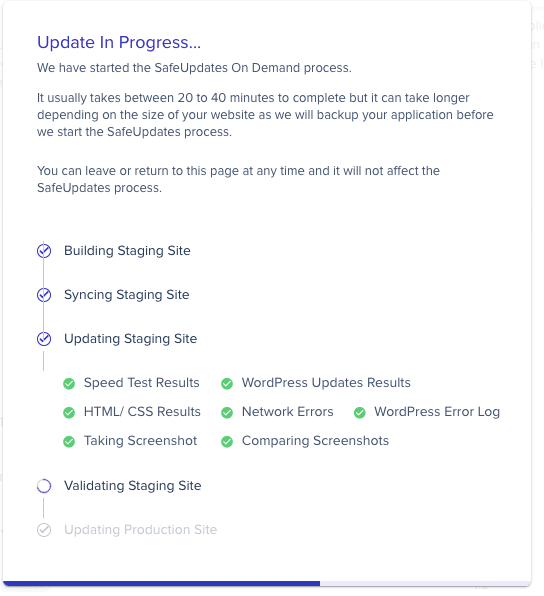 Stage 4 – Validating staging Site
It compares the screenshots and checks for errors.
Stage 5 – Updating Production Site
If everything looks good, it proceeds with the updates, otherwise cancels the process.
From the above image, you can see that the Safe updates do several tasks like
Speed Test Results
HTML/CSS Results
Taking Screenshot
Checks Network Error
WordPress Error Log
Update Results
Comparing Screenshots
If you get
How To Activate SafeUpdates In Cloudways?
Step 1: Visit your Cloudways dashboard section by entering your registered email and password.
Step 2: Click "Applications" in the top menu. Select Your Server; Under "Application Management," several preferences are available, and at last, Safe Updates is present with a notification, "New."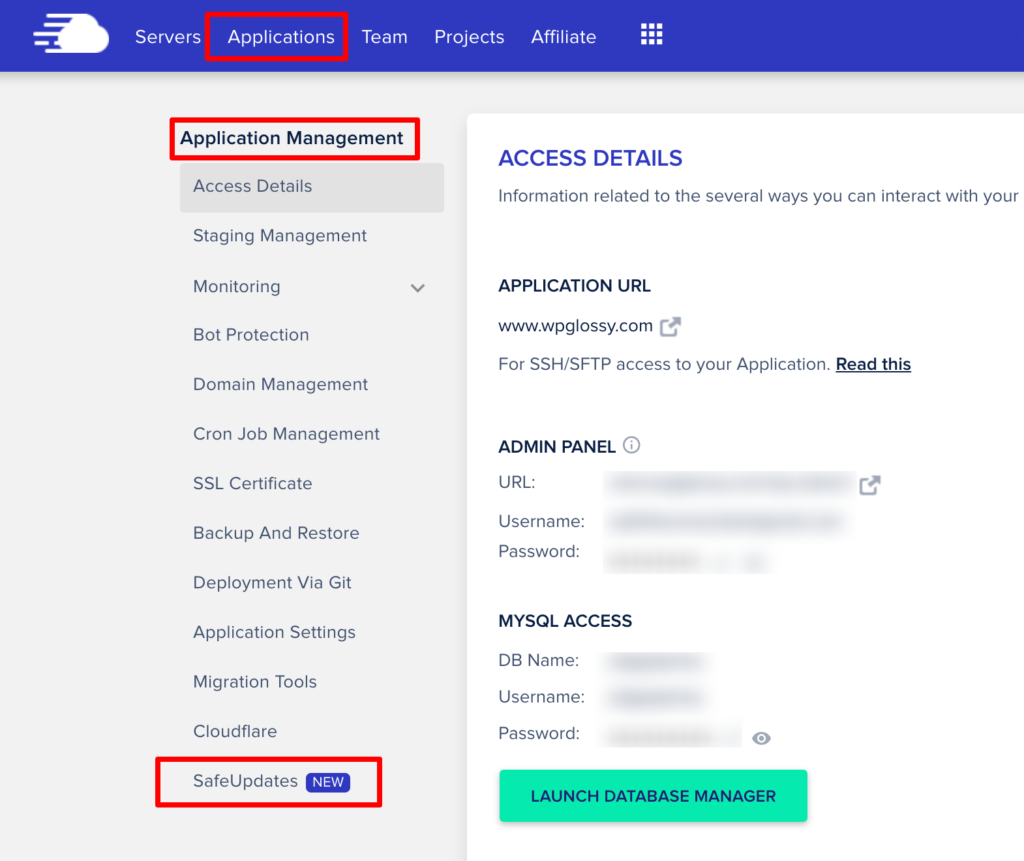 Step 3: Select the SafeUpdates section, and look at its features. You can set up on-demand updates, scheduled updates, End-to-End testing, and a few more tests given here to ensure your site's performance and keep it safe from security risks.  
Step 4: Click "Activate Safe Updates." It'll display all your WordPress applications which is nothing but the WordPress core, Theme, and Plugin sections. You may automatically update these three sections through this newly launched Security feature of Cloudways.
Step 5: Select the Themes and plugins that need to be updated. Then click Update to start the SafeUpdates process containing five steps. 
Step 6: Now, the safe update feature builds a staging site as the first step; as you know, it is a copy of your live website to test the changes or to implement a new feature in a secure environment. As it is a private section, you can make any changes to your site and test the fresh features.
Step 7: You may give an "On Demand updates" test. After the first step, Syncing Staging Site will get started. It'll synchronize all your data. And as a 3rd step, it will update your staging site.
It'll test some essential things and display the notifications like Speed Test results, WordPress update results, HTML/CSS results, WordPress error log, and taking and comparing screenshots. Before moving to the next step, it'll show some results. All these things have been checked in the 3rd step.
To ensure there's no error, all the details are validated in the next step, validating the Staging Site. Only when everything is good is confirmed it'll move to the last step.
So, everything here is done. Once finished, it'll show you a message. At the top, look at the message stating it has been updated successfully.

After getting the message, make sure your site applications are up-to-date.
Step 8: Next is the Schedule Update. Enable it first. Select any day and your convenient time too. In the Custom Update list, you can pick your preferred applications to be updated anything. Then give your email ID through which you want to receive notifications regarding the updates.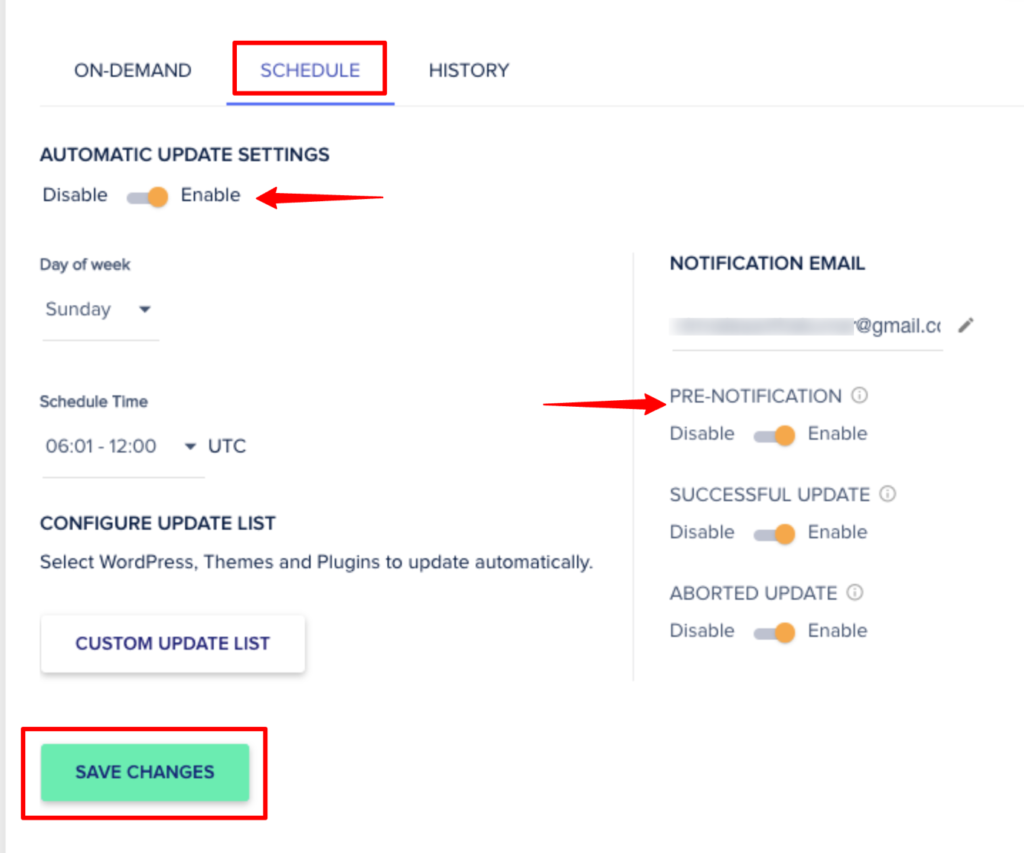 Step 9: Enable Pre-Notification. It'll send a mail to you within 24 hours after the update time. Next, enable Successful Update. Once everything gets over, you'll receive an update regarding the same. Enable Aborted Update. If your update gets canceled, you'll get a mail. 
Step 10: Next is History. If you want to know more, click View Details. Click on it. It'll show a detailed report.
So, we have done the Cloudways SafeUpdates settings perfectly. I appreciate your interest in having this feature for your WordPress site. It is one of the significant feature updates by Cloudways that lets you focus on your business tasks without spending time on on-site maintenance. 
If you have doubts about enabling the Cloudways safe updates feature, please share them in the Comments section. 
Video Tutorial To Enable Cloudways SafeUpdates
I have enabled the Cloudways SafeUpdates feature for one of my blogs, so it was easy to make a video tutorial for my readers!
Here is the video guideline for better understanding!
Amazing Features I Love
Cloudways SafeUpdates has several features, but here are my favorites!
1. Auto Detection
We will not be missing any site updates! It automatically finds out the apps to be updated. We may chill out and make new business plans.
2. Core Web Vitals Test
It ensures that newly updated files are not affecting your website's core web vitals score.
3. Visual Regression Test
This advanced test will check for code changes by comparing the screenshots taken before and after the code modifications.
Do Cloudways Competitors Have SafeUpdates Feature?
No! Cloudways competitors like WPEngine, Kinsta, and Flywheel don't have this security feature. If you look at their pricing plans, they are costlier than Cloudways but didn't provide this application update quality.
SafeUpdates is a unique feature of this best-managed cloud hosting to protect your site from intruders by blocking the security holes in outdated apps. So, you don't need to stress yourself with the forced updates and waste time on maintenance tasks.
Pricing
Most of the Cloudways premium features are highly affordable, and this one too! It is an excellent opportunity to cut down your WordPress maintenance expenses, and if you have more applications, you will get a discount. Let's check the pricing details now!
For 1 -5 Applications – $3/Mo
For More than 6 Applications – $2/Mo

Cloudways SafeUpdates FAQs
What happens if any of the plugin updates are not successful?
When several applications are on the list to be updated, and if anyone fails to get the latest version, SafeUpdates will abort the whole process because the testing on the staging site should be successful.
Does it take extra disk space for the Staging site?
No! It will create the staging site in your available disk space and deletes it after the updates.
Who can be benefited from this new Cloudways security feature?
Digital agencies who manually maintain their client sites, Developers who want to stay away from forced updates, Freelancers who look for income opportunities, Bloggers, and eCommerce site owners who want to skip the additional server tasks can use this newly introduced security feature by Cloudways.
How long can you view the History of SafeUpdates?
It will hold 30 days of updates history for all your applications.
Wrapping Up
Cloudways is the best managed hosting that impresses us greatly through its speedy servers and security qualities. Last month, it introduced a new safety feature, SafeUpdates, for its customers, which is extremely useful for busy site founders who manage multiple sites and for the ones who run the WordPress maintenance business.
Cloudways SafeUpdates can be operated in two ways: on-demand and scheduled updates. As it automatically finds, tests, and updates your WordPress applications, you need not bother about the security risks and site unavailability. Its advanced visual regression tests, core web vitals check, and email notifications amazed me. 
Instead of using low-performance shared hosting or expensive managed hosting, it would be better to get flexible cloud hosting services like Cloudways by using our special promo code – WPGLOSSY, which contains top-notch security features and superfast servers to keep your site running all the time and perform the application updates without downtime.