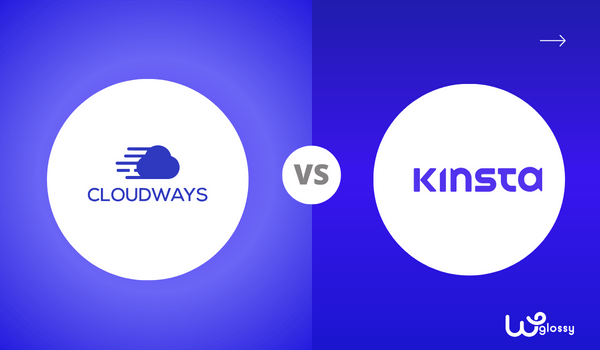 Cloudways Vs Kinsta, which is the best managed hosting worth buying in 2023?
We are in the 22nd year of the 3rd Millennium, and at this time, two leading hosting companies are rocking with enterprise infrastructure, high-level security, and top-notch customer support.
There is no doubt that Cloudways and Kinsta offer exceptional managed WordPress hosting services; therefore, it would be difficult for site owners to choose between these two cloud server providers.
As we have been running our successful online business for the past seven years, we got an excellent opportunity to use both managed Cloud hosting services for our niche blogs and WordPress theme demos. Hence, we can recommend the best service with our knowledge and experience.
Note:
We will share our personal views and experiences, which may conflict with others' observations.
Why Cloudways? (Kinsta Cons)
Your choice should be Cloudways hosting because of the following upsides!
3 Days Free Trial to test the features without entering the credit card details
Hosting unlimited websites is allowed.
Not like Kinsta, you have the choice to pick from several cloud providers
You will get dedicated server resources
No restrictions on plugin usage like Kinsta. Kinsta has a list of banned plugins.
It has 65+ data centers (Kinsta has only 28) to get the nearest one to your target audience.
Both page speed loading time and server response time are excellent
You can go with either Free Migration or Self Migration through the Blogvault plugin
Easy-to-use dashboard where you can control all settings under one roof
Advanced caching technology; Easy to clear the cache
Add-ons are reasonably priced, and they are worth buying
It supports a Pay-as-you-go pricing system which is more comfortable for resource scaling
It is the best hosting for beginners as they could spend $11 per month
Creating subdomain and SFTP server login access is easy here
Staging Environment to test the features before making them live
Why Kinsta? (Cloudways Cons)
You may go with Kinsta for the below benefits!
Cloud-based fastest WordPress hosting
Automatic security patches through daily malware scanning
Well-optimized for e-commerce sites
You can take the manual backup at anytime
Free CDN is available (it depends on the plan you choose)
Simple staging environments for developers
Detailed Resource and visitor analysis
Cloudways Vs Kinsta – Quick Comparison
If you can't invest much time reading the in-depth blog post, you may look at the quick Cloudways Vs Kinsta comparison to conclude which hosting service you should get for your business site.
| | | |
| --- | --- | --- |
| | | |
| | | |
| | | Not Allowed in Starter Plan |
| | Period 3 Days (Without Credit Card) | |
| | | |
| | | Within 30 Days you can get. |
| | | |
Comparing the essential features in the above table makes it crystal clear that Cloudways is superior in all the compared qualities.
I believe it could help you make the right decision. Please continue reading the blog post if you want to further dig into the evaluation.
Cloudways Vs Kinsta – Managed Hosting Comparison
Let's begin the detailed war – Cloudways Vs Kinsta managed hosting!
1. Speed
The primary purpose of getting the industry-leading hosting service is for its swiftness. As you know, Google has announced the website's loading speed as one of the search engine ranking factors, and therefore we should pick the server that could make our site load super fast.
Cloudways
When it comes to speed, Cloudways has implemented a handful of helpful strategies to offer ultra-speed performance.
The server contains
SSD drives for reduced page load times
In-built advanced caches like Nginx, Varnish, and Redis
Auto-healing quality to restart
HTTP/2 for the fastest communication between the server and clients
Pre-configured PHP-FPM to boost the load time
PHP-7 ready to perform better than the predecessor
Besides, they offer a cache plugin, Breeze, for WordPress users and CloudwaysCDN to improve the response time.
Since they have done a lot of optimization techniques for Speed, you don't have to bother about the site loading time.
Here is our site speed performance with Cloudways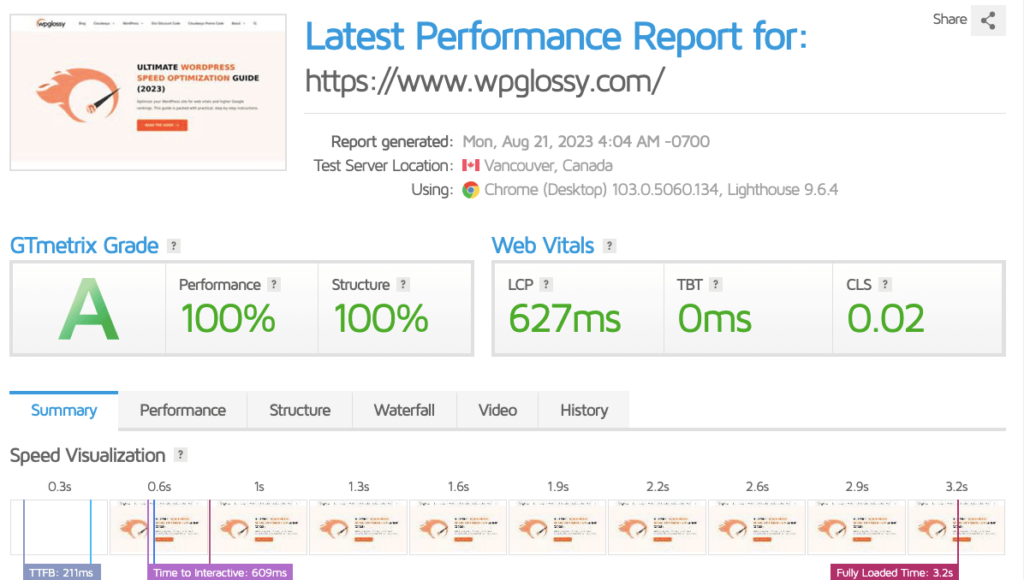 Kinsta
Kinsta's speed-obsessive architecture contains Nginx, PHP 7.3, Google Cloud server, LXD containers, and MariaDB database. LoadImpact and StatusCake are the two best speed features of Kinsta that ensure your site load in the blink of an eye.
You don't need to use any cache plugin here because it has a Kinsta MU plugin designed for caching and CDN integration purposes. They have partnered with KeyCDN, IPv6 powered content delivery network, to offer CDN service for free so that you can offer the fastest delivery of your assets.
Kinsta and WPRocket 3.0 are fully compatible to make your WordPress fast forever. The company offers Amazon premium DNS for Free to ensure that your site is always available and gets fast DNS lookup times.
Here is our niche site loading time speed with Kinsta hosting service!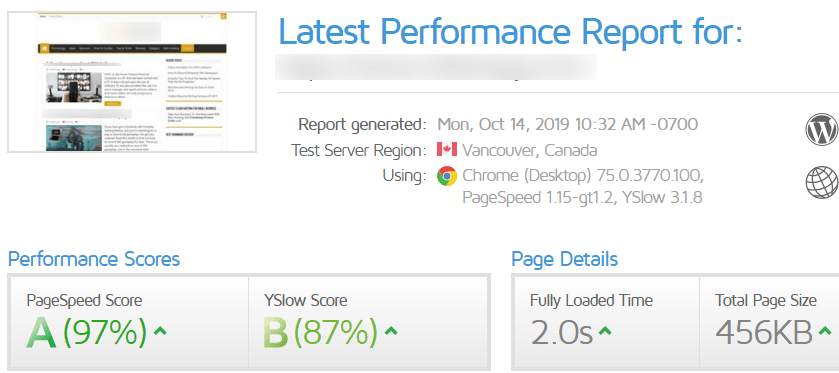 Winner – Cloudways
Reason: We are fulfilled with the speed performance and server response time of our blog, WPGlossy, which let us play well in the search engine results and get a lower bounce rate in the Analytics report.
Get Cloudways Now with a $30 promo code – WPGLOSSY
2. Performance (Uptime)
Site availability is important as it could determine the business website's success. If your site often goes down, you will surely lose credibility among the readers and search engines.
Cloudways
The company understands the critical importance of all-time site availability and therefore implemented a cluster of nodes in the server powered by the Google cloud platform to ensure the healthiness of the components.
If there is an issue, another cluster node will automatically be turned up to avoid downtime. We are tracking the uptime performance of our blogs, and here you can see that our blog hosted with Cloudways is available 24 X 7 with no downtime.
Kinsta
Because of using container-based infrastructure, Kinsta offers an SLA-backed 99.9% uptime guarantee. The database runs within the container, and they do not run multiple load balance instances of each site. Even though it has robust architecture, the company doesn't guarantee 100% Uptime, and I'm wondering about it.
Every 2 minutes, they check the status of every hosted website, and it helps them react to the potential problems before reaching your audience. As you can see in the below image, the downtime period is very less (just a minute) and not happening for us every month.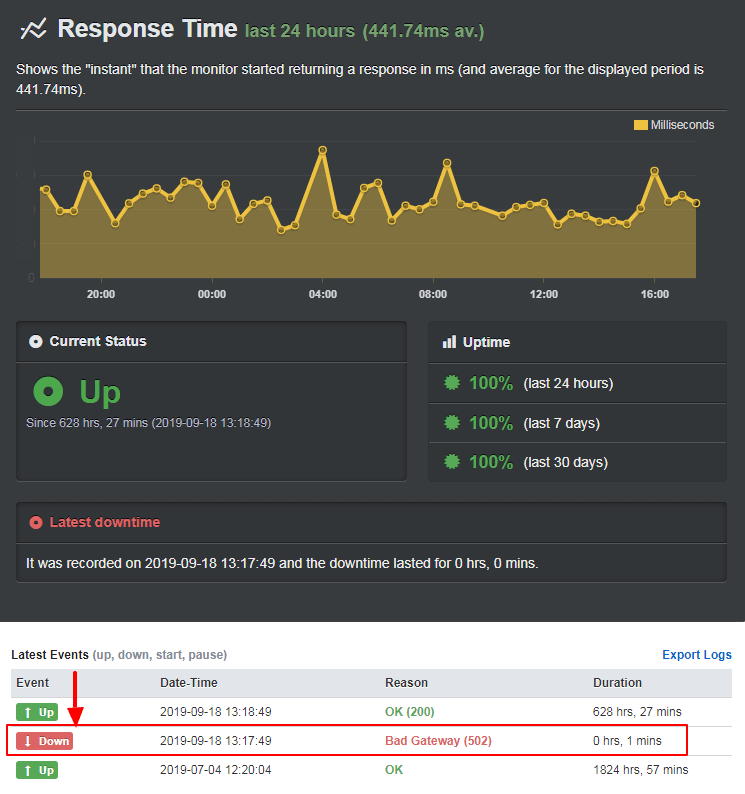 Winner – Cloudways
Reason – Every minute counts, and it would impact our reputation and loyalty. It is considered productivity and revenue loss for rapidly growing business sites.
3. WordPress Optimized Features
WordPress is not only an essential blogging tool! Powering more than 33% of the web, it is the fastest-growing online publishing software that popular brands and celebrities have endorsed.
Even a high-functional website for small businesses can be beautifully made with WordPress. And this is the reason most hosting companies make their optimized WordPress pricing plans.
Let's look at the WordPress hosting features of Cloudways Vs Kinsta; hence, you could pick the one with high-class potential.
Cloudways
Cloudways makes deploying, building, and scaling an optimized website easy. Moreover, it is more likely to get complex WordPress hosting solutions that fit your requirements.
Thunderstack – unique optimization technology to guarantee better speed for WordPress
Breeze – Free cache plugin for WordPress
CloudwaysBot – Smart assistant to give instant notifications
Stack with the latest web servers and databases
Edit the .htaccess file to add the codes to extend the functionality
High scalable servers best suited for e-commerce websites.
Kinsta
The high-end servers are Kinsta are fine-tuned to work with WordPress, so your site will be delivered optimally to your audience. Here are the few notable qualities of WordPress
Server-level caching for instant site delivery
720 daily uptime checks
WordPress-specific security rules
Staging environments and restoring backups to staging
High flexibility in configuring the installs and supporting custom setups like Bedrock.
Winner – Both
4. CDN
Content Delivery Network (CDN) offers a speed boost to your site by reducing the latency time of the content delivery to your visitors who stay far away from the hosting origin. I have explained how CDN works and why it is for WordPress sites.
CloudwaysCDN
How do you feel when you could integrate the CDN service into your site by yourself? Yes, you would feel proud like a technical expert. The CloudwaysCDN is easy to implement, and it will give your site a speed boost.
CloudwaysCDN is highly affordable and never empties your pocket. You can complement this excellent quality for your business site to reach a global audience and offer quick page load time for them.
KinstaCDN
Kinsta has partnered with KeyCDN, the CDN giant, to turbocharge your site around the globe. Enabling the Kinsta CDN is simple; however, you must install Kinsta MU Plugin to complete the job.
Its starter plan includes 50 GB of free CDN; when you cross the limit, they charge you $0.10 for every GB of CDN bandwidth.
Winner – Kinsta
Reason – Kinsta offers free premium CDN from KeyCDN, even for its starter plan.
5. Customer Support
The taproot of the web hosting company is its customer support team. The reliable tech team should assist the customers with the ideal solutions so they can keep their clients with us.
Before choosing any hosting service, check whether the support team is proficient and able to help you at critical times. Also, evaluate the modes of reaching them and determine how quickly they respond to your queries.
In this comparison post, Cloudways Vs Kinsta, I should speak about their customer support team.
Cloudways
I can describe the Cloudways support team in a single word – Amazing!
As we use three different accounts with Cloudways, we have contacted the expert team on many occasions. Every time, they have assisted us well with the right solutions. We didn't have to wait in queues for a long time as they were always available 24 x 7.
The team is proving its excellence in managed site migration, troubleshooting bugs, on-demand backups, and application updates. The company offers priority support add-ons for your peace of mind through senior engineers.
Kinsta
Like Cloudways, Kinsta has a team of experts in their support team who could offer the perfect fixes for any technical glitches. Their priority is customer care, so they quickly respond to your troubles.
Yeah, they are always ready to fix the complex issues of their customers by sharing their knowledge. Till now, they never left any of our issues unsolved. We used to contact them rarely, and yes, they are always responding well as early as possible.
Winner – Both
6. Cloudways Vs Kinsta Pricing
How much does reliable web hosting cost? – It is a mostly-asked question by business owners!
You should understand that the industry-level, first-class hosting cannot afford for free or at a low-cost price. It is worth paying the dime for the features that help our site load lightning-fast and keep it safe from intruders.
According to the storage, bandwidth, SSH access, backups, and other sophisticated qualities, the Cloudways and Kinsta pricing details are as follows.
Cloudways
The pricing plans of Cloudways are flexible and transparent. As they are pay-as-you-go types, you will have to pay only for the resources you consume for your site. There is no Lock-in charge here; you can host countless applications on any plan.
Four different pricing plans are available for each cloud server, and you may pick the suitable one according to your budget. When you exceed your bandwidth limit on the Digital Ocean server, you will be charged $0.02 per GB.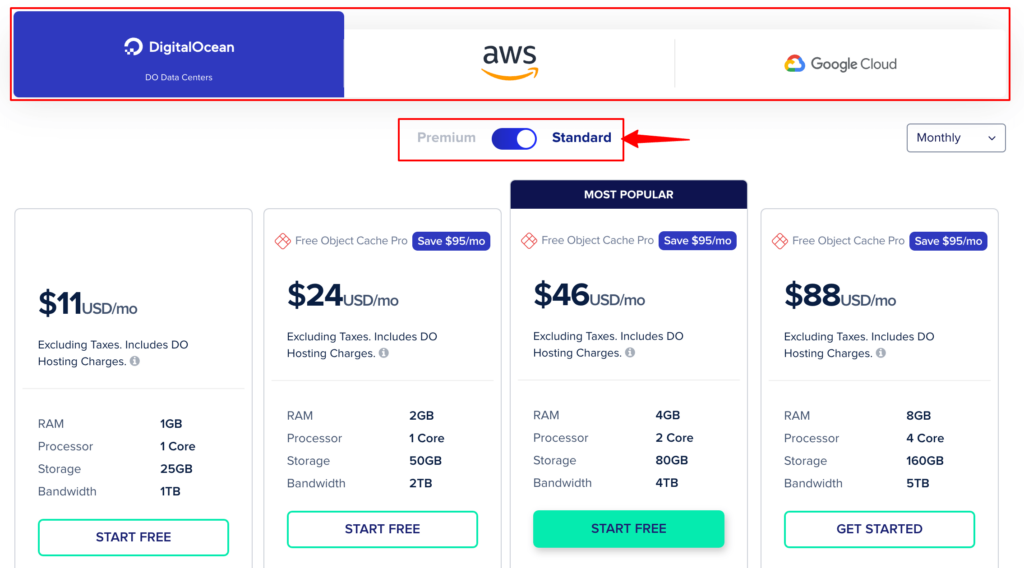 Kinsta
Kinsta has expensive pricing plans! Even with the starter plan, you can install only one WordPress, and they are not recommending this plan for e-commerce and membership sites. However, you will get free SSL, Backup, and CDN support.
If you make the annual payment, you will get two months of free hosting service, an excellent opportunity to save your hard-earned bucks. Paid add-ons like Cloudflare railgun, Nginx reverse proxy, Redis, and extra disk space & backups are available.
Winner – Cloudways
Reason – The starter plan of Kinsta is three times costlier than the basic plan of Cloudways. Even if you want to get CDN and premium backup, Cloudways plans are still cheap compared to Kinsta. Moreover, Cloudways $30 Promo code – WPGLOSSY, is available to grab the maximum free credits through which you can use the free hosting for three months. Cloudways Premium Vs Standard and High-frequency Standard and Premium Vultr pricing plans are also available to choose the suitable server for your needs.
Cloudways Vs Kinsta – Comparing Other Essential Qualities
Apart from the key features, let's compare the other beneficial qualities of the two giants and see which one offers extraordinary customer service!
7. Free Trial
Cloudways
Use the server service free for three days without entering your credit card details.
Kinsta
No free trial is available. Kinsta offers only a 30-day money-back guarantee.
Winner – Cloudways
8. Dashboard Management
Cloudways
Good relief from the traditional control panel. You could easily manage all the features in one place without any difficulty.
Kinsta
You will adore the custom hosting dashboard, MyKinsta, where you can manage everything from scratch. As the dashboard is responsive, you can take the backup, check for plugin updates, talk with the support, and do all other activities from your phone.
Winner – Both
9. Site Migration
Cloudways
1st Migration for Free and Self-Migration through BlogVault plugin. We migrated the blogs from old hosting to Cloudways in an hour by installing the Cloudways WP migrator Plugin.
Kinsta
One or more site free premium migrations are available for all the plans. Therefore, you must rely on support to complete the migration task.
Winner – Cloudways
10. Plugins Support
Cloudways
No restrictions! You can install and use any 3rd party plugins.
Kinsta
You cannot install all the third-party extensions; it has a list of banned and incompatible plugins.
Winner – Cloudways
11. Security
Cloudways
You will get a secured managed cloud server from Cloudways since they perform regular security patching and implement an OS-level firewall to eliminate malicious traffic. Also, they provide two-factor authentication, 1-click free SSL, and IP whitelisting to keep your server safe at any cost.
Kinsta
Kinsta is a highly secured WordPress hosting that detects DDoS attacks through the hardware firewalls and proactively stops malicious codes from entering the network. Having the "Hack-Fix" guarantee is an exceptional security feature of Kinsta; hence, you can stay relaxed with peace of mind.
Winner – Both
12. Backup
Cloudways
In Cloudways, you can also set up automatic backups and take on-demand backups. You can fix the frequency and schedule for automatic backups. Automated hourly backups and time-specific restore points are available and FREE. They charge $0.50 per GB per month to keep your backups on an offsite location for disaster recovery.
Kinsta
Kinsta provides automatic WordPress backups (stored for 14 days) and system-generated types for all your accounts. Along with the manual backups (Available for 14 days), these automatic backups are available in the MyKinsta dashboard through the downloadable file. Besides, they offer two different paid backup plans (Hourly and 6-hour backups) for the one who needs additional restore points.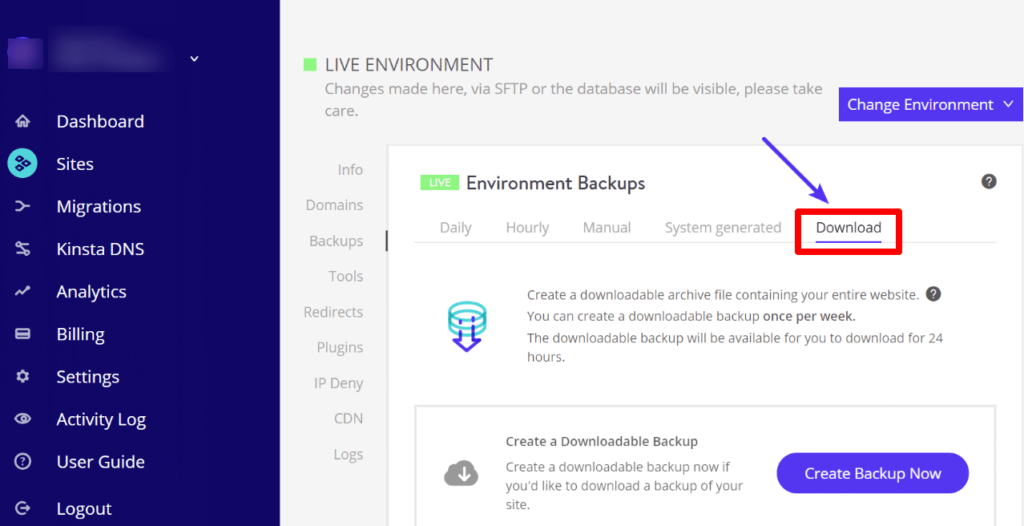 Winner – Kinsta
Cloudways Vs Kinsta, Which is the Best Managed Cloud Hosting?
It is challenging to choose between two good hosting server companies. Both high-performance hosting would tweak your site performance to the next level. However, if we look deeper into the features, affordability, and contentment, Cloudways is the direct winner.
The primary superior feature of Cloudways managed hosting is Pricing, which is highly affordable than Kinsta. Even if you get the CDN, Paid Backup, and Premium DNS services in Cloudways, it is still cheaper than Kinsta hosting.
Besides, it is an exceptional server service to host multiple domains worldwide with the choice of 65+ data centers. Moreover, you will feel comfortable with the self-migration feature, easy-to-handle dashboard, scalable resources, and speed optimization qualities.
Regarding server performance, such as Uptime, speed, and server response time, we are more delighted with the results of Cloudways than Kinsta. Nothing big differences; however, Cloudways gave us a performance boost.
From the above discussions for Cloudways Vs Kinsta, you can easily judge that my top recommendation is Cloudways! I suggest you try Cloudways before going with Kinsta, and I'm sure it is the best investment for your business site.
Not only Kinsta but Cloudways can also perform better than its competitors. If you trust my words and want to go with Cloudways, you may use our Cloudways Coupon Code for $30 and grab the premium hosting free for 3 months.
After using the service for a month, I request you to come back with your results and server experience with this best Kinsta Alternative to help the readers make the right move.
Check Other Cloudways Comparisons