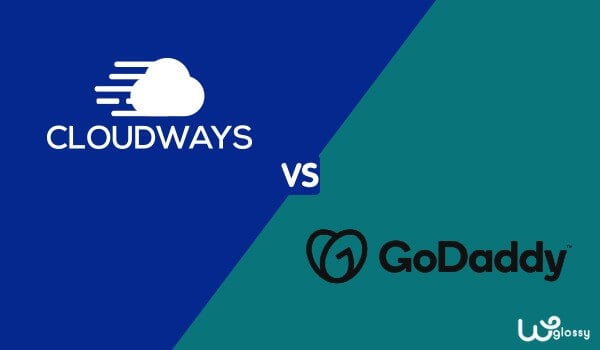 Have you been stuck between Cloudways and GoDaddy hosting?
As I'm getting a great opportunity to use both hosting services for my different blogs, I would like to clear some essential things through this Cloudways Vs GoDaddy comparison, and hence you could buy the best one for your online asset.
Hosting is the essential attribute of a website. Over the years, various hosts have fought their way to be the best in the industry.
Although there has hardly been a clear winner, the comparisons have always helped the users gain an excellent choice for the money spent.
Yeah, it would be the toughest job for the site owners to choose between the hosting services. Through my experience with both hosting providers, I'm going to compare by taking one area into account at a time and analyzing a winner for every criteria.
Well, we are using Cloudways for WPGlossy, and GoDaddy for our niche blog. No doubt, Cloudways performs excellent than its competitors. Now, let's begin the war!
Disclaimer:
I'm going to exhibit my personal views and experience and they may conflict with others' viewpoints.
Are you in a hurry and want to pick the best service right now? Just have a look at the Cloudways Vs GoDaddy comparison by analyzing primary features!
| | | |
| --- | --- | --- |
| | | |
| | | |
| | | |
| | Period 3 Days (Without Credit Card) | No Free Trial (30 Days Refund) |
| | | |
| | | |
| | | |
So, from the above comparison, you will be able to decide on a fantastic server service that could tweak your online business.
Now, let's dig into the evaluation further so therefore you can make the right decision!
Cloudways Vs GoDaddy – In-depth Comparision
1. Speed
The first thing that one thinks of when one decides on the host is the server speed. Thus, speed is undoubtedly the first point of concern for both companies. Here is what you can understand about the two companies when it comes to hosting.
Cloudways
Through the inbuilt cache advances like Nginx, Varnish, and Redis, the auto-healing quality to restart, and SSD Drives, the server helps make sure that they reduce the websites' loading time that is associated with them.
Cloudways even comes up with a cache plugin called Breeze, which is available on WordPress and CloudwaysCDN. This too helps in reducing the load time. Besides, they have PHP 7 ready servers and preconfigured PHP-FPM to increase the site loading time.
We are a satisfied customer of Cloudways loading speed. Check the speed performance of our blog, WPGlossy!
GoDaddy
GoDaddy platform is optimized with high-performance features with load-balanced servers. It boasts with quick response time but not as fast as Cloudways.
The fully loaded time is quite average with this hosting providing the customers with an average fully loaded time of 2.4 seconds. The numbers are pretty average to be said at the least.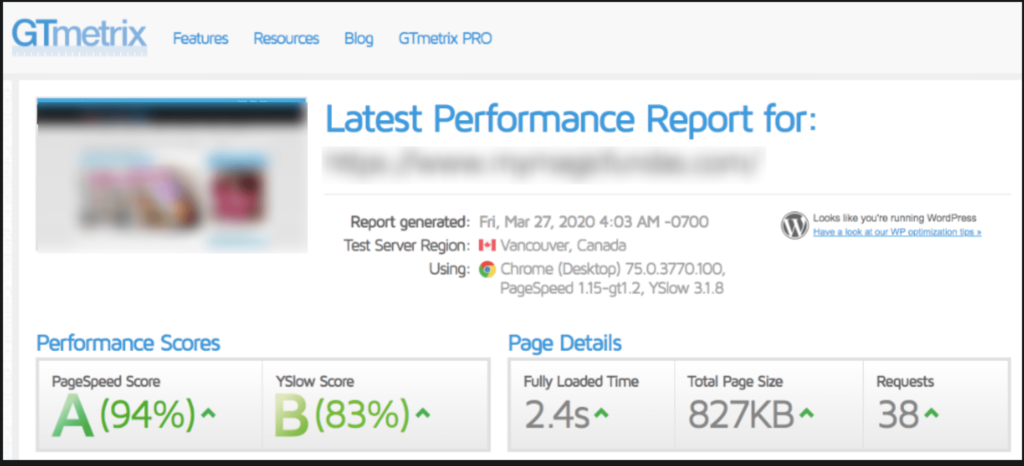 Winner – Cloudways
Verdict – Although, both the services have relatively comparable speeds, overall, Cloudways have a little nudge ahead of GoDaddy, when I compare the site loading speed. Thus, Cloudways is a clear winner in this case.
2. UpTime
Apart from hosting speed performance, the site's downtime is considered more important. This means the time when the website might be down due to server issues. Let's dive into the topic and understand which one is better in the given criteria.
Cloudways
This amazing hosting service makes sure that it stays on top in its game in every department, and this surely is not an exception. It has not recorded a downtime for quite some time.
Thus, Cloudways stands true to the promise of giving 100% uptime for the websites that they host. The Google cloud platform also powers the servers, and it helps the company to fulfill its promises further.
We are available all the time and look at the performance proof!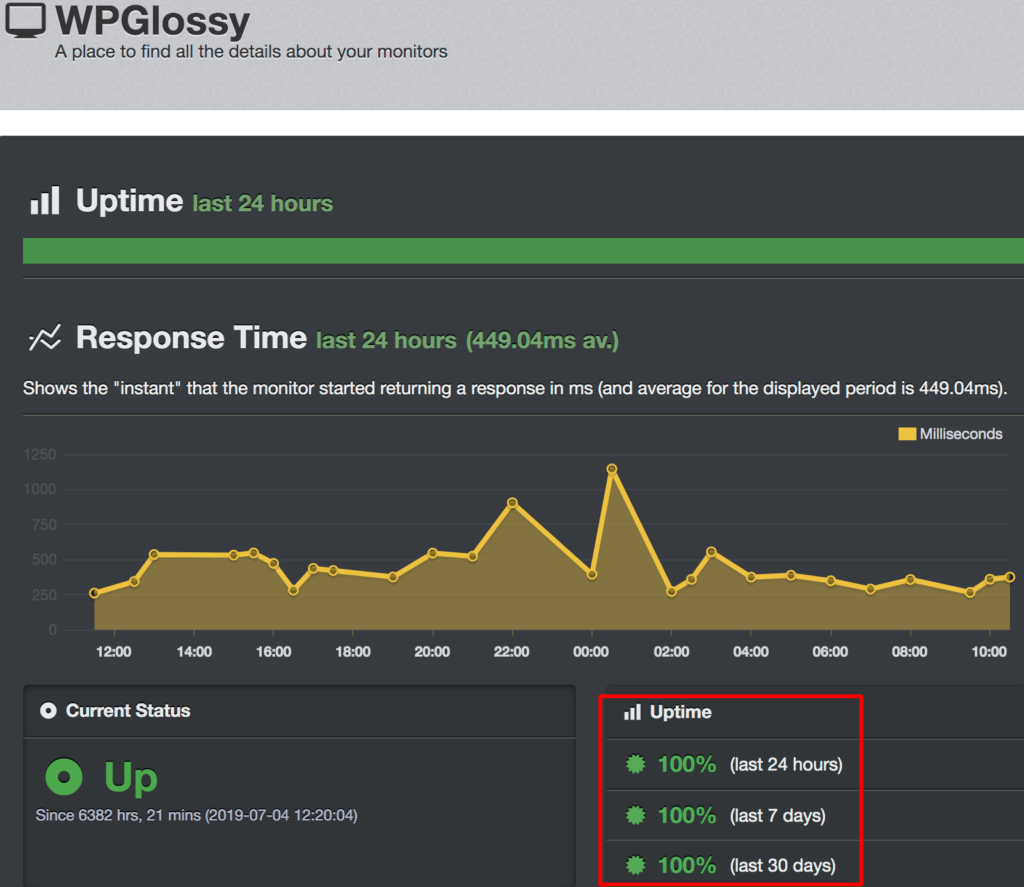 GoDaddy
Well, we've been handling a niche blog hosted with GoDaddy servers. For quite some time, the service has been almost indisputable. It has served users with 99% uptime. The record stated here is for nearly two years.
Although officially it claims 99.99% uptime, we have faced downtime issues for a few times in the past 6 months. The performance is down for just a few minutes, however, it might frustrate our readers which we don't want to do for our readers.
Check the GoDaddy performance for our niche blog!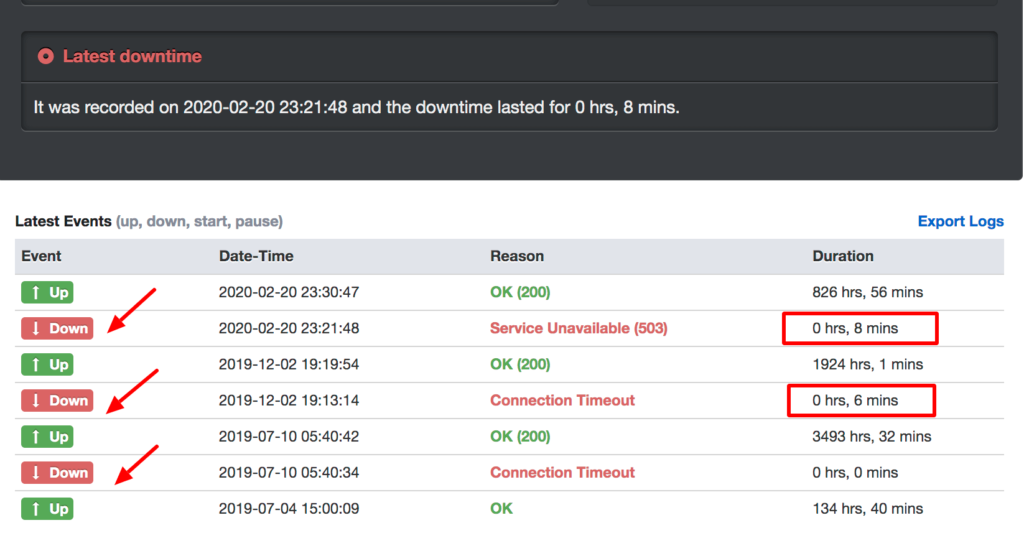 Winner – Cloudways
Verdict – Till now, we didn't face any downtime issues in Cloudways managed hosting, however, we received the site down notification alert twice times with GoDaddy. Therefore, in the performance race, Cloudways wins the medal.
3. WordPress Optimized Features
WordPress is the most widely used Content Management System around the world. It is claimed that the Content Management System supports more than 27 million live websites across the internet. Thus, a user needs to understand the WordPress Optimization features of a server, to use it effectively.
Cloudways
Cloudways promises an easy and simple way to install WordPress to the websites hosted by the company. Apart from the simple installs, it also offers various solutions to all the problems that one might face with the website.
The applications such as Thunderstack, Breeze, and Cloudwaysbot together help improve the user experience. Furthermore, this server service comes up with better solutions for e-commerce-related websites.
GoDaddy
With GoDaddy, installing WordPress is as simple as you can think of. The host also provides the user with automatic WordPress software and security updates and even various templates for beginners, so that they can have the best experience and smooth experience while starting their first website.
The host offers access to thousands of free WordPress themes and plugins which make the website a better place to be in together and also improve the user interface and user experience. You will also get the pre-built sites, drag & drop editor, and 1-click migration tool from the WordPress hosting plans of GoDaddy.
Champion – GoDaddy
Reason – Overall, Cloudways might seem to hold the upper hand if you use an e-commerce website, but for all other purposes, possibly GoDaddy is also a great choice. So, in this case, GoDaddy emerges as the real winner.
4. CDN
CDN or the Content Delivery Network is something that is of utmost importance to the bloggers and users who are using content-heavy websites. The CDN networks help make sure that your articles are visible around the globe. Let's delve into what the two hosting companies have to offer through CDN services.
Cloudways
Cloudways avail very cheap and dependable CDN services, and as a result, the company has been able to draw in a lot of more customers than its counterparts. This best managed hosting offers CDN for $1 per 25GB and we are using it since last year. Check CloudwaysCDN integration tutorial that would help you execute the CDN service for your business site.
This surely is one of the most reasonable rates that you would have been offered with. Also, the CDN service is one you can really vouch for. With a really quick load time, their servers have been able to load the website at a lightning-fast speed in any part of the world.
GoDaddy
GoDaddy provides CDN services along with its WordPress hosting plan and it claims to offer a 50% faster website opening through CDN services.
It has specified rates but they are on the higher side and thus, for bloggers in their early blogging days, it might be a bit difficult to take up a CDN plan. In simple words, the GoDaddy CDN is expensive.
Winner – Cloudways
Reason – Clearly, offering great CDN at a low price and allowing customers to seep up their websites at lightning speed halfway across the world, Cloudways has done a good job in this than its counterpart. So, for us, the winner would be Cloudways.
5. Security
Your website is something you are very particular about, and we get that completely, cause we too are very specific about ours.
This brings into picture one of the aspects that keeps bugging many bloggers over the day. Are their websites secure enough? Well, let's see if web hosting services can provide customers with amazing security available.
Cloudways
The motto of Cloudways is to keep your website safe at any cost. And well, they seem to have managed it correctly. As discussed before, we have quite a few sites that we did host with Cloudways, and none, exactly none of them ever experienced anything close to a security breach.
It provides the following impressive security features for its customers like
Regular OS patches to avoid vulnerabilities
OS level firewalls to filter out malicious traffic
Two-factor authentication for extra safety
IP whitelisting for unrestricted access to SFTP and SSH
1-click free SSL installation for improved web security
All these together make sure that you would never experience a security breach under any given scenario.
GoDaddy
GoDaddy provides with trusted site seal and Google blacklist monitoring and removal. These features, as a whole help the company offer better services to fight against security loopholes.
Also, the unlimited hack repair and malware removal that this hosting service comes up with makes it a tremendous option to be in among the other servers.
Champion – Both
Verdict – Both Cloudways and GoDaddy seem to have done their best to tighten the security! This is something that we genuinely appreciate both the web hosting services, and I would declare this as a clear tie between both the competitors. We hope that all hosting companies should be as supportive and legit as they are.
6. Customer Support
The hosting company's support team should be very responsive, knowledgeable, and available to solve our difficulties.
Thus, even though this aspect is not talked about much, we still feel that customer support is one of the most important aspects to ponder upon. Let's discuss the ability of tech support for both web hosting services.
Cloudways
If there is one hosting provider that has exceptional customer services, then it is Cloudways managed hosting for sure. The customer services of Cloudways is worth a mention as we have tried reaching out to them any time and they are there 24/7 to support us in need.
They have all the options you might love as a customer in any company. Right from live chat to the customer care contact number, to the ticket system, Cloudways has it all.
GoDaddy
GoDaddy has decent customer service. It offers the customers live chats which are actually 24/7. We have checked on it several times, but then, they have never disappointed us. They took some time to reply back, but the assistance was good.
They are always around to help us through their award-winning customer support team. To get support, you may also call them directly on their customer support number. The only thing that they lag is proper ticketing and email service for customer care.
Winner – Cloudways
Reason – Both companies have a tough battle when we compare the live chat and calling facilities. However, on the ticket registration ground, Cloudware is an undisputed winner. Thus, we would garner Cloudways as a remarkable customer service provider.
7. Pricing
In Cloudways vs GoDaddy battle, pricing is an essential factor to keep in mind, especially, if you are a new digital marketer, online entrepreneur or blogger who cannot invest huge money during the earlier phase.
So, let's check out the prices that both companies have to offer and decide on which company would be better off than the other.
Cloudways
Cloudways offer services starting at $10 per month, and it goes up to $80 per month. It provides unique advantages like free SSL and CDN Add ons on all the plans that it has. Cloudways though might seem a bit costly for the newbie who wishes to start a new website.
Still, then it comes with an SSL plan which you would mostly have to buy with most other server providers, Thus, overall, the price is pretty affordable when you wish to have a complete website.
GoDaddy
GoDaddy starts offering servers at $6.99 per month. This helps emerging webpreneurs to get an edge. However, the offer is valid, only when the user takes the service for three years.
If you don't want to have the server for such a long time, then you surely can think of going on for options with lower validity, but then the cost per month would rise.
Also, if you prefer buying WordPress-optimized services, then the price can go up to $251.64 for 3 years. You need to decide on your needs and accordingly take the plan that suits you most.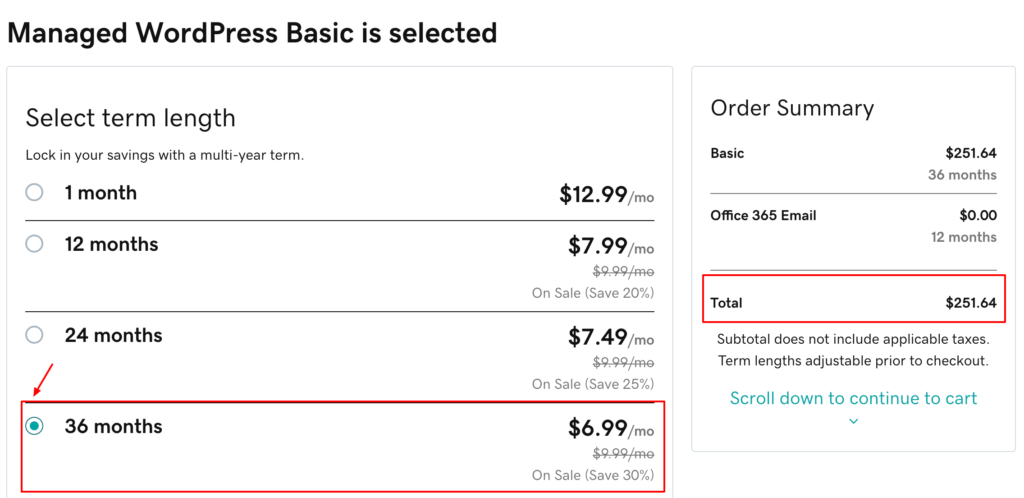 Winner – Cloudways
Verdict – Although the pricing of GoDaddy is cheaper on the prima facie, then Cloudways comes with other advantages which are payable in GoDaddy. Moreover, you have to get the hosting service for 3 years and need to pay a huge amount at one shot. This is not suitable for budding bloggers and online markers who still need to establish their foot on the web. Out of all, Cloudways offers a discount of $30 to use the service for 3 months free.
8. Ease Of Use
Ease of use is one among the features that can hardly be calculated or understood by any factual data. How easy to handle their settings are? Let's see what the two hosting biggies have to offer in this segment.
Cloudways
The user experience or usefulness as you may call it is way smooth in Cloudways. The user interface is highly precise and the settings are self-explanatory. Even a non-tech savvy can handle the dashboard easily and set up things.
Here, you are the boss and have entire control over the applications and server. In this initiative and user-friendly platform, you can easily control Varnish Cache, Webroot application, Backup, and restore to run your site smoothly. Multiple integrations and add-ons are also possible.
GoDaddy
GoDaddy provides with good user experience. One would face no problem in navigating through the website that company has. However, the problem that one might face is choosing a plan that fits them well.
We would like to mention here that, at places, GoDaddy has very little to no information at all and for the newbies in the trader, it can be a hectic task to find out specific relevant details about the hosting plan that they are looking up for. Moreover, the settings are very basic and the interface is boring!
Champion – Cloudways
Reason – Cloudways is a clear winner here, as they have a better interface and setting options to deploy and maintain the server.
After seeing the valor of Cloudways, you might be interested in checking Cloudways Vs Kinsta as well.
Wrapping Up The War – Cloudways Vs GoDaddy
We have come to the end of the comparison of Cloudways Vs GoDaddy. GoDaddy is more suited to individual bloggers or freshly entered digital marketer who holds a single website. While, if you are a dedicated small business who is looking for the long run, then, Cloudways would be a way better option for you.
Considering everything in mind, if I am asked to choose the better one among the two, then I would possibly go for Cloudways, acknowledging the fact that Cloudways may seem costly at first glance, but if you see the offerings, then they have quite a lot to offer.
Why Choose Cloudways?
Cloudways is an exceptional service that provides excellent Site loading speed, Uptime Performance, CDN, Customer Support, Pricing, and Feasibility.
Various other points stand quite tall in favor of Cloudways compared to GoDaddy servers and hosting. All the Cloudways plans include the following:
Server customization
Server transfer
One-click server and application cloning
One-click Server Deployment
Cloudways SafeUpdates for automatic updates
Free Wildcard SSL Certificates
All these features are missing from GoDaddy which makes Cloudways a better server for you in any stage of expertise that you are in.
Without any second thought, use Cloudways Promo Code to get the best hosting with a $30 exclusive discount for WPGLOSSY readers.