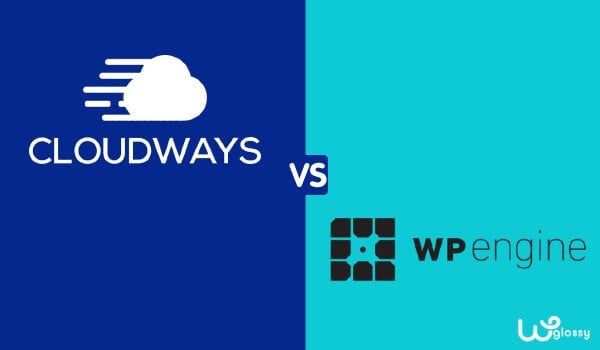 Are you struggling to choose the best managed cloud hosting? Cloudways Vs WPEngine – which hosting service is good for your business website?
To answer this question, I will compare both hosting providers based on their performance, speed, customer support, and other factors. I can compare their features better because we use both Cloudways and WPEngine! So you would get a clear idea about both hosting providers and choose the right one for yourself.
However, before I go ahead and continue with the Cloudways Vs WPEngine comparison, you should know that whatever I am going to share is my personal views and experiences. It might not match what is already available on the internet and what other people are saying.
If you don't want to read the in-depth content and look for a quick comparison, here you go!
| | | |
| --- | --- | --- |
| | | |
| | | |
| | | |
| | 3 Days (Without Credit Card) | |
| | | |
| | | |
| | | |
Now, we head to the topic in detail
Cloudways Or WPEngine – Which Is the Best Hosting For WordPress?
Both the managed hosting biggies offer exceptional service, so it would be the most challenging task for the site owners to pick between them. I'm sharing my experiences with both the hosting giants to clarify things. Get into the war!
1. Speed
Loading speed is a significant factor in choosing a hosting service. Good loading speed is critical.
As it enhances the user experience, Google uses loading speed as one of its ranking factors. So, when serious about SEO, you better invest in super-fast web hosting.
Cloudways
When it comes to speed, Cloudways offers you high performance. The company has implemented some industry-leading technologies backed by reliable yet robust servers. All this enables you to enjoy high speed.
Also, here is a quick look at what technologies you get with this managed cloud hosting:
SSD-Based Hosting: It comes with SSD based, 3x faster hosting. Also, it helps in reducing the page load times for your business site.
Built-In Advanced Caches: It has built-in advanced caches like Memcached, Varnish, Nginx, and Redis. So it can deliver a faster response rate. It is easy to clear the cache.
PHP 7: It only has PHP7-related servers. Plus, as you probably know that PHP8 is fast when compared to all the older versions.
HTTP/2 Enabled: The servers are HTTP/2 enabled, which reduces the communication time between the web servers and clients.
Cloudflare Partnership: Cloudways offers the CDN service through a partnership with Cloudflare. It recently introduced an Edge page Cache for faster website loading.
Check the speed performance of our blog, WPGlossy, hosted on Cloudways HF Vultr server!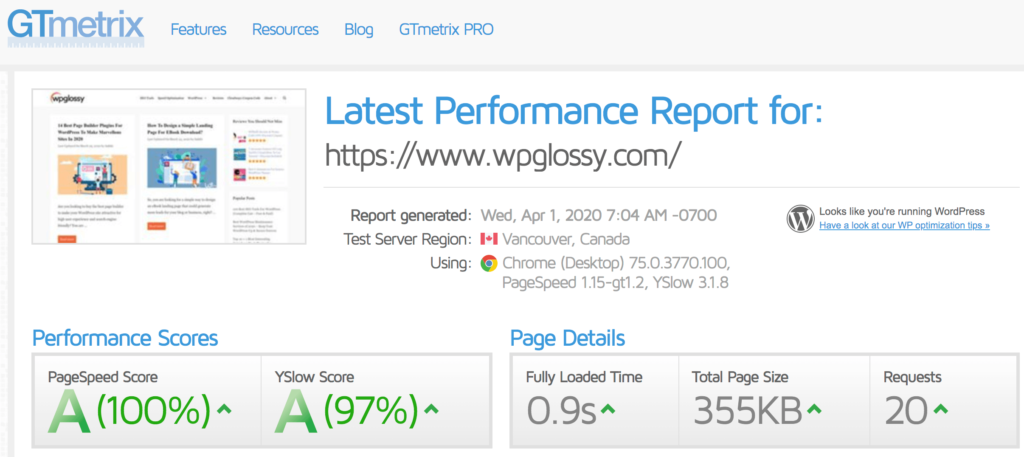 WPEngine
WPEngine also offers you great speed. Thanks to their WordPress digital experience platform, Enjoy the pleasant, reliable architecture that delivers excellent speed, scalability, and security for your online assets.
The servers of this managed cloud hosting provider are PHP 7.4 ready and come with a global CDN. Because of this, your business site will load faster from anywhere across the world. It also boasts SSD hosting, faster than HDD hosting and is backed by powerful servers.
And here is how the hosting service performed in our test:
Winner – Cloudways
Reason – Their servers are optimized for high-speed performance. They care more for site loading speed and offer the features mentioned above for their users. We are delighted with the speed achievements of Cloudways.
2. Performance (Uptime)
The site's uptime is the essential thing that you need to look for. If hosting is not offering you excellent uptime, your website will lose visitors. It can directly hurt your business.
So the question is Cloudways Vs WPEngine, which offers you the best uptime out there? Let me share our experiences.
Cloudways
The best part of Cloudways is that a reliable cloud-based system supports them. And to deliver this, they have partnered with the leading cloud providers in the industry. The company also offers a 99.99% uptime, with an overall loading speed of 400 to 600 milliseconds.
Moreover, they use a cluster of nodes powered by the Google Cloud Platform to offer you ultimate uptime. If there is an issue, another cluster mode will get activated, so the website will not face any downtime.
We bless to have an uptime score of 100% at all times! Have a look at the unfailing performance!
WPEngine
WPEngine guarantees to offer you an uptime rate of 99.95%. Our niche blog hosted on this cloud provider was down for a few minutes. However, according to WPEngine, you could apply for credit towards your monthly fee when you do not get the promised uptime.
Along with that, WP Engine regularly looks for downtimes. They monitor the front end and the back end of your blog or business site for downtime. And if there is an issue, the company quickly takes action to fix it.
Last month, we faced a downtime issue, and look at the report!
Winner – Cloudways
Reason – You can see the steadfast uptime score of this cloud provider, and we are glad about it! They are executing marvelous tasks for site availability, so you don't need to both about your site performance. Go with this best managed hosting without any second thought!
3. WordPress Optimized Features
WordPress is not a CMS for blogging, but it powers 33% of websites. Thanks to its functionalities and easy-to-use nature. Digital entrepreneurs, online marketers, and bloggers use WordPress to build websites.
WordPress will likely build everything from a blog to a full-fledged website. And if you, too, are using WordPress or planning to use it, then let's go ahead and have a look at the WordPress Optimized Features:
Cloudways
Free WordPress Cache Plugin: You will get Breeze, a free WordPress cache plugin. It can improve your WordPress website's performance better than any other plugin. Also, the plugin comes preinstalled with your WordPress installation.
Auto-Healing Managed Cloud Servers: It has auto-healing servers. So if the server faces any issues, it will get automatically healed, and the site will not crash.
Launch 10+ Apps Through 1-Click: This feature is useful for an agency. Through this remarkable feature, you can deploy several WordPress sites on a single server with just one click.
WP Migrator Plugin: You also get access to the WP Migrator Plugin. So when you decide to migrate from another hosting server, this plugin can be used to migrate your blog or site with no hassle.
WP Engine
35+ StudioPress Themes: With WP Engine, 35+ StudioPress premium themes are available. So, give your website a great look.
Automated SSL Certificates: It offers automated SSL certificates, so you don't need to install SSL manually or purchase an SSL certificate.
Global CDN: With Global CDN, the website will load faster.
Champion – Both
Verdict – WP Engine hosting is meant for WordPress, and Cloudways also provides optimized servers for WordPress websites. Both are managed cloud hosting services to help you grow your business with WordPress CMS.
4. CDN
CDN is nothing but the Content Delivery Network, which helps you load your site faster. Your blog or website is going to have visitors all around the globe. And if the server location is far away from their area, they will face a slow loading time.
And this is where CDN helps you a lot. CDN creates a copy of your website and stores it on its server. So whenever a visitor comes to your website, it simply delivers the copied page from its nearest server. So the visitor will experience a faster loading speed.
Cloudways
CloudwaysCDN is a powerful yet straightforward server that offers you excellent performance. It is simple to get started and implement with just a few clicks.
WP Engine
The excellent part of WPEngine is that it does not charge you anything for SS, making it easier to make your website load fast. For all the plans, CDN is included by default for all environments. And for premium & enterprise plans, the first 1000 GB/mo is free.
Note: Apart from these two CDN programs, you can also try other CDN networks like Cloudflare, Google Cloud CDN, etc.
Winner – Cloudways
Verdict – You might wonder why I'm picking this cloud provider as the winner, as it charges for CDN. Because its pricing plans are cheap, you must pay for CDN usage. Moreover, the integration is simple and can be done by yourself. WP Engine has expensive plans, so they offer the CDN for free.
5. Backup & Security
Cloudways
Backup
With this cloud hosting provider, automated or on-demand backups will be provided. The backups are created offshore; you may restore them anytime with just one click. Also, it is possible to take automated hourly and timely backups free of cost. However, you must pay $0.50 per GB to keep your backup offshore.
Security
In Cloudways, you get a managed cloud server. Also, they regularly do security patching and have implemented the OS-level firewall. So it can prevent malicious traffic. Also, you get other features like two-factor authentication, 1-click free SSL, IP whitelisting, and so on.
WPEngine
Backup
WPEngine also performs daily backups on your digital experience; stay relaxed if your site faces any issues. Also, the backups are available free of cost.
Security
To offer you ultimate security, WPEngine also takes strong security measures. It will allow you to develop and operate your websites in a secure environment. It also offers features like disk write protection and limitation, proprietary firewall, user enumeration, etc.
Winner – WPEngine
Verdict – WPEngine is doing great regarding data protection and file storage. Since they know the importance of saving files safe from intruders, they boast tight security features and flexible backup options. However, Cloudways charges you for offering the backup.
6. User Interface (How Easy The Settings Are)
Cloudways
Cloudways provides an advanced control panel and does not have a traditional dashboard. So you will easily be able to manage your web hosting and website. All the features are available under a single dashboard and are easy to use.
WPEngine
WPEngine also has an advanced dashboard filled with features. Over here, your SFTP login details can be viewed and accessed in your database, creating new sites and environments. As well as you will discover and manage other information and settings.
Champion – Both
Verdict – The dashboard preferences of the two giants are precise and self-explanatory. Even a newbie can play settings like a Pro. Both interfaces give you great comfort in setting up things.
7. Free Trial
Cloudways
Cloudways offers you a free trial without a credit card. However, the only drawback is that the trial is available only for three days. I would say that this managed cloud hosting is worth trying!
WPEngine
WPEngine does not offer you any trial. But it provides you with a 60-day money-back guarantee. So if you don't like their service, ask for a refund.
Winner – Cloudways
Reason – Free trial allows you to start using the service through the user interface, and you could evaluate the comfortability of utilizing the settings preferences. You may upgrade the service when fulfilled with ease of use and features.
8. Customer Support
Customer support is the most critical part of any hosting provider out there. Whenever you have trouble, technical support will help you fix the problems.
So before you purchase any web hosting plan from any company, you better check their tech support.
Cloudways
Cloudways support is exceptional! Their service is available 24/7, and they respond to your support tickets as quickly as possible. There are three types of support available: standard help, advanced support, and premium support.
And among them, standard support is free to use and accessible through live chat and ticket systems. However, the other two come with a price tag, and the premium plan only supports 24/7/365 Private Slack channel & phone support.
WPEngine
WPEngine also offers you 24/7/365 customer support. And they are upheld by an award-winning support team. You may reach them via phone support and the ticket system. However, phone support is only available for specific hosting plans. And the basic version only includes 24/7 chat support.
Champion – Both
Verdict – When we faced a difficult situation, tech support assisted us well. They never let us down and made us wait long to fix the issues. Both customer support teams are responsive and knowledgeable as well.
9. Pricing
Cloudways Vs WPEngine – How much does this hosting cost? Let me talk about both hosting's prices in detail:
Cloudways
This best cloud provider charges you based on a monthly and yearly rate. And they have four different plans. And all the plans include the same features. It's just that you are paying for the RAM, Processor, storage, and bandwidth limit.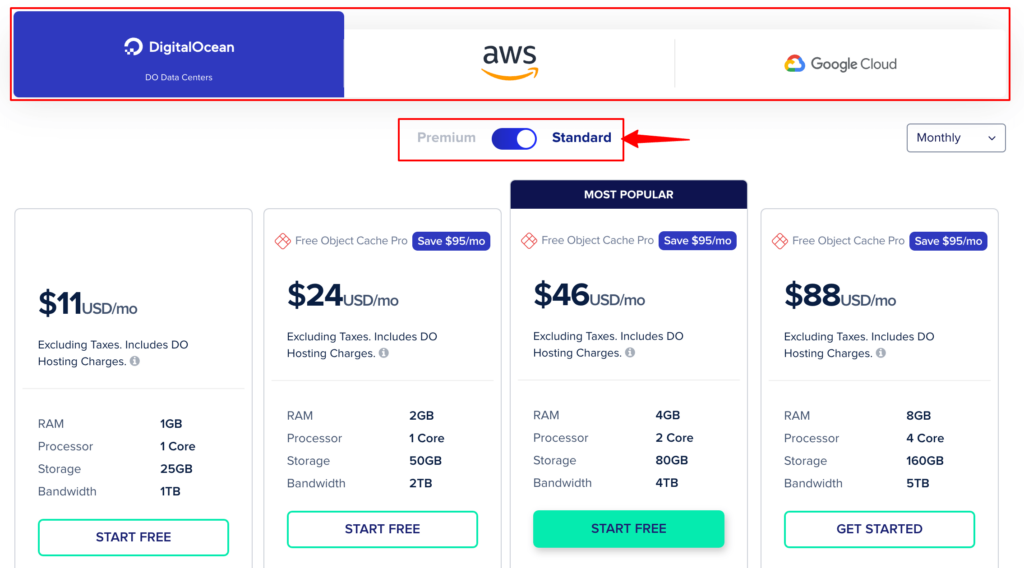 WPEngine
WPEngine has four plans: startup, growth, scale, and custom. While the first three plan has pretty much the same features. But through the expensive plans, access to some extra features will be provided.
Also, the custom plan is for those with millions of monthly visitors. And to get that plan, you have to talk to a sales specialist.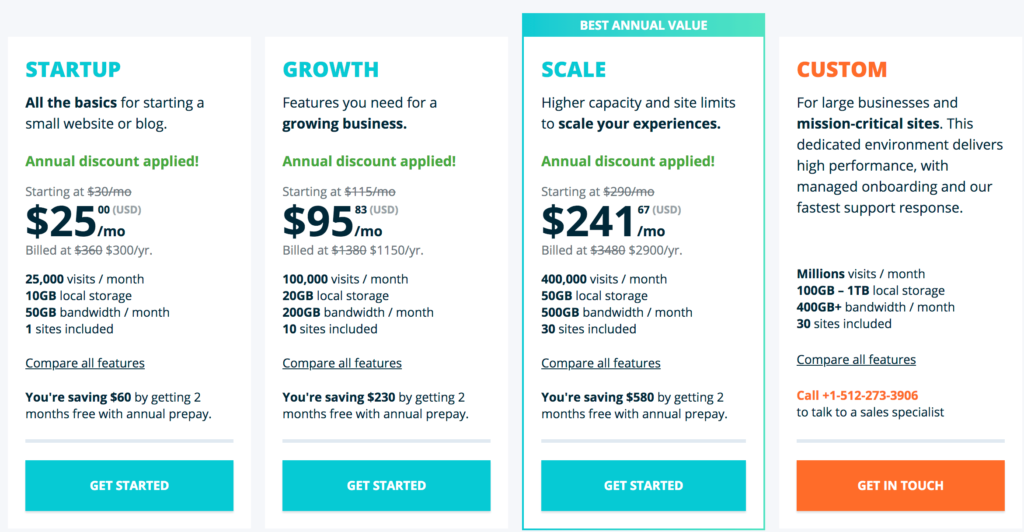 Winner – Cloudways
Reason – Cloudways has inexpensive plans when compared to WPEngine. Even the startup business can afford the basic plan ($10/mo); however, it would not be easy to pay $25 every month.
You might want to check
Cloudways Vs Kinsta, Cloudways Vs GridPane
Cloudways Vs GoDaddy, Cloudways Vs Upcloud
Cloudways Vs WPX Hosting, Cloudways Vs Hostinger
Cloudways Vs SiteGround, Cloudways Vs BlueHost
Cloudways Vs WPEngine – Which Hosting Should You Buy?
Managed cloud hosting is the recent trend! I appreciate your interest in buying the best managed cloud hosting service for your WordPress business site.
Both hosting companies have pros and cons and are the top names in the hosting industry. Both companies have quite similar features.
But when we dig deeper, you will find Cloudways, the clear winner. It has more features and is highly affordable.
I hope this Cloudways Vs WPEngine comparison is clear and helpful for you to pick the right one for your blog or site. Tell me which managed WordPress hosting service you prefer to buy. Cloudways or WPEngine?
Now, let me consolidate the things for better understanding!
Why Cloudways?
Cloudways is performing better than its competitors!
Apart from Uptime Performance, Free Trial & CDN features, check the other valid reason to buy this managed server service.
1. Fast Servers
It has the fastest servers in the industry. They have powerful servers provided by leading third-party cloud hosting providers. Because of this, they can focus more on their service. Also, their outsourced servers pretty fast offer you high performance.
2. Easy To Use
The company offers an easy-to-use user interface. Due to this feature, deploying or managing a server is pretty easy. Even if you don't have any web development experience, you can still get started with Cloudways. And there is no need to follow any complicated steps.
3. Pay As You Go
It has pay-as-you-go affordable plans that bill you based on server hour, which is quite different from hourly billing. Instead, websites with more resources cost more per hour than low-traffic websites. Finally, you don't need to choose a specific plan based on your traffic. Cloudways will do it for you.
4. Easy Auto-Updates
Managed hosting allows you to schedule automatic updates of your WordPress software so that you always will be able to keep your business website up to-date and threats-free. You should know about SafeUpdates.
5. Unlimited Applications On Any Plan
The best part of Cloudways is the possibility of running limitless applications on any plan. Besides, you may install some other apps alongside your WordPress websites. So if you run a website with a wide range of features and use extra resources, then this managed cloud hosting is for you.
6. Other Essential Features
Cloudways subdomain is easy to create. Also, you may use the Staging feature to test and make site changes. Besides, updating the PHP version is not rocket science here.
I would say that Cloudways is the best WPEngine Alternative to host your business site and take it to the next level.
Why WPEngine?
You may go with WPEngine since it has exceptional features like,
1. WordPress Optimization
WPEngine's servers have powerful hardware designed to power many heavy WordPress plugins and themes. Also, they have options for both shared and VPS plans. As a result, you get to enjoy a better WordPress optimization experience.
2. StudioPress Themes
With this managed hosting, access to StudioPress premium themes is granted. StudioPress themes are mobile responsive and rich in quality. Also, using these themes would give your website an easy-to-apply functional and great look. Plus, it kills the need for investing in a premium theme.
3. Global Presence
WPEngine has a global presence. Their servers are in regions like the US, Europe, the Middle East, Asia, and Africa. As a result, you will get impressive speeds and server accessibility no matter to which region you belong.