So, you want to learn how to clear cache in Cloudways hosting! Well, you have arrived at the right place to know the best way of removing the Cloudways server cache.
Cloudways is ideal for long-term business sites as it helps to achieve top search engine rankings by making your site super fast. It also offers the best user experience for your visitors.
You have made the correct decision! Before getting into the Cloudways cache-clearing guidelines, let me explain its benefits!
Why Is server Cache Clearing Essential?
Clear the server cache for a better user experience when you migrate the site.
Remove the cache to display the optimized images when you install the image compression plugin.
Flush the cache to avoid security issues when you update your theme or plugin.
Get rid of your cache to display changes when you add or modify blog content.
Detailed Instructions To Remove Cloudways Varnish Cache
Here are the step-by-step instructions to clear the cache from your Cloudways server!
Step 1: Log in to your cloudways account, go to your Main server > Server management settings > Manage services.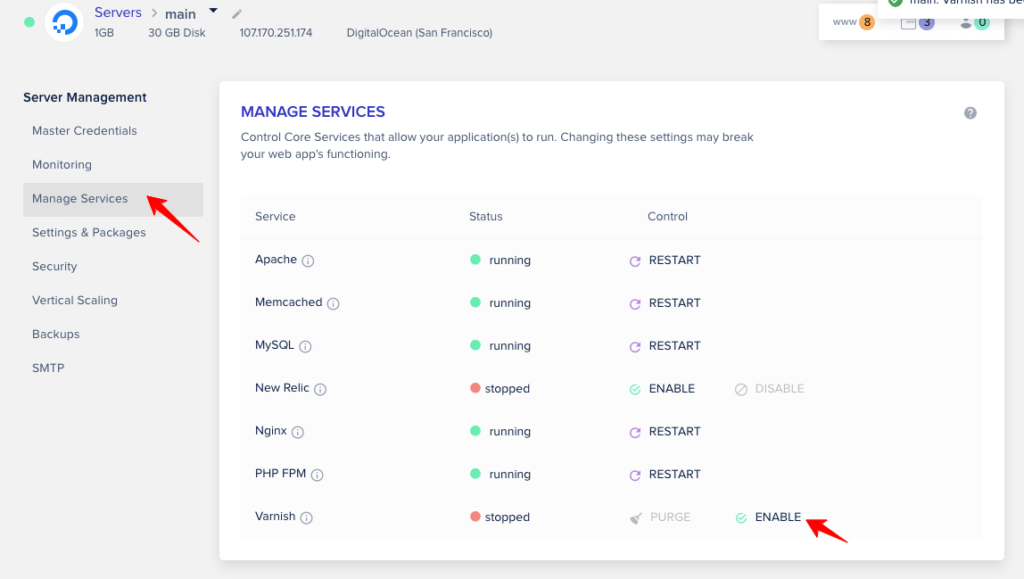 Step 2: Look at the bottom; the last setting is Varnish. Enable it. Now, the Varnish cache is activating for your entire Cloudways server. You can see the message at the top that the Varnish Cache has been enabled.
Step 3: Locate the option "Purge"; click it. Now, it clears all the caches from your server. This process is for your whole server.
Note: If you have several applications on your server and want to disable the cache for any one of them, do the following steps.
Step 4: Click "Applications" on the cloudways server menu, and select that particular application.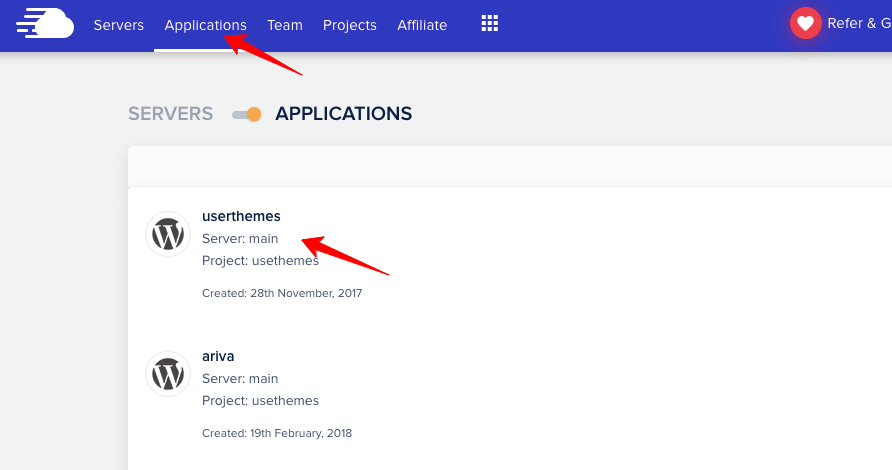 Step 5: Now, Click the application settings, and you will see the varnish cache option. If you don't want to clear the cache for this Cloudways server application, disable it.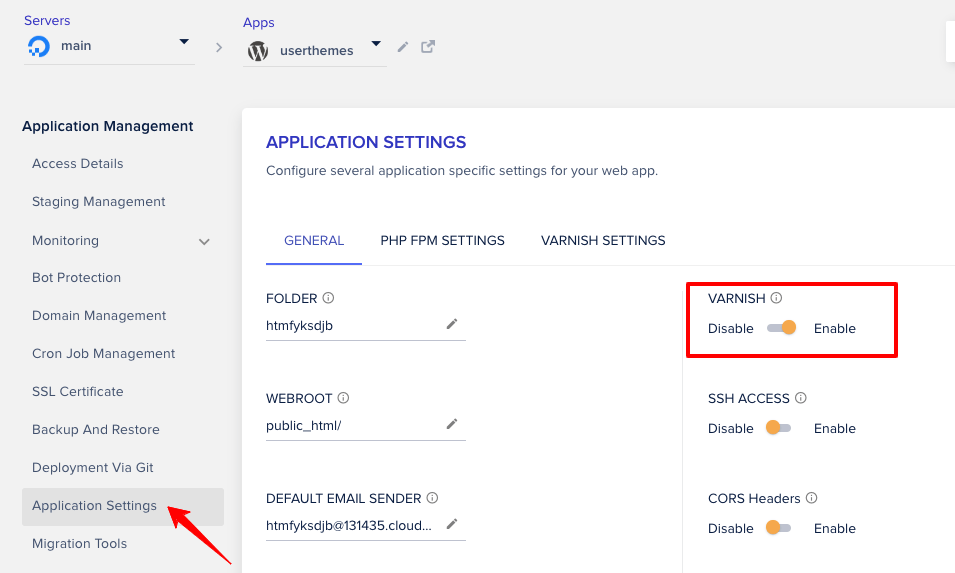 Step 6: If you want to disable cache for a particular page or post, click the Varnish settings > Add New Exclusion button. As the name implies, you can exclude a specific article from caching by giving its URL.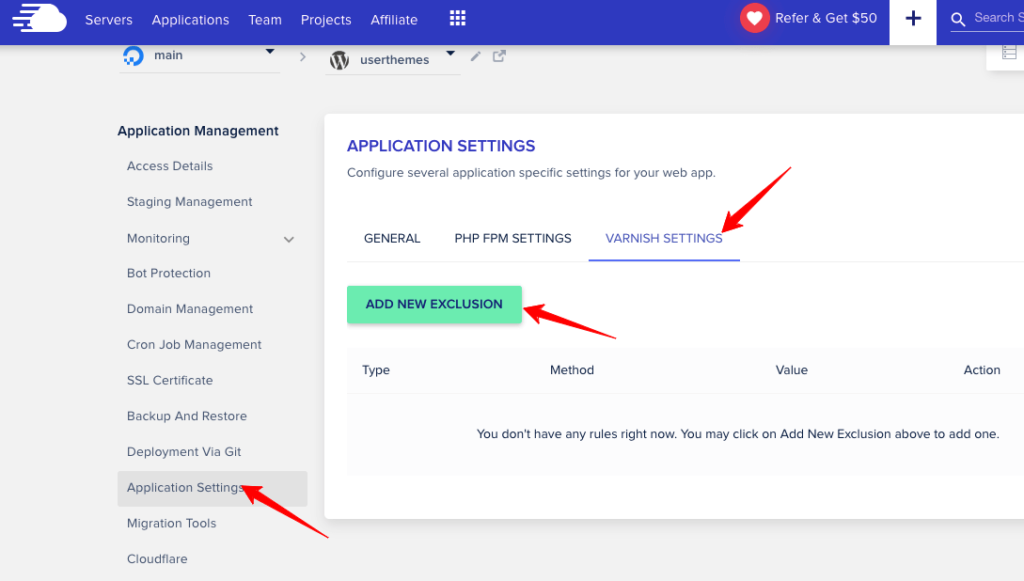 Step 7: Get a Sample URL and add in the Add New Exclusion option. Click "Save".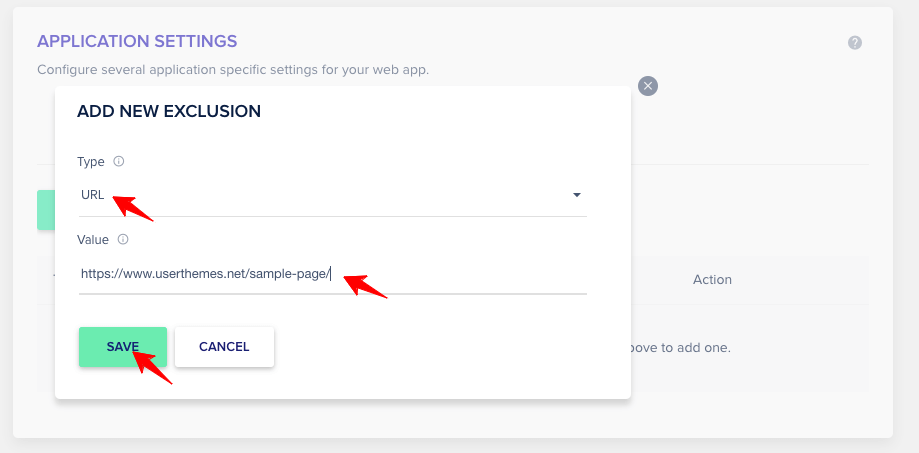 Note: Add new exclusion option contains edit and delete the rules. So you can easily add or remove the URLs.
Video Tutorial To Clear Cloudways Cache
For easy understanding, here is the video that I have captured for clearing the cache in Cloudways hosting.
FAQs – Clearing Cloudways Cache
1. How do I empty my entire cache In Cloudways hosting?
I have explained the easy way of emptying the Cloudways Varnish cache. You may follow methods through SSH, cPanel, or FTP through Filezilla.
3. Can I disable Cloudways cache for any Application directly?
You must understand that there is no direct setting to enable the Varnish cache for a particular application. If you enable the Varnish cache for the whole server, this setting is automatically enabled for all applications, so you have to disable it.
3. How Often Should You Clear Your Cloudways Cache?
As you know that the cache files make your site load faster. So, don't clear your cache unless you make any modifications to your website.
Conclusion
The hosting server stores the cache file for quick access. However, if your server gets new files, clearing the cache is mandatory as it will not get removed automatically, and your site will be messed with missing content.
Well, you have learned how to clear cache in Cloudways hosting server. And yes, it is just a cakewalk here! It is an incredibly managed cloud hosting with several useful setting options to get things done like this!
You May Like
As a Cloudways user, you may like to check
How To Create Subdomain In Cloudways?
How To Update PHP Version In Cloudways?
How To Get Cloudways Promo Code?