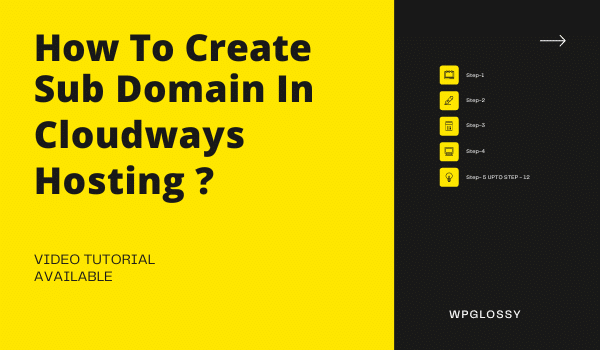 Have you ever created subdomains for your main domain? What are its benefits? And how to create Subdomain in Cloudways hosting? Let's see all the details in this post.
As you know, a subdomain is an extension of the main domain, and the search engine considers it a new site.
Creating the Subdomain is an easy task. However, you need to undergo some technical steps.
I have seen many bloggers and site owners create a Subdomain for a specific event and let visitors to that part without getting into the unessential content.
We do the same for plugin & theme features testing and do Google ranking experiments for our niche content.
So, if you have a complex website, it would be better to make the subdomains as they are considered different sites but linked together under the primary site.
Subdomains have several advantages! Let's look at them, and then we will get into the steps for adding the Subdomain in Cloudways hosting.
Benefits of Creating Subdomains
Subdomains are easy to create without any additional cost.
It increases the site crawl rate and helps to get higher search engine rankings through topical authority.
A website can be well organized with subdomains, and yes, the structured content would attract more visitors.
You can easily establish the brand identity for your business with the domain extension.
It is more likely to target the audience in different geographic locations to get international reach for your business.
You may launch an eCommerce store or a mobile site through a subdomain.
If you want to look at the features and test the performance of the plugins and themes, the subdomain will come to the rescue.
When any of your subdomains get penalized by Google, it doesn't affect the other subdomains and the primary site.
You may use the website section to learn and experiment to understand the search engine algorithms. 
Subdomains are well suitable for working as a team. You don't need to share the login credentials of the main site. Instead, you may give access to the specific sub-sites to get the job done, like editing/writing the content, testing the third-party tools installed, etc. 
Steps to Create Subdomain in Cloudways Hosting
We have been a proud user of Cloudways hosting service for the past five years. It is a superfast managed hosting for dedicated businesses and professional bloggers to optimize their web assets for the latest tech trends and to pass core web vitals assessments.
Don't forget to share your experience with this best Cloud hosting. Let me tell you how to create Subdomain in Cloudways without further ado! Just follow the step-by-step procedure and get the technical task done in minutes. 
Step 1 – Login to your Cloudways account and enter the Admin Panel section.
Step 2 – On the top menu, click Applications > Add Applications > Choose Main Server > Add Application


Step 3 – In the Select Application setting, choose the WordPress version, give a name for your Subdomain, and under "Select your Project," pick your main domain. Click – Add Application. 

Step 4 – Now your Subdomain gets installed, you will see a message for it. Go to Applications > Newly Created Sub Domain. You can see the default "WordPress Admin Panel URL" created by the Cloudways hosting.
Step 5 – Click that URL; your Subdomain will open in a new tab. However, we have to point the Subdomain in the domain registered website.
Step 6 – To Point the Subdomain, copy your Cloudways Public IP and visit the domain registered site like GoDaddy, Namecheap, or any domain name registration.
Step 7 – If GoDaddy, log in to your account and click "My Products." Under "Domains," click "Manage DNS" to add the records. 

Step 8 – Click the "Add" button. Now, you need to enter four values – Type, Name, Value, and TTL as A, @, public IP (that we have copied in Cloudways admin panel), and Custom (600 seconds), respectively. Hit "Add Record"
Step 9 – After adding the "A" record, we will include the "CName" record through the same procedure. Click "Add" and enter the values for Type, Name, Value, and TTL as CName, Sub Domain Name, default WordPress admin panel URL (that we have seen in Cloudways dashboard), and Custom (600 seconds), respectively. Hit "Add Record."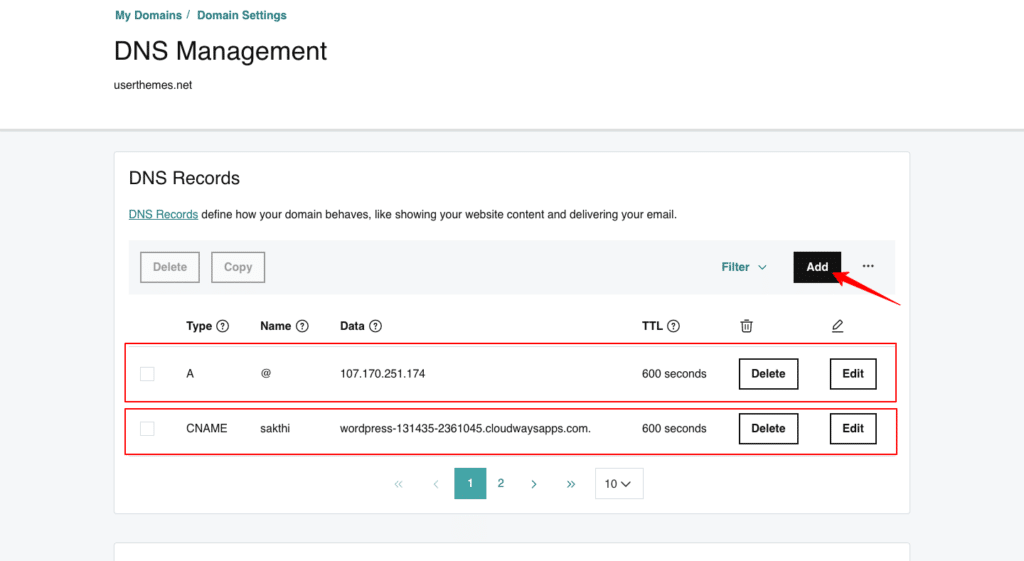 Note – While entering the Admin panel URL, exclude "https://." 
We have successfully added the records in the domain registration site to point to the Subdomain.
Step 10 – Go to Cloudways Admin settings > Domain Management. Give the name for the Primary domain as "SUBDOMAIN NAME.MAINDOMAIN.COM." Click "Save Changes" to update your Subdomain.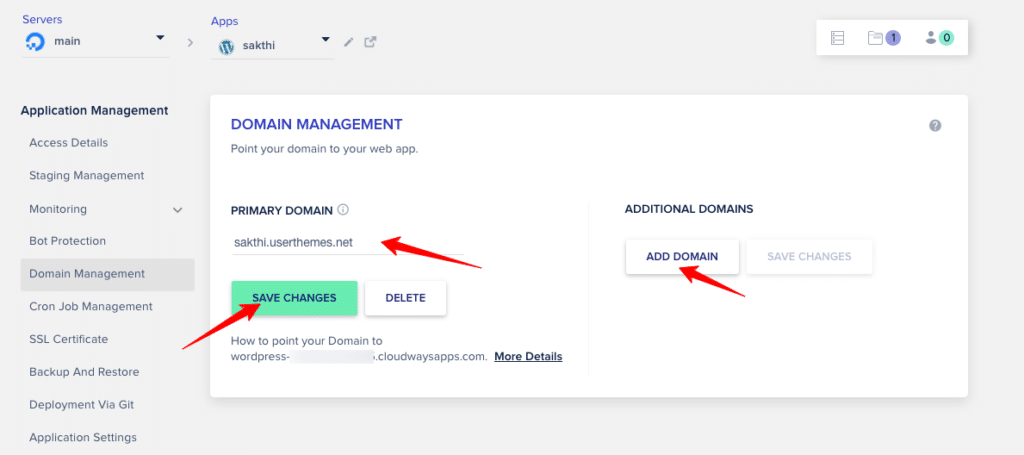 Example – Cars.userthemes.com (Subdomain + Main domain)
Step 11 – We should not forget to install the SSL certificate for the created Subdomain. Go to "SSL Certificate" and enter your Email Address and Subdomain name. Click "Install Certificate."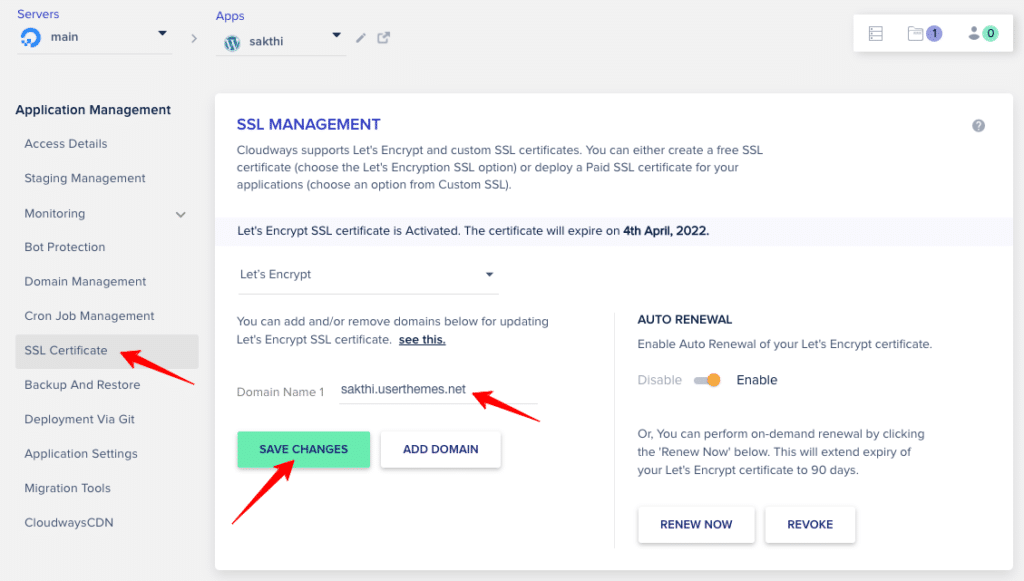 The SSL installation will take a few seconds, and you will get a message that the SSL has been installed. Now click "Save Changes." 
Step 12 – Go to "Access Details" and look at the Admin panel URL. It will be updated with the URL of the newly made Subdomain. Just click it and verify the URL of your Subdomain. You can see the updated URL.
You may confirm this by visiting WordPress Dashboard > Settings > General. Check "WordPress Address" and "Site Address." Both will be the same.
Video tutorial To Add Subdomain in Cloudways
If you are in a rush and don't have time to read the step-by-step guidelines to create Subdomain in Cloudways hosting, here you go!
Watch the video tutorial; I have clearly shown all the settings and steps to be executed.
Wrapping Up
The subdomains are beneficial in streamlining the hierarchy of your website, and hence you can offer the best user experience for your visitors. It also improves your SEO performance by including keywords in the URL and faster content indexing. 
Glad I got an opportunity to let you learn how to create a subdomain in Cloudways hosting. I hope you are clear with my explanation through step-by-step guidelines and an understandable video tutorial.
Now, you tell! Do you agree with the benefits of creating subdomains for your main website? How is your hosting experience with Cloudways managed server? Feel free to share your thoughts in the comment section.
Other Cloudways Tutorials
How To Install WordPress Website On DigitalOcean?
How To Create SFTP Login In Cloudways?
How To Clear Cache In Cloudways?