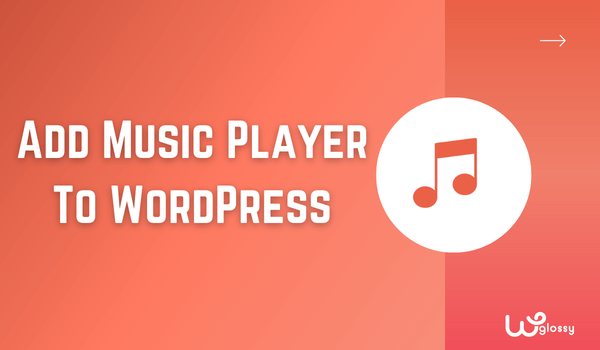 Are you creating a website where you'll upload podcasts, music, or MP3 files? But you don't know how to add a music player to WordPress, right? Don't worry; I've got you covered. It is easy to embed music player in WordPress with and without plugins.
Not everyone knows that uploading large files without the right tool can slow the page and affect user experience. This is not a good scenario because the site loading speed is one of Google's most important ranking factors.
So to help you out, I've come up with this guide. Here I'll share the six best music players and discuss what to look for in a music player and multiple methods to add music to a WordPress website. Without further ado, let's dive into the details!
What To Look For In A Music Player?
I first want to discuss the points one should look for while selecting a music player. It's important because most people neglect them. As a result, they always pick the wrong music player, which may slow down the website.
File Types It Supports
Are you sure you only want to add MP3 files to your WordPress website? Bear in mind; we're living in a digital world; there are many other audio formats like OGG, AAC, WAV, etc. What will you do if you upload a file in another format?
In this scenario, you'll regret your decision if your music player only supports MP3 format. If you don't want to face a similar situation, always find out how many audio formats the music player supports. The more design it helps, the better it will be for you.
Player's Performance
Another thing you should remember is your music player's performance. Think about the length of the audio file and whether the music player can handle it. If it's a music website, the audio won't be longer than 5 minutes, so there won't be any issue.
However, the podcast lasts around 20 to 50 minutes. In podcast cases, you must ensure the music player can easily embed up to a minimum of 50 minutes of audio. It would be best if the music player supports platforms like Spotify, Google, or Apple podcasts.
Price – Free Or Paid
Last but not least is the pricing point of the music players. When I was looking for a music player, I found three categories in music players, one is paid, the other is free, and the third is free, but with limited features means you won't get all the benefits.
Although it's a personal choice, the paid tools are far better than others because of offering excellent services. In case you don't have a big budget, you may go for free tools or even with a limited version; the choice is yours. I again recommend paid ones. 
4 Different Methods For Adding Music Player To WordPress
Here are the four methods for adding a music player to WordPress sites. The first one is using the default WordPress embed option. The second option is to use a third-party music player. You may also select a plugin option or create your music players.
1. Use WordPress Default Embeds
Do you know how to embed music player In WordPress? Yes, it's possible. The best part about it is that anyone can easily upload audio files. You only have to go to the content posting page, find the embedded option, and add the file link.
Step 1: Upload your audio file to WordPress media by clicking "Add New" under the Media section.
Step 2: Now, search for the "Audio" block by clicking the "+" symbol in the Gutenberg editor.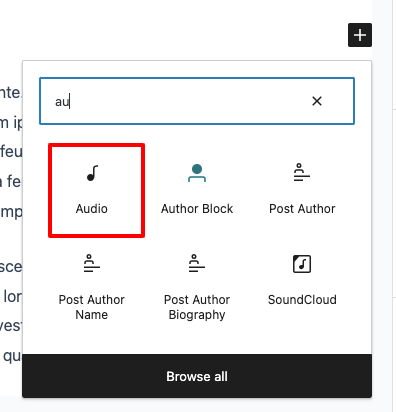 Step 2: After selecting the audio block, enter the media URL of your uploaded audio file.
Step 3: You will get the output audio player in WordPress; check the below image!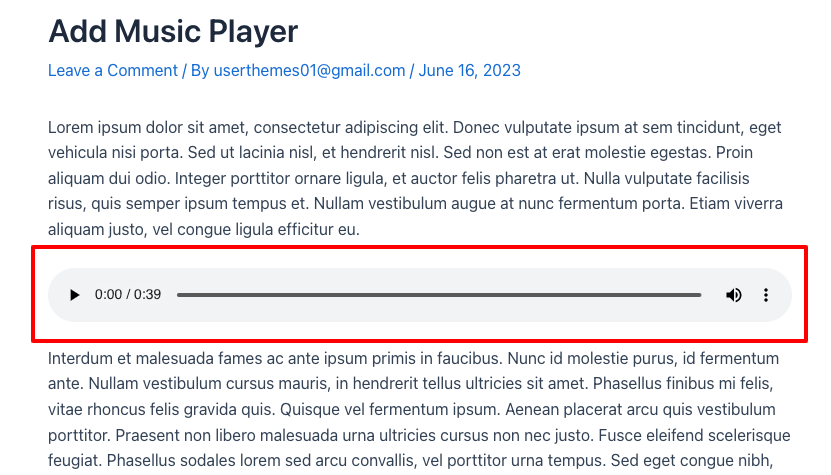 The audio file will be added automatically to the page. However, there might be some issues, like the website slowing down, it doesn't happen every time, but we can't neglect the chances.
2. Use A Third-Party Music Player
The second-best option is to add a third-party music player. The difference between the third-party music player and the plugin is that the music player hosts the files while the plugin doesn't. What you have to do is add audio to the music player.
WordPress supports audio files from Spotify, SoundCloud, Mixcloud, and Pocket Casts. Just add any URL of them directly to get music on your website.
Step 1: Let's add Spotify audio to WordPress. Search for the option by entering "Audio" in the block section.
Step 2: Enter your preferred Spotify audio URL as shown below!
Step 3: You have learned how to play music in WordPress! Check the output like this!
The process is simple; you only have to add the URL to your WordPress.
3. Create Your Music Player
You may create your music player if you're looking for some specific features in the music player. This isn't an impossible task; you only need an expert in programming who can create the software.
The drawback of this option is that you need to spend money to hire an expert. Otherwise, it would be best to do everything yourself, which is also tricky. Not everyone can create a music player and maintain it like a professional.
4. Install Music Player Plugins
The last and most accessible way to add audio files to the music player is by using plugins. WordPress has numerous plugins; some are paid, while others are free. It's a vast library that has something for everyone.
You must follow simple steps: go to the "Plugin" page and click "Add new." Find the plugin you've selected and download it. If you have no idea which one to choose, read below, I'll discuss the top 6 music player plugins and features.
6 Best WordPress Music Player Plugins To Install
Lucky you that you don't need to research the plugins separately. I've used many plugins before and know the best one. Below are my top 6 music player WordPress plugins. By reading the features, you'll know which is the best option for you.
1. Fusebox Audio Player
The Fuse Box Audio player is an easy-to-use podcasting tool to insert music player into WordPress. My friend uses it for a podcasting website; his experience is quite good. The plugin is highly customizable; you'll get options like a complete player, sticky player, etc., in the premium package.
The analytics options are fantastic; it shows all data. For example, how many people have listened to the podcast, and on which date? The prices aren't too high; apart from the free plugin, the first package costs $7.50, and the second costs $15.83 monthly.
2. Compact WP Audio Player
The Compact WordPress Audio Player plugin is a versatile solution for embedding audio files on your WordPress posts or pages using a simple shortcode. It's a responsive and easy-to-use plugin compatible with all major browsers, including, Safari, Firefox, Chrome, etc.
Although free, I've noticed a big issue: it only supports MP3 and Ogg formats. That's why I think it's only suitable for people who are sure they'll not add files other than MP3 and Ogg format. If you're not sure, select any other plugin.
3. Sonaar MP3 Music Player
The Sonaar MP3 Music Player plugin first option I discussed above was only for the podcast, and the second one was limited to specific formats. Fortunately, this one doesn't have any issues like that. It's perfect not only for podcasts but also for small-length music files.
It offers a vast collection of templates, and you'll be able to see the reports on how podcasts perform. Apart from these two main features, it's available for WooCommerce. The disadvantage is high prices; it starts from $49 and ends with a $399 package.
4. Blubrry PowerPress
The Blubrry PowerPress music player WordPress plugin I like most is the Blubrry PowerPress. It offers free and paid versions at an affordable price range, starting from only $12 monthly. The prominent feature for me is the plugin's compatibility with file formats and audio players.
You'll be able to add podcasts in video and audio formats easily. The audio file plugin supports MP3, M4A, OGA, and OPUS. Besides that, it is possible to embed codes from YouTube and create a subscription page or widgets for the users.
5. Seriously Simple Podcasting
Seriously Simple Podcasting is a top-rated WordPress plugin. It allows users to upload unlimited podcasts in series and offer a download service. This means your audience can listen to the podcast on your page and download it on their mobile.
After posting the podcast, check the users' data, thanks to advanced analytics. If you buy a Pro plan, you can host podcast video files. The price of the first plan is affordable, only about $19 monthly. In contrast, the Pro plan costs $99 per month.
6. Audio Ignitor Player
The Compact Audio Ignitor Player is a feature-rich plugin offering audio and radio streaming functionality on WordPress websites. To create the best website design, it's 100% compatible with popular page builders like Elementor or Gutenberg Block Editor.
The responsive layout is fantastic, and you can add files in bulk. The plugin also supports services like Acast, Amazon S3, Anchor, Art19, AudioBoom, etc. Not to forget, all of these features are free of cost, as it's a free plugin. What else can you ask for?
Add Music Player To WordPress – FAQs
How do I add a music widget to WordPress?
Adding a music widget to WordPress is simple. Go to the dashboard, find the Appearance tab, and select Widget. After selecting it, you'll see options on the side, like the file title, artist, song, etc. Add information and paste the cover photo and file link.
How do I create an audio playlist in WordPress?
To create an audio playlist, first, go to the dashboard. Create the content page where you want to add a playlist, return to the dashboard, and select the Media option. Upload the audio files, then like "Create audio playlist" in the media menu to create a playlist.
Can I have music playing on my website?
Yes, you can have music playing on your website. You must select any media player or plugins supporting your file format. Ensure the music you're adding is copyright free; otherwise, take the owner's permission first.
How to put autoplay music on WordPress?
You must use autoplay audio in WordPress. The first option is to require code and insert the <audio> tag with the autoplay attribute. The second option is to use the HTML5 Music Player for WordPress plugin, which will autoplay the audio file as soon as the page loads.
Conclusion
Hopefully, you've got the idea of how to add a music player to WordPress. It's no doubt a great idea to attract the audience. Nowadays, most audiences love audio content; the only issue is adding audio files to your website needs some attention to detail.
You can't pick any music player randomly. First, find out what's the best choice for you. Do you need a plugin or third-party music player, or want to create your music player? Then think about how many audio formats it supports.
After finding the answer, select the suitable option. If you're starting and don't have a large audience, you may use any free version plugin or even the WordPress audio embed option. But remember, these options aren't suitable for a big website.