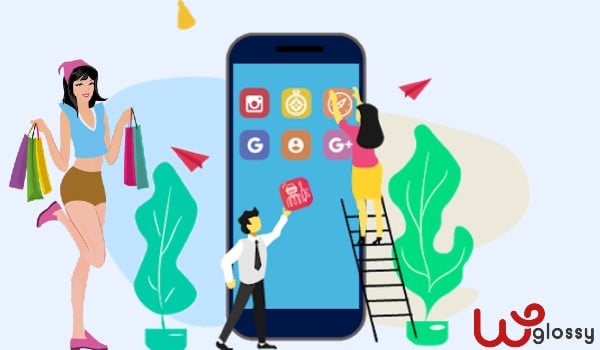 Are you searching for the best apps for fashion bloggers to do better blogging and tweak your online visibility? You are in the exact place to get some useful applications and boost the performance of your fashion blog.
Fashion bloggers are currently on a roll, and even amidst lockdown, their work has shown no signs of slowing down or stopping. With so many different aspects of having a firm knowledge about, they often use many apps to make their lives a bit easier and more convenient.
Whether it is related to taking the perfect picture of a designer piece or having the right mix of background and lighting everywhere, specific applications have always been at the top of every fashion blogger's list.
Addressing all their needs such as a safe place to store their content or editing their photos to highlight some of their best features, if you know the correct app to open, then even you can replicate some of the work that they do.
With thousands of apps for fashion bloggers all over the play store, it is challenging to find the ones which will meet your demands perfectly.
Hence I'm here present a comprehensive list of the top apps for fashion bloggers that can take your content and presentation to a whole new level and kick start your fashion blogging career on the right note.
Let's get into the list!
15 Helpful Android & iPhone Apps For Fashion Blogs
1. Facetune
Facetune is one of the best photo editing apps for fashion bloggers which is available on both Android and IOS operating devices and primarily acts like a makeup editor or photo enhancer. Some of the critical features of this app include smoothening out of your skin, whitening your teeth, and even lightening the shade of your eye color.
With several filters and tools to fix bad lighting and other flaws, taking the perfect photo with this app becomes a cakewalk for even the absolute beginners. One desirable feature of the Facetune app is its easy compare tool which allows you to compare before and after photos in one glance.
The app has a rating of 3.9 stars on the Google Play Store and over 10 million downloads. With loads of positive reviews, the users have fallen in love with the amazing filters and editing options that Facetune provides.
2. Drest
An accessible gaming app for fashion bloggers available on all platforms, Drest allows you to explore your fashion sense by styling model avatars in some of the world's best brands. With options to create photoshoots in serene locations, the app also allows you to follow a community and stylists and take inspiration from their designs.
If that's not enough, there are even options where if you like a piece you would want to buy in real life; you can try it out on the size-inclusive model avatars provided in the app and decide whether it will look perfect on you or not. Drest has a rating of 4 stars on the Play Store and has garnered over 50K downloads to date.
3. Wardrobe
Available only on IOS devices, Wardrobe is a clothing rental platform where users can try vintage and luxury clothing for a few days on end without having to spend a lot of money or space that they would have to invest if they had purchased it permanently.
With thousands of designer and vintage collections, the endless options can add a lot of variety to your Wardrobe and the fact that you can also trade out pieces that you seldom wear to people who may find it very attractive, makes this app a whole lot better.
The app has a rating of 4.6 stars on the app store and has a lot of positive reviews. So save some money and download this app for fashion bloggers right now to expand your closet and explore a lot of fashion trends you could otherwise never afford to.
4. Prisma
This photo editing app promises to transform your photos into something much prettier and larger than life than you could ever imagine. Available on all platforms, the app has more than 300 art styles and claims to release a new filter every day.
With a plethora of tools and styles to choose from, you have the power to turn your photo into a masterpiece every single time you take out your phone. With a rating of 4.5 stars on the Play Store, this useful fashion app has garnered a lot of positive reviews for its game-changing editing and photo enhancing tools.
5. Rebellious Fashion
Even though it is an exciting app to check the hottest trending clothes and accessories, you can watch other fashion bloggers in the palm of your hand. So, you will get an idea of how they blog and get some better ideas to improve your performance.
Rebellious Fashion is much more than a shopping app that could change the way you blog. You can let your readers know about the early access promotions and exclusive discounts so that they would become your loyal visitors.
6. The Hunt
Have you ever seen a dress or piece somewhere but don't know which brand it belongs to or how do you even try to purchase it? All your problems have one single solution – The Hunt App.
This best app for fashion blog uses crowdsourcing to help users find items or fashion pieces they want to buy but don't know how to get or purchase. The application which is available on all platforms allows users to post pictures of the items they want and enables other users to help and guide the person into finding the perfect match to their query.
The original question's user can mark the perfect answer and then close the thread accordingly. A fashion blogger's paradise, this app is indeed one of the best apps for fashion blogging present out there.
7. AfterFocus
This is a photography app that captures pictures with a quality very close to the ones taken by a professional DSLR camera. With critical features like smart focus area selection and blurring options, AfterFocus is easily one of the best apps for fashion bloggers currently present out there.
Furthermore, you even have a wide range of Bokeh mode tools and background blurring options that can add a realistic touch to your snaps and infuse a lot of life into them. Available across all platforms, the app has a rating of 4.7 stars and over 10 million downloads.
8. Photo Editor
As the name suggests, this photo editing app is one of the most comprehensive ones available out there. With stylish effects, filters, grids, and many other features, Photo Editor helps you create a masterpiece even if you have never edited a photo before.
Other special features include a blurred background, light effects like Bokeh and Lens mode, as well as photo collage and frame options. Present on all platforms, this app is one of the best photo apps for fashion bloggers with a rating of 4.7 stars on Play Store and over 50 million downloads.
9. Mode-Relier
Curating and organizing your Wardrobe has never been more comfortable with the Mode-Relier app providing options to upload a personal profile and fashion items into a virtual closet and categorize them quickly after that.
Users can virtually add different items and mix them up to determine which one would look perfect on their skin tone without even undergoing the hassle of actually trying the piece out.
Additional features involve pre-planning your looks, collecting various fashion images, and putting them together to create your new style and design. Available only on IOS devices, the app has a rating of 3.2 stars and is one of the top apps for fashion bloggers.
10. ShopStyle
Available on all platforms, this app provides users with one single stop to browse through over 18 million fashion products at any particular instant. With the ease of discovering new styles and comparing prices instantly, ShopStyle helps you in finding the perfect fit for all your needs.
Features like searching, browsing, and buying at a single place increase user convenience and is one of the reasons the app shines among its competitors. Added features involve putting sale alerts and getting top brands into your recommended lists.
If that's not enough, the numerous cashback opportunities and the 3.1-star rating make this app one of the best apps for fashion bloggers ever.
11. Urban Outfitters
Not for shopping purposes! Being a fashion blogger, you must keep yourself updated with the trendy fashion clothes, exclusive collections, and latest arrivals. You can comfortably explore the categories through the enhanced search.
Exploring the curated feed and getting a real-time inspiration from the community are indeed needed for passionate bloggers like you. You can get to know the early access sales & discounts and make money through their affiliate programs.
12. VSCOCam
One of the top photo and video editing apps out there, VSCOCam has several features and tools to take your images to the next level. With a rating of 4.3 stars and available on all platforms, this app is one of the best photo editing apps for fashion blog ever created.
The free photo editor comes with ten presets that can improve your photos instantly, and along with that, you also have several tools like contrast, saturation, and grain/fade effects to make your photos look professional and amazing.
The app provides premium members with advanced photo editing tools that have over 200+ presets that allow you to create a vintage and timeless look. Additional options involve HSL and Split Tone features that can promise to enhance your photography and make it look like a painting.
13. Press – Blog Writing App
Press is one among the top apps for fashion bloggers because it would let you write and add pictures on any social platform and blog so that you can stay active on social media and engage your followers.
You may include several memes and watermarks to protect your articles. Adjusting the size, color and font is another exciting quality of this top free Fashion app.
14. Dropbox
The perfect safe storage place for any fashion blogger, dropbox lets anyone upload files to the cloud and share them with anyone they want. You can back up your fashion photos, videos, and what not with this app and can access them from anywhere in the world, given you have a device and a decent internet connection.
Additional features of this app include automated upload of photos in your camera roll to cloud storage, scanning documents to cloud storage, and a lot more. Available on all platforms, Dropbox has a rating of 4.2 stars and is one of the best apps for fashion bloggers to store their material and content.
15. BlogLovin
This particular app allows users to read and arrange their favorite blogs on mobile or web by using RSS feeds and other technology. By following all your favorite blogs in one place, you save a lot of time and have a more comfortable and convenient reading experience.
The key features of this app include saving, discovering, and curating your feed, depending on your likes and interests. With thousands of blogs on various topics ranging from fashion to lifestyle, BlogLovin is indeed a must-have app for almost everyone. The app which is available on all platforms has a rating of 4.2 stars and over 1.5K ratings with a lot of positive reviews.
Wrapping Up
Finding the best apps for fashion bloggers can become a confusing task since there are so many options and choices for almost every single aspect of blogging you could ever imagine.
Listed above are some of the most trusted and top-rated free fashion apps that were ever created, and you can be assured that these sources will do their task correctly and leave you extremely satisfied.
However, each app has its flaws and shortcomings, but for that, you need to explore them on your own and decide whether a particular app works for you or not. So, which apps for fashion blogs would you like to install and use? Happy Fashion Blogging!