To run a successful online business, you need to monitor various metrics, including traffic sources, audience behavior, traffic and sales-generating pages, audience interest, and so on.
You can monitor all these things with various web analytics tools, but Google Analytics is the best and most popular. Using Google Analytics, you can view statistics, graphs, and all the metrics about your website visitors in real-time.
Google Analytics has its own dashboard, but it isn't straightforward and using it requires some technical knowledge. Having a WordPress site would be a game-changer for you.
With the Beehive Pro WordPress plugin and the Google Analytics integration, you can monitor all of your website data right from your WordPress dashboard. This means you don't need to check Google analytics and regularly face the same boring dashboard to see what's new with your website.
What Is Beehive Pro?
Beehive Pro Analytics is a WordPress plugin that lets you set up your Google Analytics Dashboard for WordPress to understand your traffic better and analyze it more easily.
From referral sources to page views, Beehive Pro Analytics makes it easy to track and monitor all of your important stats right from your WordPress dashboard. Isn't that amazing?
Also, there are lots of features included with this Google Analytics plugin that will make your headache go away and save a lot of your time and effort.
Best Features Of Beehive Pro Plugin
An Easy Way To Connect To Google Analytics
Using this plugin Analytics, you can easily integrate Google Analytics with your WordPress website. All you need to do is set up an API project.
Go to Beehive Pro and then click on accounts.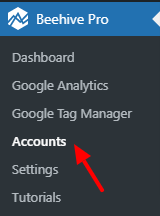 Click on Set up an API Project from the account page, then provide the Google client id and Google client secret. Finally, click Authorize.
Once your authorization has been approved, the dashboard will automatically incorporate your analytics data.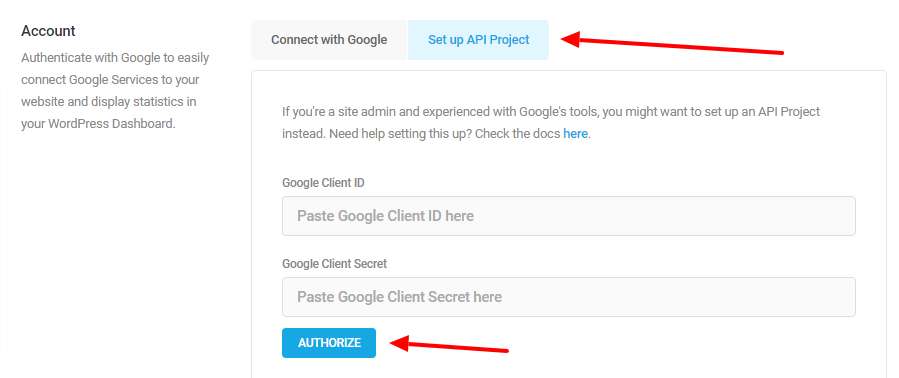 2. Manage Your Tags Easily
It is one of the best features of Beehive Pro Analytics. Using the Beehive Pro Tag Manager, you can easily add, manage, and update Google ads, analytics, and other Google tags. To start tracking and managing your tags, you need to add your container ID first.
To add your container ID, go to the plugin and then click on Google Tag Manager.
Select Account, enter your Google Tag Manager container ID in the GTM ID textbox, and click on save changes on the next page.

Tracking and monitoring tags can be turned off at any time. To deactivate tracking, click on the deactivate button.
3. User-Friendly Dashboard

To reduce the headache of Google Analytics, Beehive Pro provides a simple dashboard. Utilizing intuitive graphs, maps, and charts, the preconfigured dashboard gives you a quick overview of your site.
From the dashboard, you can identify your top pages, traffic referral sources, page views, new users, and so on. By using different time filters, you can compare and identify the growth or changes of your website.
4. Analyze The Analytics Of All Your Sites/Network
Multisite Analytics is an excellent tool if you have multiple websites with multiple team members working on them. With this feature, you can track all your sites or networks from one place and manage them easily. It will save you a lot of time.
The only thing you need to do is activate analytics for every site with one tracking code, and Beehive Pro will do the rest.
5. Restrict User Roles And Permissions
Beehive Pro Analytics allows you to customize user roles and permissions. Therefore, you can choose which reports are made available to each user. By doing so, you can limit access to specific reports.
To restrict a user, click on the Permissions tab in Beehive Pro settings.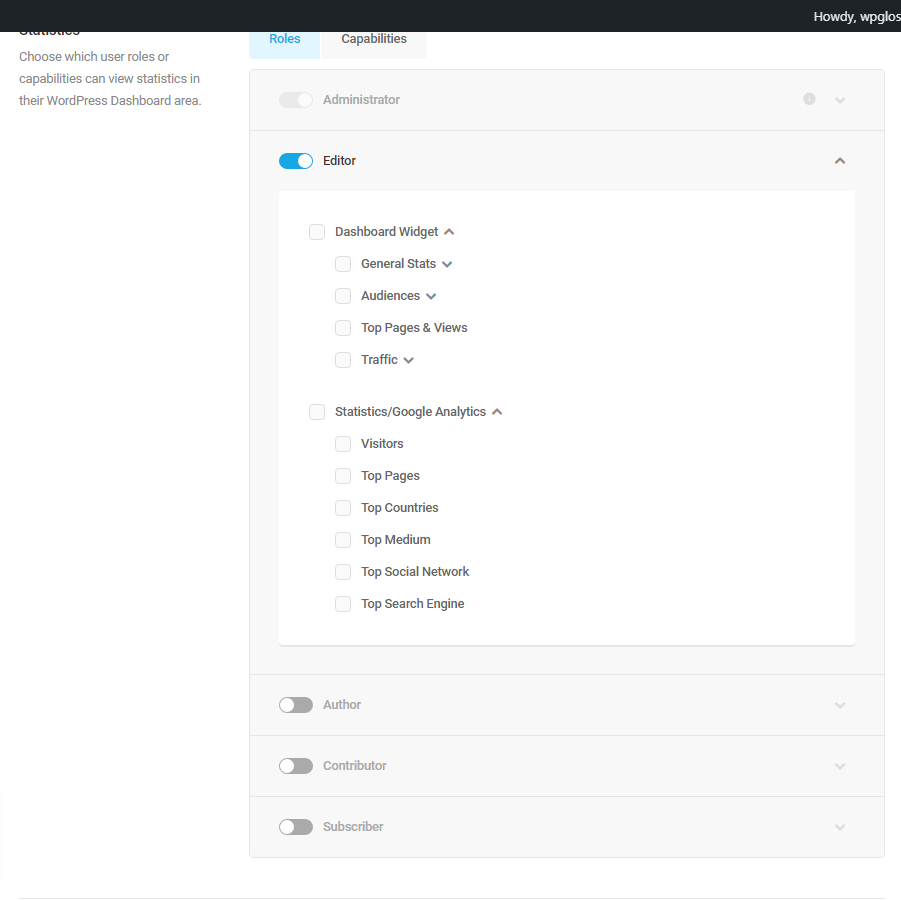 By default, the Beehive settings are available to all administrators. You can configure, include and exclude users from accessing Beehive's settings.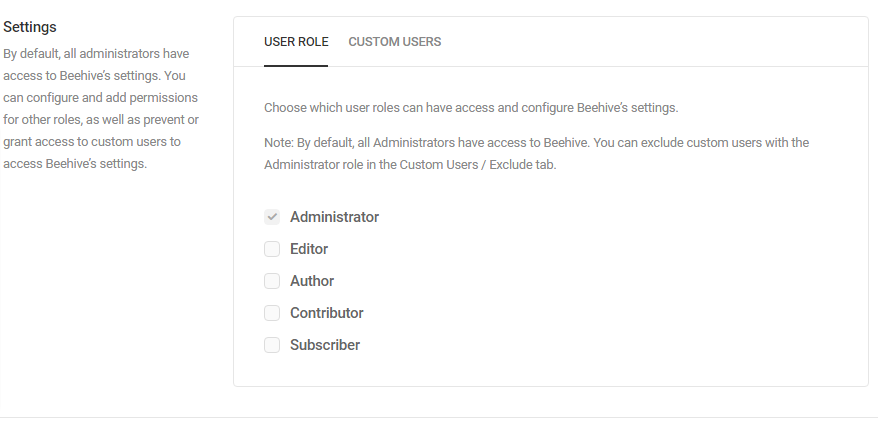 Additionally, you can restrict custom users. In fact, you can exclude users with admin roles.
6. Easily Integrate Display Ad
Display Advertising offered by Google is directly integrated into Beehive Pro. By activating Google's Display Advertising, you can easily add demographic, interest, and remarketing reports to your dashboard instantly and target your ideal audience in a better way.
To activate Display Ads, go to Beehive Pro, click on Google Analytics, and select Settings. Now find Display Advertising and enable it.

7. Monitoring Page And Post-Performance
Beehive Pro includes a Page & Post Analytics feature that lets you measure specific performance metrics for your specific posts and pages over time. This will help you identify what modifications have to be made to improve the performance of your page and post. You can find all of these statistics on your dashboard.

8. Privacy Masking
Privacy is a top priority for Beehive. Beehive Pro's anonymized feature hides Personal Data Tracking, anonymizes visitor IPs, stops demographic reports, protects user IDs to make your site GDPR and other law-compliant.
To activate anonymized features, go to Beehive Pro, click on Google Analytics, and select Settings. Now enable Admin pages tracking and IP Anonymization.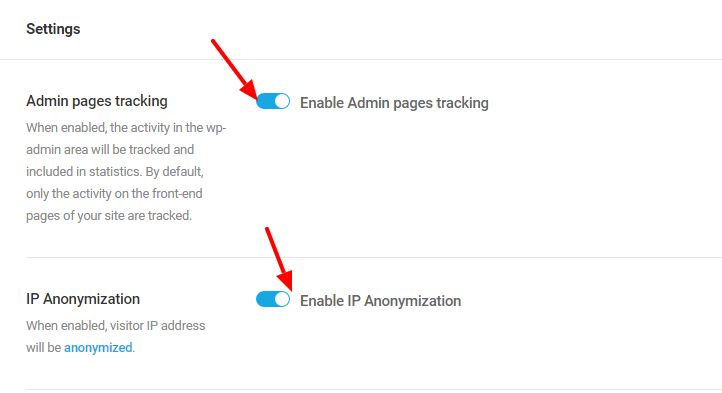 Free Features
Beehive Analytics is the free version of this plugin. You should know its fantastic features!
User & Page view analytics for specific days
Session reports about site interaction
Bounce rate & Top countries report
Trends report to boost the content based user behaviour
Referral & medium report to understand your traffic
Beehive Pro Plans & Pricing
Suppose you are still confused about whether Beehive Pro is the perfect choice for you or not! Then here is good news for you.
Beehive Pro offers a 7-day free trial to help you decide if the plugin is worth paying for the premium version or not. What are you waiting for? Click here to start your free trial.
If you want to purchase their premium version, these high-value plans are only for you:
Beehive Pro Only – $24.17/month (Only if you opt for the yearly plan)
SEO and Marketing Pack – $32.50/month (Only if you opt for the yearly plan)
Agency plan – $41.25/month (Only if you opt for the yearly plan)

Conclusion
Whether you own an online store or an eCommerce business, you can convert more traffic into leads/sales by using Beehive Pro.
The user-friendly dashboard makes the Beehive Pro plugin stand out from other analytics plugins. If you are looking for the best Google Analytics plugin, I highly recommend Beehive Pro.
Install this exciting plugin as part of a WPMU DEV membership, available to WPGlossy readers at a special 20% discount. Grab the offer now and start customizing your Analytics dashboard.