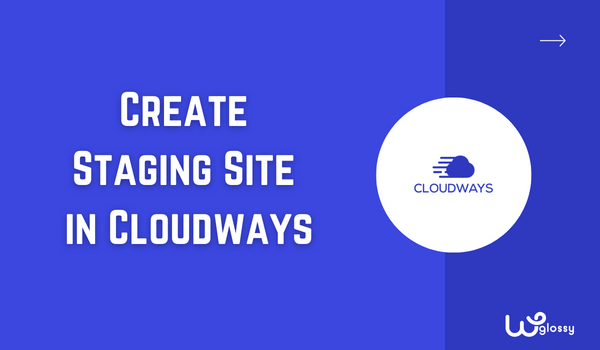 Do you want to learn how to create a staging site in Cloudways hosting? I appreciate that you want to make changes to your site in the outside environment and then take the modifications to your live site. You have made a great decision to test your application before deployment.
You have come to the right place to create the dedicated area and implement new things on your website. I have presented step-by-step instructions and a video tutorial for better understanding. If you have any questions, contact me through the comment section.
Cloudways is one of the best fast hosting services I have ever used. If you are not using this managed hosting, I highly advise you to grab the Cloudways Promo Code for the highest discount offer. You have made the correct decision if you already use any cloud servers from here.
Let's get into the subject!
What Is A Staging Site?
When creating a WordPress site, finding out if a change can rightly impact the site or hamper any of its features is always necessary. Let's say you wanted to add a contact form but are unsure if it's working correctly. This is a common scenario experienced by site owners.
If you have experienced it, you need to know the staging feature. Staging sites are typically exact clones of the production site, so any changes made on the staging site can be replicated and safely tested without affecting the live version.
This includes changes to code, content, or design elements. Staging sites usually have a different URL than the actual production site and are only accessible by people granted access (such as developers or designers).
Utilizing a staging site for testing makes it much easier to ensure that all updates and changes will work properly when pushed live. It's also much faster to fix any issues that arise during testing – no need to take down the entire website to make changes.
Advantages Of A Staging Site
A staging site is highly recommended to web developers and site owners as it offers the utmost ease and the feasibility of testing features before making them live.
Here are the significant advantages of a staging site:
It allows you to test changes without affecting the live site.
As it is a duplicate version to replicate changes, you can get them live quickly.
Ensuring updates and changes will work properly when pushed live is more accessible.
It has a different URL than the production site, only accessible by people granted access.
It lets you quickly find the bugs and fix issues that arise during testing.
You don't need to take down the entire website to make changes.
With these benefits in place, there is no reason to postpone the creation of a staging site for your website using Cloudways hosting.
What Is Cloudways Staging?
Cloudways features are always simple and direct! Cloudways Staging is also an uncomplicated setting that allows you to make a dedicated space to test your application. This environment is not accessible to the public so that you can experiment with your website's new functionalities.
The exciting part of the Cloudways Staging feature is that it does not ask you to pay extra for the usage. All the stuff can be done with the "Pull" and "Push" options, and yes, you don't need to deal with any local server for staging anymore.
Best Features of Cloudways Create As Staging
Highly secured environment with password protection.
SSH and SFTP access are default enabled.
Pre-installed SSL certificates.
The backup option is available before starting.
Possible to clone your MySQL Database.
Step-By-Step Guidelines To Make Cloudways Staging Site
Creating a staging site in Cloudways is no rocket science. Once you have your login credentials, you can switch between the staging and live sites in one click. Having explored staging sites for several years, here are detailed step-by-step instructions.
Step 1: Log in to your Cloudways account > Click "Applications" from the top menu.

Step 2: Choose the application where you want to make a staging site. Click "Staging Management" from the left side settings.
Once the center of the page loads with information about staging management, please read it and click Launch Staging Application.
Step 3: Now, it will ask you to select a server for the staging application. Select one from the dropdown list. Click "Continue."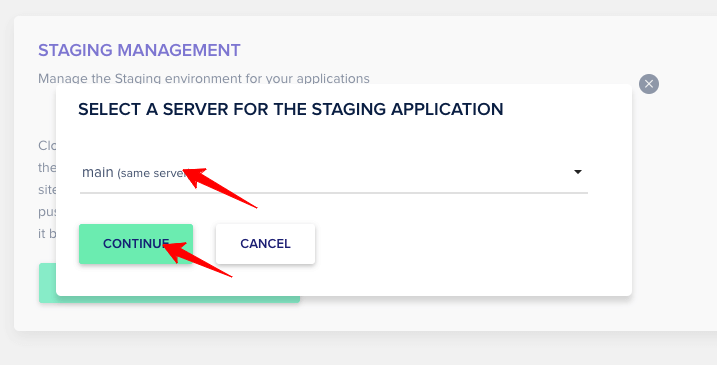 The staging site creation starts now, and you will be notified that the staging application has been created.
Note: The created application has a message of "staging" next to its name to help you find it easily. It gets listed under the "Applications" in the top menu.
And when you select this application, you can see the credentials protected with the password. If you disable the protection, you can access the staging site. Otherwise, it will ask you to enter the username and password. So, it's better to deactivate the protection.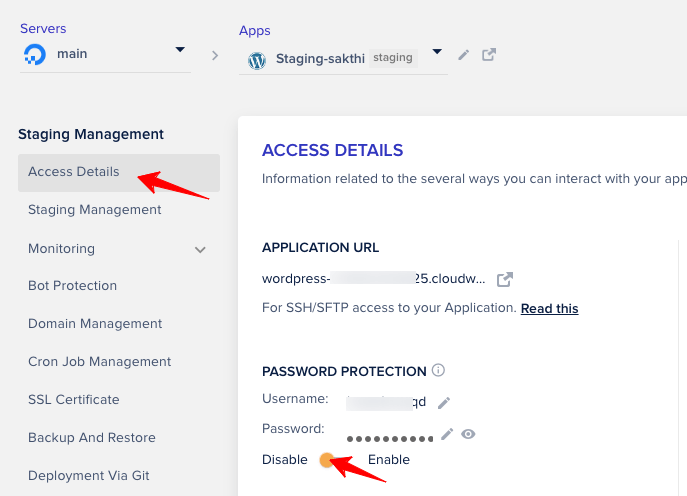 Step 4: You can quickly identify the primary site and staging site by looking at its URL because the latter contains the slug "ID + Cloudwaysapps" in its URL.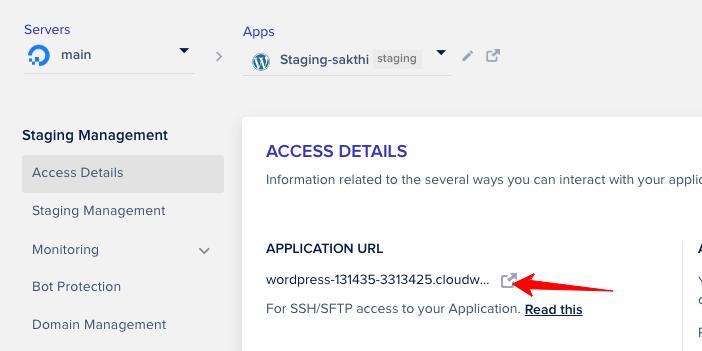 Now, Log in to the WordPress admin dashboard of the staging site. (The credentials are already listed on the staging site application page)
Step 5: It's time to make some changes to the staging site. You may customize your theme, do plugin setups, or add new scripts for testing. Do the modifications and save the changes.
To see the changes on the live site, return to your Cloudways account. Select the main application and then click "Staging Management."
Step 6: You can see two options – Pull and Push.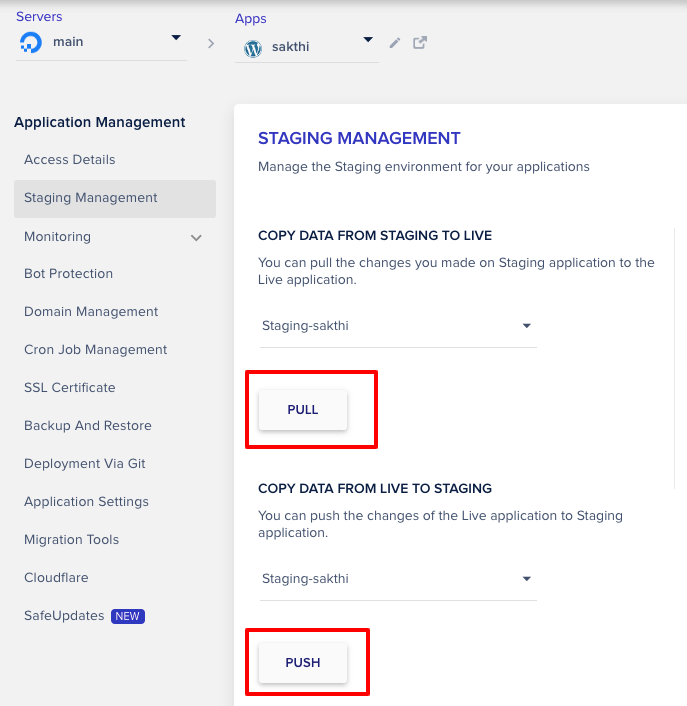 The pull process lets you copy data from staging to live, and the push process enables you to copy data from live to staging.
As a change is made on the staging site, click "Pull."
After clicking the pull option, you must choose the following option, like the image below, and click "Proceed."
You will get a notification – Your Application has been deployed successfully.
Step 7: Refresh the main application, and you can see the changes that you have made.
Tip: Repeat this step as often as you want until you have made all changes to the staging application and want to verify with the live application.
Step 8: It's time to check the Push option (to move the changes from the primary site to the staging site)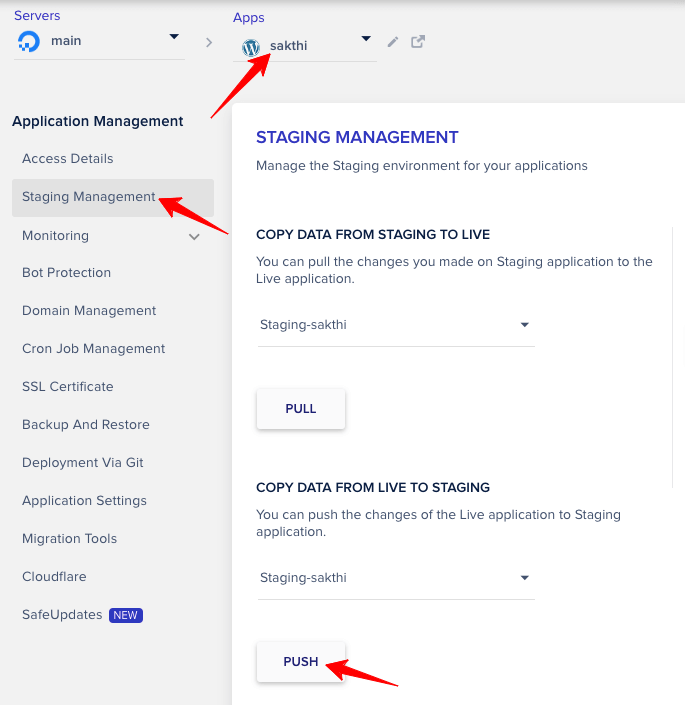 Log in to the WordPress admin dashboard of your main site and do the modifications.
Return to the Cloudways account and click Staging Management of your primary application. Click "Push," then select the following option, like the below image.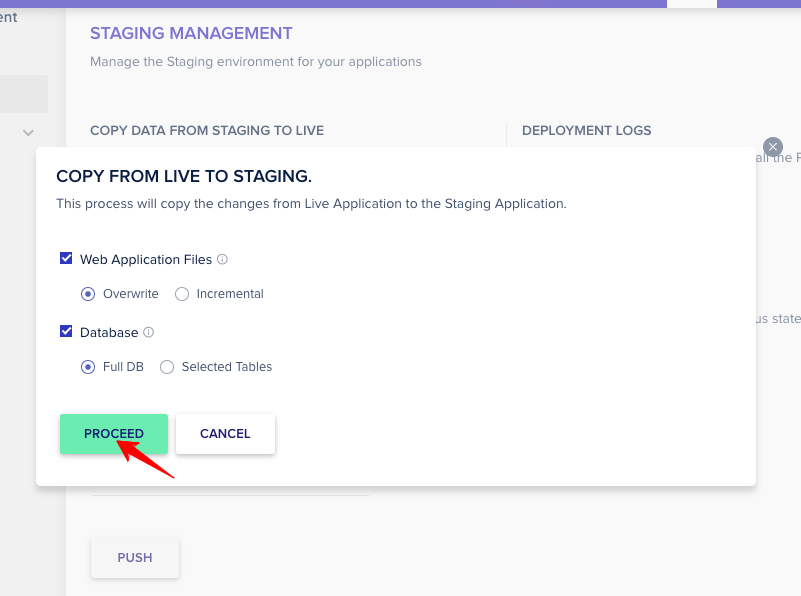 Step 9: Refresh your staging site and see the modifications made in the primary application. Repeat this step as many times as you want.
Note: If you go to the "Staging Management" setting of your staging site, Push option is available on the top, and under it, the Pull is placed. This is because we must push the changes to the main site and pull vice-versa.
Step 10: Check the list of staging logs to see the number of times push and pull options are used.
On the Cloudways tab, click Staging Management and then click View Logs under the Deployment Logs section.
Reviewing this log helps you track and follow changes in both site versions.
That's all! You have learned the essential things you want about staging in Cloudways.
Video Tutorial To Create Cloudways Staging Site
For my busy visitors who find it hard to get time to read the detailed guidelines, here is the video tutorial that tells how to create staging site in Cloudways hosting.
Staging Cloudways – FAQs
1. Does a staging application affect the usage on server Cloudways?
You may create several staging site cloudways; however, check the disk space to avoid unessential problems. Moreover, you can remove it after moving the files to your live site.
2. How do you push staging to Live Cloudways?
As I told you earlier, you may stay on the staging site settings, use the Push option under Staging Management, and take your changes live.
3. Will I get Cloudways WordPress Staging Login?
You will get all the credentials once you start creating the staging site for your existing server application.
Wrapping Up The Cloudways Staging Environment
Staging is a compelling feature enabling professionals, site owners, and web developers to test every functionality before it goes live. After using Cloudways for five years, I am highly impressed with the easy process of making a staging site to roll out the new features.
Following the detailed guide in this article, you can create a staging site in Cloudways in no time. With the help of direct settings like Pull, Push, and review logs, you can understand the changes you have made. Are you clear with my explanations?