Do you want to increase max upload size in WordPress? There are several ways to do it! If you use Cloudways hosting server, expanding the file storage can be done easily in minutes.
Cloudways hosting contains flexible features to skip complicated tasks, and modifying the file upload limit is one of them.
If you use another hosting server to launch your WordPress website, I recommend using the Cloudways Coupon Code to get this best fast-managed server.
Instead of utilizing the server settings, you may install a third-party plugin to increase the Max upload size in WordPress.
Before checking how to change the media file size in WordPress, let me tell you some valid reasons.
2 Easy Ways To enlarge WordPress Media Upload Size
Before changing the file size, check the current file size of your WordPress admin Dashboard Media section.
Method 1: Use Cloudways Hosting
Step 1: Log in to your Cloudways hosting account and click your server. Under the Server Management section, Click the "Settings and Packages" option.

Step 2: Look at the Basic settings and see the option "Upload Size." Just enter your Preferred size. Click "Save Changes."
Once the Media file size has been updated in the hosting server, you can refresh your WordPress dashboard and check the changes. This is the best way to change the WordPress Media file section.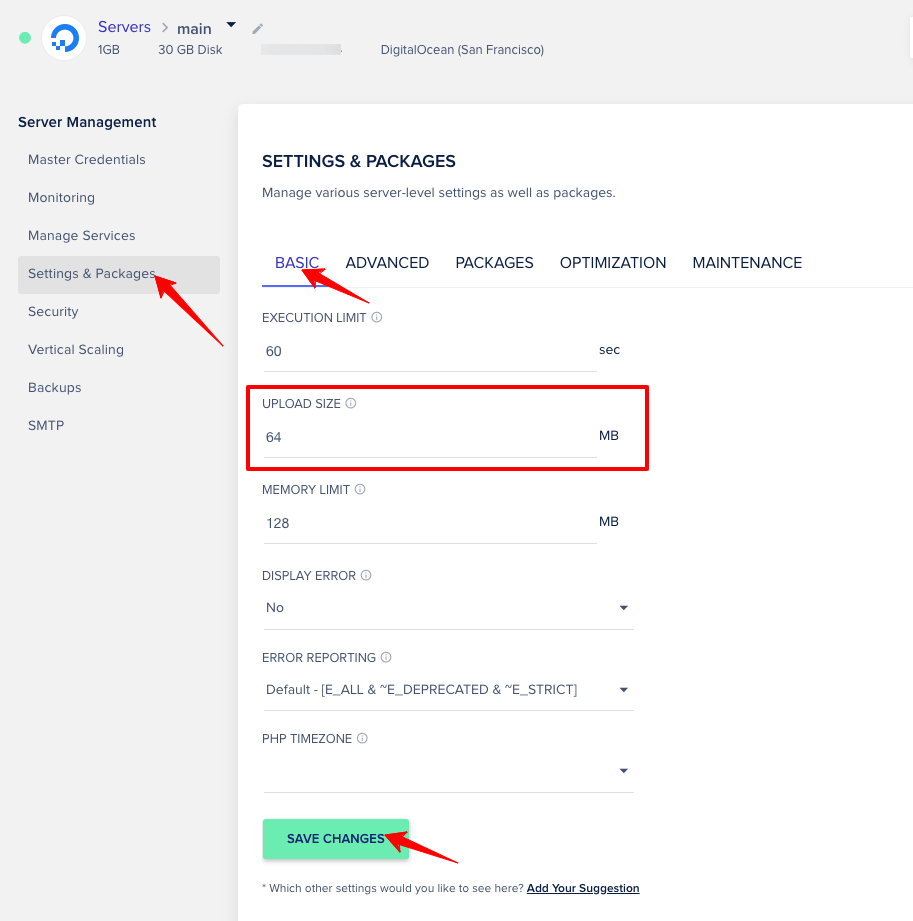 Method 2: Use WordPress Plugin
If you don't want to visit the server setting, you have to install a WordPress plugin,
Step 1: Find this plugin – Increase Maximum Upload file size to get the job done. Search for this plugin, install it, and activate it. 
Step 2: Visit your Dashboard > Plugins > Settings. Click "Increase maximum upload file size," and you will get the option to make the changes (refer to the below image).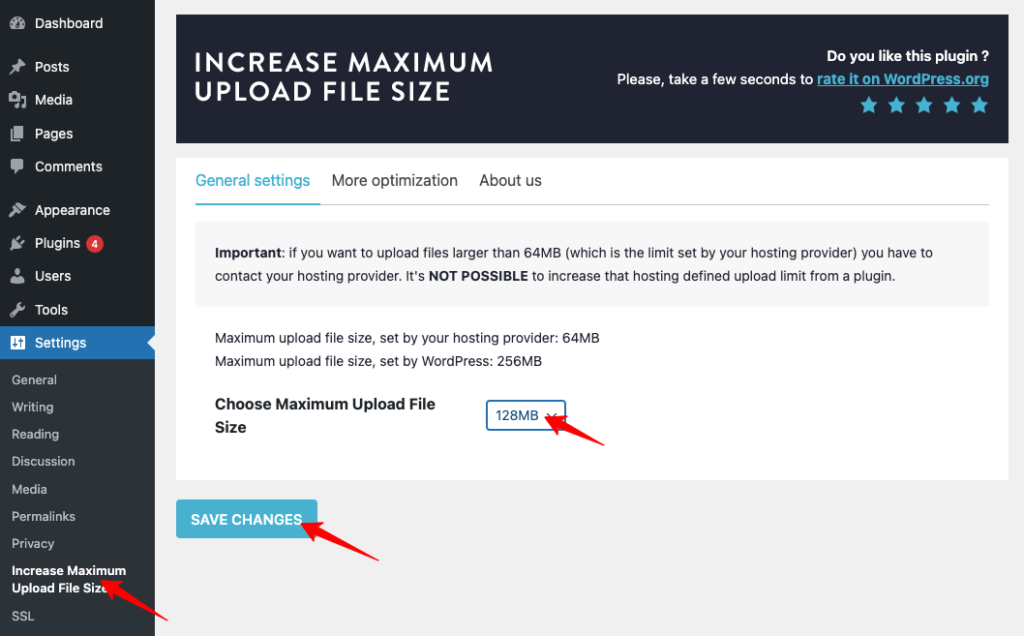 Step 3: Hit "Save changes." Just refresh your WordPress Media section and see the limit of your Upload media file size; it has been increased.
So, you have learned the best two ways to increase the Upload media file size in your WordPress site. If you need any help, let me know through the comment section.
Video Tutorial To Expand WordPress Media Upload Size
For clear understanding, I always prefer capturing the tutorial. You can skip the step-by-step written instructions to change the media file size in WordPress by watching the video.
Wrapping Up
Sometimes, you may need bigger media storage in your WordPress site to install a bulk theme or plugin and upload larger digital content like ebooks, images, and videos. When you don't have enough space, you will get the error – Exceeds the Maximum Upload Size.
So, through my blog post, you have learned easy ways to avoid file storage errors and ensure enough space to keep your valuable assets. I recommend getting a reliable hosting server like Cloudways with direct settings to increase the WordPress media upload size.