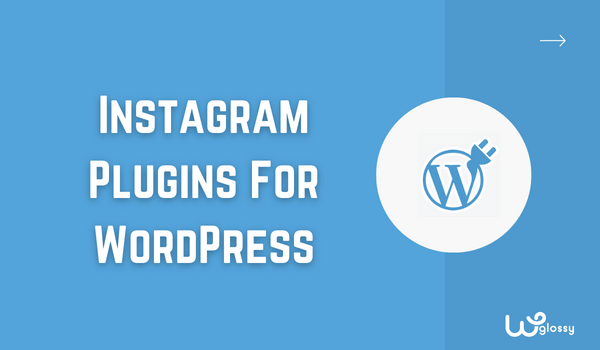 Are you searching for some Instagram plugins for WordPress to add your posts to your blog? Do you want to increase your social media presence and enhance the user engagement of your website? If yes, I'm here with a detailed guide to the best plugins.
Instagram plugins are an excellent solution for business owners to reach targeted audiences. It's the perfect way to increase your customer base. There are free and paid options to use and display all the images of your Instagram account on your website.
If you want to take advantage of Instagram feed WordPress plugins, don't worry — I have the solution for you. I've done extensive research and selected some best Instagram plugins for WordPress. But first, let's discuss the benefits of adding these plugins.
Benefits of Adding Instagram To WordPress
WordPress Instagram feed plugin is a time saver for businesses in modern times. In short, these plugins allow you to display your Instagram photo feed on the website's sidebars. They can increase the chances of getting more and more followers.
Adding an Instagram plugin to your website is simple and increases brand awareness. You only need to sign up for a social media aggregator and connect your account. By adding any Instagram WordPress plugin, you'll enjoy the following benefits:
Improve Website UX
With Instagram feed plugins, it's easy to customize the design of your posts. You can make them look attractive and appealing to the users. This helps to increase the overall user engagement of your website. So, it helps in ranking your site on the search engine.
Get Extra Traffic
Once you embed the plugin in your website, it'll direct more traffic to your Instagram account. If you struggle with reach and followers, Instagram plugins are a great way to achieve this. Most users directed to your account with interest may follow you.
Increase Brand Awareness
What's most important to a business these days? Brand awareness, of course, to let the people know about them. If your website ranks on Google, your visitors will find out about you. You can direct them to Instagram to learn more with the Instagram plugin.
Boost Conversion Rates
For every brand, the primary goal is to increase conversion rates. You'll need to build credibility if you run an eCommerce store or a local business. It'll help persuade people to read about you and buy your products. And all this credit goes to Instagram plugins.
9 Useful WordPress Instagram Plugins To Buy
Now, you know about the benefits of Instagram plugins and understand what they can do. I'll list some of the best Instagram plugins for WordPress to install and add your Instagram posts to your website. Let's review my favorite plugins for you to choose from!
1. Instagram Feed Pro – Smash Balloon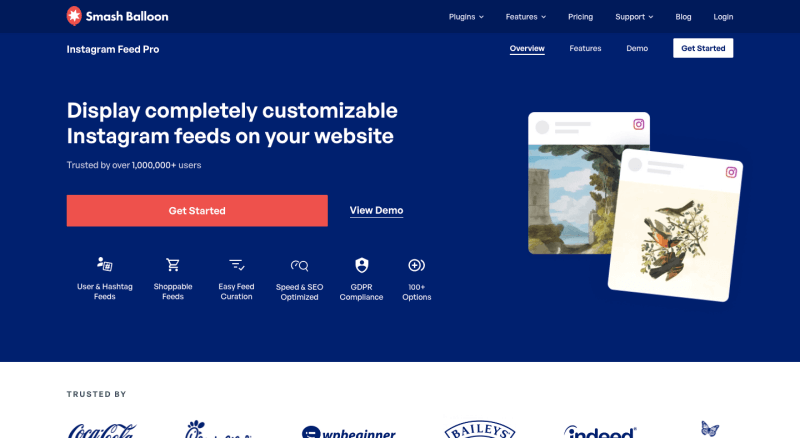 Overview
Smash Balloon is a well-known plugin developer to add social media content to websites. Instagram Feed Pro is the solution if you want an easy-to-add and customizable plugin. This plugin will help you to display your Instagram content per your preferences.
The Instagram Feed Pro plugin is easy to add to your website, even if you are not techy. Its pre-built designs are attractive and engaging, and you'll need little customization. This plugin has multiple layout options and a lightbox feature to display content in a pop-up.
Best Features
Super easy to set up and takes just 60 seconds
Customize the Instagram feeds to your liking
Responsive, mobile-friendly, and looks great
Resize images for SEO and your website speed
Display as many Instagram feeds as you want
Starting at $49 per year with a 30-day refund
2. InstaShow Instagram Feed – Elfsight
Overview
InstaShow by Elfsight is another great plugin for individuals and businesses to embed their posts on their websites. It's the best free Instagram feed plugin for WordPress to add galleries to your blog. If you can't afford high-priced plugins, InstaShow is the best choice.
Elfsight offers many widgets, but Instagram Feed is their best seller product. So, it's reliable for any website, and you'll get what you want. It'll help you to present yourself in the best light to your audience. You can quickly customize the plugins to match your needs.
Best Features
Easy to use and simple to integrate into WordPress
Add additional beauty to your website's design
Increase traffic, build trust, and generate sales
Boost user engagement to reduce bounce rate
Fully responsive and fits well to every screen size
Starting at $0/month with features and support
3. Intagrate By Intagrate.io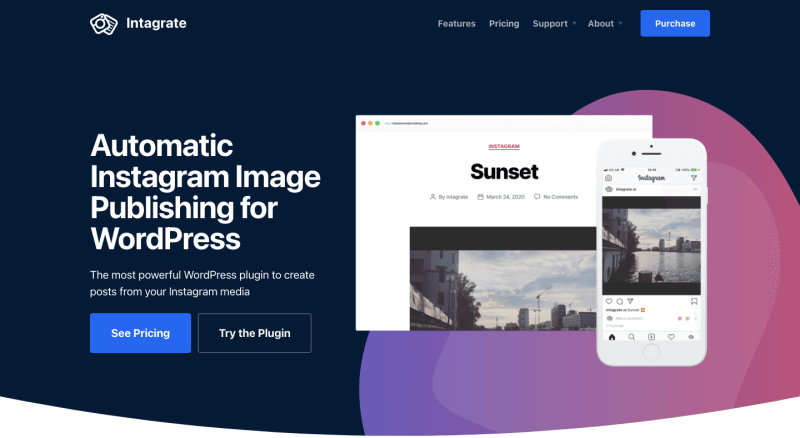 Overview
Intagrate is an easy Instagram feed WordPress plugin launched in 2012. It allows you to embed posts to websites automatically. Yes, you heard right. This plugin works automatically, and any image or video you post on Instagram shows up on your website.
With Intagrate, you can connect multiple accounts and websites in the ultimate plan. If you want to schedule posts on your website from hashtags, this plugin can help. What else? This premium plugin allows you to edit content created before publishing.
Best Features
Easy to manage and gives full control over the content
Add multiple photos and videos or create your galleries
Connect unlimited Instagram accounts with the website
Hashtag filtering lets you filter posts per your interests
Set your posting schedule to daily, weekly, or monthly
Offers no free plan, and the annual plan starts at just $55
Provides users with a 14-day money-back guarantee
4. Spotlight – Instagram Feed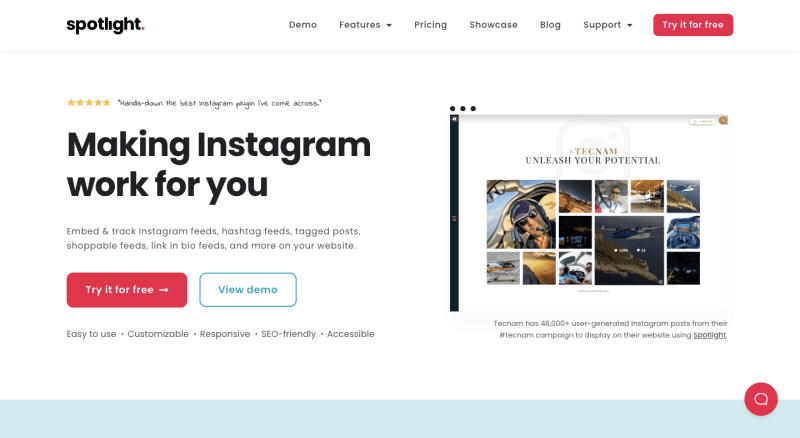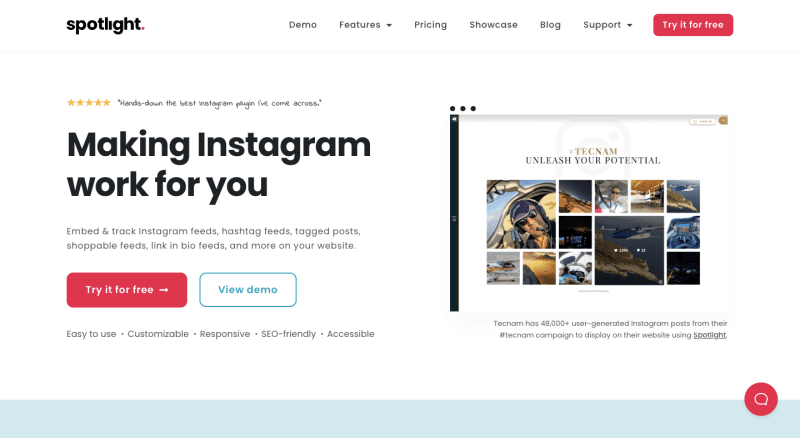 Overview
Spotlight is an ideal solution for startups and small and big businesses to add Instagram feeds to their websites. Adding your Instagram feed to your WordPress page with Spotlight is easy. With this plugin, create multiple feeds by connecting numerous accounts.
This intuitive plugin offers both free and premium versions. You get little perks to use in its free plan, while in the pro plan, you get multiple features. If you are starting, I recommend trying the free plan first, and you can manage enough posts.
Best Features
Embed your Instagram posts in just a few clicks
Offers pre-built, beautifully designed templates
Allows you to create designs to your liking
Makes Instagram feeds accessible on all devices
Supports caption, hashtag, and global filtering
Offers performance insights for Instagram feeds
5. Instagram Journal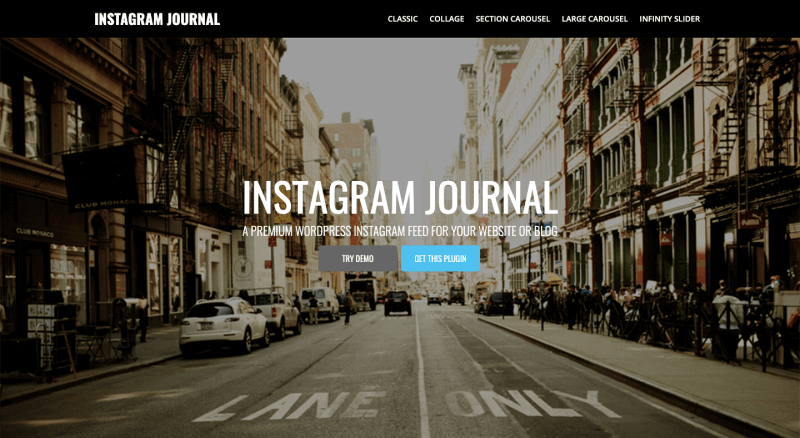 Overview
Instagram Journal allows you to make the most of Instagram feeds for your business. It doesn't just display your photos or those with a specific hashtag. You can also post your liked photos, a friend's photos, and photos taken at a particular location.
So, Instagram Journal is versatile for getting content from a wide range of resources. It lets you add the colors you want and edit and resize photos for your website. And to make it even better, it comes with a stylish and responsive WordPress theme to match it.
Best Features
Easy to integrate and add posts to the WordPress website
Provides over 100 customizable options to choose from
Create enticing designs with special effects and transitions
Instagram Contest Mode to host contests from the website
Responsive HD video player to play videos on all devices
Include Instagram Journal WordPress theme ($48 value)
Starting just at $20 with 6 months of expert team support
6. Grace – WordPress Photo Feed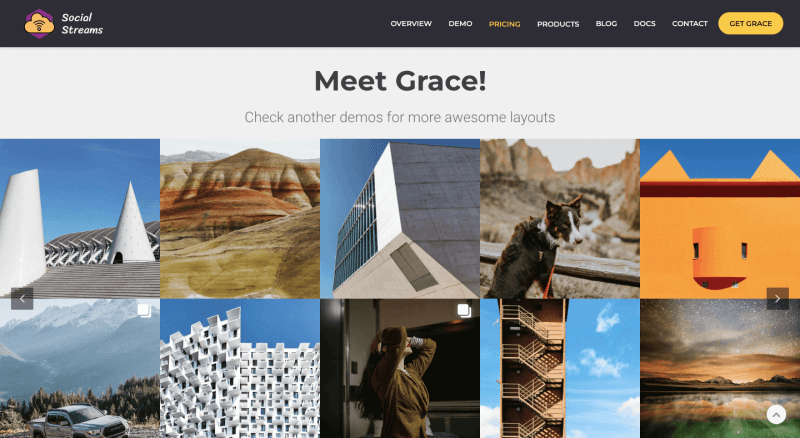 Overview
As the name shows, Grace can create graceful photo galleries of Instagram posts on your blog. It's a premium WordPress Instagram feed plugin to let you embed posts from other accounts and hashtags. So, Grace gives you access to public content on Instagram.
It's an excellent tool for mixing feeds from multiple accounts in the same gallery. Customizations are powerful; you can do what you can't with other plugins. This plugin has a posts approval system, drag & drop builder, and 4 different design layouts.
Best Features
Design elegant galleries with built-in handy and solid tools
Drag-and-drop builder allows you to customize card content
Offers fixed-height grid, aligned galleries, and image slider
Highly customizable and 100% responsive for all devices
Supports business API to access posts on business accounts
Offers lightbox, content filtering, and post-approval system
7. WPZOOM – Instagram Feed Widget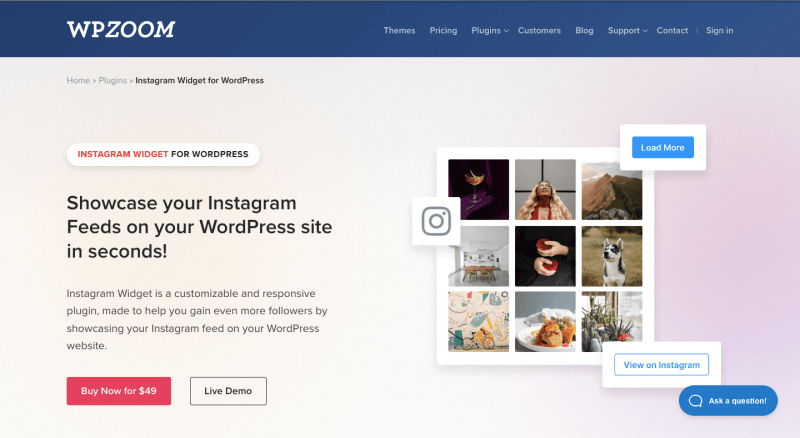 Overview
WPZOOM offers the best Instagram feed plugin for those who want a high-rated tool. This is an excellent Instagram feed widget to take direct posts from usernames (accounts) and hashtags. It'll display posts according to your desired hashtags, making it specific.
If I talk about its customization options, it's ideal for matching colors with those on your blog. I love this plugin for its fully responsive build. With its editor tool, you can adjust image sizes to optimize them and present them according to your page size.
Best Features
User-friendly, and a non-techy person can manage it
Display photos and categorize them with hashtags
Allows multiple customization options; colors, sizes
Display up to 12 Instagram photos in your web posts
Showcase photos from any Instagram account directly
Add a customized avatar and bio to let users know you
Starting at just $49 per year with a license for one site
8. Meks Easy Instagram Widget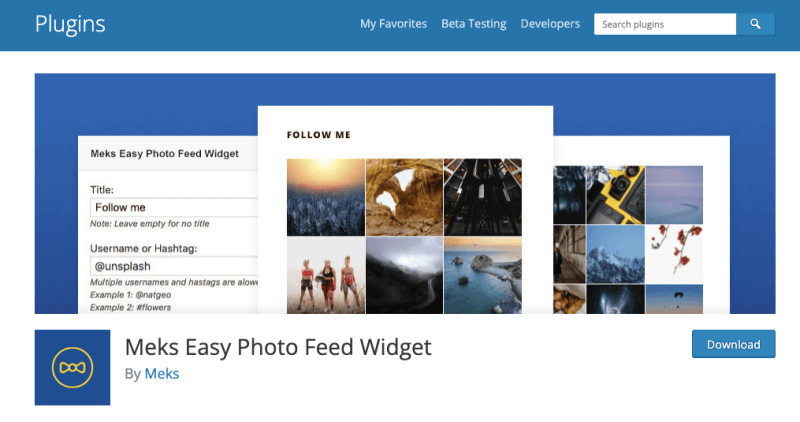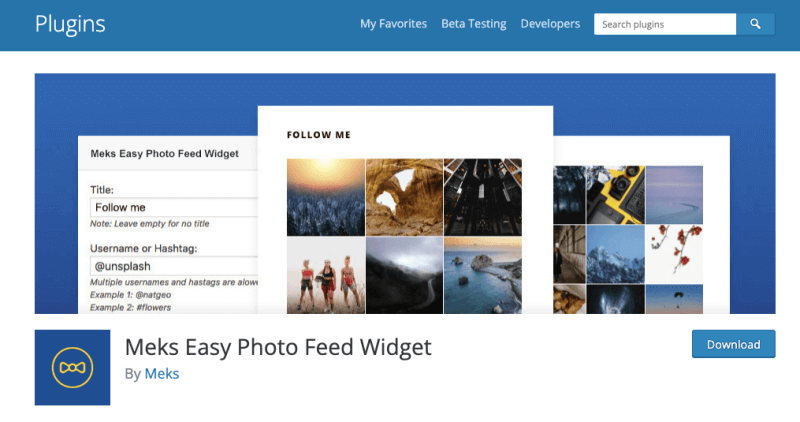 Overview
Meks Easy Instagram Widget is a robust plugin to add Instagram photo feeds to your website. It displays stunning photos on your blog only with a few clicks. This plugin offers various smart options for tweaking the widget's looks based on your preferences.
By integrating the plugin, you get a ready-to-use style. And so you won't need to customize the post templates. This plugin automatically shows the "Follow me" link, so visitors from your website turn into followers. It features built-in caching for optimization.
Best Features
Meks Easy is simple to use and manage your content
Allows you to add content from targeting usernames
Select your favorite pictures to post on your website
Contains many smart options for customizing widgets
Built-in caching for speed and optimized performance
Available free with access to all the features you need
9. Intagrate Lite Free
Overview
If you can't afford the premium version of Intagrate, you can go for Intagrate Lite. It's a simple and efficient tool to add your Instagram posts to your business website. And yes, this is the best free Instagram feed plugin for WordPress to install and get started.
Intagrate Lite comes equipped with multiple features and works on automation. When you post an image on your Instagram account, the plugin adds a title to it when going on the blog. It lets you post the same content on your site or create a new photo feed.
Best Features
Free alternative to Intagrate Pro with limited features
Connect your Instagram account and view all your media
Supports a fully responsive HTML5 player to play videos
Allows you to add multiple content items in one post
A dedicated moderation allows you to control images
Connect unlimited Instagram accounts to your website
Frequently Asked Questions (FAQs)
Is there an Instagram plugin for WordPress?
Yes, there are several Instagram plugins in the market to use to your advantage. These plugins help you to display your Instagram feeds on your site quickly. You can easily set up and integrate them and make posting simple while saving you time.
What is the best Instagram plugin for WordPress?
Instagram Feed Pro by Smash Balloon is the best Instagram plugin for WordPress. It's super easy to use and takes just 60 seconds to publish all your posts on your website. When reposting the content, you can customize all the images according to your preferences.
How do I put Instagram on WordPress?
Putting Instagram on your WordPress website is pretty simple. You can do this in a few clicks, which takes a few minutes. To do so, follow these steps:
Install the Instagram feed plugin.
Connect your Instagram account.
Create your Instagram feed.
Choose the content to display.
Embed the widget on your site.
Wrapping Up
Well! That's all about the best Instagram plugins for WordPress. Using these free and paid Instagram feed plugins, you can display your photos directly on your website. Visitors can now easily follow you on social media through your business website.
With Instagram plugins, you can connect multiple accounts to multiple websites and make your posting hassle-free. It's a great way to save time and money and increase user engagement and brand awareness. So, you'll convert more visitors and generate leads.
Hopefully, our list has helped you to choose the right WordPress Instagram feed plugin for you or your business. If you can't decide which is best for your needs, I recommend going for Instagram Feed Pro by Smash Balloon and InstaShow by Elsfight.