Do you want to integrate your Slack account with Cloudways hosting for effective team communication? You have come to the right place to implement the simple process of adding shared slack channels to the Cloudways account.
Recently, I have done the same for my teams, and now my productivity has been tweaked. I have escaped from the scattered team conversations and delayed messaging. I adore my centralized communication workspaces, which give me peace of mind.
Cloudways team has realized the power of productive conversations with the team members, and hence, they have introduced this notification feature in the CloudwaysBot. Before getting into the procedure of adding Salck to Cloudways, let me explain its benefits!
Why Should You Combine Your Slack Account and Cloudways?
Using Slack together with Cloudways has several benefits! Let me explain!
Collaboration – When you have a server task to be done or an application issue, a notification will be sent to your Slack account, and team members can discuss the next steps, tag colleagues, or even share additional data without using other communication platforms.
Alerts: You will get real-time alerts about server or application issues, updates, backups, or related notifications directly to your Slack channels. It keeps your team informed instantly.
Quick Actions: According to the importance of the notifications, your teams can potentially take actions directly from Slack in response to the alerts related to Cloudways hosting.
Centralized Information: Instead of monitoring emails or visiting your Cloudways frequently, you will get all the updates within your Slack platform, where most of your team communication occurs.
Productivity Boost: Receiving faster communication and action-taking will let you solve issues quickly and pave the way for smoother operations.
How To Add Slack With Cloudways Hosting?
Follow the step-by-step instructions to add your Slack account to the Cloudways hosting account!
Step 1: Log in to slack.com and create a workspace with your team members.
Step 2: After creating the workspace, click "Launch Slack."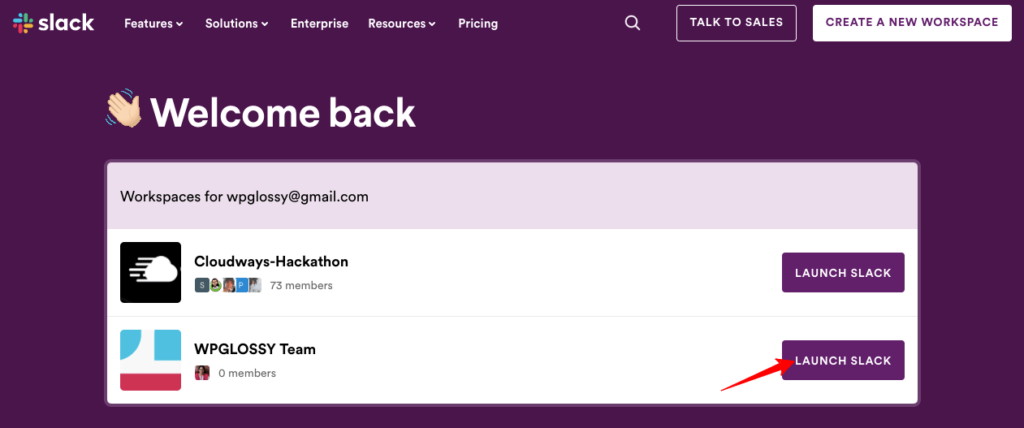 Step 3: From the left-side settings, Click "Browse Slack" and then select the "Apps" section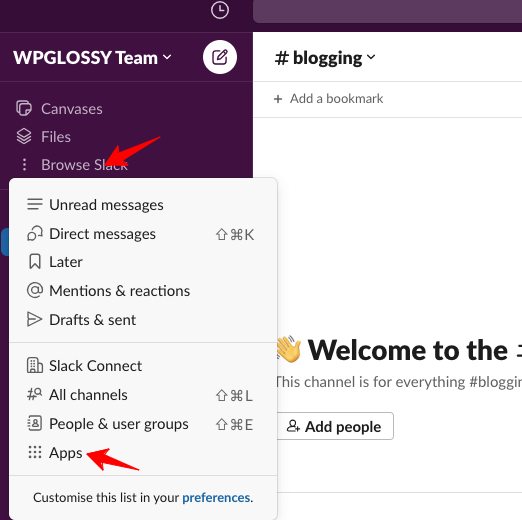 Step 4: Under Apps, you have to search for the "Incoming WebHooks" application. After getting it, click the "Add" button.
Step 5: It will now redirect a page to the Incoming Webhooks section. Now, click the "Add Slack" button.
Step 6: On this settings page, you will get an option to add your Slack channel. Select your Channel under Post to Channel, and click Add Incoming Webhook Integration Button.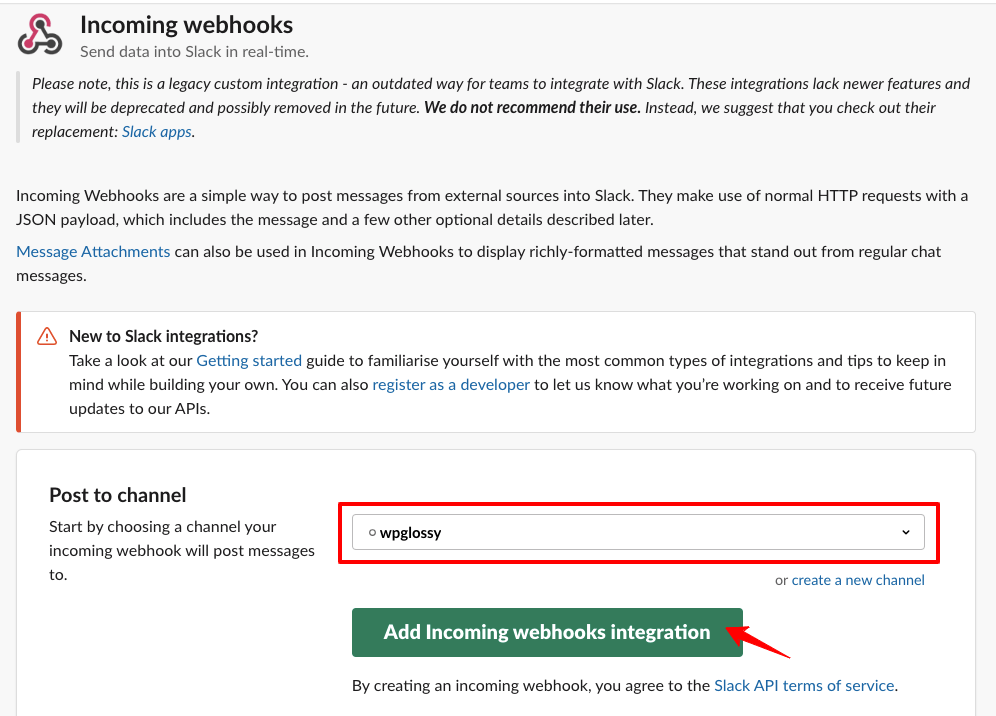 Step 7: It will take you to the Incoming Webhooks settings page. You will see the webhook URL. Just copy that URL to add to the Cloudwaysbot.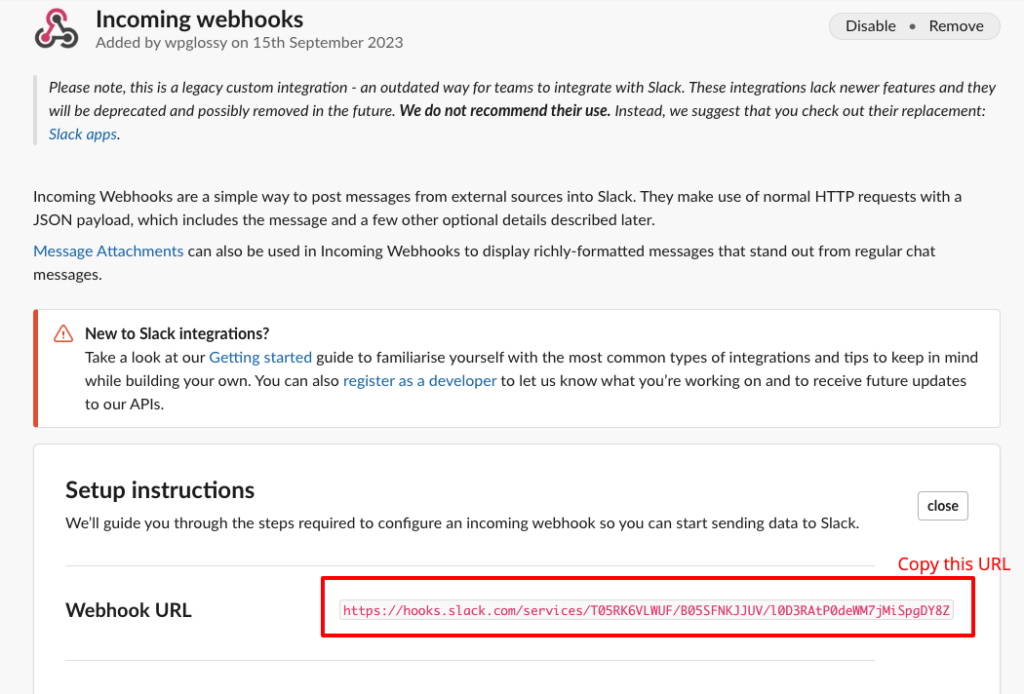 Step 8: Log in to your Cloudways dashboard and click the CloudwaysBot icon, shown below in the screenshot.

Step 9: Select "Channels" and click the "Add Channel" button.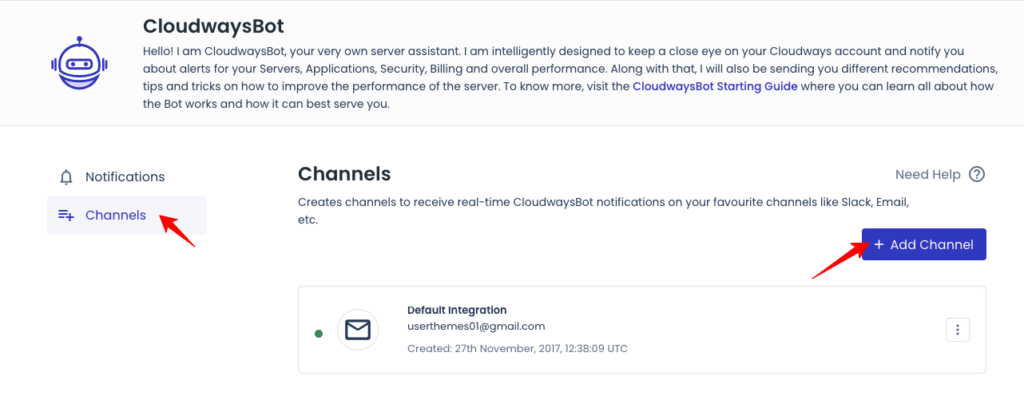 Step 10: In the Add Channel section, select the Slack option from the dropdown menu.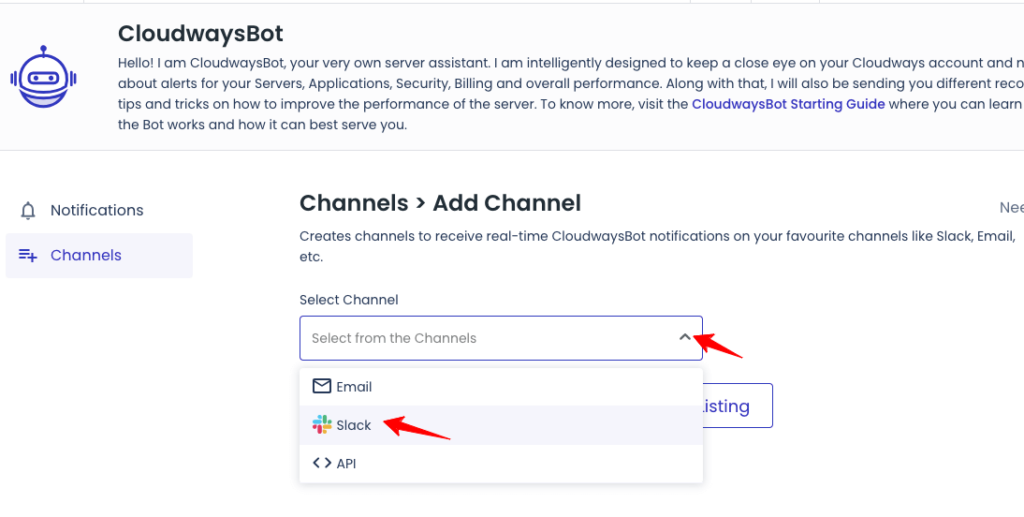 Step 11: You will enter into the Slack settings. Now, paste the webhook URL in the URL section, give the name for your notification channel, and pick "Events" to be notified. Click "Save & Test Channel" Button.
That's it! We have successfully integrated your Slack channel into your Cloudways account to get the alters from the CloudwaysBot.
Note – After this integration, visit your Slack account and check whether you have received an alert from your Cloudways account (Check the below image). It ensures that the collaboration is perfect!
Video Tutorial To Add Slack To Your Cloudways Account
If you find it difficult to follow the step-by-step guidelines to add your Slack account to Cloudways, here comes a crystal clear video explanation for your easy understanding. Watch it now!
Integrate Slack With Cloudways – FAQs
1. Is it possible to integrate several Slack channels into your Cloudways account?
Ans: Yes! it is possible. You have to follow the same procedure explained in this blog post.
2. Do I need to pay anything for the Slack and CloudwaysBot collaboration?
Ans: No! You don't need to pay anything extra for this integration.
3. Can I disconnect this partnership anytime?
Ans: Yes! You can detach your Slack channel from the Cloudways account anytime.
Wrapping Up
A streamlined workspace lets your team focus on business tasks and improvements. Cloudways understands this client requirement and hence offers useful integrations for performance and productivity boosts; Slack with CloudwaysBot is one of them.
All the server notifications like Auto-scale & MYSQL alerts, Web Stack health, Two-factor authentication & server upgrades, and application alerts like CMS & PHP versions, SSL alerts & auto-repair tables will be notified to your Slack channel by the CloudwaysBot.
You need a Slack account and Workspace setup to get the critical notifications from Cloudways. Adding Slack with Cloudways is a simple process that I have explained in this text and video tutorials. I hope both are clear and helpful. Share your viewpoints in the comment section.