Do you want to learn how to upload custom fonts in Divi theme builder? You have come to the right place to do it easily. Undoubtedly, custom fonts will help you get great online exposure for your business. However, you must pick the correct ones that match your site design to improve readability.
This blog post has detailed instructions and a video tutorial to add custom fonts in Divi theme. Go through them, and if you have any doubts, please reach me in the comment section. Before getting into the details, let me tell you a few benefits of adding custom fonts to your current theme so that you will get this feature without hesitation.
Why Use Custom Fonts?
Custom fonts will help you build a brand name for your website. You can easily stand out from your competitors with it. Moreover, you can create an aesthetic appeal for your business through a suitable font that matches well to your site design.
As a WordPress theme designer, I would say that adding custom fonts is the best way to improve the typography, which in turn boosts the user experience for better search engine rankings. Besides, you can build an emotional environment to connect with your audience.
Step By Step Process To Upload Custom Fonts In Divi Builder
Step 1: Visit the WordPress dashboard, and click either the "Add New" or any "Existing page." Name your page.
Step 2: Click "Use Divi Builder," and now you will get 3 options. Choose "Build From Scratch." After that, you will get a popup like this, and I'm picking "one column structure."
Step 3: Search for "Text Module" in the Module settings and choose it. The Text module will open with some default text. Add "H2 Title," then only you can see the font variations.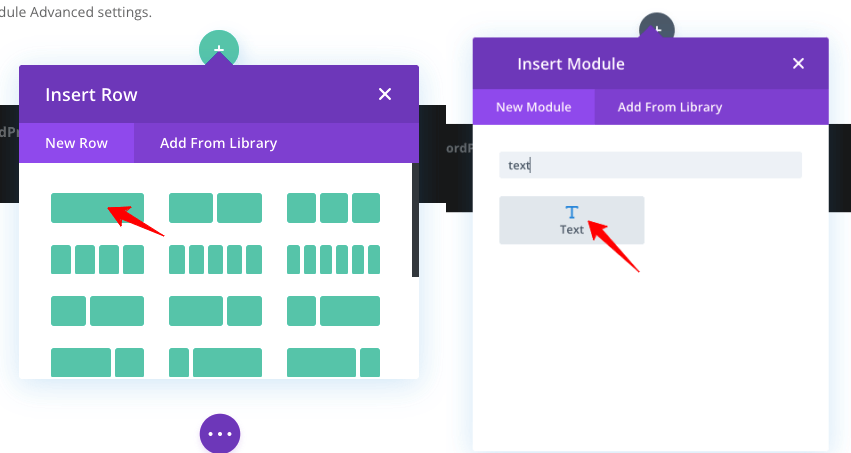 Step 4: Add a sample text, select it, and make it Heading 2. Publish the page (green tick button).
Step 5: In the same settings, visit the "Design" tab, go to the Text section and click "Text Font," and you will get the preference – Upload font, choose it, and click "Choose Font Files."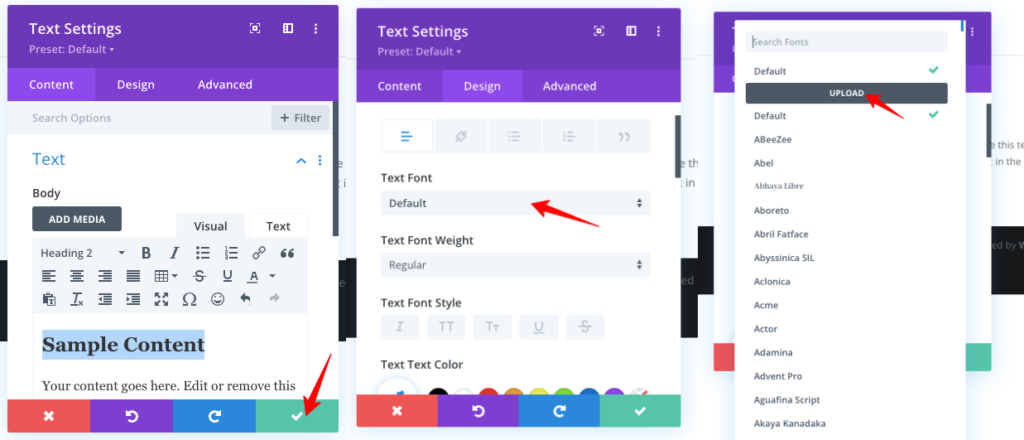 Note – Divi supports the TTF and OTF file formats, and you must keep it in mind.
Step 6: Give a font name and, choose the files to be uploaded, click "Upload." Now, the fonts will get added. Look at the preview of the newly created page, and you can see that the uploaded font has been applied. Now, you have to save and exit the page builder.
Step 7: After uploading, you should select that font family like the below image.
Step 8: Now, I will tell you how to select this uploaded font for the Heading and body content. For that, go to Theme Customizer > General Settings > Typography, and there, you will see the uploaded fonts added under the "Header Font" and "Body Font" sections.
Step 9: Select your preferred uploaded font and see the changes on the preview page. Now, click the "Publish" button. So, I hope you have clearly understood how to use the custom fonts in Divi for the Header and the body text.
Here is a Bonus lesson to use Google fonts in Divi theme.
How To Add Google Fonts In Divi Theme Builder?
Visit your WordPress Dashboard > Divi Theme > Theme Options, and there you have a setting option – use Google fonts with Enable/Disable button. Just enable the feature to use the Google fonts in your site built with the Divi theme and click the "Save Changes" button.
Most Divi users are unaware of this Google font feature, so I have explained this useful setting in this tutorial. Once you activate this feature, you can use this as same as the uploaded custom fonts.
Video Tutorial To Add Custom Fonts To Divi Theme
Here are the video instructions to include custom fonts in the Divi theme builder. I have done it for your easy understanding.
Wrapping Up
If you want to build brand awareness through elegant web design for your long-term business site, uploading the appropriate custom font is a clever move. In simple words, it will create a visual identity for your brand.
I hope you have understood how to upload custom fonts in Divi theme. My video tutorial will also help you add them without any trouble. You may also include Google fonts for higher online visibility. Any thoughts to share with me?