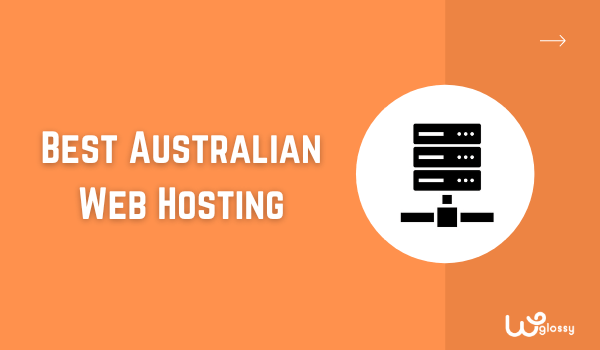 This article has aggregated the top 8 hosting companies that provide the best service in the Australian region. To help you choose the Best Australian web hosting for your small business site in 2023, we compared them based on features offered, website speed, security, and customer service.
If you want to boost your small business, the best thing you may do is create a website that represents your business online. To host a website online, you first need to choose a good web hosting service provider that will provide you with all the necessary facilities for hosting a website at an affordable price.
There are three main features that you should consider in a good hosting provider: speed, security, and support. Especially for businesses based in Australia, speed should be the main concern. Most hosting companies do not have servers in this region, which may hamper the website's performance and user experience.
Best Web Hosting Australia List (With Pros & Cons)
Now, let's get into the list of the best web hosting in Australia!
1. Cloudways hosting ($30 Discount)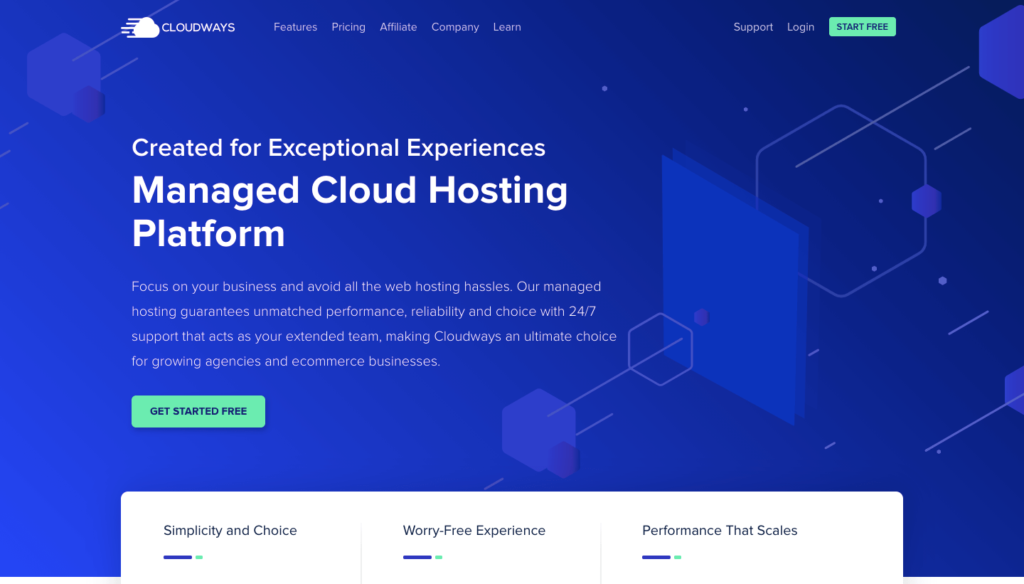 Cloudways hosting is a managed cloud hosting platform quite different from traditional shared hosting providers. When it comes to cloud hosting, your website is hosted on multiple servers instead of a single server, which boosts the website's performance as the server response time is low. 
The best thing about Cloudways is that their plans follow a pay-as-you-go model, i.e., you are billed only based on the resources you have used. This can save a lot of money for small businesses that do not need a lot of resources to operate.
Cloudways offers your site three different cloud service providers: DigitalOcean, AWS, and Google Cloud. You get the exact specifications for every platform and don't need to pay anything extra to the cloud providers to host your website.
Some of the best features of Cloudways Hosting
Free website migration
Easy file backup and restoration process
Free Let's Encrypt SSL certificates, OS-level firewalls, and Bot protection software
All servers use SSD storage for super-fast data transfer
By utilizing caching systems and CDNs, Cloudways hosting minimizes the load time of your business site
Premium and Standard plans are available for DigitalOcean servers
Apart from these, all the plans come with standard features like CDN add-on, unlimited application support, free object cache pro, dedicated firewalls, automated backups, HTTP/2 enabled servers, SFTP, SSH access, etc.
Pros Of Cloudways Hosting
99.99% uptime
Offers cloud servers instead of traditional servers, which improves website speed
Pay-as-you-go: you have to pay only for the resources that you have used
Unlimited websites/applications can host with one account
Firewalls and advanced bot protection software to ensure that your site is secure
Cloudways Promotional Code is available. Special offer code – WPGLOSSY to get the highest $30 discount.
24/7/365 expert support via live chat or online ticketing. With the premium support add-on, you could also call them directly
Cons Of Cloudways Hosting
No free domain name
No free email service
2. A2 Hosting
If speed is your main concern, A2 Hosting will be your perfect choice. Since 2001, A2 Hosting has been providing super-fast hosting solutions to thousands of customers and has established itself as one among the best in the industry when it comes to speed.
A2 Hosting offers 4 different services for its customers, including shared hosting, managed WordPress hosting, VPS hosting, and dedicated server hosting. It also provides one of the highest website uptimes among all hosting service providers.
A2 Hosting comes with some fantastic features like
Best-in-class performance. You may also opt for Turbo servers, which provide up to 20X more speed than any other server
Free website migration
Free SSL certificate
Unlimited bandwidth and emails with every account
Malware scanning and server monitoring are available all the time
Easy cPanel, 99% uptime, high-speed turbo servers, and dedicated support are notable reasons for recommending this fastest web hosting Australia. Look at the pros and cons so that a quick decision can be made.
Pros Of A2 Hosting
It offers one of the fastest speeds in the industry
Guarantees uptime of 99.98%
Free drag-and-drop site builder with every plan
Free SSL certificate
Free website migration according to plan specifications
Using the A2 Hosting CDN, you can quickly load websites with multiple media files.
One-click software installation like WordPress, Drupal, Magento, Joomla, etc.
All the time expert support via live chat, phone call, or online ticket, and they will provide you with an optimized solution
30-day money-back guarantee
Cons Of A2 Hosting
The basic plans do not cover many necessary features
The renewal rate of the plans is pretty high
The interface can be a bit confusing for beginners
Does not offer a free domain with hosting plans
3. GreenGeeks hosting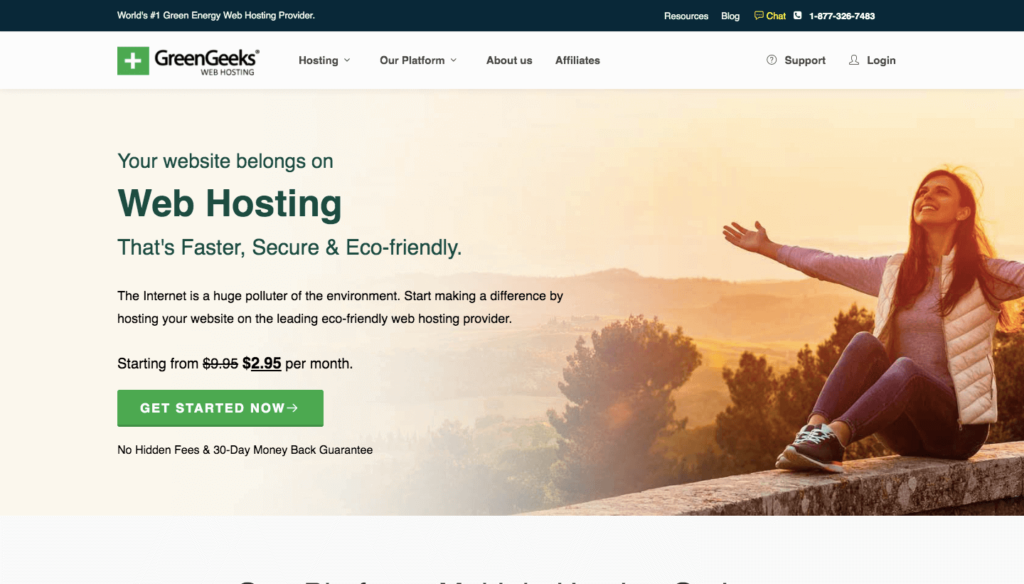 If you want an environment-friendly hosting solution for your business, GreenGeeks is the best option for you. Since its foundation in 2007, it has hosted over 600,000 websites and generated 3 times the energy it used to power its servers via renewable energy sources.
They have recently started planting one tree for every hosting plan bought. Apart from that, they provide pretty decent services for hosting. It is the simplest hosting solution that offers optimal performance for your business site.
GreenGeeks Hosting's top features:
Unmetered bandwidth, unlimited emails, and databases
Free SSL certificate
For faster data transfer, GreenGeeks' servers are equipped with the latest RAID-10 SSDs
LiteSpeed cache and CDN technology are also used to optimize the website's loading speed
GreenGeeks offers custom security rules, regular server monitoring, and zero-day vulnerability fixes to safeguard your website
It is a stable hosting platform with in-built scalability, super-class security, and technologies. Even though it has some limitations listed below, you may opt for this Australian-based web hosting to boost your site performance.
Pros Of GreenGeeks Hosting
Host your site with a green solution at an affordable price
Free domain for the first year
99.9% uptime guaranteed
The basic plan is value-for-money
Special plans for WordPress websites
Free website transfer for shared and VPS Hosting
Expert client support via phone calls, live chat, and a ticketing system. They resolve every query most efficiently and offer 100% customer satisfaction
Cons Of GreenGeeks Hosting
They do not offer any dedicated server hosting
The interface is not so impressive
4. Kinsta hosting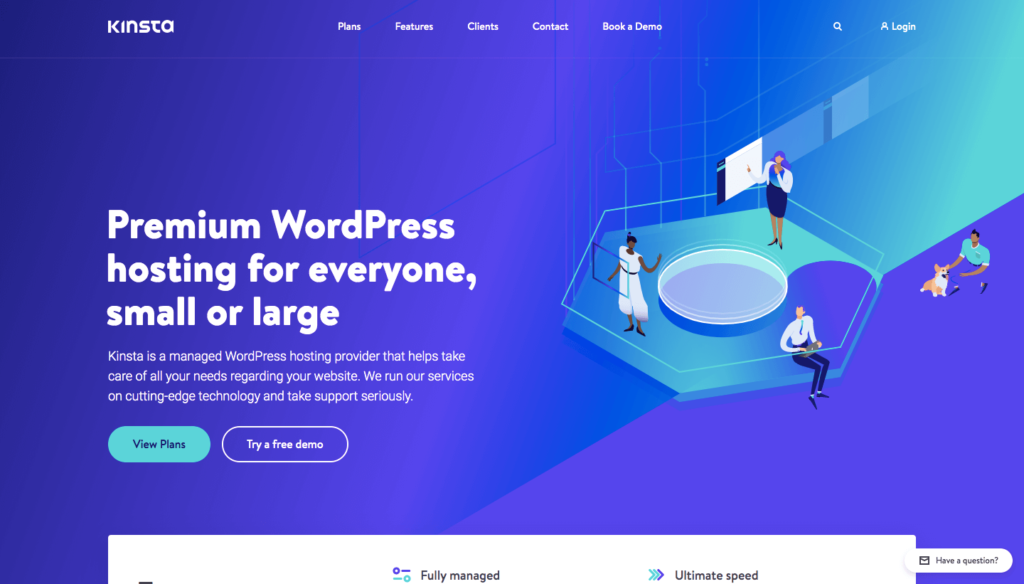 With Kinsta, WordPress websites can be hosted on the cloud. Although Kinsta only began operations in 2013, the company has attracted 20,000 customers, including big names like TripAdvisor, Workforce, Drift, and Flippa. Kinsta uses the Google Cloud platform to boost your website's performance by up to 200%.
Some best features of Kinsta Hosting
Kinsta lets you choose from 29 global data centers equipped with SSD storage and the latest technology to ensure seamless and fast data transfer
A custom control panel called "My Kinsta Portal." This customized dashboard or control panel is very easy to operate
You can enjoy and integrate Google services like Google Docs, Google Sheets, and many more
Advanced firewalls and DDoS protection. Also, the latest HTTP/3 support ensures that data transmission is secure and encrypted
All Kinsta plans include a staging area. Here you can test out new plugins, customize your web pages according to your preferences, and make any design changes before making it live. This Australian web hosting is well suitable for serious money-making websites.
Pros Of Kinsta Hosting
Offers cloud hosting, which is faster than traditional hosting methods
Freedom to choose your server from an array of 29 Google cloud servers
HTTP/3 and PHP 8.0 support
Uptime checked every 2 mins
Free Cloudflare Enterprise and Wildcard SSL
Free website migration depending upon the plan
Free daily backups + customizable backup duration
24/7 server monitoring
Firewall and DDoS protection
30-day money-back guarantee
Anytime support is available in multiple languages, including English, Spanish, and French
Cons Of Kinsta Hosting
They only provide managed WordPress hosting
The plans are pretty expensive
They don't offer free domain names
Backup duration is less for cheaper plans
5. Hostinger Hosting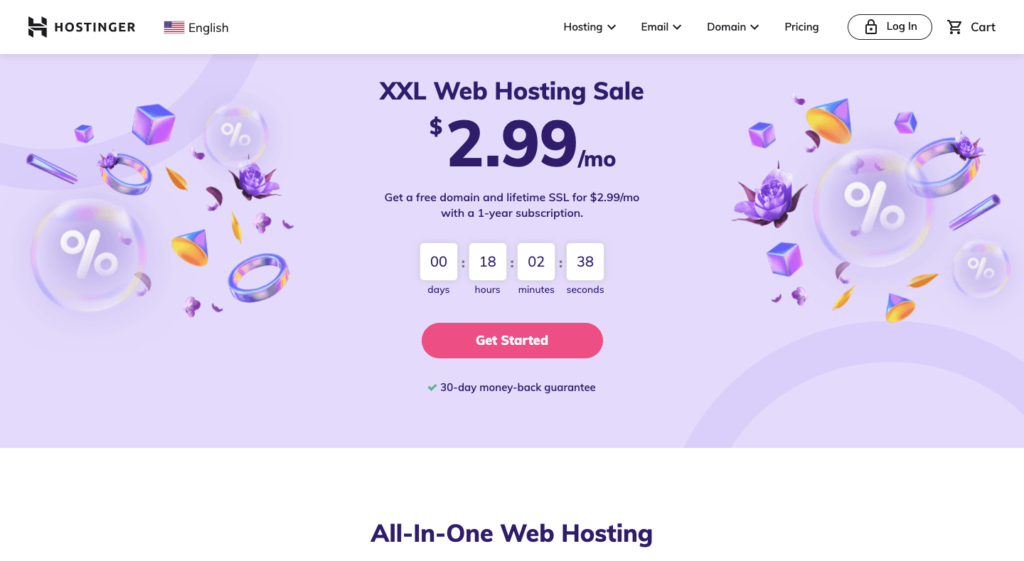 If you are looking for quality hosting service at a low price, Hostinger is your best option. Their plans are among the cheapest available in the market, but they provide best-in-class services.
For less than $2 a month, you can host a company website through Hostinger, making it an ideal solution for businesses in the early stages. Hostinger has a straightforward interface, so even beginners can use it.
Few best features of Hostinger Hosting
Hostinger has 10 data centers equipped with SSD storage
Free Domain Registrations
Free Professional Business emails
Plans for both Windows and Linux environments
To ensure your site loads faster, you have access to LiteSpeed Cache and Cloudflare CDN
Hostinger takes pride in its 99.9% uptime guarantee
Free firewalls and spam filters, as well as regular monitoring
One-click installation of all WordPress plugins and themes
A custom-made control panel, known as Hpanel, can save you lots of extra effort and time
With Hostinger's website builder tool, a website can be created from scratch without learning to code
If your target audiences are from Australia, Hostinger would best suit you. With their Singapore data centers, your website will run smoothly and without lags. It is a cheap web hosting Australia that offers discounts for students.
Pros Of Hostinger Hosting
They offer one of the cheapest hosting plans in the market. Even the most affordable plan includes a lot of features
Promises a 99.9% uptime
Offers Git access, making it more developer-friendly
Free weekly backups with all plans
Offers free migration for cloud hosting
Free SSL certificate
Customer support via live chat and emails. If you can't access support immediately, there is an archive of blogs to help you.
30 days money-back guarantee
Cons Of Hostinger Hosting
They do not offer free domains with basic shared hosting plans
No daily backups are available in cheaper plans
CDN is not included in cheaper plans
6. SiteGround Hosting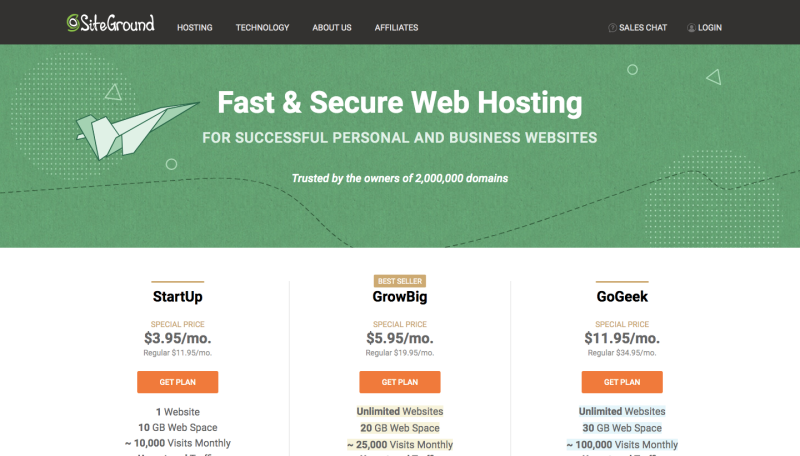 Founded in 2004, Siteground is one among the earliest cloud-based hosting service providers and has hosted over 2 million websites to date. SiteGround provides its customers an easy-to-use interface and better performance due to its Google Cloud servers.
SiteGround Hosting comes with some amazing features like
All websites are hosted on Google Cloud servers equipped with SSD storage
In-built CDN increases the page loading speed
Suitable for businesses/beginners: The whole process of hosting and maintenance is completely automated, giving businesses a focus on their core functionalities
Free website builder to build your site without writing a line of code
SiteGround offers 100% uptime. They provide free hosting if their downtime falls below a certain level
Firewalls and spam protection software keep the website safe from any external attacks. Also, a team of cyber experts makes sure that the servers and websites are free from vulnerabilities
Siteground Hosting has a dedicated data center in Australia so it would be a game-changer for you. Since it has an ultrafast server setup with custom PHP and MYSQL implementation for great site performance, you can easily outranking your competitors' results.
Pros Of SiteGround Hosting
Beginner-friendly and easy-to-use interface
Fast and Secure Hosting for websites as it uses the Google Cloud platform
Free website migration
Fully managed WordPress sites
A drag-and-drop website builder is available for building your site without writing code
Unmetered bandwidth and databases with all plans
Free SSL and CDN for secure and faster websites
30-day money-back guarantee
Cons Of SiteGround Hosting
Other forms of hosting like VPS hosting, and dedicated servers hosting are not available
Daily backups, and Git access, are not available for cheaper plans
7. Digital Pacific hosting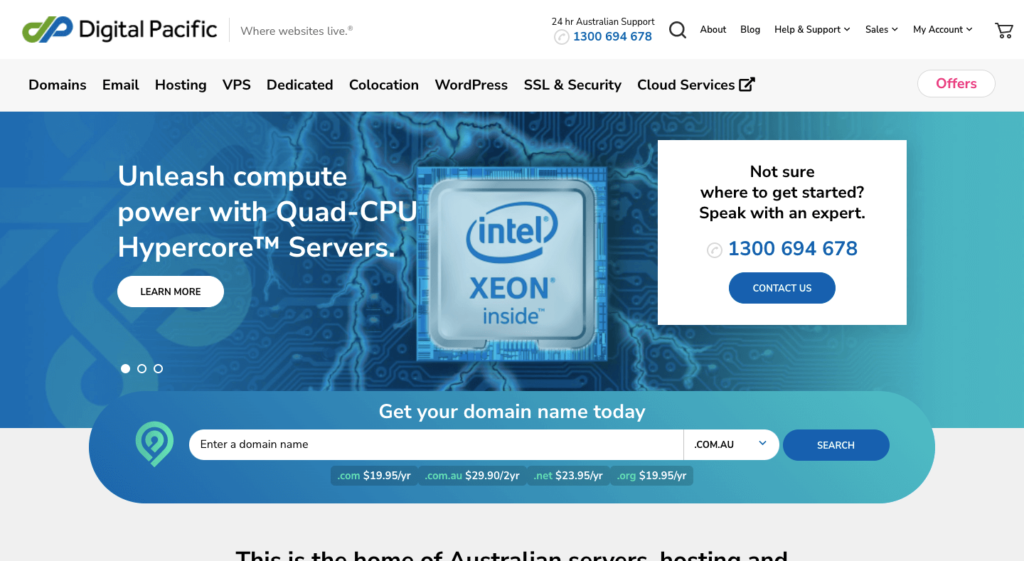 Digital Pacific is a Sydney-based hosting company that provides quality hosting services across Australia. They offer diverse services, including shared hosting, dedicated server hosting, VPS hosting, email services, domain registration, etc., and have a user base of over 50,000 customers.
The best part about this business web hosting Australia is that their data centers are based in Sydney. So, if your business is based in Australia and your target audience are Australians, you will perform better in terms of server response time and page loading time.
Some main features of Digital Pacific hosting are:
The data center is an industry leader with the latest generation of AMD Epyc and Intel Xeon processors and super-fast SSD storage
These Australian web hosting plans come with a 99.9% uptime guarantee. Regular server monitoring ensures that your website won't go offline for long periods
To prevent malicious software or unwanted traffic to a website, the company offers Firewall and DDoS protection to all its clients. Also, all-time network monitoring ensures the safety of your data
It provides world-class backup and restoration services to prevent any loss of data
Available 24/7 client support for Australian customers. It can be accessed via email or phone calls if you face any problems with your site
One adorable thing about this best web hosting Australia is that it is suitable for launching your eCommerce website, and hence the traffic load could be handled easily. You will get free SSL and instant account activation in this Premium hosting type.
Pros Of Digital Pacific Hosting
Great performance for Australian business sites
99.9% uptime
They offer a huge array of services that are an integral part of hosting
Offers daily backup option even for basic plans
DDoS protection for all websites
The customer support system is great for Australian users. The support service's response time is fairly quick, and they offer optimized and reliable solutions to all problems
Cons Of Digital Pacific Hosting
The cost of Hosting is pretty high as compared to other providers
It might not provide a great experience for non-Aussie users
No free domain or SSL certificate
8. Crucial Web Hosting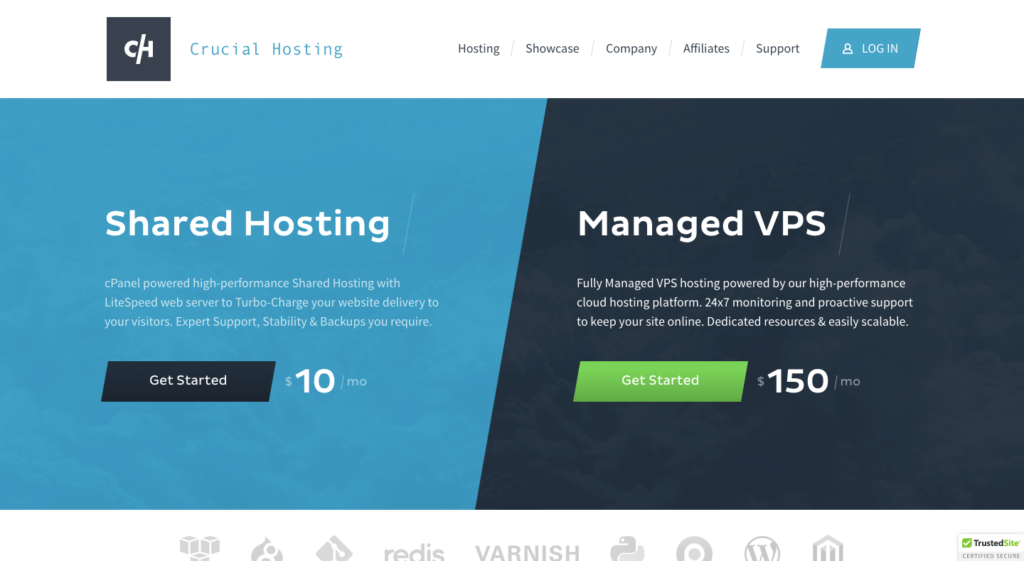 Crucial Hosting is another Australian hosting company that provides premium services to its customers. One plus point of Crucial Hosting is that they offer many different kinds of customized hosting plans for niche users.
So, even if you need a hosting solution for a specific business, you will get that at Crucial Hosting. Here, it is more likely to install several applications quickly through its cutting-edge technologies like RAID mirrored hard drives and failover network uplinks.
Crucial Hosting comes with some amazing features like
All the data centers are equipped with the latest hardware and software to give your visitors a better experience
Unlimited bandwidth
Countless email accounts
Unlimited database
When it comes to VPS hosting in Australia, Crucial Hosting is one of the best
Crucial Hosting offers all-time contact support via their ticketing system. Also, you can contact them during Australian business hours by direct phone call. Customer service also responds remarkably quickly
This Australian web hosting has a plan for every hosting you need for your business, including shared hosting, Windows/Linux/cPanel-based VPS hosting, dedicated servers, and reseller hosting. It also offers Google Workspaces for $99 a month.
Pros Of Crucial Web Hosting
Unlimited subdomains, email accounts, and database
They offer diversified services for all kinds of businesses
Free SSL certificate
Daily backup options available with all plans
DDoS protection for all websites
The data center of Crucial Hosting is based in Sydney, so Australian users will not face any server delays while visiting your site.
24/7 technical and sales support
Cons Of Crucial Web Hosting
The cost of hosting is very high
Some important service add-ons can be expensive
The calling facility is only available during business hours
Which is the Best Australian web hosting in 2023?
I hope this article gave you a clear understanding of the benefits and drawbacks of the top hosting companies for your business in Australia.
So, which hosting company from the above list, should you consider for your business? The answer will vary depending on your business type and your preferences.
If your business has many international audiences, you should go with international hosting providers like Hostinger (for traditional hosting) or Cloudways hosting (managed cloud hosting).
However, if your customer base is in and around Australia, you may consider getting amazing Australian web hosting companies such as Crucial Hosting or Digital Pacific Hosting.