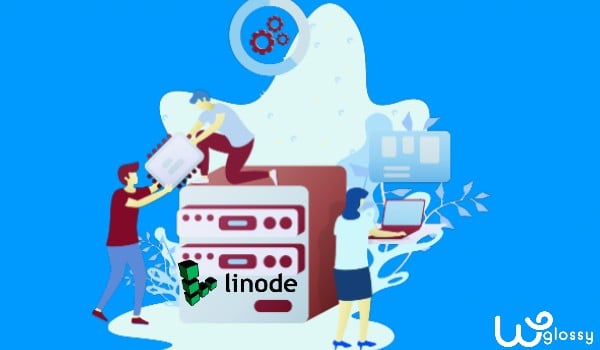 Are you searching for the best managed Linode hosting for your business site? Check the best list of hosting service providers and pick the suitable one to enhance your online presence by performing better than your competitors.
Linode hosting is becoming the talk of the town as it offers infrastructure as a service (IaaS) for hosting. As more businesses are switching to this hosting model, it is time that you go with the trend too.
The best Linode hosting management uses containers for grouping its resources for a service. These can be flexible and scalable for the best usage of business application development with secured network communication.
So, if you are looking for a reliable and scalable infrastructure to host your business, then I have a range of best managed Linode hosting service providers that we have tried and felt satisfied with! 
Benefits of buying Linode server
1. Low price
The Linode servers use Linux Virtual machines and global infrastructure at a lower price. It uses AMD processors in dedicated CPU for CPU invasive processes like video encoding, machine learning, and data analytics. This is contrary to other virtual machines that charge exorbitant rates for hosting purposes.
2. Ease of migration
Linode provides migration, clone, resize, rebuild, rescue the old hosting server into new infrastructure. The server resources are fully scalable with Linode hosting. While conventional hosting services offer scalability, you may face troubles with server resources. The one-click option to transition to new infrastructure is one thing about Linode that you should note down.
3. Multiple data centers
The IaaS provided by Linode has a network interface controller with dedicated IP for communication between the servers using VLAN. There are multiple Data centers available around the globe in 11 global marketplaces worldwide at the same prices.
4. Outstanding content delivery network
Lineboost.io Content delivery network is used for faster data storage and distribution towards the user request. It uses GPU for faster graphics processing. So, it is good at parallel processing instances such as machine leading and data analytics.
5. State-of-the-art storage model
Linode uses SSD-based storage in three ways block storage, object storage, and cloud-based storage for different applications such as software, multimedia files. It has docker and Kubernetes for container storage and scaling the infrastructure. If you look at conventional hosting services, you have constraints in SSD-based storage available. This can affect especially at instances when your site is growing in terms of traffic.
6. Security
For security, Linode servers use a dedicated firewall, full-time DDoS protection, SLS, SSH, and VLAN for network protection. The Linode API is used in continuous integration and Complex data processing. This constant integration helps your business be updated and secured 24×7.
7. High uptime performance
Linode servers provide the best hosting service by great computational virtual machines with Docker and Kubernetes support. It also has a 24×7 expert support team is to work for maximum uptime performance. Therefore, all your queries and glitches are quickly solved.
5 best managed Linode hosting To buy in 2022
Based on the benefits we looked at in the previous section, Linode hosting remains extremely promising.
Now, let us come to a critical section – how to choose the best managed Linode hosting? Here are the criteria we decided to pick, purchase, and use before suggesting them to you.
Flexible control panel to access all the Linode server features
High scalability and continued access to CDN services
The server deployment, clone, migration, backup, and restore should be available under the expert support team to avoid bugs and consequences.
Availability of computation, storage, and security options
1. Cloudways Managed Linode Hosting
Cloudways Hosting provides managed digital experiences to small businesses and agencies by its simple-to-use interface. It also promotes the easy deployment of business services in Linode servers and scalability options in the managed hosting control panel. The experienced agile team for technical support makes Cloudways managed hosting the better choice for Linode servers.
Apart from the server resources such as virtual machines, RAM, storage, and bandwidth, the Cloudways control panel promotes monitoring of resources. It also gives a stress-free experience with its applications management and high-end servers. Continuous updates, monitoring and maintenance, and complete transparency in pricing make Cloudways the best managed Linode hosting out in the market.
Benefits of buying managed Linode hosting from Cloudways
The Linode server deployment is done in minutes in Cloudways hosting. The rest will be done by its support team.
Web applications such as PHP, Magento, WordPress, Drupal are easily managed and their performances are monitored and even optimized by the expert support team.
There is also an option to gain access to global Linode datacentres that are located across eight cities worldwide with Cloudways hosting. There is also dedicated CDN support with maximum Uptime.
The optimized hosting also makes use of Slack, built-in caches like varnish, Redis, Nginx, and Memcached for faster data availability worldwide.
PHP-FPM, HTTP/2, Magneto Full page cache, and Breeze are used to increase the web page speed in eCommerce websites.
Manage Security, dedicated firewall, managed backups, DDoS, cloudwaysbot, and regular security patching with Auto healing are available in Cloudways.
Account managed dashboard and free website migration with staging is available in Cloudways. The managed Linode hosting has a one-click app install, DNS management with easy SSL, and its renewal is available in the dashboard. This is the most effective aspect of Linode hosting from Cloudways.
Cloudways managed Linode hosting also provides complete scalability and it is easy to migrate the existing Linode account to Cloudways. Perhaps, the expert team travels with you during this process.
30 days free trial is available in Cloudways with multiple modes of support such as live chat, ticketing, telephone, SLA, and private slack channel.
2. Cloudington
Cloudington provides managed Linode hosting – both shared and dedicated CPU in Linode servers. There are two other exciting and unique features – Cloudington control panel and 24×7 expert support in cloud servers. Both of them are promising and offer continuous support without compromise on quality. Proactive monitoring is available for Linode infrastructure, and vulnerabilities are resolved instantly.
The Linode servers are deployed quickly with Cloudington. This has the potential to reduce the cloud spend time. The performance and security provided by Cloudington indicate high reliability. Most web applications are available in cloud services, including WordPress, Joomla, Drupal, and video streaming.
Benefits of buying Managed Linode hosting in Cloudington
Cloudington is used to build fully cloud-based infrastructure for businesses with the help of Cloud VPS, Shared CPU, and dedicated CPU with simple server deployment.
The engineering experts will do the server deployment instantly. These experts also work towards enhancing performances.
There is also an option to select the Linode server location from 10 places worldwide with its server resource monitoring feature in the control panel.
The dedicated firewall used in Cloudtington helps to prevent unauthorized entry from third-party services.
It uses Plesk and Cpanel for web application management along with Linode server resource monitoring.
99.99% uptime guaranteed by its dedicated CPU environments and fully optimized WooCommerce store created with better performance.
Free website migration, free SSL, SSH, and SFTP protection with regular security patching are available in Cloudington thereby enhancing its reliability.
Many cloud-based services such as email, apps, gaming, video streaming, and backup cloud are available for hassle-free usage.
It provides a complete, scalable option for Linode servers and also migrates existing Linode account to Cloudington with the guidance of its support team.
3. KingCloud
KingCloud provides the best managed Linode hosting to build great websites without hosting complexities. KingCloud comes up with five different cloud service providers and innovative control panel options. The control panel makes website deployment of servers easy as it removes the hosting complexities and makes the website live in minutes.
Note – It is always recommended for agencies to use one Linode server to manage multiple web applications.
KingCloud managed Linode hosting provides faster performance, iron cloud security, fully scalable resources, and innovative control panel management. Other features include a built-in CDN addon and 60+ data centers to achieve maximum uptime for the servers. It also provides managed security with auto-healing servers.
Benefits of buying Managed Linode Hosting in KingCloud
KingCloud uses an innovative control panel with one-click server management and 1 click server clone and auto-healing servers.
The server and web application monitoring is done using 15+ metrics in the control panel. Unlimited application install with 10+ applications is launched at one click.
One-click migration of websites with the staging area, URLs are available in KingCloud with the easy DNS management.
Dedicated firewall, Regular OS, and patch management with SSL security for every domain are available in KingCloud.
Multiple databases, PHP versions, and PHP7 ready servers are used for faster web hosting performance.
Optimized Stack, Built-in WordPress, Magento cache, and SSD-based storage in 60+ data centers provide faster user requests.
A free trial is available without asking for credit card information.
Kingcloud provides seamless vertical scaling of server resources.
24/7/365 smart support is available with efficient problem-solving experts. It also provides a premium support addon enabling interaction with senior support engineers and closer partnerships.
4. HostAye Managed Linode Hosting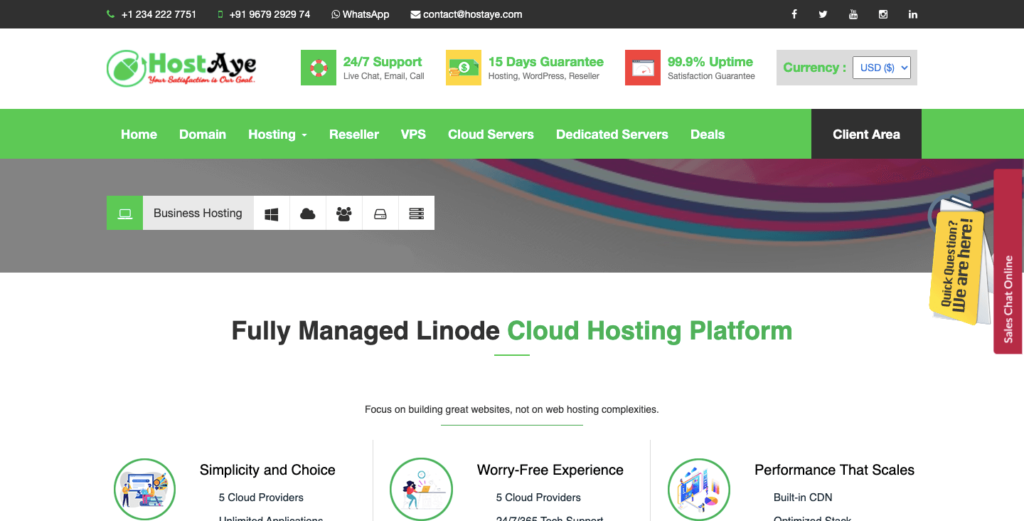 HostAye is one of the best managed Linode hosting services for three reasons – local language support, a closer data center, and an outstanding control panel. It supports Indian local payments options such as debit cards, net banking, NEFT, and cheque or cash deposit. The data centers are available in India, Germany, France, and the US with the best network connectivity and server security. 
The light-speed webserver used in Hostaye is faster than the apache cloud because it uses minimal memory consumption and CPU usage. Its control panel offers one-click server clone and one-click advanced server management with web application monitoring. MySQL manager is used for multiple database management easier in hosting control panel. More than 400+ one-click applications are installed using a one-click Softaculous installer. 24/7/365 support is available in all plans with free website migration using the staging area.
Benefits of Buying managed Linode Hosting in HostAye
Pro website builder is available with 400+ professional templates. These can be used to create a website in a minute without any coding knowledge.
Secured email addresses for each domain, with POP3, SFTP, and IMAP protocols, are used to send and receive emails. We can even use client email and webmail accesses.
Instant hosting account setup, built-in lite speed cache, Latest PHP and MySQL databases with pure SSD-based Linux shared hosting servers in India, UK, and the US.
We can choose the data center location based on our targeted traffic. All the data centers have SSH protection with regular malware scans to avoid vulnerabilities.
450+ easy-to-install WordPress, Joomla, Drupal, and phpBB web applications with server and application monitoring options available in the control panel.
PHP-ready servers are available with application support. The pre-configured PHP-FPM and multiple database usage promote faster processing of data with a maximum uptime guarantee.
15 days money-back guarantee with free trial options available.
24×7 dedicated customer support in various modes such as email, live chat, and telephone as well.
5. FlexiCloud Managed Linode Hosting
FlexiCloud Linode hosting provides great performance and maximum uptime. The online infrastructure of Flexicloud is as promising as it offers dedicated solutions for PHP, Node.js, and Python. It also offers cloud hosting services to individuals, startups, and enterprises with managed control panels and easy-to-scale cloud resources.
The user-friendly interface used in managed Linode cloud hosting is used for server customization and configuration. SSD-based storage, dedicated server resources, and Nginx-based servers give the best performance in the presence of Redis cache and PHP-ready servers. Flexi cloud provides Linux-based servers for security and fast performance by its excellent team of support.
Benefits of buying managed Linode Hosting in FlexiCloud
The deployment of cloud servers with the FlexiCloud control panel is simple with its sysops support team and helpdesk.
More than 50+ data centers are available worldwide. This ensures faster availability of data towards the targeted area.
Multiple database support such as MySQL, MariaDB, and PostgreSQL are available along with the latest version of PHP.
GIT integration with SSH and SFTP protection adds ease to application development with FlexiCloud Linode hosting.
Free SSL encryption and OS-level firewall are available on all servers.
Continuous monitoring feature also protects against DDoS attacks.
Redis cache is used for faster MySQL query processing.
Nginx proxy servers and Fast CGI caching are also available to increase web page performance.
Unlimited basic website migrations from various web hosting are available. The support of an expert team is available to migrate easily.
Two months of usage are absolutely free when you take up a one-year subscription plan.
Regular managed backup options are available with web application monitoring.
FlexiCloud managed hosting service offers dedicated account managers to its premium clients for worry-free business infrastructure management. The account manager is also accessible 24×7 to resolve the issues.
Conculsion
For developers and serious businesses that uses linux based virtual machines to handle multiple applications, Linode hosting is an ideal choice. However, the beginners may struggle with the root access dealings and busy businesses might not be getting enough time to manage the technical tasks. Here comes the managed cloud hosting type for them as they don't need to do any technical tasks.
I have listed some best managed Linode hosting services that are worth buying in 2022 and beyond. From the list of server companies, I highly recommend Cloudways hosting since they are perfect in offering the featured packed service to boost your digital presence. I'm sure that you will get a complete piece of mind with their free migration and premium support. Grab the super offer now!