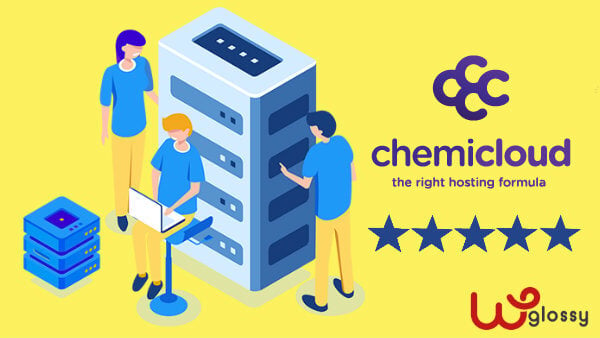 What made me write this in-depth ChemiCloud review?
ChemiCloud – Are you hearing about this web host company for the first time? If yes, then you must know my experience to know their exceptional qualities.
I got stumbled with a handful of fantastic qualities of this cheap cloud hosting service that I would like to share with you!
I have hosted a couple of my niche blogs with EIG hosting companies and got frustrated with their nastiest performance.
Therefore, I was looking for an independently owned, US-based hosting with superior features, affordable pricing options, and prompt support.
My hunting has been ended with ChemiCloud hosting!
After using this best WordPress hosting service for the past one year, now I feel good that my blogs are in good hands.
You might think, what makes ChemiCloud more commendable? What the heck does it have?
Let me tell you about this recent hosting player with its pros & cons so that it would help you to make the correct decision when you are planning to buy new hosting for your business blog.
Before getting into the ChemiCloud reviews, you must know about the amazing discount offering by the company!
Chemicloud Coupon Code 2020
You will get 65% OFF on any plan you choose.
It is the cheap & best cloud web hosting for the small businesses and newbie bloggers.
Just add the Chemicloud Coupon Code "SUMMER" while signing up and the discount will be applied to your account.
→ Click Here & Claim This Exciting Offer Now ←
Act Fast! Limited Time Offer!
About ChemiCloud Hosting

ChemiCloud is a cloud-based hosting provider which has been established in 2016. It's a US-based hosting company headquartered in Newark.
Having ten years of an experienced professional team, the company is offering real value for customers with unfailing web hosting services.
Getting recommendations from satisfied customers is their real strength as they always keep their promises to go beyond hosting.
ChemiCloud claims that they are the right hosting formula, and you will be 100% satisfied with the performance or get your money back in 45 days.
7 Fantastic Features ChemiCloud Hosting
Through my unbiased ChemiCloud review, let me share the valid reasons to go with this service!
1. Free Lifetime Domain
While buying the annual plan from ChemiCloud, you are getting the opportunity to register the domain name for no cost, and it will automatically be renewed every year as long as you use their service.
If you go with domain name providers or with Cloudways, then you need to purchase the domain, pay every year, and yes, the renewal charges are higher. Getting a hosting with the free domain is a smart move for business startups.
2. Transparent Pricing Plans
You should understand that the unlimited plans require costlier upgrades, and for that, you will be nudged to pay the concealed payments.
"Unlimited Plans" is the marketing idea by the hosting companies, and it's not the case with ChemiCloud hosting. They are sincere and offer transparent choices with no hidden fees. You have to pay only for the resources that you use.
3. Cloud Infrastructure
All the ChemiCloud servers run in the Cloud Linux operating system have higher-level stability and safety. Your site will not be affected by others' performance at any cost.
Moreover, the malicious codes in one account do not spread and affect other accounts which is the significant benefit of using the Cloud structure in the hosting servers.
4. User-Friendly Settings
When it comes to easy-to-use hosting, ChemiCloud ranks top! Yes, it has a user-friendly control panel designed with simple setting options.
Just a click is needed! The preferences are well suitable to the non-techies like me who feel hard to deal with the complicated settings to get started and use further.
Moreover, it has a mobile-friendly client area to manage everything, and even you are on the go. It has easy settings in the Dashboard and we have easily pointed the nameservers to their server IP address in few seconds.
5. Free Site Migration
Website migration is one of the tedious tasks, and it has to be done with care. If your site has been hosted with other company and wants to enter into the ChemiCloud family, then the technical experts will help you move your pages to them safely.
This file moving process in ChemiCloud will be done be on the same day you signup, and they don't take a single penny from your pocket.
6. Free SSL With Auto-Renewal
Web security is more critical, and the data transfer between the web server and browser should remain private. Not only for security reasons, but the SSL certificate also has an SEO benefit since Google has made the SSL installation mandatory for every website.
In this excellent cloud hosting, the Free SSL from Let's Encrypt is available for all plans so that you can enable https:// to all your domains without any discomfort.
7. Top-Level Security
The web application and network firewalls are capable of preventing the hacker attacks before they begin. The server stays safe through proactive monitoring, and hence you don't need to bother even when you sleep.
When you buy higher plan, you will take Imunify360 proactive defense for total protection and advanced firewalls to defend against brute force and DDoS attacks.
My Experience With ChemiCloud WordPress Hosting
After seeing the exceptional features, its time to share my viewpoint along with other ChemiCloud reviews!
1. Fast Loading Website
The dream of every dedicated webpreneur is to own a fast loading site. I have achieved it and fulfilled by the speedy server performance of the ChemiCloud web host service.
My side blogs are loading in just a second because of its premium hardware and cutting-edge technologies such as LiteSpeed caching, HTTP/2, and PHP 7 features.
The speed boost has further been tweaked by enabling zero cost CDN from Cloudflare. Thanks to 100% SSD powered server that makes my blogs super faster, which in turn provides the best user experience to my audience.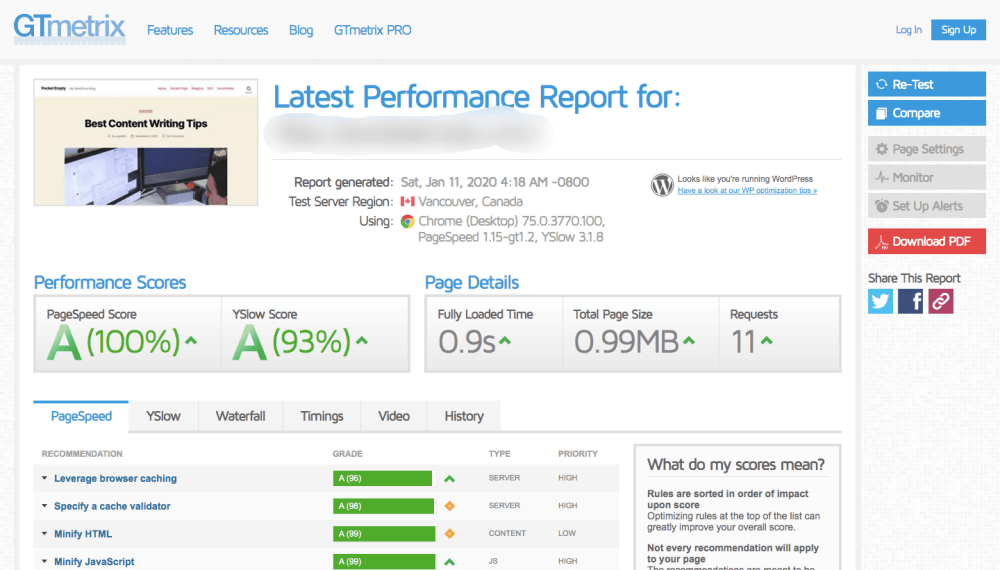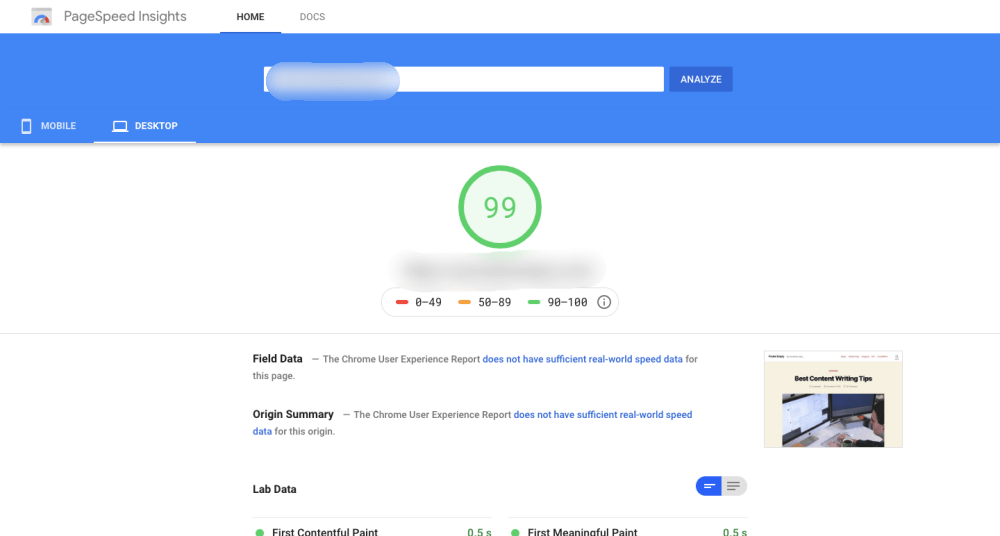 Through my fast-loading site speed, the bounce rate has drastically been reduced, and I can see the SERP improvements for my targeted keywords.
As you know, in 2021 and beyond, the technical SEO matters a lot as it can influence user behavior and search engine rankings.
2. 100% Uptime Performance
I use an uptime robot to track my blog availability. The uptime score of my blogs hosted with ChemiCloud are still at 100% without any downtime annoyance because the site availability is their top priority, and they ensure that they can offer the highest possible uptime.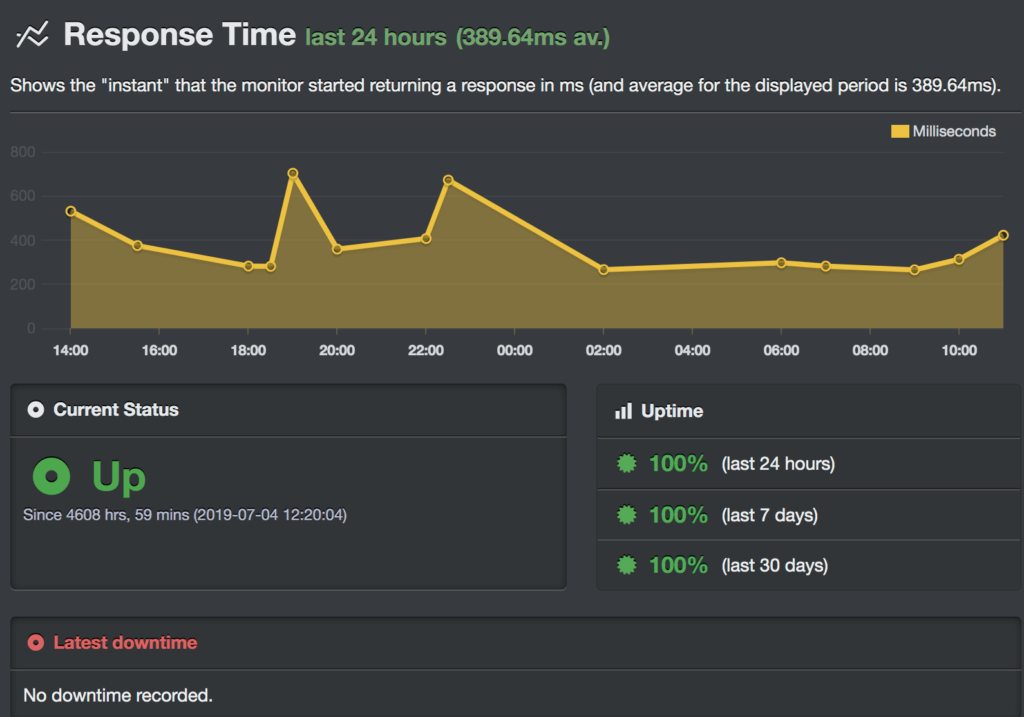 Besides, the reason for high reliability is CloudLinux OS, which is responsible for the server allocation with more stability. We can feel like a virtual server than a shared environment, and yes, our accounts will be isolated from other users.
Besides, you know about the cloud type that keeps the data safe and distributes them across the redundant servers to protect against the potential failures. Hence, it is more likely for them to keep our sites available all the time. You may count on them for reliability.
3. Customer Support
The technical support team in ChemiCloud hosting is very responsive, and the team is always willing to walk through our difficulties to offer the ideal solutions. They have done the migrations with care and yes, without any loss or downtime issues.
For a few times, I have used their chat support and never had to wait more than 35 seconds; the experts are energetic and want to assist us anytime. They have impressed me a lot through their prompt replies and robust solutions.
If you are looking to buy the best hosting that has exceptionally knowledgeable support staff who could sort out the things with minimum fuss, then your choice should be ChemiCloud Webhosting.
Through my ChemiCloud review, I can describe their customer support in one word – Excellent. They are so active on Twitter as well. Receiving instant replies even during the weekends is exceptional care that is indeed needed.
ChemiCloud Pricing (65% Discount)
ChemiCloud offers shared hosting, WordPress hosting, Cloud VPS, and reseller plans, which are highly affordable and perfectly suitable for small business startups.
1. Web Hosting Plans
ChemiCloud offers three shared Web hosting types – Starter, Pro, and Turbo.
The basic plan has all the essential features to host a single website with Free SSL and daily backups. Even this starter plan has Worldwide server locations, unlimited bandwidth, and unlimited email features.
When you go with the Pro or Turbo plan, there are some progressive qualities available for your site loading speed and security.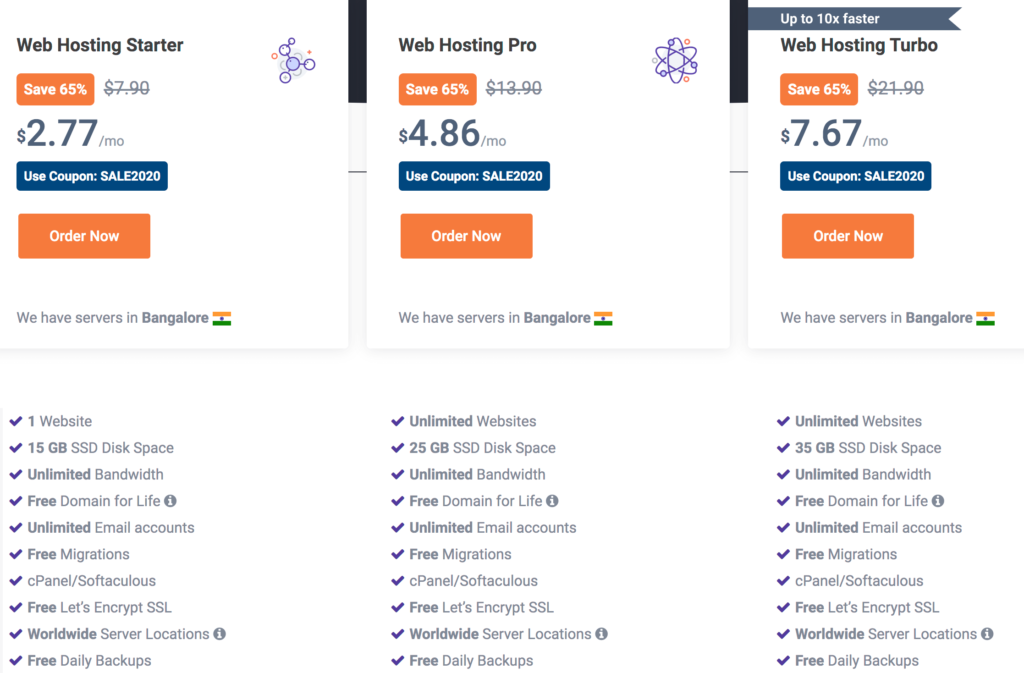 2. WordPress Hosting
Similar to shared hosting, ChemiCloud has three types for WordPress users, such as Starter, Pro, and Turbo.
Here, the environment is optimized explicitly for WordPress for a higher level of protection and faster page load times. WordPress installation can be done in just a click through the Softaculous and make the website in minutes.
LiteSpeed cache and Cloudflare CDN are available in the starter pack. If your estimated audience visit is around 25,000, you may go with this basic ChemiCloud plan.
However, if the traffic level is high, then it's better to buy the Pro or Turbo plan to perform better. In these higher pricing options, you can access 1-click WordPress staging to perform the test before making the site live.
Whatever be the type, just grab Free SSL, and backup for 30 days, email hosting to create a personalized email address with a domain name, and SSH access on demand.
3. Cloud VPS
The Cloud VPS ChemiCloud hosting is highly scalable and fully managed type. You don't need to worry about any technicalities, order, sit back, and relax.
This dedicated hosting has four different choices – Iron, Bronze, Silver, and Gold. Priority tech support, brandable cPanel, private nameservers, white-label option, brute-force protection, NGINX Firewall, HTTP2 support, and application auto-updates are the impressive qualities of ChemiCloud VPS hosting.
Here, ample SSD storage, dedicated IP address, and scalable environment are present in all the plans; however, the money-back guarantee is only 15 days!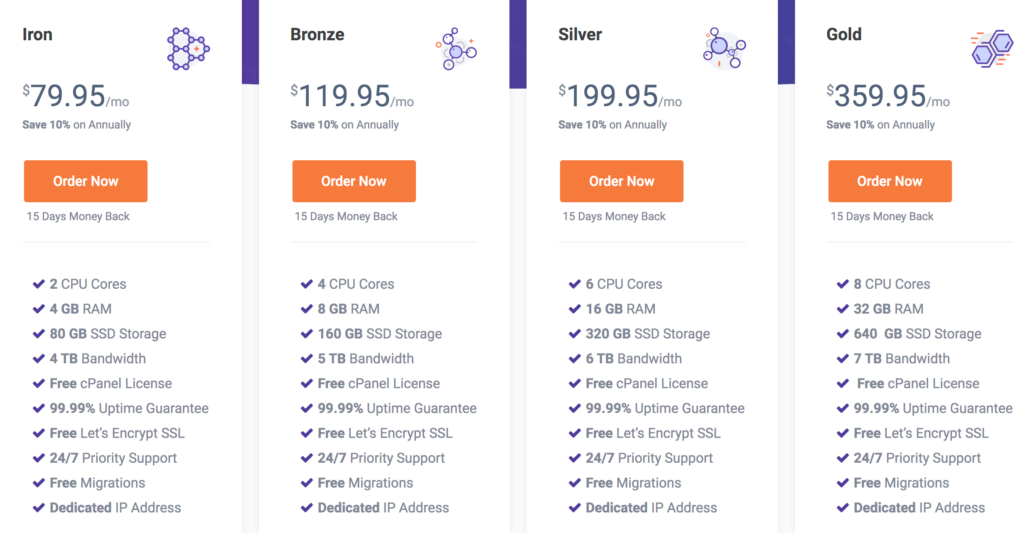 ChemiCloud Reviews
Apart from my ChemiCloud review, you may have a glance at the other reviews that made it stand out from the horde.
Trustpilot
Look at the customer feedbacks for ChemiCloud company in Trustpilot. Till now, it has no negative opinions.
Its trust score is 4.8, which is 'Excellent.'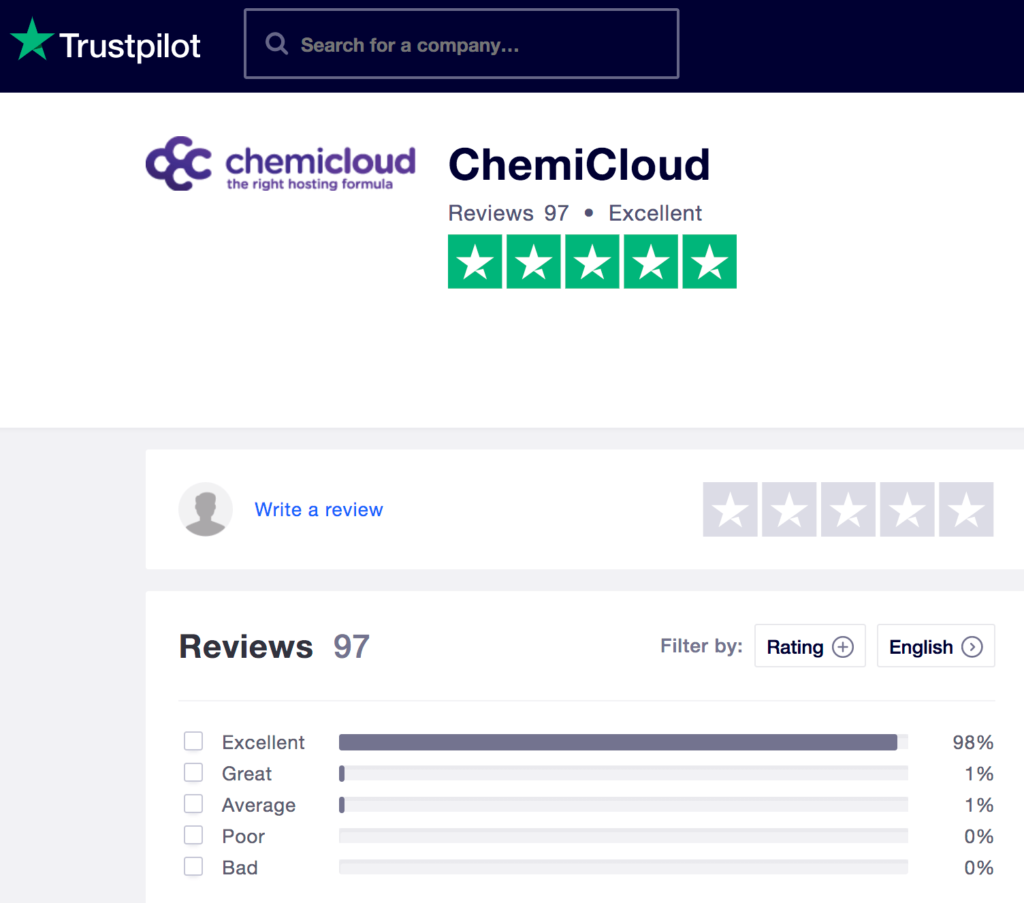 Twitter
Here are the latest ChemiCloud reviews on Twitter for your view!


Few More ChemiCloud Reviews
You can see a few more customer feedbacks for ChemiCloud hosting.
ChemiCloud Pros
The following are the most significant upsides of ChemiCloud!
Ultra-fast hosting with more reliability
Best Security with strict firewall rules
Drag & drop builder to create a website with no technical skills
1-click app installs
Anytime restoration backup
High uptime guarantee
45-days money-back policy
Live chat with instant response
SSL, Migration, and CDN – All for Free
100% positive feedback from the customers
Cons
No big deal to worry about!
New player and hence the trust level is low
Advanced firewall protection is unavailable for "Starter" plan
Memcached and CloudFlare Railgun are only seen in "Turbo" option
ChemiCloud Comparison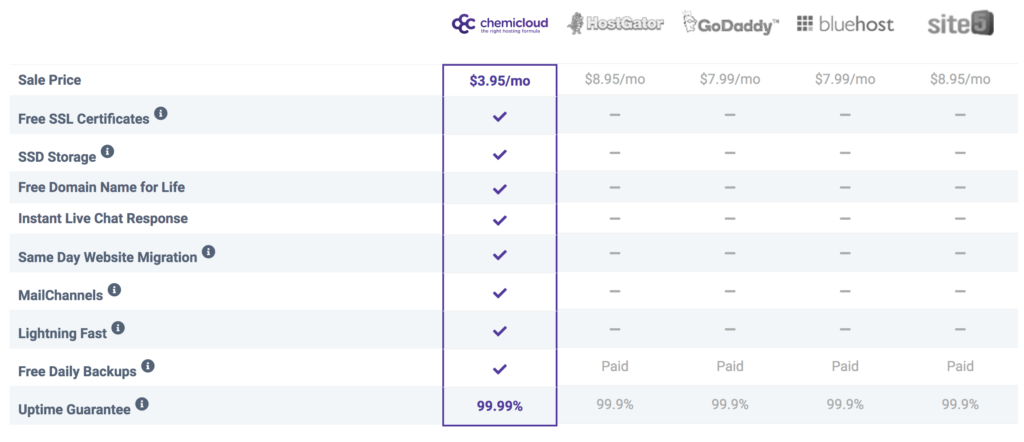 When comparing the ChemiCloud with its competitors like Bluehost, HostGator and GoDaddy hosting, it is the direct winner by carrying the below qualities
Free SSL & CDN
SSD Storage
Uptime guarantee
Lifetime domain with zero cost
Free 30 days backup
Same day file migration
Instant response in live chat
ChemiCloud Discount
At the time of writing this review, ChemiCloud is offering a 65% discount on all hosting plans. You can also upgrade the order with 65% OFF.
To avail of this offer, use the ChemiCloud Coupon Code – SUMMER and grab the fantastic offer. It is a great opportunity to save 65% of your hard-earned money!
ChemiCloud Hosting Signup
After grabbing the coupon code, its time to get started! Signing Up in ChemiCloud is just a piece of cake.
Step 1: Visit ChemiCloud and register the account with your email. After signup, enter into the client area where you can choose the plan and place the order.
Step 2: Now, get a new domain for No Fee. You may also use your domain to proceed with the signup process.
Step 3: Now, start the configuration process by selecting the billing cycle, server location, and use addons.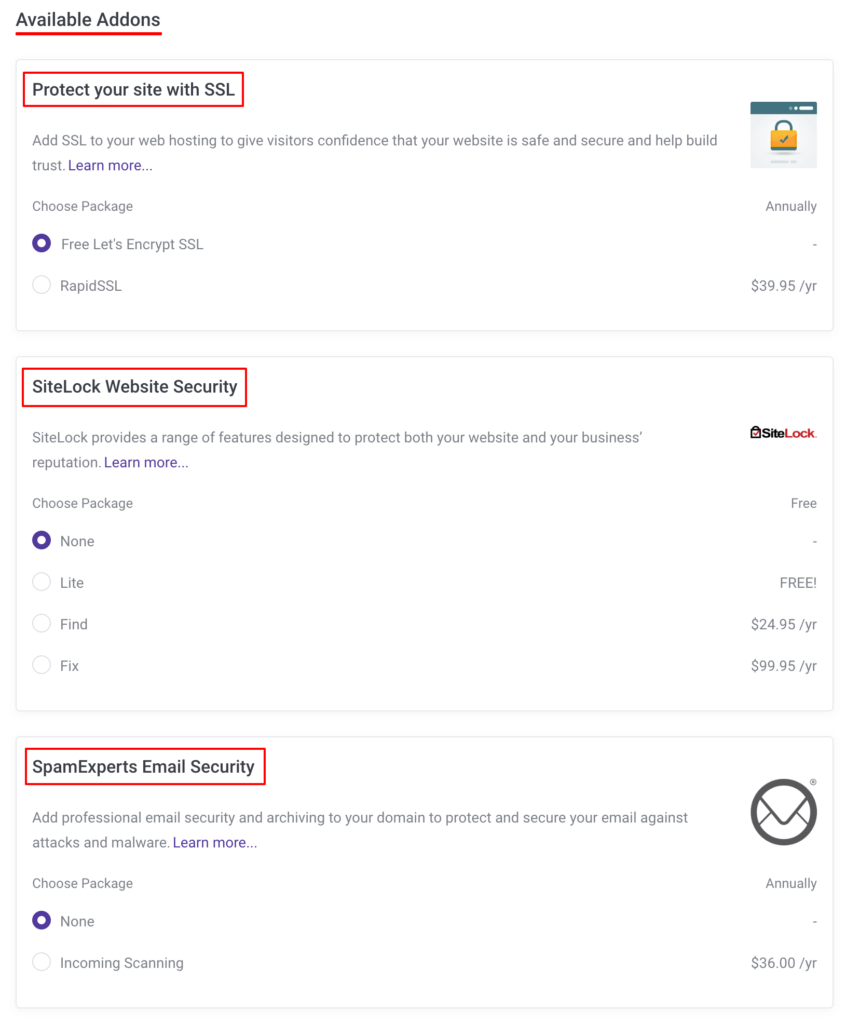 Step 4: Fill the payment details, agree to their terms, and click "Check Out."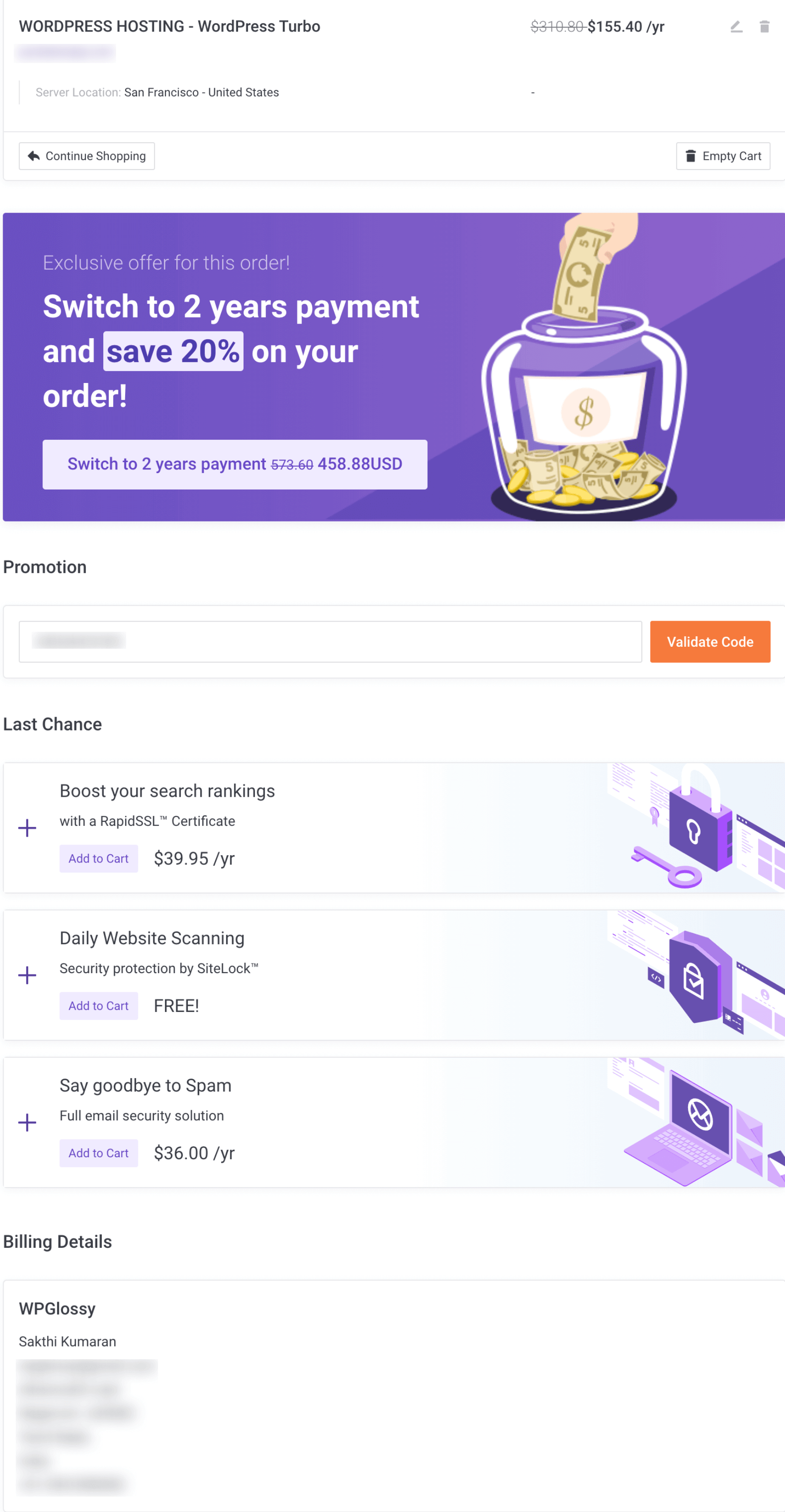 Step 5: Now, you placed the order and raise the migration request though their "Transfer To Us" section.
Wrapping Up My ChemiCloud Hosting Review 2021
Getting a reliable hosting service is a tricky task! There are a lot of factors that should be taken into consideration because the host server is the brain of the business website.
Like the human brain with a central nervous system that controls all the body parts, a steadfast hosting service can influence the user experience and search engine ranking.
When you want to buy cheap & best cloud hosting with fantastic features, then give ChemiCloud's suitable plan a shot!
This fastest hosting is one of the best top Cloudways alternatives and one step ahead of direct competitors such as BlueHost, HostGator, and GoDaddy. Better performance, Pricing, and customer support are their proven strengths.
Even though, ChemiCloud is the new player in the webserver industry and not so much popular like FastComet and SiteGround, it is an excellent value for money.
It deserves to be treasured for its superb features, lightning-fast speed, responsive customer support, and inexpensive plans, which are suitable for small business startups and budding bloggers.
However, if you wish to move with an established cloud hosting provider of managed type, you may check my Cloudways Hosting Review and decide your service provider.
So, after reading my detailed ChemiCloud Review, I hope you wish to give a try and tweak your online presence at a reasonable cost. Share your views with me, let's discuss!