So, you are looking for a cheap cloud hosting provider for your business site, isn't it? I'm sure, your search will be ending here!
I understand! Any best services would cost high. But, I suggest you not limit yourself by using such best features considering money. Especially when it comes to hosting, it becomes the foundation for your website or blog's success level.
At the start, the type of cloud hosting was costly, and only big players can utilize it. Nowadays, cheap and best cloud hosting services are available with Speed Optimization, secured features, and excellent customer support.
If you are looking for some excellent and cheapest cloud hosting providers, then you are at the right place as I am going to list such inexpensive cloud hosting services, those are excellent too in ensuring maximum uptime, speed, and reliability.
Before getting into the details of 7 fantastic yet economical cloud server providers, let me tell you the benefits of purchasing cloud hosting than shared hosting.
In cloud hosting,
Multiple numbers of servers located at various locations are interconnected together to form a unified system.
You can have better speed, performance, and flexibility as if a server has any hardware issue then your data can be migrated to any other stable server.
It ensures higher bandwidth with enough storage and database.
The pricing plans of Cloud server providers may be comparatively higher than traditional hosting. But don't bother, it is worth paying, and you can make double the money spent.
There are companies in the market providing cheap cloud hosting packages for their user's best in offering stable performance to have your site or applications stay live with no flaws or hang.
Especially, when you go to the managed WordPress cloud hosting, you can stay away from the technical headaches.
On the other hand, shared hosting!
It refers to acquiring your space on a server that has multiple sites hosted and sharing resources like space, bandwidth, database and so on.
There are chances if any other sites traffic goes high, then your hosting site will have a more significant impact on its speed and performance.
Security threats or risks are high in shared hosting whereas cloud hosting has control over with its encrypted algorithms to secure its user's data privacy or data loss.
With all its highlighted benefits, I have already switched to the cheap and best cloud hosting service, Cloudways managed hosting, and could see organic results.
If you read my detailed Cloudways review, you will come to know how worth buying the hosting is!
Hence, I strongly recommend you move on with the latest and innovative technology that is nothing but cloud hosting. Preferably choose optimal and cost-effective cloud hosting service enduring speed, performance, storage, stability, features, security, and bandwidth.
As mentioned above that I have recently upgraded to Cloudways managed hosting. I have researched in-depth to pick such a superior cloud hosting service.
With that experience, I am sharing the knowledge to choose your best cheap cloud hosting service similarly.
Top 7 Cheap Cloud Web Hosting Providers For WordPress
Now, let's get into the pool to discover the cheapest cloud hosting providers!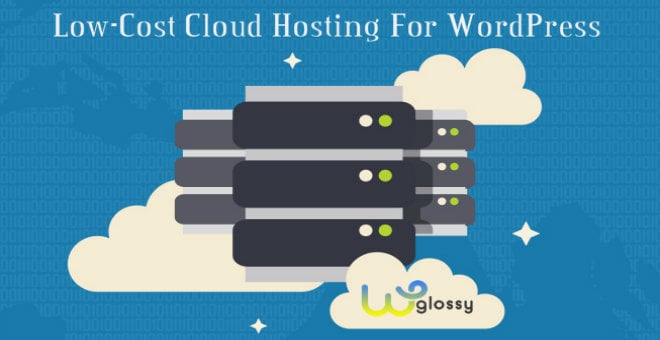 | | | |
| --- | --- | --- |
| | | |
| | $10(Use Promo Code - WPGLOSSY) | |
| | | |
| | | |
| | | |
| | | |
| | | |
1. Cloudways (Use Promo Code – WPGLOSSY)
Note: You can get 3 Months of Free Cloud hosting ($30 Worth) by using the Cloudways Coupon Code – WPGLOSSY.
For any size of business, bloggers, developers, website designers, or e-commerce, Cloudways would be the superlative one being the best and cheapest cloud hosting provider of a managed type.
Its basic plan is $11/month, comprising 1GB RAM, 1 core processor, 25GB storage, and 1 TB bandwidth. Cloudways never fails to offer 99.99% uptime for its users.
Along with that, you can have access to use it with unlimited apps and it comes with cloudwaysBot alerts. CloudwaysBot alerts help you to optimize your sites and applications on servers efficiently.
You can get alerts on various activities like receiving recommendations, tips for your applications on the server, server health and stability, backup updates, and more.
This best cloud hosting service provider as an enterprise solution joins hands with popular IAAS providers like Vultr, Amazon, Digital Ocean, Google, and KYUP by allowing you access to its 25 data centers located all over the globe.
And yes, Cloudways could offer better performance than Kinsta hosting. Let me further drop down a few highlights and features of Cloudways hosting for your clear and straightforward reference.
Best Features Of Cloudways
You can launch an unlimited number of business applications including PHP based applications (also switch between multiple PHP versions in just a click)

Option to switch between applications that work best on various DB as Cloudways supports even latest versions of MySQL and MariaDB

Deploy multiple CMS like WordPress, Magento, Drupal and so on a single server just with 1-click

Reliable and 1 click hassle-free SSL installation with its built-in Let's Encrypt SSL improving your site security with a trusted certificate

Comes with multiple advanced caching tools works on Redis, Memcached, Varnish, and Nginx results in boosting server performance in total and seriously improves site loading speed.

Using SSF/SFTP, access your servers, manage your applications files and folders transfer hassle-free

The migration process is simple through 1 click which was never that easy before, and Cloudways offers free migration support at no additional cost to you.

One-click Cloning feature makes a copy of each site, files, and database to restore it on new staging URL's

Dedicated platform level firewall monitors the servers for any malicious activities to keep out of intruders or hackers, protecting your data safe and secure.

You can assign your team members to access server or applications regardless of their locations

GIT integration to auto-deploy your updates in the live server whenever there are changes in the code in the remote storage area.
Pros
Flawless support regarding communication, availability and user-friendly via chats and tickets

The pool of knowledge source through FAQ's and forums all related to hosting, server and website problems

You can launch 10+ apps with 1 click feature

You will get excellent server response time for improved loading speed

Choose your space closer to your target audience among 60+data centers

Pay-as-you-go pricing model allowing you to pay for what you are using

1-click backup and restore option to your data either automatic or on-demand

Cost-effective pricing plans suiting any business requirements with promising features
Cons
No domain registration service where many other hosting providers do offer

Paid email account

2. Digital Ocean
Digital Ocean is a well-known hosting service provider that makes cloud computing easy. It has a reputation for receiving positive feedback from its happy customers for its hosting service empowering millions of websites with its stellar cloud infrastructure.
This cheap cloud server hosting offers around twenty pricing plans in different categories like standard, optimized, and flexible droplets.
Droplets are the name of their servers; each droplet you create is a new server. You can create a droplet easily and promptly in less than a minute.
Its basic plan is $5/month or $0.007/hr, including 1 GB memory, 25 GB disk space, and 1 TB bandwidth. If you need additional storage, then you can pay extra per GB for what you want.
With its minimal costs, this low-cost cloud hosting never fails to offer its customers 99.99% server uptime and fast and stable performance. 
As seen in the Cloudways hosting review, you can set your droplet on any DO data center in multiple places like San Francisco, New York City, Toronto, London, Singapore, Bangalore, Amsterdam, and Frankfurt.
Best Features Of Digital Ocean
Enterprise level pricing plans that suit any level of business needs

Simple installations of applications like WordPress, Joomla, Horizon and more with just a click

Comes with a built-in firewall to protect your data and you can replicate your data on multiple droplets to avoid data loss

Load balancers to spread or distribute your traffic to other droplets (at an additional cost of $20/month)

API integration option to deploy multiple droplets or simply you can do with few clicks from its control panel

KVM hypervisors to improve performance and security level.
Pros
Flexible pricing slabs to meet every webmaster or enterprise needs

Scalable storage space even choosing a basic plan (at an additional cost per GB)

An easy-to-use and user-friendly control panel

month-to-month hosting billing for WordPress for easy payment

Trusted hosting service provider by most popular business names

Incredible support and fast response rate to the tickets
Cons
Need some technical stuff or coding knowledge for successful set-up

No support facility through live chat. Only ticketing support system is available

Does not offer managed server as well as Windows server

3.

HostArmada (70% OFF)
Are you hearing HostArmada for the first time? Yes, it is a new player in the hosting industry that has entered into competition with a handful of incredible features.
This innovative cloud web solution enhances your website with speed, security, and stability. Customer satisfaction is its top priority; hence, it offers excellent server service that usually passes 10 levels of quality analysis before it gets released.
If you are looking for cheap cloud hosting with Transparency, Innovation, Tolerance, and Spread of Wisdom, HostArmada is the perfect choice to achieve business success.
With worldwide data centers, this inexpensive cloud hosting lets you deploy the servers in any data centers near you. No matter where your target audience is located, you can choose the nearest data center in Europe, Australia, Asia, the USA, or Canada.
Could you believe you will get managed cloud SSD shared hosting cheaply ($2.99/mo)? Yeah, the cloud hosting of HostArmada is inexpensive, and that too with the 7 free daily backups.
To ensure optimal website performance, they maintain a lower number of servers, resulting in a low server load. The application, visual theme, and module installation will be done if your site uses open-source scripts like WordPress, Joomla, or Drupal.
Best Features Of HostArmada Cloud
15 GB cloud SSD storage with unmetered bandwidth
cPanel, SSL, and domain name – all for Free
1-click automatic daily backup (7 daily backups)
AI-based tight web security to protect the site against dangerous attacks
2 GB RAM storage and 2 Cores CPU even in the cloud starter plan
Caching and loading speed features include NGINX web server, Brotli compression, and much more
All essential cPanel-enabled features, along with the PHP version manager
Complete email support, including autoresponders, filters, virus scanners, and Gsuite integration.
Pros
Free website migration service
99.9% uptime (no hardware failures)
Hacked website restoration and website consultation
Unlimited FTP accounts & multiple PHP versions
24 X 7 tech support (Phone, chat & Ticketing)
45 days money-back guarantee
All basic development features
Highly affordable pricing plans
Drag & Drop site builder to build the website.
Cons
High renewal charges
New hosting service; however, they are aiming to prove their brand is stable

4.

HostGator Cloud
As an enterprise, Hostgator is always determined to bring reliable and cost-effective hosting services to its users.
HostGator.com is a global version to give you flexibility in choosing if your target audience comes from across the globe. To assist Indian businesses in targeting audiences from the same region, HostGator.in would be a prompt solution.
HostGator cloud hosting service plans come under three major categories: hatchling, baby, and business.
The basic hatchling plan is for a single domain costs $4.95/month, including 2GB memory and 2 core CPUs, with no limitations on storage and bandwidth. But, use it cleverly.
You have to choose between baby or business plans for unlimited domains. Hostgator cloud hosting service is more advisable with its baby plan offering 4GB RAM, 4 core CPU with unlimited domains, bandwidth, and storage.
Each affordable cloud hosting plan comes with an eye-catchy and user-friendly Cpanel. If you are lenient working on Cpanel, it will be your favorite as it comes with additional tools and add-ons allowing you to easily customize your websites, install applications like WordPress (just by one click), and more.
On the other hand, you cannot avail of dedicated IP in its primary (hatchling) plan. You have to approach a baby plan for dedicated IP at an additional cost ($2/month); it is available by default in the business plan.
Other common features, say free shared SSL in hatchling and baby plans and free private SSL with its business plans to secure your passwords and credentials.
Auto cache option for static content automatically boosts your site loading speed and overall performance. Let me sort down a few other features of this best cloud hosting for WordPress.
Best Features Of HostGator Cloud
Intuitive and eye-catchy dashboard to monitor the real-time status of page downloads speed, traffic information, server uptime, resources utilization and more

Unmetered storage, bandwidth, and emails on choosing any cloud hosting plans

Comes with free website building tools, loads of website templates, and unlimited MySql databases

Domain transfers or migration at free of cost

Easy installations of popular applications like WordPress, Magento, Joomla and so on

Web-based file manager for quick file and folders transfer and to keep your data out of junk

Data mirroring to replicate data in multiple servers to avoid data loss

Data migration to another stable server in case of any hardware issues or failure
Pros
Promising 99.99% uptime

45 days money back guarantee

Affordable cloud plans

24/7/365 support available through live chat, emails, ticket system
Cons
Customer support level is to be still improved

Supports only Mysql database

Data backup and caching is to be further optimized

5. ChemiCloud

(65% Discount)
Are you hearing the company for the first time? Well, it is the recently trending hosting that has been started in the year 2016. Till now, it is offering the best hosting experience for its users through fast, secure, and reliable cloud hosting.
I'm using the WordPress turbo plan of ChemiCloud for my niche blog, and yes, its performance and uptime are great. No downtime frustration!
This cheapest cloud provider is strived to keep up its promise to ensure 99.99% server uptime. Like other companies, it has its inexpensive pricing plans under four major categories to serve the different levels of users.
The basic plans of ChemiCloud shared and WordPress type is highly affordable and well-suitable for business startups and avid bloggers. 
The trust score of ChemiCloud is high and has earned countless positive feedback from clients. Customer satisfaction is their top priority. 
If you want to know more details, you may have a look at my detailed ChemiCloud review for a better understanding. Let's get into its features to look at its valor!
Best Features Of ChemiCloud Hosting
Free SSL and CDN integration from Cloudflare

15GB SSD disk space with unlimited bandwidth

Free daily backup for 30 days

WordPress staging feature to deploy the updates

LiteSpeed Cache for site loading acceleration 

Free Email hosting

highly scalable cloud VPS plan

Web builder to make a website

Excellent customer team to offer instant support
Pros
Lifetime domain for FREE

Very easy to use hosting with intuitive dashboard

Mobilefriendly client area

Lightning fast performance from cutting-edge technology

Real-time server monitoring for solid rock security

45-days money back guarantee

Transparent pricing plans with no hidden fees

Unbeatable customer supports – 24/7/365 days a year through Live chat, Twitter, emails, and ticketing system

Do posses stack of tutorials in helping its users for hassle-free setup and on-go
Cons
Trust level is low because it is a new hosting service

Advanced security features are available only for the higher plans

6. A2 Hosting Cloud VPS
It is odd to mention A2 hosting in the list of low-cost cloud hosting service providers as its pricing is higher. Regarding the best cloud hosting provider, I don't love to ignore it as it is always before its service and performance.
What A2 fails regarding pricing, it is superior in its features, like best SSD-driven servers for easy scalability of storage, promising 99.99% server uptime. There are keen lovers of A2 hosting as you can customize your plans and account whenever your requirement or traffic fluctuates.
Its basic plan costs $15/month, comprising 512 MB RAM, 10GB HDD storage, 2 cores, 600 Mhz CPU speed, and unlimited inbound transfer. This is quite costlier for any beginners.
However, you can keep your cloud VPS ON or OFF or pay for what you use. This kind of flexibility adds value to the users. Let's see how it predominantly serves its customers with its features.
Free SSL certificates while choosing any plans, but you must pay extra for private SSL. Let's Encrypt feature comes free; you can use it as its plan comprises dedicated IP too.
Best Features Of A2hosting Cloud VPS
Optional SwiftServer platform ensuring 300% fast loading servers with blazing and optimized SSD than other drives

Quick Start Cloud to design or customize your pricing or account plans to get started easily

Option to add cpanel license as an interface for secure transfer of files, folders, database, emails and more

More customizable cloud hosting account to operate with Linux OS and you can even turn ON your cloud VPS or OFF as per your need

Cloud Disaster Recovery option to restore the previous version (auto back-up) of your site or coding without losing your data

High Availability Failover ensuring reliability with 99.99% server uptime during malfunctions in your server, switching your data and account to another VPS Node

A2 Quickinstaller lets you to easily install your CMS like WordPress, Joomla, and any other web development frameworks
Pros
30 days money back guarantee

Guru crew support team for more responsive and faster support over technicalities

User-friendly cpanel to manage easy set-up and file transfers

Pay as you go and as you use

User-friendly and easy-to-use cpanel for developers

Turbo server offering double times faster-hosting experience
Cons
The even basic pricing plan is expensive

Not at all suitable for beginners

Don't have domain name registration service
7. DreamHost Cloud
Here is the last but not least popular hosting service providing company. DreamHost is familiar with all types of hosting like shared, VPS, WordPress, and cloud. Its top-notch feature is that it claims you the fastest set-up, not more than 30 seconds to bring your server up.
DreamHost promises 99.99% server uptime with its cutting-edge technology, and it will automatically deliver data from the server closest to your target audience.
DreamHost is a favorite option for developers as you can run applications that rely on MongoDB, Redis, Ruby, Python, and node.js.
The basic plan of this cheap cloud server hosting comes for $4.5/month or $0.0075/hour, comprising 1 vCPU, 80 GB SSD Disk, and unlimited bandwidth. In addition to that, all its plans include 100GB block storage.
Scale your server metrics anytime automatically using OpenStack, compatible with API or via command-line tools and programming libraries.
Furthermore, let me share a few more unique features of Dream Host below.
Best Features Of DreamHost Cloud
An assured fast performance with advanced SSD architecture, next-gen processors

Choose your operating system and software versions virtually

Dream Objects feature to back up data, disaster recovery, manage WordPress sites (auto backup)

Reliable Data security using QNAP, CloudBerry, DropShare and more

Run your private cloud as traffic strikes. DreamHost publicly assist you with its open source architecture for simple migration
Pros
Faster set-up with its user-friendly dashboard

Easy API integration for applications

Scalable storage with its all-SSD cloud servers

Unlimited bandwidth on each plan

Cheap ricing plans depend on users category like for tinkering, websites, databases

Award-winning customer support through Live chat and emails

Knowledgebase sources like forums, community, and blog
Cons
Does not supports all popular languages and databases like Perl, Postgres SQL

No customer support via phone

Conclusion

– Which Is The Cheapest Cloud Hosting?
Nobody can object that choosing the right hosting service for your business, blog, or anything is hectic.
From my experience, I have shared a few best and cheap cloud hosting service providers with all their features, Pros, and Cons.
As a happy and satisfied user of Cloudways hosting better than other cloud hosting services, I recommend it as it covers all your requirements and features at affordable costs.
The team knows well what its users want from Cloudways and built it in such a way. It is in no way lagging with its customer support service and a trusted one.
Finally, what everybody will look for is; the performance results and outcomes from their web pages. You could be able to achieve it only with a successful initiative.
Hence, choose the superior and cheap cloud hosting provider, and don't worry if you have made a wrong decision earlier. Cloudways 24/7 dedicated support team will assist with easy migration anytime, free of cost.
Here is a special Cloudways Promo Code 2023 for my readers!