Glad you want to read my Cloudways affiliate program review to make a consistent income by joining over there. You have come to the exact place to know how to make money with this versatile web hosting affiliate program.
Before getting into the details, I suggest you use the Cloudways hosting service to better promote the cloud servers through how-to guides, comparisons, reviews, and listicles by explaining their speed and uptime performance. 
You might think, whether we use this Cloud hosting or not! We hosted this blog, WPGlossy, on the Cloudways DigitalOcean server. Since the blog audience has grown, we have moved to a High-frequency Vultr server to pass Core Web Vitals.
We are delighted about the hosting experience with no downtime. This nudges us to upgrade our collaboration with Cloudways hosting through CloudflareCDN, SafeUpdates, and a few more performance-boost add-ons.
After using Cloudways server service for over five years, I recommend this managed hosting for dedicated entrepreneurs who want to take their business to a new height. It is an excellent speed resource for launching your long-term business site.
Let's come to the point, Cloudways Affiliate Program! It is one of the best web hosting affiliate programs to make money from blogging. We signed up as an Affiliate in 2018 and earned a decent monthly income till now.
7 Reasons To Join Cloudways Hosting Affiliate Program
Now, it's time to tell you some valid reasons for joining this hosting affiliate program!
1. Highest Commission Structure
As a Cloudways affiliate, it is possible to make a maximum commission of $200 per sale. It is one of the high-paying web hosting affiliate programs through which you can earn monthly passive income. If you are a Blogger, Digital Agency, Developer, or Freelancer, be ready to enjoy limitless earnings through their 7% recurring payout. 
Like other hosting companies, they are willing to offer custom payouts for active referrers. Here, earning through a two-tier affiliate commission is also possible. When you become a super affiliate for Cloudways by making more than 80 sales per month, the company will keep you on their top earning tier as an honor.
2. Different Earning Methods
Getting an opportunity to make money through the different methods from an affiliate program is quite interesting! Usually, hosting companies offer a traditional commission structure, a flat payout per sale. It is not the case with Cloudways hosting as it opens the gate for making regular income through two different methods. You may prefer the suitable one as per your wish.
Slab Method
In the Slab method of the Cloudways affiliate program, you will earn a commission based on your performance in the number of sales. Here, the commission is instant for every customer you refer. When you bring in more clients, you are more likely to get high incentives and bonus campaigns in this method.
The slab amount varies with the number of referrals.
Slab Structure
Referrals Count
Commission Amount
Slab 1
(1-5)
$50
Slab 2
(6-20)
$75
Slab 3
(21-45)
$100
Slab 4
(46-80)
$125
Slab 5
(Super Affiliate)
Above 80 Sales,
Contact Cloudways Affiliate
$150 -$200
(Depends upon the sales)
Another exciting thing about this slab method is that you will become a super affiliate when you make more than 80 sales. After that, you must talk to the affiliate support and get a custom commission structure to earn more than $150/sale + 5% Recurring Commission. 
Hybrid Method
The hybrid affiliate method of Cloudways gives you a lifetime commission with a payout of $30/sale + 7% Recurring commission (as long as your referred customers pay their bills). So, if you catch hosting buyers looking for higher pricing plans for their agencies or large business sites, your earnings will hit the sky.
For Example (Client referral earning)
Hosting
Plan
Spending
/Month
Affiliate Commission
/Sale
7% Recurring commission
/Month
7% Recurring commission
/Year
For 10 Clients, Earnings
/Year
DO16GB Premium
$160
USD/Month
$30
$11.2
USD/Month
$134.4
USD/Year
$1344
USD/Year
VULTR48GB HF
$321
USD/Month
$30
$22.47
USD/Month
$269.64
USD/Year
$2696.4
USD/Year
Linode192GB
$1205
USD/Month
$30
$84.35
USD/Month
$1012.2
USD/Year
$10122
USD/Year
AWS24XL
$3569.98
USD/Month
$30
$249.89
USD/Month
$2998.68
USD/Year
$29986.8
USD/Year
GCE HC 16XL
$1593.58
USD/Month
$30
$111.55
USD/Month
$1338.6
USD/Year
$13386
USD/Year
The more high-spending clients you bring, the more will be your monthly payouts. Check the screenshot below! When you make 20 sales/month, look at the recurring earnings in a year!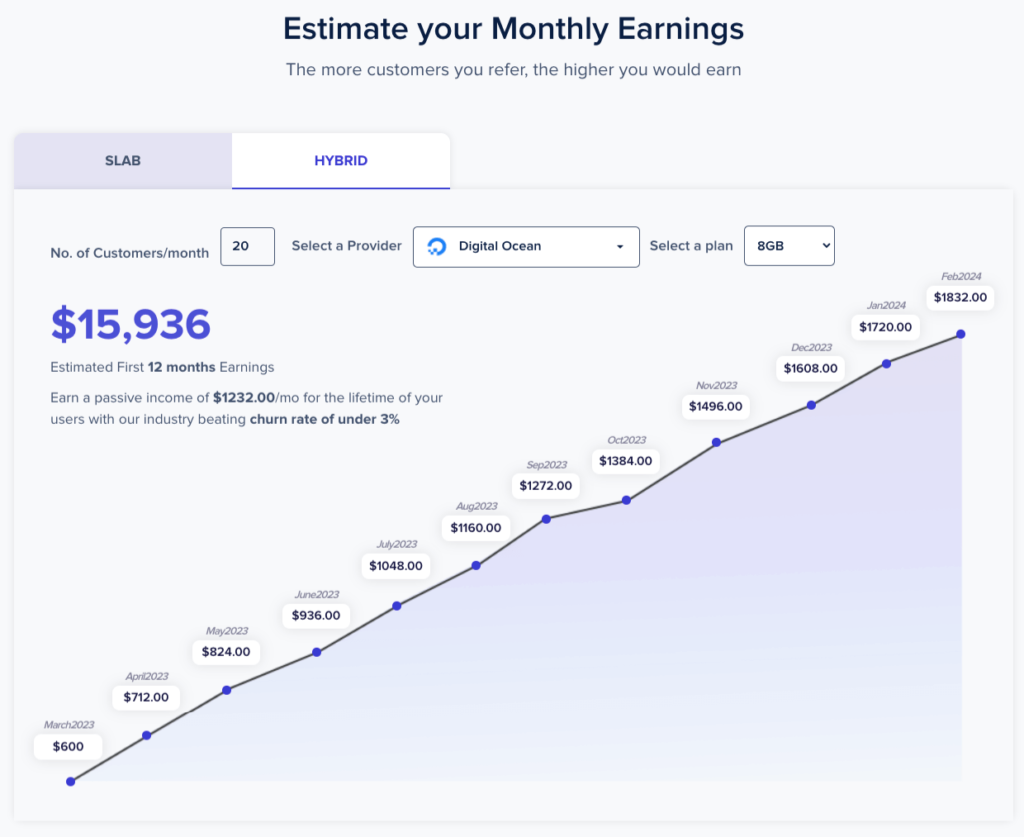 3. Intuitive Affiliate Dashboard
I always admire the most uncomplicated Affiliate dashboard of Cloudways with straightforward settings, which is exciting for us to check the sale details every time. Moreover, we feel comfortable with the divided sections like Reports, Campaigns, Ad Channels, and a few more segments for support. Look at the image below; you will know how easy the panel is.
As the dashboard provides detailed reports and comprehensive insights for every sale and signup, we keep tracking our conversions in a better way. Also, we always keep an eye on the "Trends Reports" in a visual format and "Quick Stats," allowing us to improvise the clicks and commissions.
4. Efficient Tracking System
Cloudways has an accurate tracking system to understand where the referrals come from. Setting the campaigns and sale tracking through the affiliate panel is straightforward. The default tracking ID could be more helpful.
However, with the help of SubID tracking, we created custom links to find the pages that get us sales and signups. You can see the example of the SubID tracking link, and yes, whatever you add to value 1 and value 2, both will get displayed under the "Extra Data" field under the "Reports" section.
https://platform.cloudways.com/signup?id=xxxxxx&data1=wpglossypromo&data2=wpglossypromocode
In addition, setting up the campaigns helps us to improve the conversions by adding the tracking data reflected in the report under the "First & Last Click Data 1" and "First & Last Click Data 2" sections.
Likewise, you may place the Ad banners at different locations on your website with a separate channel for each position to easily understand which banner has the highest CTR. Also, if you run PPC campaigns, put several Ads with the same affiliate link and use Channel unique to find out the Ads that convert more. 
5. Promo Code Offers
Who will deny accepting the discount offers? No one, right? Cloudways team has recognized this conversion technique and gives exclusive promo codes for their affiliates. Initially, they offer the lowest coupon code offer and based on your involvement and performance, it will be tweaked to the maximum discount offer of 30% or $30 for your audience.
I am happy to tell you that we have been endowed with the highest Promo code, "WPGLOSSY," which gives my site visitors the highest Cloudways discount – $30 OFF. And during the Black Friday season, affiliates are presented with specific coupon codes to avail of price cuts and free site migrations.
6. Excellent Promotional Materials
The valuable promotional materials like Banners and links are listed under the "Campaigns" section of the Cloudways affiliate dashboard. All these readily available assets have a high-converting ability to pull your readers' eyeballs. You need to get the embed code of your preferred banners and place it in the logical places of your website.
Attracting banners of various sizes are available for WordPress, Magento, and WooCommerce users. You may also use the general banners and footer badges to get them clients. If you send your site traffic to Cloudways through a specific landing page URL and correct banner, they will purchase the server without fail.
7. Remarkable Affiliate Support
Cloudways affiliate team is highly dedicated with instant support and is reachable during the weekdays. They usually address our concerns by working closely with us. With extreme patience and kindness, they are readily available to fix our issues. Because of their immense assistance and expert guidance, we made great monthly income.
In this review, I should have a word about the senior affiliate manager of Cloudways, Mr. Usman Dar, who is keenly interested in discussing us through the eMeet to check the progress and suggest ideas for conversion improvements. He helped us get the highest Cloudways coupon code; we always thank him for his great support.  
How To Signup Cloudways Affiliate program?
So, you have come to know the actual reasons for joining the Cloudways affiliate program, and now, let me tell you the signup process. It involves five steps!
Step 1: Log in to your Cloudways Dashboard
Step 2: Click "Affiliate" at the top menu. Fill out the form by clicking "Create Your Affiliate Profile" and hit "Submit" at the end of the page.
Note: After submitting the form for review, it will take 24 hours to get the approval. You will get the following email!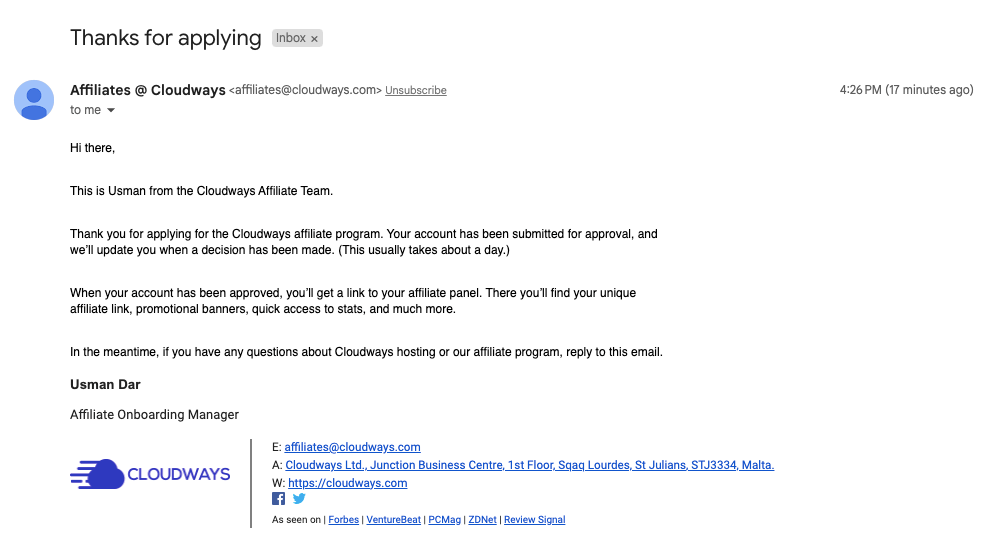 Step 4: Once your account is approved, click the "Access Your Affiliate Panel" button will get enabled. You may make changes to your profile and click "Save Changes." Ensure you have chosen your preferred commission structure, either "Slab or Hybrid."
Step 5: Now, you will see your default Affiliate URL tagged with an ID at the end. Use this link for promotion or create the custom links like us for your affiliate marketing activities.
FAQs
Is Cloudways Affiliate Program Legit?
Yes! It is 100% Legit. You can track every sale and signup and don't need to worry about the payouts.
What Is the Minimum Payout For Cloudways Affiliates?
You should reach $250 to get the payment from Cloudways.  
How Does Cloudways Affiliate program work?
I have already explained it in the post! You need to choose from two earning methods, Slab (Flat commission) and Hybrid (Recurring Commission). When you make more sales, you will get custom payouts. 
How Does Cloudways Pay For Its Affiliates?
Cloudways send the payment through PayPal. Bank wire and fund transfers are also available for $1K in earnings; you must contact support to get it.
How To Earn Big With Cloudways Affiliate Program?
You should buy their hosting service, test the performance and write your feedback about the servers. Show the results and compare them with the competitors. You may also create how-to guides and tutorials based on special features like CDN, SafeUpdates, etc. Try social media promotion and run AD campaigns to earn big with Cloudways.
What Needs To Be Improved?
In this Cloudways affiliate program review, I would like to highlight the two things to be improved
They have no fixed date to send the affiliate payments every month. You will get it any day after the 15th of every month. A specific date should be fixed to send the payouts to affiliates.
As Cloudways is not offering domain name registration, the affiliates cannot view the details of the server purchases made through their referral link.
Wrapping Up My Cloudways Affiliate Program Review
Affiliate Marketing is the best monetization method to get consistent revenue every month. Choosing the perfect program that sends the prompt payout is the one to have in mind; otherwise, our efforts will be unsuccessful.
Cloudways is an ideal choice to earn regular income from affiliate marketing. It pays well through the different structures and supports the affiliates through bonuses and incentives. Glad I have done this Cloudways affiliate program review to clear your doubts.  
Just use their server service and promote them genuinely through performance tests. The support team will definitely recognize your hard work and give you a hand to make higher commissions every month.