So, you are looking for some best Cloudways alternatives that promise speed, performance, support, and security! Well, you have reached the right place to pick an excellent hosting service that will take your business site to a new height!
I presume that you have chosen Cloudways for its advanced list of features, but you do not have to afford the advanced plan if you are not running a high-traffic site. You can re-route your investment towards a better Cloudways alternative.
Cloudways Reality Tip:
As a proud user, I would like to tell you how Cloudways operates! It is a server reseller that offers managed WordPress hosting for busy business sites. Although it has a simple dashboard to kickstart hosting for your website, the support system is satisfactory as promised.
We have been using this best hosting for WordPress since 2016, and yes, Cloudways is a game-changing service for us. Our blogs started performing well in speed, uptime, and ranking high on Google search engine ranking results.
How does managed cloud hosting work?
Multiple businesses use one dedicated server, and tools and databases are shared via a remote network. Affording a dedicated server for a small business is expensive in layman's terms. Instead, the business can share tools and resources with similar businesses to cut down expenses and avail features without compromises.
Gone were the days when server owners had to hire a physical space to maintain the server! The cloud platform has made server management easier as server owners can host on the cloud and enable businesses to access resources from the cloud. This approach has lowered maintenance charges, and not to forget, more server owners evolved.
Cloudways is one of them, and you may grab its $30 exclusive discount.
Downsides of Cloudways
Cloudways is undoubtedly regarded as one of the top hosting providers for managing cloud hosting. We are completely satisfied with the optimal performance of Cloudways and getting assisted well by the responsive support team.
However, there are a few downsides that can impact your hosting experience!
After a thorough analysis of what customers of Cloudways iterated in the past, I have listed down a range of disadvantages that you should be aware of.
You cannot register the domain name.
You will not be getting the email hosting, it's a premium service
CDN is paid. You need to pay $1per 25GB.
Root access is denied for server modifications.
Let's dive into the substitutes right away!
Top 8 Cloudways Alternative Hosting Companies I Recommend
I have done detailed research to consolidate the best Cloudways alternatives for 2023. I'm sure you will pick any of the following hosting companies because of their innovative features with which it will be easier for you to outrank your business competitors.
1. Gridpane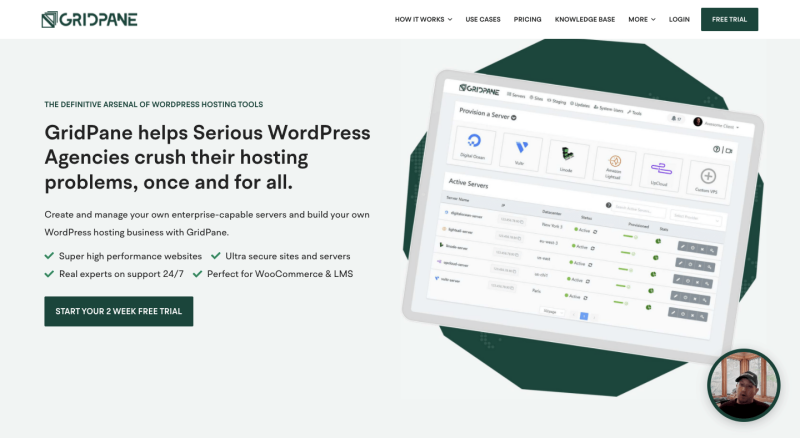 Gridpane hosting is highly appropriate for those site owners using WordPress. For those looking forward to expanding from an individual site owner to an agency, this cloud scalable platform is what you should go for. It does not restrict traffic.
The most attractive feature of Gridpane is the cloud system that is apt for LMS and WooCommerce. It gives the leverage for users to develop enterprise-capable servers based on individual needs.
With the server stack of Gridpane, the loading time is incredibly faster. At half cost and double speed, this company a perfect platform for heavyweight websites as well.
The server performs hourly backups, and users can store these backups at remote locations of their choice – Dropbox, Amazon S3, and Backblaze B2.
What is even interesting is its security system. It has integrated with Maldet + ClamAV malware scanner, WAFS, Fail2Ban, 6G WAF, server hardening, and rate-limiting features. Hence, you do not have to subscribe to third-party plugins to upgrade security infrastructure further.
WordPress experts are available 24/7, and Gridpane's support team addresses every issue closely. Hence, you get answers to your WordPress problem from real people, unlike Cloudways.
Gridpane also lets users create servers from VPS providers like OVH, AWS EC2, and Google Compute and then rent servers further with no markup cost. However, Cloudways enables you to choose from a range of IaaS providers, but you cannot customize one for you.
Looking for a responsive service provider like Cloudways with excellent infrastructure at an affordable price? Gridpane is your solution!
2. Templ.io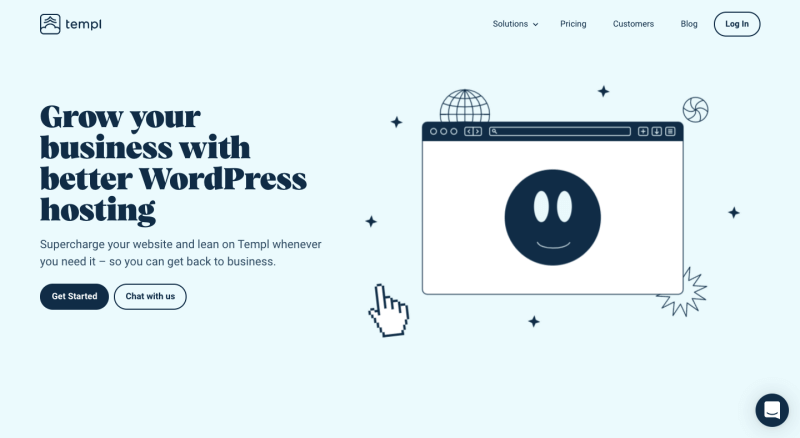 Templ.io offers managed WordPress hosting support and is powered by Google Cloud Platform. If you have been a fan of the way Google cloud server works, you can rely on templ.io, although the pricing plans look little costiler, but guess what, it works as per its promise.
Let's take a look at the state-of-the-art features of Templ.
Templ has integrated Quic, CDN, Redis, Brotli, Nginx, WooCommerce, and MariaDB.
Every need is addressed with supporting solutions. For instance, it has solutions for usability like SSL, account sharing, SSH access via WP-CLI, and daily backups.
Templ scans websites every 3 minutes at no additional charge.
It has a dedicated support team and hence you never need to worry about technical tasks and faults.
It works on an easily scalable model so it is easy expand your business when you wish to.
When you choose a managed hosting company, it needs to be reliable enough. This is where Templ stays ahead in the competition.
3. Rocket.net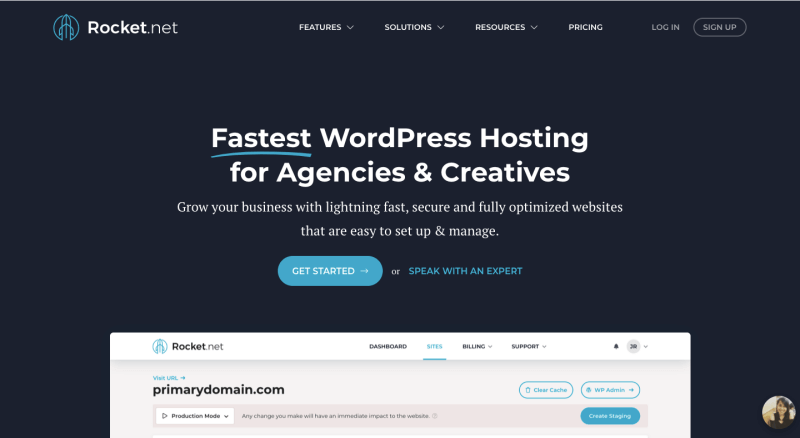 Choose Rocket.net blindfolded if you own a WordPress site! It is one of the best Cloudways Alternatives! Let me tell you why.
The fantastic, user-friendly platform of Rocket.net is optimized with all the necessary plugins and powered by Cloudfare Enterprise, so you can install WordPress in one click.
There is no configuration needed, and it never compromises performance.
Unlike Cloudways with an inbuilt caching plugin, Rocket.net uses Cloudfare, so CDN builds a static site copy, and this is an automatic feature provided to every user.
The Cloudflare platform also strengthens security for your site.
Another significant advantage of Rocket.net is scanning and patching malware in real-time. It follows a transparent business model where it sends proof of every scan made.
With professional support available 24/7, site migrate is available for FREE OF COST.
If you are running a site with medium to high traffic, you may go ahead with Rocket.net that is affordable, promising, and reliable.
4. SpinupWP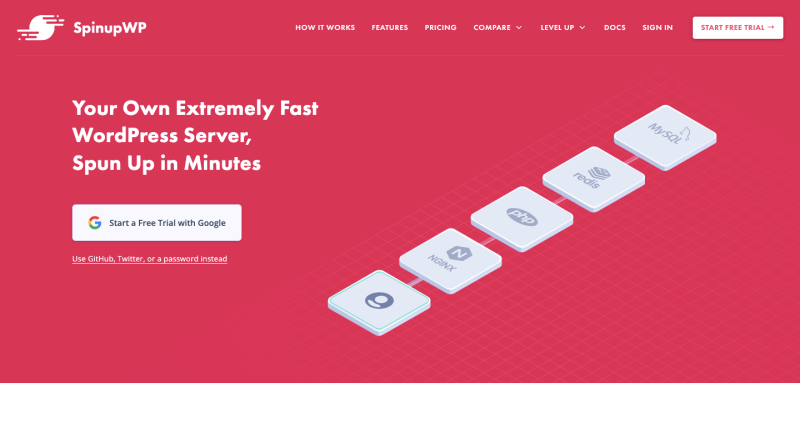 Get your sites up in no time with SpinupWP! The exciting aspect of SpinupWP is its advanced infrastructure to lower data risks and server costs. Designed exclusively for WordPress, this cloud hosting provider maintains daily backups, accepts any server having a public IP, spins server, configures instantly with an SSL certificate at no cost.
The special features are right here!
The server of SpinupWP is loaded with packages like MySQL/MariaDB, Nginx, Redis, and PHP.
Automatic caching with Redis object!
Default error logs provided to users.
When you compare SpinupWP with Cloudways, you can notice that the former has WP-CLI, dedicated configuration for every site, cron job installation, in-app guidance for WordPress users, root access permissions, and allows connection to own cloud server. SpinupWP maintains a high-end infrastructure that is free of risks and errors!
5. WPX Hosting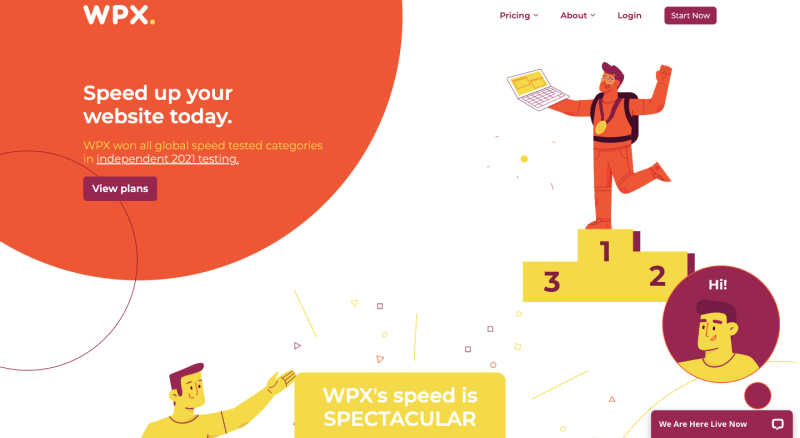 WPX Hosting is by far most popular managed hosting company on the planet. Let's dive into what WPX Hosting offers better than Cloudways.
It stresses performance and maintains 99.95% uptime SLA while Cloudways stresses features and infrastructure.
WPX lets you use the service for $2 for the first two months.
The support system of this hosting provider is astonishingly faster! It takes less than 30 seconds to connect to a real agent, not the case with Cloudways.
CDN and email are available from WPX Hosting free of cost, in addition to malware removal and DDoS protection.
The technical support is incredibly supportive; install WordPress and establish your business smoothly.
For a stress-free use of managed cloud hosting, you should hop on to WPX Hosting and experience unparalleled performance.
6. Closte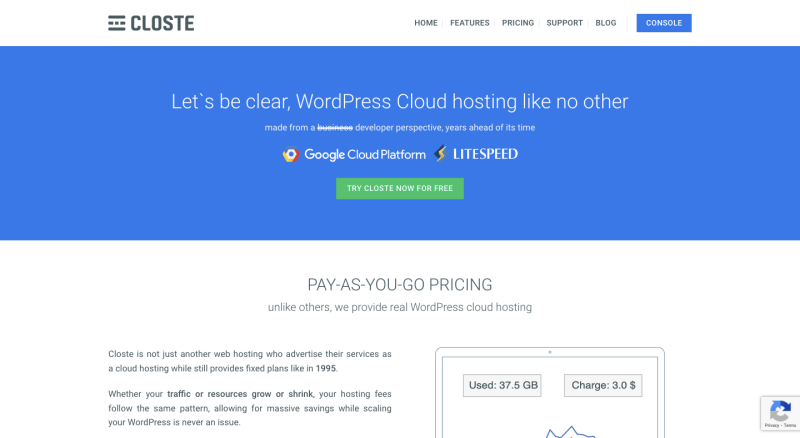 Closte hosting provides a credible way to host your company's data using managed cloud hosting service. It gives a 99.9% uptime commitment along with a 30-day refund guarantee.
Closte has 20x faster servers compared to Cloudways, making it worth the penny.
Some of its predominant features are free site migration, speed optimization, and automatic backups.
Closte is apt for starter sites as it is handy in terms of features and money, unlike Cloudways.
It also offers free SSL to all its users.
When you choose a cloud-based service to host your site, you should be wary of its performance. With Closte, you can be free of performance issues with its infrastructure and strong customer support.
7. WP Engine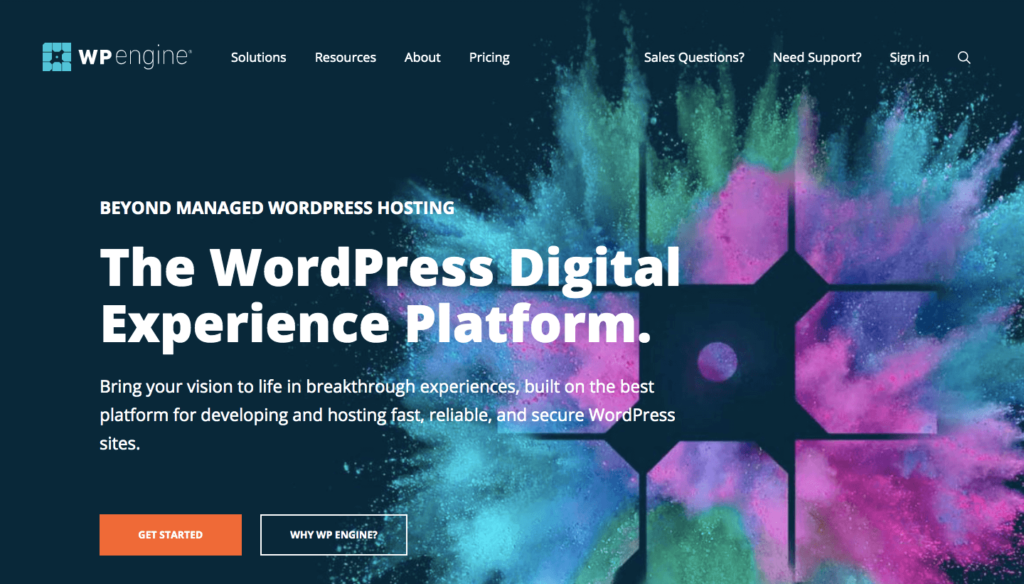 WP Engine maintains a fully managed hosting service with advanced infrastructure handling sites of varied sizes. It is known for its speed-boosting facilities and high-end, user-friendly digital hosting platform.
WP Engine works better than Cloudways in a few areas. Let me cite them one by one.
WP Engine is specific to WordPress sites, and it has 24/7 customer service support to handle WordPress-related queries.
Reliability and uptime are unique aspects of WP Engine in the cloud hosting arena.
Advanced caching and Cloudflare, content delivery network, are special features.
WP Engine also ranks for backup and recovery options, managed WordPress hosting platform, user-friendly approach, and customizable services at a handy fee.
Any WordPress site owner should choose WP Engine over Cloudways because of the former's expertise.
8. Nexcess
The best Magento hosting provider in the market is Nexcess. This is apt for those of you looking to scale your site to a full-fledged, digital store anytime in the future.
Nexcess performs better than Cloudways in terms of cPanel support, email hosting, and auto-scaling option.
The cloud servers are loaded with SSD storage, the latest PHP version, Nginx, and MySQL.
Multilayered caching is installed on each server.
Every user gets free SSL and malware monitoring updates in addition to daily backup and on-demand backup facilities.
If you have a Magento-based store, Nexcess is the king of it, and you may blindly request their managed hosting service. It comes in handy in terms of cost and features.
Which Are The Best Cloudways Alternatives 2023?
Undoubtedly, Cloudways is the best managed cloud hosting that we are still using for our blogs and business sites since 2016. We don't have any troubles till now! I should have a word about Cloudways support, they are very responsive during our difficult periods.
So, as we are listing the Cloudways Alternatives, don't think we are against this hosting service; to be honest, it is the reliable hosting that we recommend to the dedicated business sites that need to move to the next level.
Requirements and expectations vary from person to person! As we are in the digital field for over a decade, we can suggest the best servers for your online projects. From the list of Cloudways Alternatives 2023, I highly recommend Gridpane and Templ hosting.
Both are super fast hosting that lets your website perform well on search engine ranking results and beat your business competitors. Even though their pricing plans are big budget I would say that it is worth buying their start-of-the-art, high-speed servers.