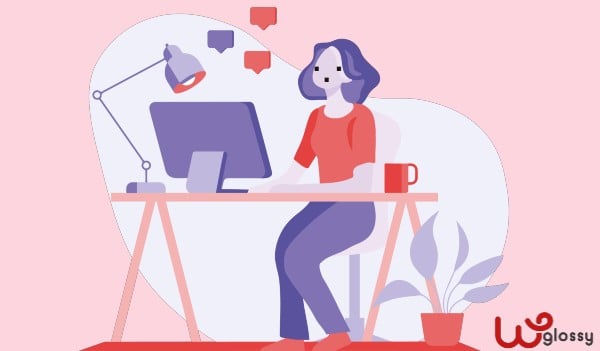 So, how to become a successful fashion blogger? Are you looking for the best fashion blogging courses online? You have reached the right place to learn how to start a fashion blog by taking an excellent course suitable for your budget.
The global fashion industry reached a value of over $750 billion by the end of 2018. The industry has been compounding an annual growth rate of nearly 11.8% and is expected to reach over $1100 by the end of 2022.
That being said, fashion and style brands are forecast to spend over $15 billion over sales and promotion. Here is where fashion bloggers come in. Fashion bloggers are bloggers obviously, but their niche is focused on clothing, accessories, beauty tips, and fashion trends in general.
One could say that fashion blogs are the digital version of fashion magazines. Fashion bloggers cover all levels of fashion, ranging from the smallest independent houses to multinational brands.
Due to their authenticity in covering positive fashion trends, fashion enthusiasts generally trust fashion bloggers. This makes them fashion influencers in general. This creates an opportunity for fashion and style brands to reach an interested and influenced audience through these fashion bloggers and promote their products.
Not just this, fashion blogging is an extraordinarily bright and progressive career option for those interested in fashion.
5 Amazing Courses To Become A Professional Fashion Blogger
I have spent quality time to find out the few best fashion blogging courses in the market for you to get started with fashion blogging.
1. TrendiMi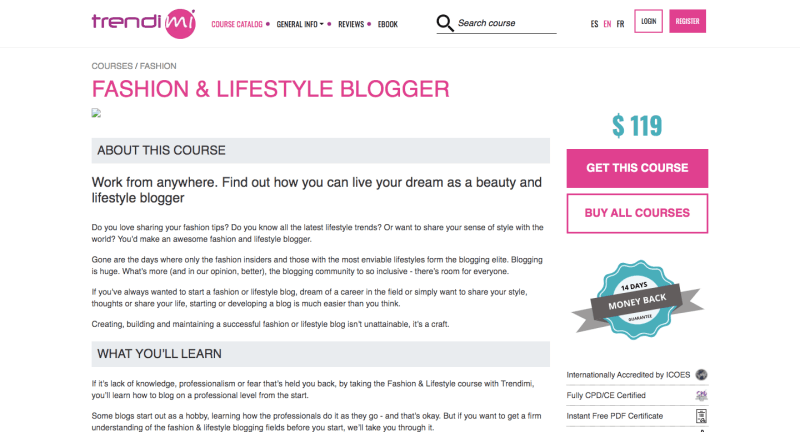 This course by TrendiMi is one of the best fashion blogging courses online. Taught by industry professionals, this fashion blogging short course is internationally accredited, fits your budget, and is recommended by over 95% of students who took this course.
Course Duration
Once bought, you have 12 months to activate the course whenever you are ready. You have 45 consecutive days to complete the course. In general, the course takes 30-35 hours to complete. The course is entirely online, giving buyers complete access from anywhere 24/7
Course Syllabus
The course consists of 11 modules, each explaining various aspects of fashion blogging. The modules begin with the basics of blogging, getting the blog up and running, and creating original and creative content, and shooting beautiful images.
The next few modules explain the process of growing the blog through social media and networking events, and ways to monetize the blog.
The last three modules explain how to build a brand out of blogging, how to grow the blog, and make a living out of it. All modules have quizzes at the end to reinforce your learning.
Course Ratings And Effectivity
Out of over 7500 people who took this fashion blogging course, more than 95% recommend it owing to its user-friendly and easy to understand content at a high price.
The course meets the standards of the International Council for Online Education Standards (ICOES). This fashion blog course by TrendMi is also CPD accredited.
Overall Take On The Course
For those who like sharing fashion tips and lifestyle trends and are willing to start a blog, this is the best fashion blogging course in the market. This online fashion blog course is internationally accredited, allows 24/7 access, and generates an instant PDF certificate upon passing the final examination.
2. Fashion Blogging Course From Adamsacademy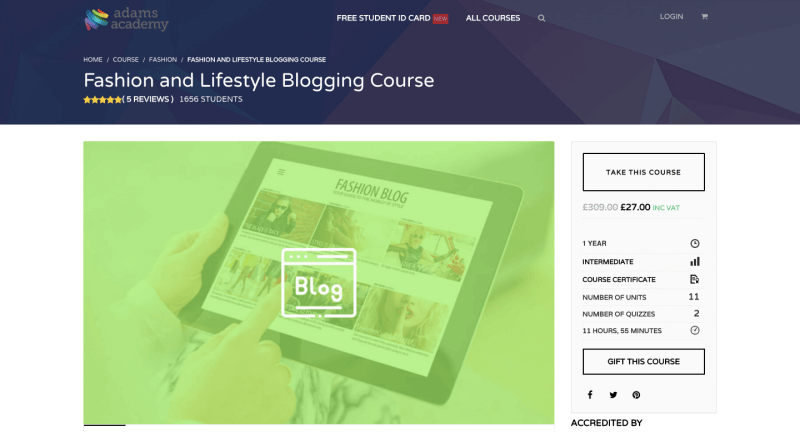 At Adam's Academy, it is thoroughly believed that one should be empowered enough in their passion so that they can pursue their passion as their profession.
The fashion blogging course from Adams Academy comes with easy to follow tips, along with the know-how of how to transfer the website into a brand and also have a good idea on the fashion trends so as to be the best in the market.
Highly regarded as one of the best fashion blogging courses, the course prepares you both in the technical and creative aspects of the exciting career option.
Course Duration
This course has almost 12 hours of activity involved and once started, one would have a whole year to complete the 11 modules across which the course is divided.
Course Syllabus
The best fashion blog course has a total of 11 modules and each of them is equally important and thus equally stressed upon. The fashion blog online course starts with simple blogging rules and techniques.
With every passing module, the students would get an insight into a new skill, namely content creations, photography, and many others. Overall, the students would have a holistic knowledge of the courses after having completed this course on fashion blogging.
Course Rating and Effectivity
The course has received some of the best ratings and recommendations from the students who did take the course.
Overall Take
This can well be regarded as one of the best courses for those who want to learn fashion blogging. With a well-designed course structure and some of the most reputed course partners and course awarding bodies, this is a course that is worth considering.
3. London School Of Trends
The London School of Trends offers this fashion blog online course, giving you the perfect opportunity to increase your skills and gain knowledge in the field of your passion. For those who wish to connect with the exciting fashion world, this is one of the best fashion blogging courses.
Course Duration
The duration of this fashion blogging course is five weeks, but the students have access to the course for 12 months, which means that they can study at any time they want, and on any device.
Course Syllabus
The course comprises of five modules, each covering various aspects of fashion blogging.
The first module covers the basics of blogging in general, such as the domain, hosting, planning, etc. Module 2 includes content development, niche selection, writing style, and so on.
The next module explains brand development with sponsorships and collaboration and social media promotion. The fourth module explains website creation, legal issues, and blog analytics.
The last module explains the concepts of monetization, search engine optimization, affiliate marketing, paid reviews, sponsored content, and brand building in general.
Course Ratings And Effectivity
The course is accredited by the British Accreditation Council (BAC) and offers a certificate of completion by the London School of Trends.
The instructors of this course are all industry professionals and share real-world advice. Clodagh Norton, Diana Kakkar, and Rania Kouros are the tutors of this course who are specialized in fashion blogging and have been in the industry for over ten years.
Overall Take
This fashion blogging course is one of the best as it is taught by seasoned professionals and offers practical learning with highly effective research assignments and quizzes. Students can learn fashion blogging anytime, anywhere for 12 months, at their own pace.
4. INIFD London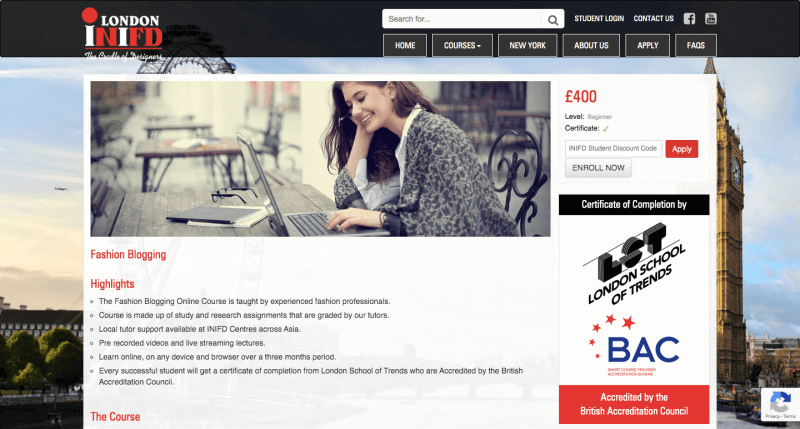 INIFD London, the latest addition to the International Institute of Fashion Design, offers this online fashion blogging course. INIFD is the world's largest network of fashion design institutes for over two decades and has a vast alumni network of 3,00,000 people and 20,000 students passing out every year.
Course Duration
The duration of the course is five weeks, but students can learn at their own pace as they have access to the course for three months.
Course Syllabus
The course consists of five modules, elucidating different features of fashion blogging. Module 1 introduces fashion blogging, including choosing the name, domain, and hosting, and explains the planning of a blog.
The second module explains content development, audience identification, niche selection, and post ideas. The next module covers brand creation, promotion on social media, collaborations and sponsorships, etc.
The fourth module explains measuring blog growth using analytics, avoiding legal issues, getting feedback, and dealing with criticism. The final module explains setting up a business plan, affiliate marketing, paid reviews, sponsored posts, and money-making from the blog in general.
Course Ratings And Effectivity
The tutors of this course are experienced professionals in the fashion industry hence offer relevant content. The video lectures are subtitled and live stream for better understanding. There are assignments and quizzes at the end of each module, and an industry-based final assessment.
Overall Take
A certificate of completion from the London School of Trends, who have accredited the British Accreditation Council, is given upon completion of the course. The relevant, engaging, and easy to understand the content, with the tutors being experienced professionals in the fashion industry, make this fashion blogging course online exceptional one in the market.
5. Fashion Blogging Course In Udemy
This is the best fashion blogging course for people who have less time to invest. Louise Croft, a fashion blogger and lifestyle coach, is the instructor of this Udemy course. She has work experience in various industries and has an instructor rating of 4.5 out of 5 on Udemy.
Course Duration
The duration of the videos in this course is 2 hours, but once enrolled, you have lifetime access to the course contents.
Course Syllabus
This fashion blogging course in India offers a full guide towards building a successful blog, in the budget, with absolutely no technical knowledge. Upon completion of this course, the students will have their own, fully functional fashion blog. It explains the art of capturing eye-catching photos for the blog, as well as writing original and creative fashion content.
The course describes various ways to promote the reach of the blog and to get the readers coming back. It also includes videos that explain how to understand SEO and DA scores for better visibility in the search engine results.
Course Rating And Effectivity
The course has over 1500 students enrolled and has a rating of four stars out of five, from over 250 students. The instructor is a professional in the industry and offers relevant content to the students. The course is short, crisp, and to the point.
Overall Take
For those considering fashion blogging as a career or even a hobby and have no technical knowledge in India, this fantastic fashion blogging course will guide you in making your fashion blog under budget, increasing the visibility of your blog, engaging with other fashion bloggers, generating revenue from the blog, and building a brand out of your blog in general.
Wrapping Up The Best Fashion Blogging Courses
Fashion blogging is a multibillion-dollar industry in itself. Fashion bloggers are making a decent income. Fashion influencers have a considerable impact on the way ordinary people dress and present themselves.
Fashion blogging is a great career option for those genuinely interested in the field and offers several income-generating sources. One common way is to advertise on the blog. The more engagement the blog has or the readers click on the ad, the more money a blogger makes.
Large and small fashion brands offer bloggers who have successfully established their blog sponsorships. These brands not only provide their products to the blogger but also pay to write reviews about them.
There is no end to the list of revenue sources in fashion blogging. Fashion bloggers have the power to influence public perception, and can thus bring about various fashion trends. So, through this post, I hope to come to know some best fashion blogging courses online and how to become a fashion blogger with them.