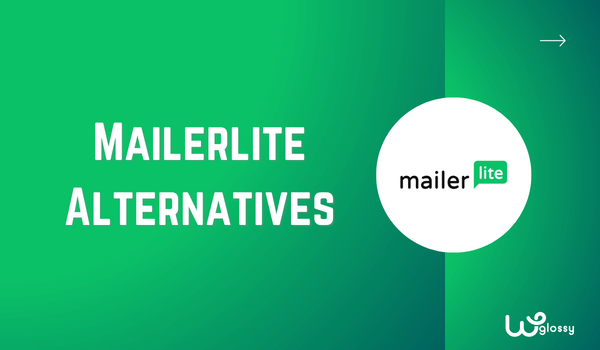 Are you looking for the best MailerLite alternatives? If you are, keep reading this article. Here, I will show you 7 top tools to test.
Studies show that 95% of website visitors won't return to the website. This can affect your business badly as a blogger or eCommerce store owner.
The best way to fix this issue is with email marketing. Once you have started collecting the email addresses of your website's visitors, send them new blog posts, coupon codes, or limited-time & lifetime deals.
Search for an email marketing tool. You will probably see MailerLite inside the list. Wait before choosing it and ask this question to yourself.
Is there any better tool available than MailerLite?
That's the question I am going to answer. This blog post will show you the seven best MailerLite alternatives. Before going further, let's see what MailerLite is and learn how it helps.
MailerLite: A Brief Introduction
Mailerlite is the most popular marketing platform in the world. The platform is popular because its subscription plans are affordable. On top of premium plans, they also offer a free account.
The free subscription is best for testing their platform. Some notable features of MailerLite are:
Custom website builder
Easy-to-use editor
Email verifier
Custom templates
Offline email collector
Optimized for eCommerce stores
Landing pages
Signup forms
The tool offers good features. But here are some major disadvantages of MailerLite:
No custom templates available in the free version
Limited customer support
Email deliverability is somewhat slow
Now you know what MailerLite is. The next section will show you five reasons to try MailerLite alternatives.
Why Use a MailerLite Alternative?
As I mentioned above, MailerLite is a good tool. Here are the five situations you might need to browse for better MailerLite alternatives.
Features: If MailerLite is not offering the required features, it is time for an alternative.
Ease of Use: Select a tool that is easy to manage, and try it. An easy-to-use email marketing tool can create campaigns effortlessly.
Support options: Always contact the support team when you need help setting up the tool or designing new newsletter campaigns. Use a tool that supports the customers better.
Integrations: Integrations make email marketing campaigns powerful. Hence, browse an alternative if MailerLite doesn't support your preferred apps or services.
Pricing: If a tool costs $20 or $50 monthly for all the features you need, avoid it. You can always find affordable email marketing services in the market.
Now you know when to use a MailerLite alternative. The next section will cover the seven best MailerLite alternatives for you to try.
7 Email Marketing Tools I Recommend As MailerLite Alternatives
There are so many tools available you can try instead of MailerLite. In my experience, these tools can be a good addition to your business:
Brevo
ConvertKit
Constant Contact
AWeber
SendPulse
ActiveCampaign
Campaign Monitor
Each email marketing tool comes with unique features and integration options. Below, we will check out what makes each tool special. So according to your preferences and requirements, start using a tool.
1) Brevo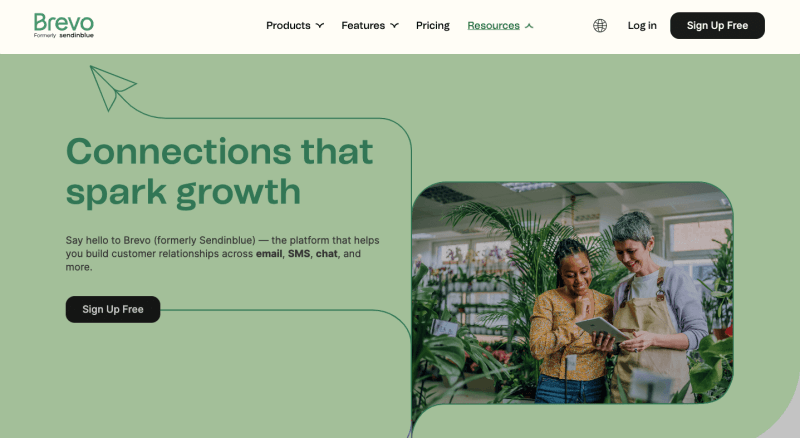 Brevo, formerly known as Sendinblue, is one of the popular email marketing services to try instead of MailerLite. Brevo is popular for its features like SMS marketing, WhatsApp campaigns, offering a live chat widget, and also a fully customizable chatbot.
Since the platform has a drag-and-drop newsletter editor, the marketing team can easily create or customize every email campaign. The other notable feature offered by Brevo is segmentation. Based on your subscriber's gender, age, location, or something similar, group them.
This will help you send targeted emails to a set of people without any hassle.
Features
Live chat
Segmentation
Drag and drop editor
Automation
Powerful integrations
Landing pages
2) ConvertKit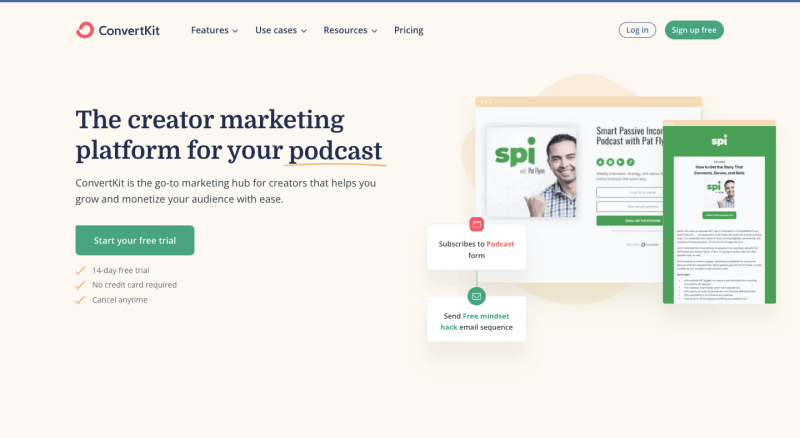 Let's say you are a creator and need the best email marketing platform with creator benefits; check out ConvertKit. Their autoresponder feature is very popular. With it, send targeted emails based on custom triggers. The deliverability rates are good for ConvertKit, and you'll never end up in subscribers' spam folders.
It is one of the best MailerLite alternatives where the user can access the creator network. You can see popular bloggers and marketers and learn together. There won't be any subscription fee for the creator network. Once you subscribe to ConvertKit, access the community without any issues.
Features
Creator Community
Custom templates
Powerful integrations
Elegant dashboard
Excellent support team
Analytics
3) Constant Contact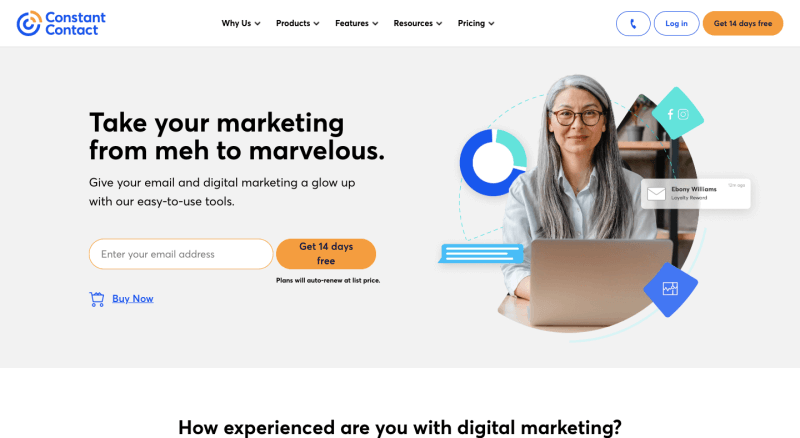 When you prefer a powerful email marketing tool for your business, check out Constant Contact. To help you with marketing, the Constant Contact team already created hundreds of pre-made, custom templates. All the custom templates are 100% editable – modify them according to your preferences.
The A/B testing feature allows users to test variations of their campaigns and find the best-performing one. Constant Contact also got iOS and Android applications, making the campaign management process easy in multiple situations.
Features
A/B testing
CRM integration
SMS marketing
Social media marketing
Landing pages
Mobile apps
4) AWeber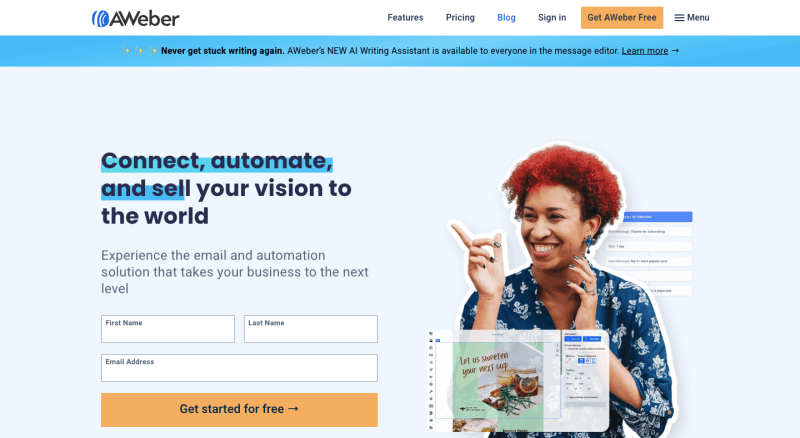 When your main priority is a reliable email marketing service, you should check AWeber. The platform is used by hundreds of thousands of professional bloggers and businesses. The main feature of AWeber, which most people love, is the Canva integration.
When you design new newsletters, easily add images to them without leaving your dashboard – thanks to the Canva integration. Using the reports feature, track how many clicks you get, the open rates, and where to improve.
It is an ideal option for online stores too.
Features
User-friendly dashboard
Detailed reporting
Canva integration
Autoresponders
Custom landing pages
eCommerce optimization
5) SendPulse
If you aim to use a marketing tool for every marketing channel, SendPulse can be a good fit. SendPulse can help with email marketing and SMS, Viber, WhatsApp, Telegram, etc. Also, use the pop-ups and web push notifications feature to gain more conversion rates.
The email verifier is a good feature to try in SendPulse. With it, eliminate spam email addresses from your list. When creating a campaign, use the in-built drag-and-drop editor available with SendPulse. Or use the custom templates the development team created.
Features
Email verifier
Campaign analytics
Chatbots
Pop up campaigns
Web push notifications
Automation 360
6) ActiveCampaign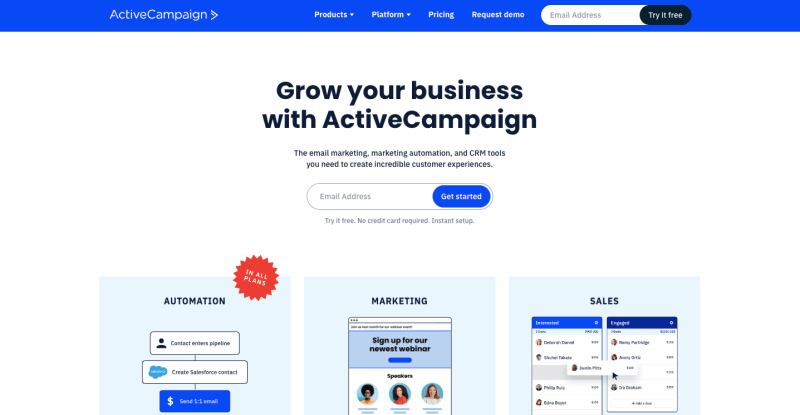 ActiveCampaign will help the marketing team to make better decisions with its excellent tracking and analytics features. ActiveCampgins offers some most powerful integration options in the market. Your campaign can be connected with Slack, Facebook, Zoom, Stripe, YouTube, etc. These integration options can help make your campaigns better.
The ActiveCampaign marketing tool also comes with an AI integration option. The business owner can transform the email content into something better. While you write newsletters, use the AI integration to improve your sentences or paragraphs. Overall, ActiveCampaign is a good marketing tool for most beginners and professionals.
Features
Third-party integrations
Automation
Segmentation
Excellent deliverability rates
AI integration
Event tracking
7) Campaign Monitor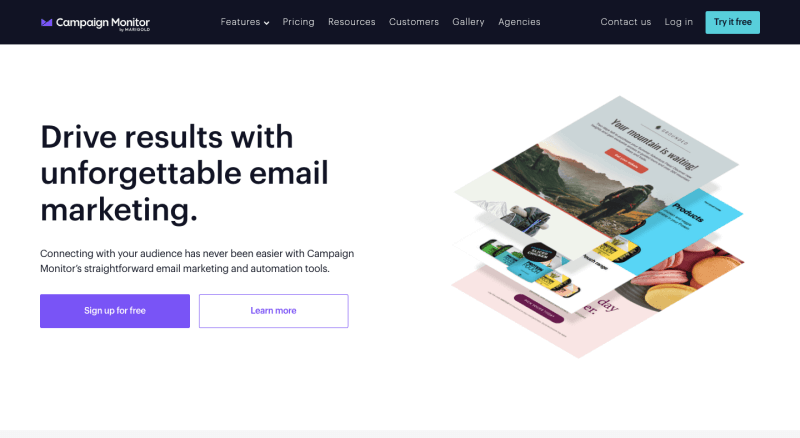 Prefer an email marketing service with simplified interface and configuration options? Check out Campaign Monitor. With the power of campaign monitor, optimize your email marketing efforts and get maximum conversion rates. The reporting feature offered by the Campaign Monitor marketing tool is notable.
Plus, Campaign Monitor also offers a broken link checker feature. To ensure you are not adding any broken links (which are bad for your brand and user experience) inside the emails, use the link checker. The marketing tool will constantly check for pages that return 404 and notify you about the same.
This way, solve every issue without any delay.
Features
Broken link checker
Powerful reporting option
Segmentation
Easy-to-use editor
Signup forms
SMS marketing
Frequently Asked Questions
Next, let's see some frequently asked questions regarding email marketing and available marketing tools.
Which Is the Best Email Marketing Tool?
Choosing one email marketing tool will be completely based on the requirement. For example, a service provider with a reliable transactional email feature would be good when you need the best email marketing tool for eCommerce stores.
How Much Does Email Marketing Tool Costs?
Email marketing services are available in free, freemium, and premium options. As per your requirements, pick a plan. Usually, the premium pricing starts at $10 a month (when you pay annually).
What to Look for In Email Marketing Tools?
One of the main things to check in email marketing tools is the features they offer. As a business owner, when prioritizing pricing, check how much the tool costs.
Wrapping Up The Best MailerLite Alternatives 2023
Instead of sticking with MailerLite, you could explore all the other options available. In this article, I have shared the seven best MailerLite alternatives. Pick the email marketing tool based on your preferences, requirement, and budget.
I recommend using AWeber, Constant Contact, or ConvertKit when you prefer a powerful marketing tool to manage your email marketing efforts. Choosing the right tool will make your life simple. Which tool are you going to try? Let us know in the comments.