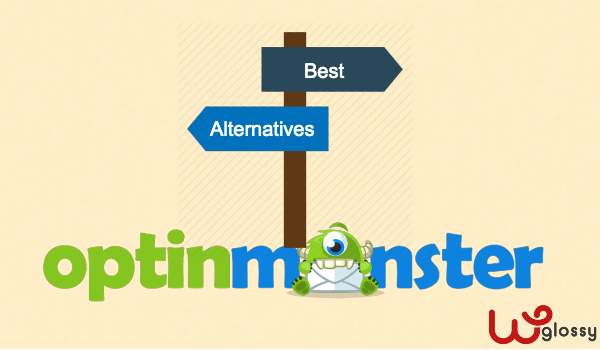 So, you are looking for some best Optinmonster alternatives to get the suitable one and double your sales or subscriber conversions by creating the eye-catching popups, right?
Well!
You have come to the right place to look at the excellent replacements of OptinMonster plugin and I'm sure you will grab any of the popup maker tools from my list.
I always spent quality time for my readers to showcase the best products and I have done the same for this list of popup maker tools too!
Here is a quick look at my top recommendations!
List Of Best 5 OptinMonster Alternatives
Full-screen welcome popups

Shares premium content to users

Highly responsive and hassle-free editing

Optimized for speed and structured for high performance

Let us create personalized messages for advanced targeting

An ever-growing library of pre-built designs

Access to more than 100 templates

High level of customization

Target-based content creation

Pop up triggers and incredible animations.

Great conversion rate and unlimited color choice

Cookies flushing and expiration

Advanced level of targeting that includes URL, post, page, tags, etc.

Robust A/B testing engine for comparison.

Smart links to promote different offers to unique users.
Why use Popups?
Before getting into the list of amazing popup creating resources, I would like to have some positive words about the popups.
The popups on a website are very helpful to have a quick communication with the visitors; it also is a useful tool to boost engagement and sales.
It is a popular choice of increased lead generation. I admit that it interrupts the user, but if the content is good, it will eventually turn interruption into interest.
An attractive looking popup can immediately grab attention. It also can be used to cover the latest update, discounts, and quick information
Few of them can grow email lists, promote content, lead generation, increase blog subscriptions, and sales.
No doubt, it helps you boost your brand visibility when you crisply highlight your abilities
Let's move on to the OptinMonster!
OptinMonster works as the best tool to increase the email list and blog subscription. It can be used to share handling tips and improve the email list. I would say that it is a very effective tool for an online business to keep the visitors engaged.
However, OptinMonster is a bit expensive and has some limitations as well.
Here are the downsides of OptinMonster!
Performance tracking is difficult as it has a lack of internal analytics.
The loading speed of the embedded form is not up to the mark.
No one-time payment and hence not suitable for the beginners and small business.
UI is unpleasant! You may get confused with the API codes and running campaigns.
The automatic winner feature is not present in A/B testing.
Basic Plan Of OptinMonster doesn't include the key features
Customer support is not satisfactory at times.
These might be the reasons to look for the OptinMonster Alternatives! Do you have any other reason to look for a better replacement? If yes, share your experience and viewpoint in the comment section!
Let's see the amazing popup creating tools that offer better features than OptinMonster!
Top 11 Popup Builders That I Recommend As Alternatives For OptinMonster
1. Elementor Popup builder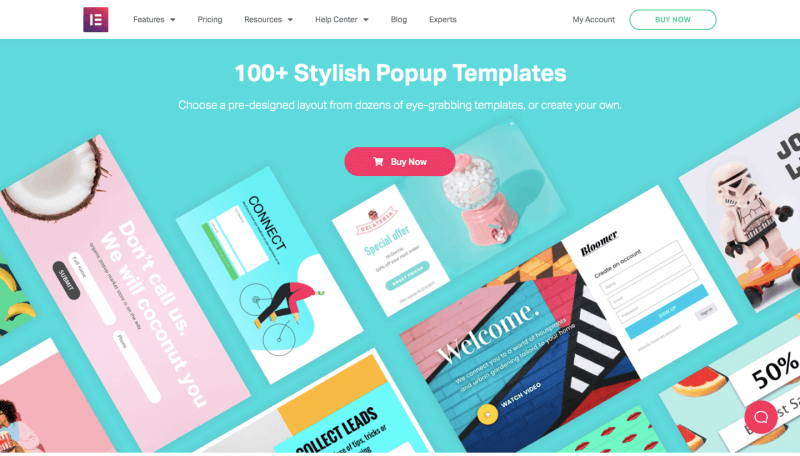 Elementor Pro offers an excellent Popup maker for WordPress. Yes! Building any type of popup like Fly-In, Fullscreen, Hello bar, Bottom bar, Classic, Slide-In, and many more forms is possible to boost your conversions through Elementor Pro features.
Simply drag and drop the module makes pop up creation easy and hence it is considered as one of the best popup plugins for WordPress 2020. Elementor popups can easily connect and automatically interacts with your visitors which in turn gently nudges them to respond to your CTA.
The Popup builder of Elementor is the only design-oriented popup builder that smoothly adds any content from your WordPress website into your popups without any coding knowledge needed. I'm sure that you will create beautiful pixel-perfect popups with this best OptinMoster alternative.
Exceptional Features
Advanced yet intuitive targeting with detailed conditions & triggers.
Display the popups who meet certain requirements through "Advanced rules".
100+ powerful widgets to take popups to the next level.
Smooth entrance and exit animations.
Easily integrate with your favorite marketing tool.
Highly responsive and hassle-free editing.
Show Woocommerce products and reveal premium content through the content lock.
What Makes Elementor Better Than OptinMonster?
The popup builder of Elementor has great design flexibility than OptinMosnster. Moreover, you just have to make a one-time payment in Elementor. When it comes to design control and pricing, Elementor is the direct winner.
2. Convert pro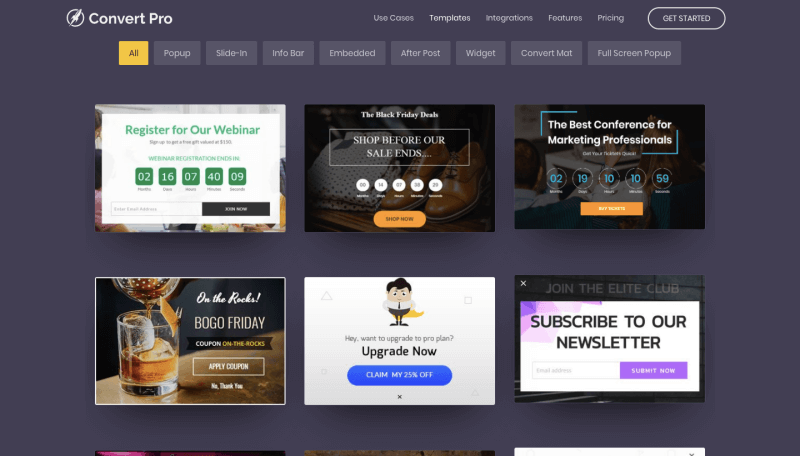 Are you looking for the best lead generation plugin that offers a guaranteed increase in conversions and subscribers? Then your choice should be Convert Pro next to the Elementor popup builder.
It gives a complete design control with behavioral triggers and advanced integrations to boost the conversion rate. multi-step popups, one-click popups, exit-intent technology, A/B testing, and marketing platform integration are the notable qualities of this best OptinMonster substitute.
Excellent Qualities
Optimized for speed and structured for high performance
Let us create personalized messages for advanced targeting
100% device responsive and Google friendly
An ever-growing library of pre-built designs
World-class support from the experts
Wide range of option form types
Affordable pricing plan (for unlimited sites annual and lifetime)
Why Convert Pro Is Preferable Than OptinMonster?
Convertpro offers astonishing features like mobile view editing, conversion-centered designs, meaningful visitor behavior triggers, design testing option, and unlimited lifetime plans than OptinMonster. Hence I would say that ConvertPro is a powerful alternative to OptinMonster.
3. Bloom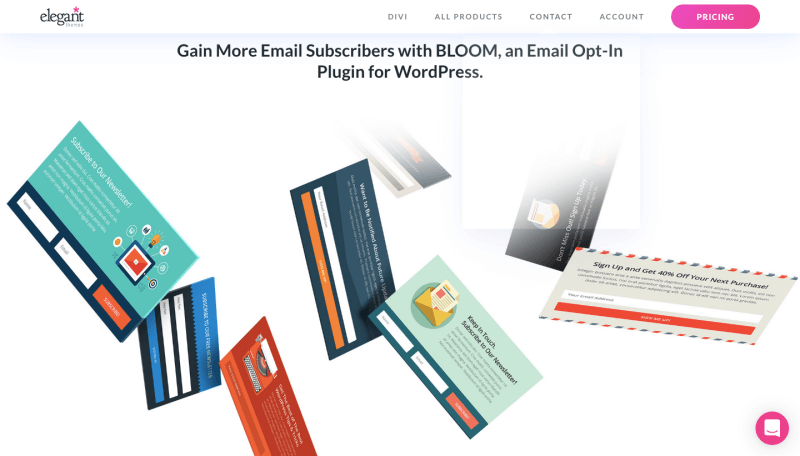 Bloom is one of the best Replacements for OptinMonster. This pop-up generator tool can be used to convert visitors into loyal followers and customers in a short time. You can be assured to receive more email subscribers with higher engagement.
Bloom lets you create targeted content based on visitor's perfect, location, and interaction. Yes, this popup builder helps you to create an automatic opt-in pop-up. That means these pop-ups can be triggered by the time delay or when the user reaches the end page.
One of the reliable choices to generate lead since it has several popup choices like In-line, below content, widget area, unlock content and automatic type. For specific user interaction, you may display the popups after they do a particular activity like commenting, purchasing, scrolling or when they stay inactive.
Amazing Features
Access to more than 100 templates
6 different opt-in popups
High level of customization (even borders & edges)
Target-based content creation
Location-specific approach
Highly responsive
Increase conversions through A/B testing & tracking
Premium support around the clock.
Bloom Vs OptinMonster, Which Is The Best For WordPress?
Bloom allows you to see the progress of pop-ups; there is no such feature with OptinMonster. Through the static dashboard, overview the Bloom's real-time performance.
4. WP Subscribe Pro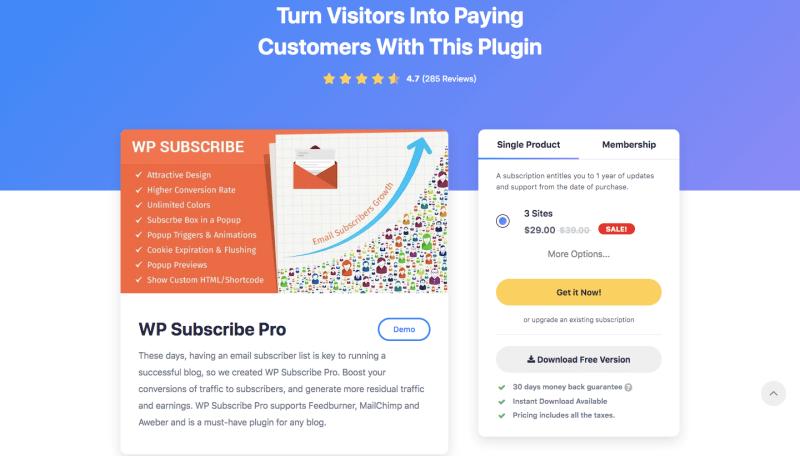 Are you planning to create an attractive looking pop up for your website and online business? if yes, then check out WP Subscribe Pro from MyThemeShop. It is a nice popup builder for WordPress and super simple to use. The user interface is intuitive; just get started without any hassle.
The fully responsive design of WP Subscribe Pro makes it the best choice to create pop-ups with HTML, shortcodes and even animations. You don't need to have any coding language to get started. This tool is optimized for speed and can easily be integrated with well-known marketing tools.
Exciting Features
Compatible with SEO and Cache plugins
Great conversion rate and unlimited color choice
Possible to control the cookie flush and expiration
Display related articles in the popup.
Why WP Subscribe Pro Is Considered As The OptinMonster Alternative?
WP Subscribe Pro is a simple tool with precise interface to play with the preferences. No confusing settings and hence, it is easy to make the crisp forms from scratch that could tweak the conversions.
5. Thrive Leads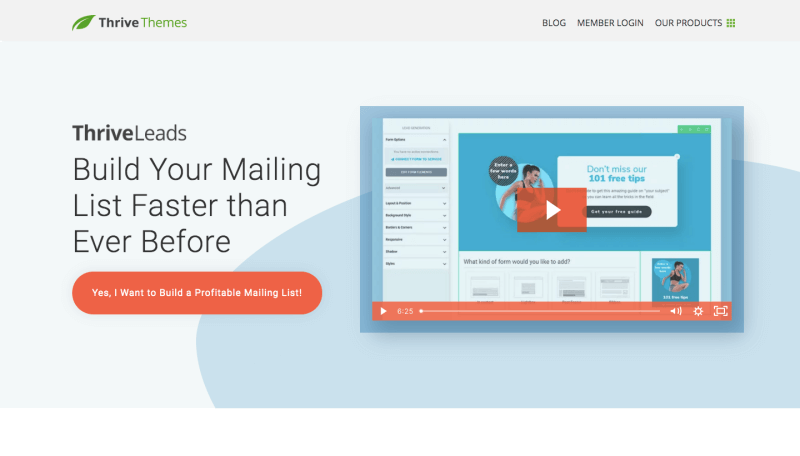 Are you looking for the answer to the question "How to create a popup in WordPress easily"? If yes, then Thrive Leads is the perfect solution. With this excellent OptinMonster alternative, you can design attractive looking popups for your online business and assured to receive excellent conversation and tweak the sales.
Minimum intrusive pop to effortlessly grab the attention of the audience, a perfect choice for beginners and non-technical creators. This all-in-one list building tool lets you build every type of optin form like Lightbox, Sticky Ribbon, Two-step form, Scroll mat, Multi-choice forms and much more.
Top Features
Advanced level of targeting that includes URL, post, page, tags, etc.
Robust A/B testing engine for comparison.
Smart links to promote different offers to unique users.
Possible to make more than 10 types of popup optins
Serving millions of users worldwide
Target your forms with surgical precision
Three customization levels along with mobile-specific optin forms
Customer-friendly support, unlimited updates, and 30-days money-back policy.
Why Buy Thrive Leads Than OptinMonster?
Thrive leads needs one-time payment which is more affordable than OptinMonster. Most of the design and trigger features are not available in the basic plan of OptinMonster, Besides, the A/B testing and actionable reports & insights are detailed in Thrive Leads which helps you grow your list faster.
6. Poptin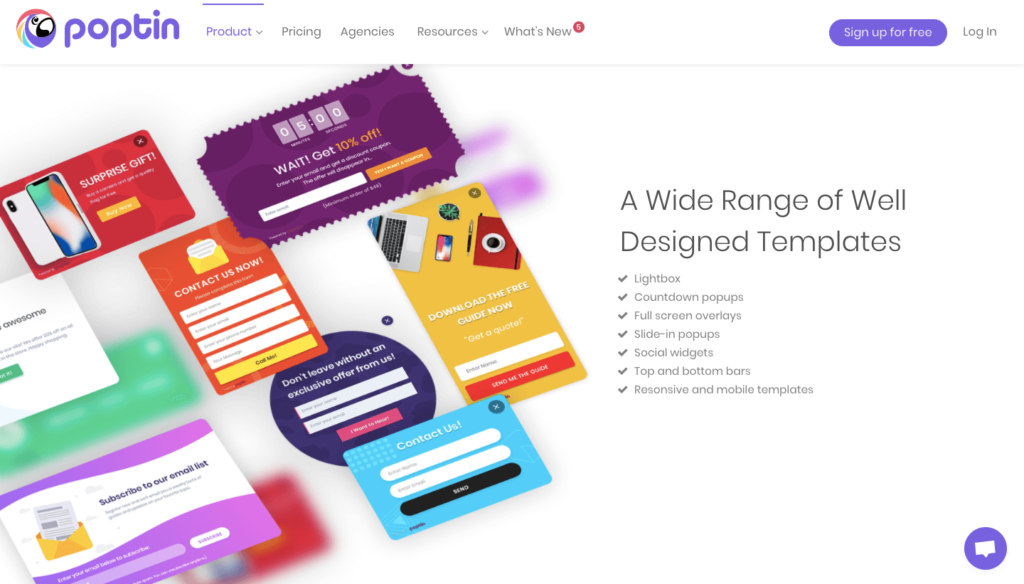 If you are searching for the OptinMonster free alternatives, then look at the features of Poptin. Creating engaging pop-ups is very easy with this free popup builder. Just get started without any prior knowledge. It is easy to make a customized popup and show the right message to the right visitors.
In addition to it, with Poptin, you may create a website lead via embed forms and tap them for conversion. You can customize the branding and templates. It also supports third-party integration and the intuitive user interface is an added advantage.
Positive Upsides
Plenty of high-quality, pre-built templates to choose from
Responsive design, no coding skill required
Add or more images, elements, and fields from any templates
Lightbox, Countdown and Slide-In popups are available
Advanced triggers and targeting choices
Simple A/B testing and interests with your favorite email marketing provider.
How Poptin Is Superior To OptinMonster?
Poptin is available free of cost, whereas for OptinMonster you need to pay an amount to get started. No credit card required; just create the popup in less than 3 minutes. Moreover, Poptin has a wide range of well-designed templates whereas the OptinMonster has standard templates which are not so attractive.
7. ConvertPlus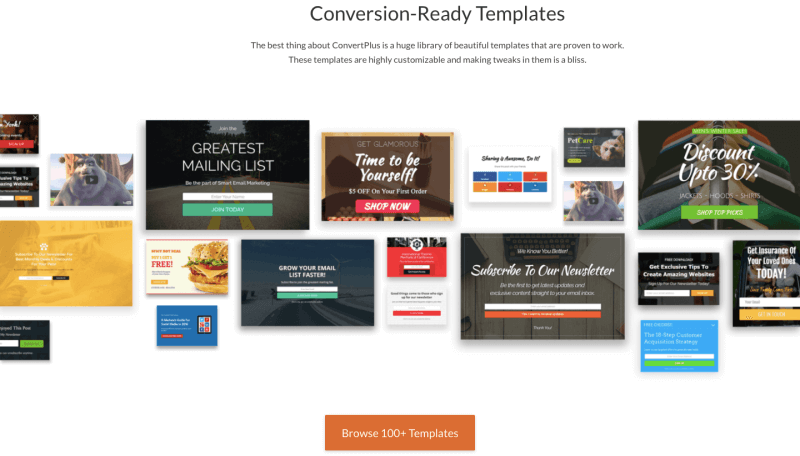 ConvertPlus is the faster and most accessible tool to create eye-catching pop-ups in just a few minutes. With an efficient pop up the design, it is more likely to convert your visitors into clients, followers and even subscribers.
The ConvertPlus Plugin For WordPress offers more than 10+ pop up display positions. In addition to it, you also get access to 12+ filters. Moreover, with this Pop up the plugin, you get access to a big library with 100+ eye-catching designs.
Exceptional Qualities
Exit-intent technology to recover abandoned visitors and to re-engage with them.
Real-time live editor, in-depth analysis along with A/B testing
Target specific pages and users through customized popups
Detailed conversion statistics with a variety of triggers & filters
Inexpensive WordPress plugin to make modal popups to double your conversions.
Why Is ConvertPlus An Ideal Choice Than OptinMonster?
ConvertPlus is a brilliant WordPress homepage popup plugin for WordPress offers you access to more than 100+ alluring readymade templates; the options with OptionMonster is limited. Moreover, it's easy to track the views and clicks through real-time analytics in ConvertPlus Out of all, video popups can be made with this cheap WordPress popup plugin
8. Ninja Popups
Ninja Popups is a brilliant option to create professionally designed pop-ups for a business website. The features are similar to the OptinMonster plugin, the effortless drag and drop editor helps you to launch your pop up in few taps.
With Ninja Popups, get access to more than 60 appealing pop up the theme, just customize and get started with the needful animation. In addition to it, you can integrate Ninja Popups with almost all types of email services to convert your visitors into subscribers.
Great Features
A wide array of styling options
Option to set the percentage of opacity
Customize the look of the close button
Targeting the page or post
Exit pop-ups to retain clients.
Why To Get Ninja Popup Instead Of OptinMonster?
The Ninja Popups is loaded with styling options, and choose the colour of the header, button, and background as per your preference and them. Whereas with OptinMonster, the options are minimal. This is why it is considered as one of the reliable alternatives to OptinMonster.
9. Popup Maker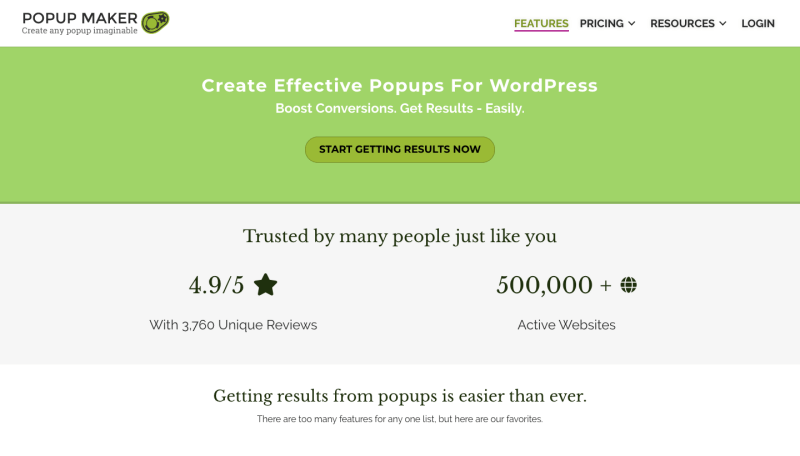 Popup maker for WordPress is a versatile choice that offers flexibility to the users. Create any type of popup and content on your business without simple drag and drop. It is the best OptinMonster alternatives that has limitless potential and with zero restrictions.
This free OptinMoster alternative offers customization that includes changing the colour, fonts, padding, shadows, etc. In addition to it, with Popup Maker, you will get the pop-up analytics, premium extensions, and also compatible with the screen reader.
Best Upsides
Build any content inside the popup with your desire size, position, and animation
In-depth conditions to target any WordPress content
Access to various trigger types including auto open triggers
Supports most popular form building plugins and list building forms
Make Woocommerce popups with in-built target rules for products and shop pages.
How The Popup Maker Is Surpassing The OptinMonster?
The OptinMonster lacks the feature of popup sizing, but with Popup Maker, you can choose from various pop-up sizes. Additionally, it has tight WordPress integrations like BuddyPress, Easy Digital Downloads and popular form plugins
10. Popup Domination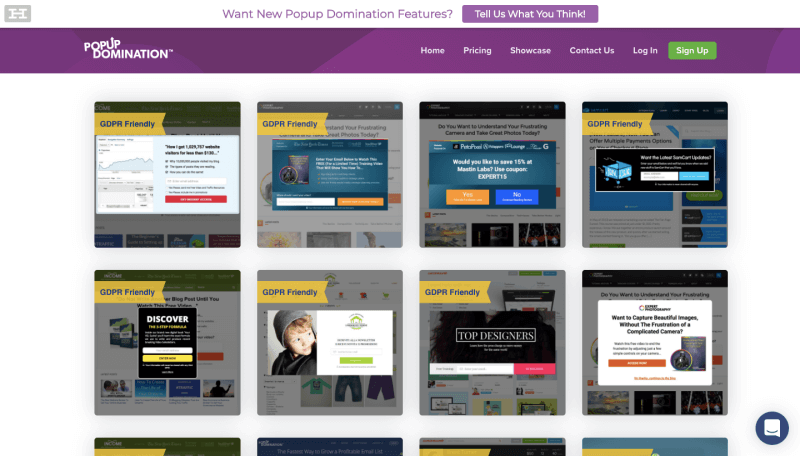 Covert your website visitors into potential clients with the help of Popup Domination. This source is one of the best popup builders for WordPress which offers a wide array of options that include email theme, countdown theme, GDPR friendly pop-ups, exit pop-ups, on click pop-ups, etc.
Yes, the team claims 20 different valid reasons for getting this popup software. Having GDPR-friendly forms, Geographical targeting, page-specific, and one-click popups are the upsides of this OptimMonster replacement.
Astonishing Features
Never slow down your website as it is a small file written in plain javascript
14 days of free trial available (60 days of money-back guarantee)
Unlimited popups with A/B testing and analytics
Sharp and highly visible on mobile gadgets
Ever growing template library
Build custom designs with your HTML/CSS/JS.
What Are The Reasons For Buying Popup Domination?
With Popup Domination, creating eye-catching pop-ups in a short time frame is possible and hence this tool is comparatively easy and best Optinmonster Alternate. Moreover, it is a light-weight tool that boasts incredible features including the free trial and money back policy.
11. Icegram
Icegram is a powerful tool that needs fewer skills to get started, and the final result will amaze you for sure. Customization is the biggest USP of Icegram, and it comes with 20+ alluring theme which adds more charm to your website.
In addition to it, with Icegram, the CSS and Javascript can be customized. It also offers color customization by adding CSS to the body of the pop-up message. This OptinMonster substitute is the most-loved WordPress plugin that contains an amazing CTA and conversion optimization for the lead generation.
Awesome Outputs
Free version available
6+ easy customizable themes
Highly responsive
Incredible performance
Completely secured.
Why Icegram Is A Nicer Choice Than OptinMonster?
Apart from pop-ups, Icegram can do much more that includes messengers, action-based and notification, but this is not the case of OptinMonster. Also, you can create the popups for free with Icegram
Final Thoughts
OptinMonster is an excellent conversion optimization tool with beautiful lead capture forms! However, it is an expensive tool and not suitable for beginners.
Moreover, it doesn't offer the most control over the design and hence the flexibility is lagging here. Few more qualities like Mobile editing, matching the design with your site and after reading post type popup are also missing. Out of all, no lifetime updates and support for this traditional popup builder.
These downsides make the users look for OptinMonster alternatives. So, which is the best substitute for you? let me give my best suggestions now!
Which Is The Best OptinMonster Alternative?
You might be looking for the optinMonster alternatives for a specific reason!
Want to buy the tool with more flexibility and design control? Get – Elementor Popup Builder
Looking for the cheap OptinMonster alternative? – Go with Convert Pro
Desiring to turn your simple optin form into a product offer or complete sales page? – Grab Thrive Leads
Don't have a budget and need to get a free OptinMonster alternative? – Try Poptin
Just searching for the effective list building tool? – Download WP Subscribe Pro