As you are reading this blog content, let's assume that you want to upgrade the Elementor page builder to create professional website designs that could get you more leads and conversions.
Being a theme designer for many years, I'm always taking excellent opportunities to build websites with stunning designs, more responsiveness, faster loading and precise navigation for great user experience.
A couple of months back, I have started using the premium version of the Elementor plugin for one of my clients and made a striking design with the help of the advanced options that have got me a big appreciation.
It's an honor for getting the work recognized, and credit goes to the fastest page builder, Elementor Pro. Through my design experience, I can help you by answering the question – Elementor Pro or Free, which is the best?
No doubt that the free version of the Elementor comes with excellent design options, however, when you want to take those options to the next level, then it can only be done by its paid WordPress plugin.
| | | |
| --- | --- | --- |
| | | |
| | | |
| | | |
| | | |
| Industry Leading Theme Builder | | |
| Design-Oriented Popup Builder | | |
| Visual Form Builder + Popular Marketing Integrations | | |
| Woocommerce Builder + Over 15 Shop Widgets | | |
| Dynamic Content & Custom Fields Capabilities | | |
| Motion Effects Inc. Parallax & Mouse Effects | | |
| | | |
Some common questions rise among the Elementor free users are
What are the differences between Elementor Pro and Free?
What Elementor pro can do? What are its real benefits?
Is it worth buying Elementor Pro?
Why should I buy the Elementor premium version?
How to choose between Elementor Free vs Pro?
And many more regarding the paid option of the Elementor!
Yes, it is difficult to choose between the two until you start using the premium version. So, what the heck features does the paid version has?
Let me consolidate some valid features of Elementor Pro so that it will help to make a better decision.
Why Buy Elementor Pro?
The Elementor Pro can add more functionalities to your website through its advanced features that speed-up your workflow and help you get more leads or conversions.
Reason 1 – Theme Builder
Elementor Pro is the industry-leading theme builder to design your website like a professional. You don't need to possess the coding skill to create the webpage as you want. Just combine the blocks and get a personalized design for your business website.
The best thing I admire with the Elementor Pro is its live builder where I can have a look at what I do and how will it get presented to my site audience.
Apart from the real-time editing, the "Revisions" feature gives me the entire list of edits that I have made with which I go back to any stage if the final work gets messed up.
Reason 2 – 300 Pre-Made Templates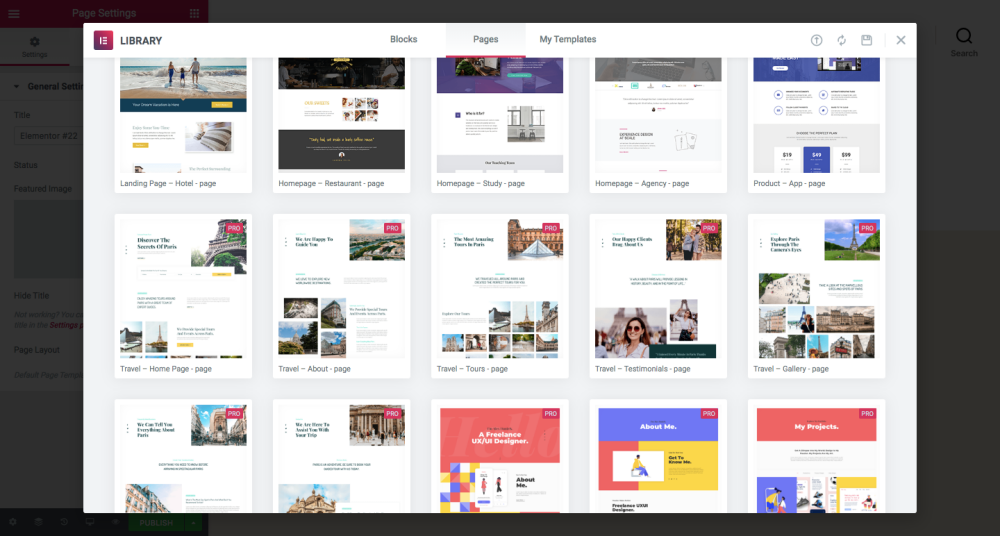 If you need to build a small business website with a personalized look, then the pre-made template is the perfect choice because it offers better usability features than coding a website. Customization is just a piece of cake with the ready-made templates.
This excellent page builder offers 300+ Pre-Made Templates so that you can easily import the demo you want and use it within a minute.
Whatever be your industry, I'm sure you will find a suitable design that fits your requirements. And, you don't need to bother about the Responsiveness and SEO friendliness as well.
Reason 3 – Visual Form Builder & Marketing Builder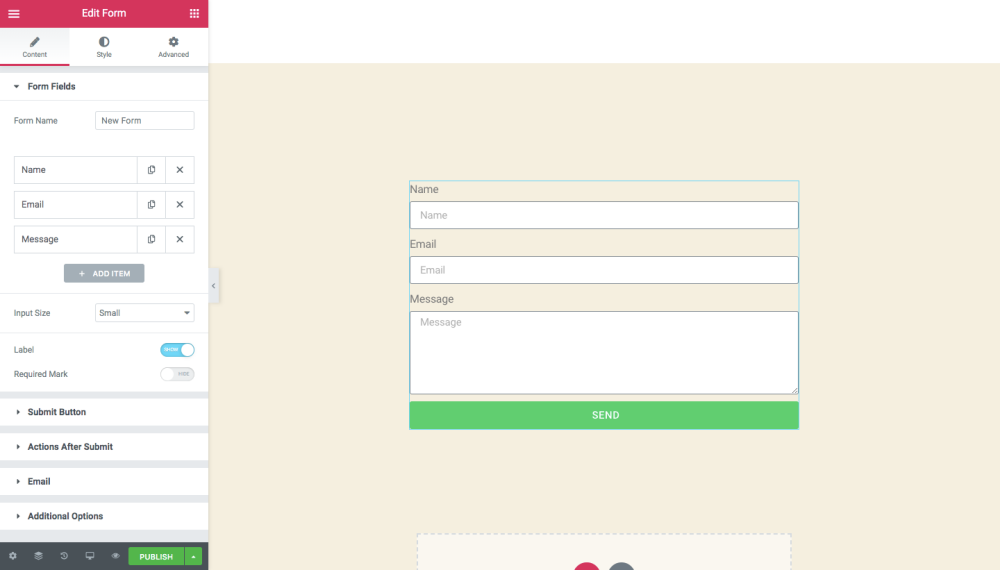 As you are checking the paid features of Elementor, let's assume that you are keen interested in building the forms and popups for substantial user engagement and convert them into your leads, sales or subscribers.
You might look for the best tool to build forms for your WordPress site. If yes, I can assure you that your search will be ended here! It's true!
Elementor Pro offers a Visual form builder for WordPress with the ultimate drag & drop option to create beautiful forms with complete control and without coding knowledge. The form builder of Elementor is powerful yet flexible, which is super easy to customize eye-catching forms in minutes.
You will get detailed form fields to make dynamic ones and connect with them to the email marketing tool that you use. The improved features of this professional form building application include Honeypot to block the spambots, ReCaptcha for user verification, confirmation emails and dedicated thank you page for your users' submissions.
Likewise, what else do you need for marketing your business website? Elementor Pro has sufficient tools for promotion like testimonial widgets, Action links to connect with your audience, and Countdown widget to set a timing for any of your exclusive product offers.
Reason 4 – Design Oriented Popup Builder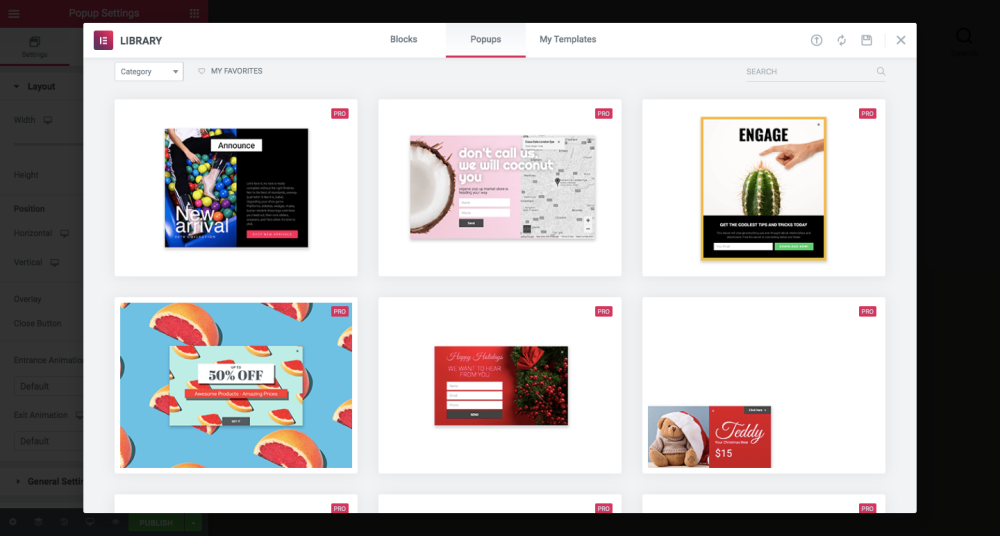 Would you like to design some fantastic WordPress popups that easily integrate with your marketing tools to get massive conversions? Then Elementor pro has a design-oriented popup builder for you!
Yes! You can build any popup like Fly-In, Full Screen, Bottom bar, Hello bar, Slide-in, and much more with this pro page builder. We have created a simple popup optin form of custom type using this premium tool and you can do better than us 🙂
Pre-designed stylish layouts are available in these pixel-perfect popups, and you may create email subscriptions, login forms, lead capture, news announcements, content lock and upgrades without any restrictions.
Determining which posts & pages to display the popups, setting triggers to determine which actions set off popups and showing them to users who meet specific requirements are the notable features of this world-class popup builder.
Reason 5 – 15+ Shop Widgets & WooCommerce Builder
Are you looking for the best WooCommerce builder for WordPress to beautify your product pages? Elementor Pro has an ideal tool to play with the layout and induce your audience to proceed with their purchase.
Yep! You could make your visitors very attentive and nudge them to respond to your CTA with the help of WooCommerce specialized widgets like Price table, Price List, Woo Products, Woo categories, Menu cart, and Woo elements widgets.
Coding the PHP files and WooCommerce hooks are outdated! Just upgrade to Elementor pro and build a streamlined online store on WordPress.
It allows you to produce a perfect single product page for massive sales and product archive pages to showcase your products & customize their appearance. Besides, you may WooCommerce design template on your own.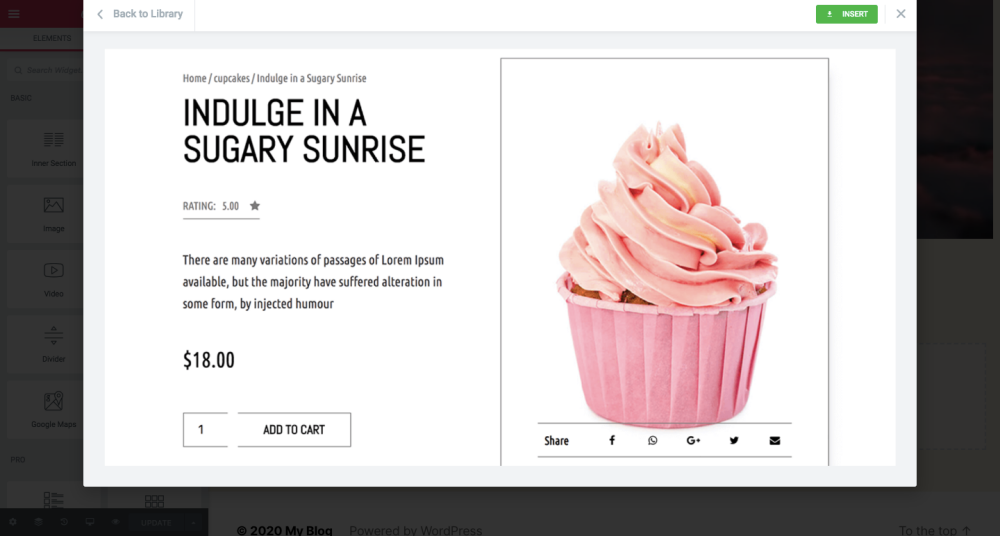 Reason 6 – Motion Effects
Do you know the benefits of adding the motion effect to your site design? It could help you
Grab users' attention
Create a brand identity
Get higher user engagement rates
The paid version of Elementor lets you include animations and interactions through scrolling and mouse effects for interactive user experience. As they stay longer, you will get a reduced bounce rate which helps to improve your SEO performance.
Reason 7 – 20+ Integrations
If you are not using the page builder of premium type, then you might need to install 6 – 8 plugins to expand the functionalities of your website. However, the pro version has got you some helpful integrations so that you will need to use only one add-on to collaborate several tools to your online revenue source.
Elementor Pro contains more than 20 integrations like HubSpot, MailChimp, Custom Icon Libraries, Font Awesome 5, Slack, Adobe Typekit, Get Response and few more dynamic tools to tweak the ability of your small business website.
Reason 8 – Design Header & Footer
Do you know the critical elements of a website? Yes, they are Header and Footer as they could encourage your visitors to explore your site further. So, you need to be very careful in designing them with your creativity and personal touch.
The superior features of Elementor let you design the more valuable areas of your site in a stunning manner and hence it will be an excellent opportunity to promote your business brand. Yeah, you can easily create custom Headers and Footers without touching the coding part.
With the wide range of WordPress Header & Footer template blocks available, it is more likely to design the site with easy navigation that can bring more focus of your readers towards your webpage. When you use the Elementor compatible WordPress themes, then you can get done the design job much easier.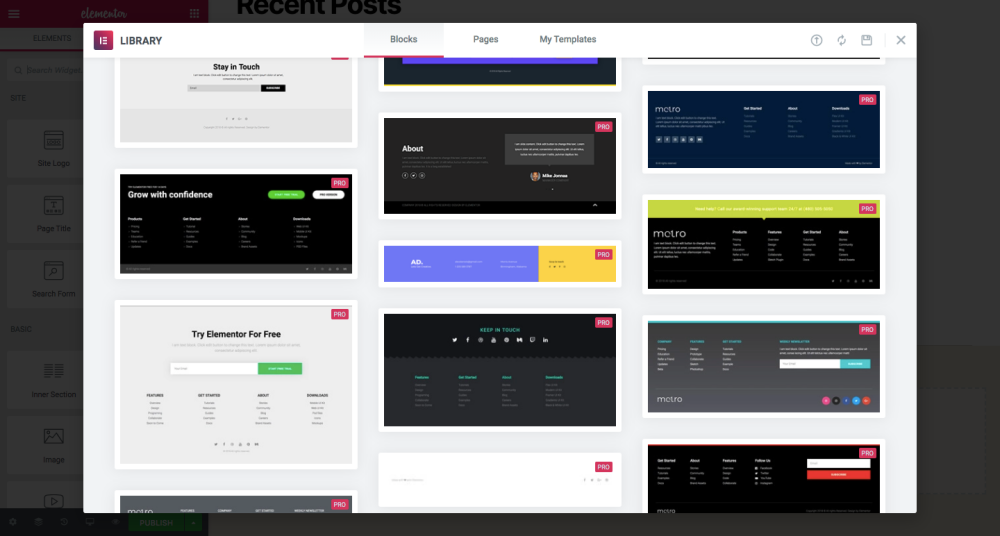 Not only with the designer made blocks, but you can also make them from scratch and get a sticky one to respond to the call-to-action. Start optimizing them now!
Reason 9- Countdown Timer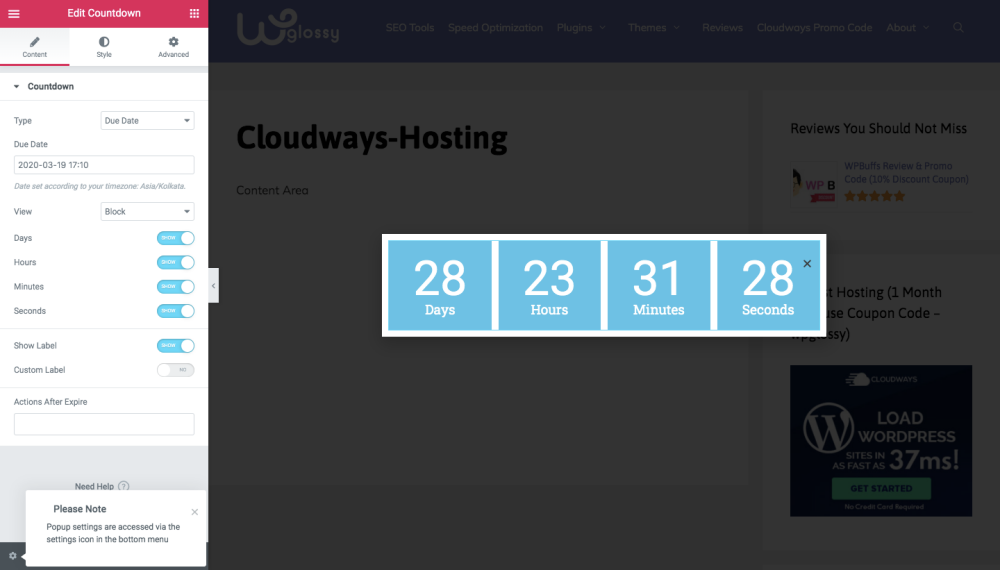 How to add a countdown timer widget in WordPress – It is the common question that arises among the site founders. No doubt that the countdown timer is the best way to keep visitors informed about the exclusive discount of a specific product so that you can draw more purchases.
The advanced Elementor version has excellent sales trick in the form of a Countdown widget which can effectively boost your sales by creating interest and urgency. What could you do with the Elementor Pro Countdown timer? Here are they
Include countdown to your landing pages and events through a simple drag & drop feature
Change the appearance by switching between the Block and Inline Skins
Set a custom action when the timer reaches zero. You may hide the countdown or set a redirection message
Modify the structure of the box, text style, background, color and everything as you like
What are you waiting for? Get your readers to act and earn more sales and conversions with the Elementor Pro Countdown timer widget.
Reason 10 – Global Widget
You might have some exclusive things like Price Table or Counter widget that needs to be displayed on several pages. It would be frustrating when you customize the same widgets multiple times. To solve this concern, you may make use of the Global widget feature of Elementor pro.
You need to save your preferred widget to the Global widget settings and use wherever you want. You can modify the content of the Global widget through the edit option and unlink it when you don't want to use it often.
5 More Valid Points To Purchase Elementor Pro Version
Still, what do you get with Elementor Pro? Let me tell you a few more benefits of buying the Elementor Pro plugin.
Reason 11 – 24/7 Premium Support
To help with any issue, the Elementor Pro offers the professional 24 x 7 customer support. Besides, you can access hundreds of video tutorials, read the common questions asked by the users, and take part in their GitHub & Facebook community.
Reason 12 – 3D Tilt Effects
To grab more eyeballs, the 3D tilting effect can be added to your website. Options are available to set up the tilting direction (Same & opposite to the mouse movement) and speed (from 0 – 10) to the different elements including images through which you can build an interactive site with improved UX.
Reason 13 – 50+ Widgets
How to extend the functionality of a WordPress site? Widgets can do magic when it comes to embedding the applications to the websites.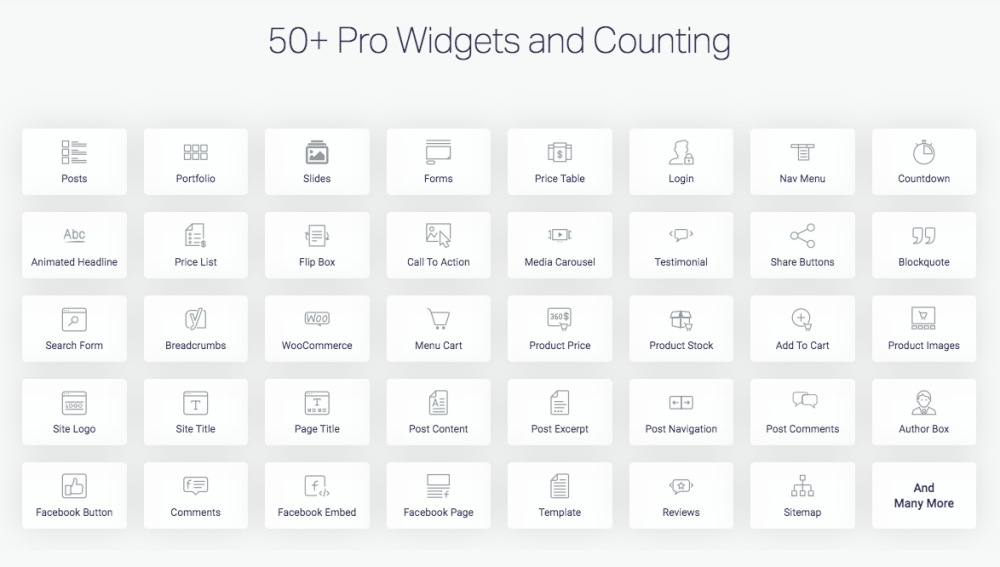 Here, you will get 50+ advanced widgets under different categories like Pro elements, Theme elements and WooCommerce elements with enhanced design customizations. Hence, you can design stunning layouts with these Elementor extensions.
Reason 14 – Single Post Page Builder
Constructing a fabulous single page in WordPress is a dream of almost every site owner to win the readers' hearts by placing the elements in a precise manner. With this amazing WordPress page builder, you can control the design and layouts on any theme to get a personalized single post or page.
Moreover, it is possible to design a single blog post page from scratch, or else you may make use of the designed templates to take your blog post to the next level.
Reason 15 – Table Of Contents
How to provide a high-level view of your content in an attractive way that would make it more readable? The table of contents can quickly do it. Likewise, do you know that it can increase a chance of getting featured on Rich snippet and display your sub-heading in the search engine results that would tweak your CTR?
Unlike other TOC plugins, then Elementor pro offers more flexible design customization features, unique list styles, and complete control of sub-titles to boost your site's accessibility, SEO and user experience.
Other Features Of Elementor Pro Unseen In Free Version
Wrapping Up
Elementor has more than 1 million happy users because of offering super designing experience and high flexibility through its drag & drop ability. It's not just a page builder! It gives you the complete freedom to build your business website that will resonate with your readers.
When you feel limited with the free version of Elementor and intend on using it to make significant web design, landing page, and popup forms, then you should be upgrading to Elementor Pro to visualize your content with more creativity through the extra elements and popups.
Summarizing the benefits of Elementor Pro, you will get the industry-leading theme builder along with the Popup builder, WooCommerce Builder, Visual form builder, Sticky Elements, Pricing Table, Countdown Timer, Pre-made templates, and much more exceptional qualities when compared to its free version.
The pricing of Elementor pro is highly affordable! If you are a blogger or small business website owner, you may get a Personal plan for one site. If you are a professional web designer who deals with more projects, then it would be better to pick the Pro plans of Elementor Pro which can do better than Divi page builder.
How to gently push your visitors to perform different actions on your page and make them come again? It can be done by designing your business site with an advanced page builder like Elemento Pro. I hope you now understand the main differences between Elementor free vs Pro and yes, its premium features worth for the money.