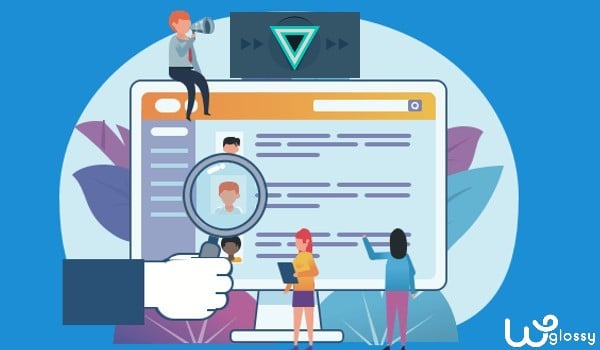 Images are the most crucial part of any website which can enhance audience retention as well as slow down website loading speed. Unoptimized images will cause your server to suffer.
They will harm your pages and ruin their Google rankings. Optimizing images manually can be tedious and time-consuming. This is where Smush Image Optimization Plugin comes in.
Smush is an award-winning image optimization plugin that has a wide base of loyal users. Images that have already been posted to your site, as well as images that will be uploaded, can be optimized by this plugin to make your site faster.
If you want to optimize all your website images at once, you should invest in Smush Pro. Yes, It is one of the best bulk image optimization plugins that comes with many features.
With just one click, this plugin can optimize your images and reduce server loads. In this article, I will describe the Smush Pro plugin and all its features. Let's get started!
Exciting Features of Smush Image Optimization Plugin
Smush comes in both a free and a premium version. The free version of Smush offers very limited functionality and that functionality includes
1. Lossless Compression
With the free version of the Smush Image Optimization Plugin, you can compress your images without sacrificing their quality. By default, this feature is enabled and can reduce your image size by up to 5-6%. This percentage may seem low, but if your website has a lot of images, it can make a big difference.
2. Lazy Loading
Using the lazy loading feature, you can delay loading off-screen images, and you can also choose custom loading animations. With this feature, you can significantly speed up your website, and website performance will also greatly increase.

To activate the Lazy load feature, go to Smush and then select lazy load. There are lots of customization options like media type, display animation, include exclude, and so on. You can customize and filter based on your requirement
3. Resize Large Images
Smush lets you resize large images so that they can fit a particular container properly. It offers one-click re-sizing so that users can easily resize their website images according to Google's recommended rules.
To activate automatic image resize detection, go to Smush Pro and then Tools. Turn on image resize detection and click Save Changes.
4. Bulk Smush
Full-size images can slow down your website and take up a lot of space. There are two ways to optimize the images on your website for speed. One is to do it manually, which takes a lot of time, and the other is to use Smush, which is quick and easy.
You need to activate Smush and then it will scan your website for images that can be optimized. After Smush scans images, a result shows the number of images that require attention.
Click on the "BULK SMUSH NOW" button and all your images will be optimized automatically.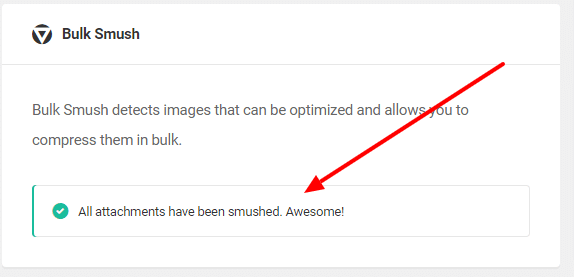 Why Do You Need Smush Pro?
As I have told earlier, the free membership of the Smush Image Optimization Plugin offers a limited set of features that does not represent its full potential. It is only possible to unlock the full potential of this plugin by purchasing the premium version.
Smush Pro comes with lots of other premium image optimization tools to improve Google PageSpeed and rank higher. The bundle of premium features makes users buy it without thinking twice.
Feature Comparison of Smush: Free Vs Pro
| | | |
| --- | --- | --- |
| Features | Free | Pro |
| Lossless Compression | Yes | Yes |
| Lazy Loading | Yes | Yes |
| Bulk Smush | Yes | Yes |
| Lossy Compression | No | Yes |
| Smush CDN | No | Yes |
| Backup Original Images | No | Yes |
| WebP Format Conversion | No | Yes |
| Auto PNG to JPEG Conversion | No | Yes |
| Remove Image Metadata | No | Yes |
| Third-Party Integration | No | Yes |
| Auto resize and scaling | No | Yes |
Advanced Features Of Smush Pro
1. Powerful Dashboard
Smush Pro includes a user-friendly dashboard where you can monitor your image files and perform necessary actions (like CDN, Local WebP, and lazy load activation and inactivation) with just a single click.
Lossy Compression
The pro version of this plugin offers a more advanced tool that helps us to reduce the image size up to 2x.
In Super Smush or 2x compression, the image data is stripped out as much as possible without compromising the quality of the image. Take your image optimization to the next level by adding "2x more compression". To enable the Lossy Compression feature, go to Bulk Smush and scroll down to Super Smush and enable Super Smush my images.
Smush Pro CDN
With Smush Pro CDN, you can easily serve images from 45 different locations around the world. By integrating a CDN, you can make your website load faster and also improve the ranking on Google, since websites with fast loading times usually rank higher. Smush Pro offers up to 10GB of bandwidth per month.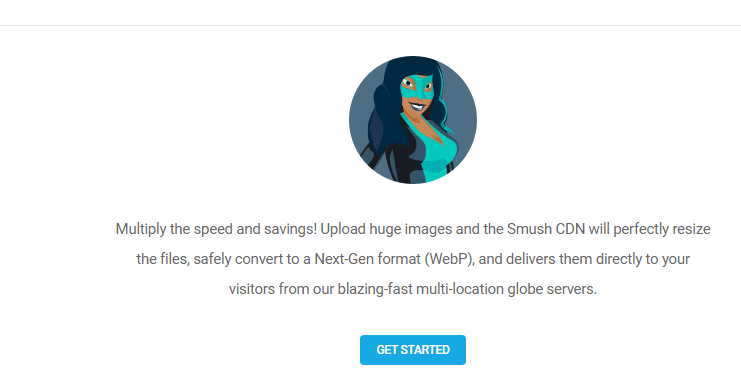 For Smush CDN activation, go to Smush pro. Click on CDN and then click on Get started. Then a configuration page will appear. Now enable setting based on your requirements. Next, click on "Save & Activate".
Backup Original Images
Before scaling down an image, you can always back up your images so that if you need the image at its original size, you can restore it.

WebP Format Support
With Smush CDN, you can easily convert your images to WebP format. WebP is a modern image format that offers significant compression. With it, you can create smaller images so that your website can perform better.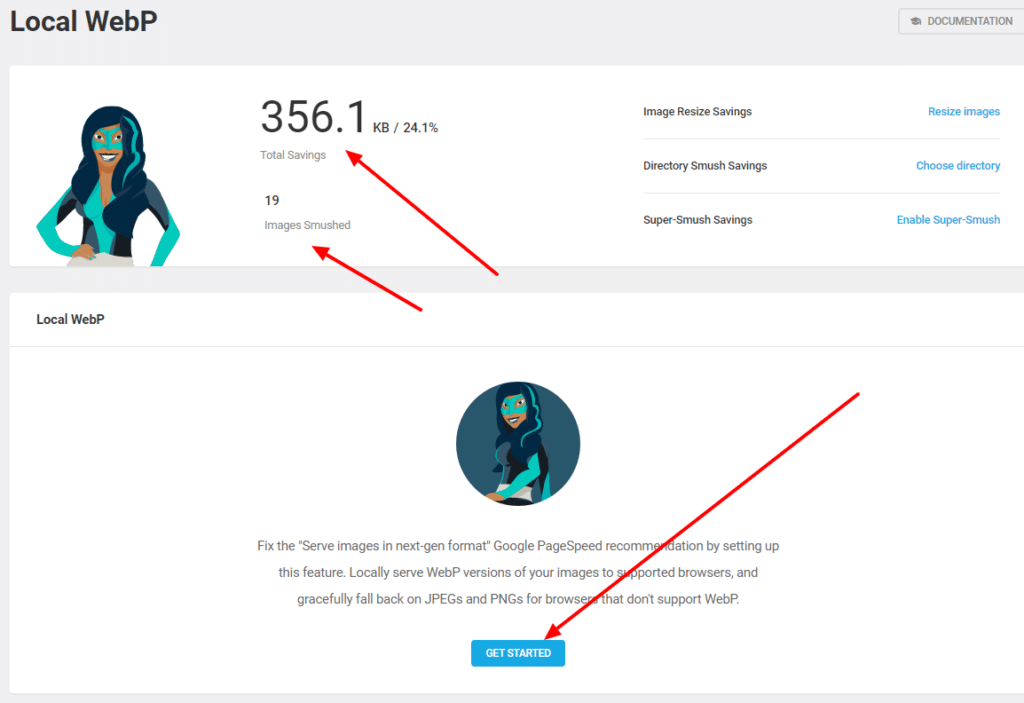 With WebP, you can save 25% more storage space on your website than with other image formats.
For WebP activation, go to Smush Pro and then select Local WebP and click on Get started
Now you have to select your server type (Apache or NGINX) and then click on next.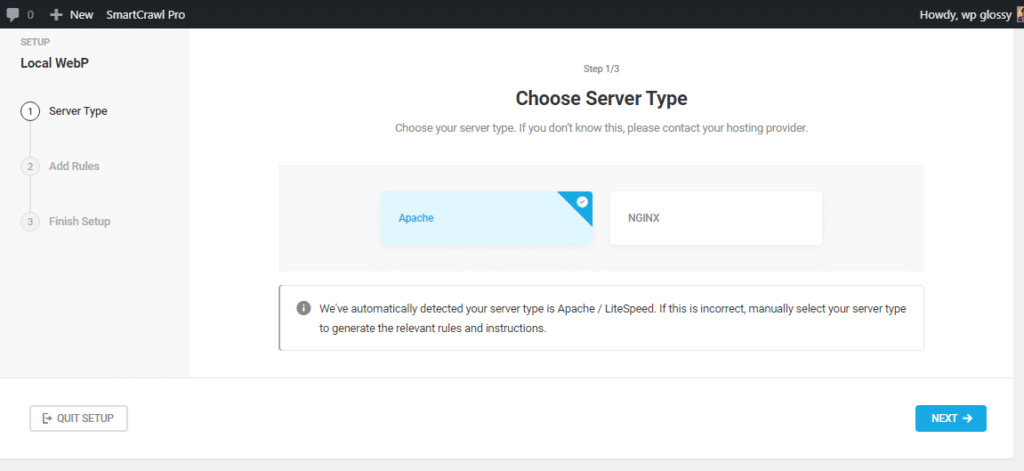 Now you have to set up rules. By default, Automatic is selected. For better results, you can add rules manually and then click on apply filter.

Automatic Resize and Scale
Smush Pro allows users to resize images properly with just one click. To make sure the image fits the container correctly, you can resize it according to Google's recommended rule.
To enable the image resizing feature, go to Bulk Smush and scroll down to Image Resizing and then enable Resize upload images. You can specify the maximum width and height.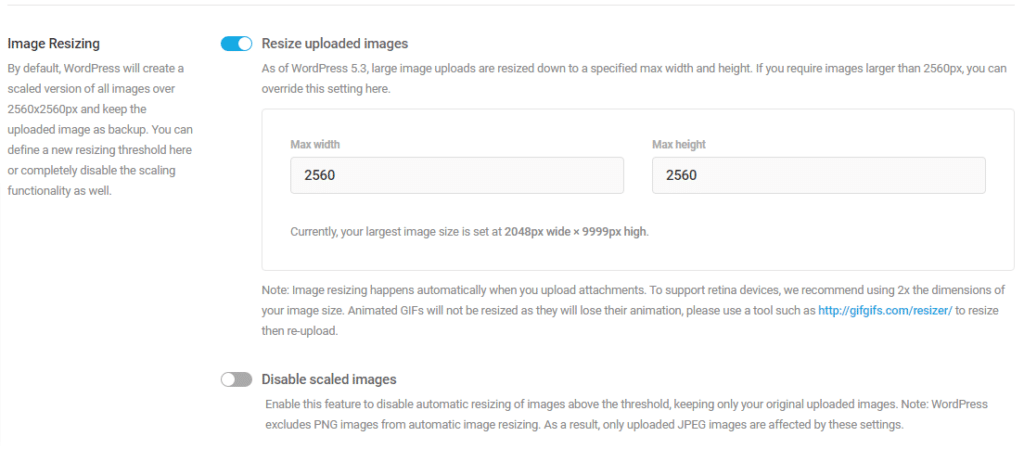 Remove Image Metadata
When you select the "Remove Image Metadata" option, you can delete all unnecessary data from your images while preserving the data needed for SEO.
It is a very important feature because it helps the user eliminate unwanted data associated with the image. To activate this feature, simply enable Strip my image metadata.

Auto Convert PNG to JPEG
With Smush Pro, you can easily convert PNG files into JPEG files, which will reduce the file size without sacrificing quality.
It's a great feature for those who want to save space and also convert all their files into JPEGs automatically. To activate this feature, simply enable Auto-convert PNGs to JPEGs.

Integrations
Along with all these great features, Smush Pro also enables users to integrate with lots of other tools such as Gutenberg editor, WPBakery, Amazon S3, and NextGEN gallery. Platforms like these provide users with a lot more flexibility and resources.
To activate the integration, simply enable your required tool integration.
Smush Pro Pricing
If you want to go with the monthly plan of Smush Pro, then you need to pay
Smush Pro Only – $6/month (Only $5 if you opt for the yearly plan)
Performance and Uptime Pack – $9/month (Only $7.50 if you opt for the yearly plan)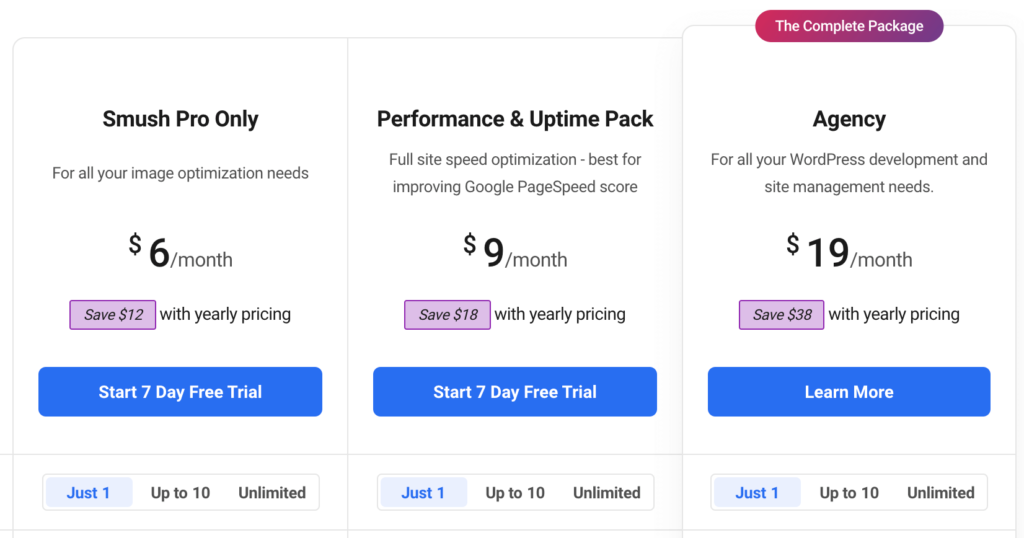 Smush Free Trial
When it comes time to buy the premium version of this plugin, users will be pleased to know that Smush offers a trial period of 7 days for new users, so that they can determine whether or not their service is worth spending the money on. You need to provide your credit card information in order to sign up for the 7-day free trial.
What makes Smush Pro different from the competition?
With Smush, you'll get plenty of optimization features at a reasonable price. This plugin is known for being the best image optimization plugin and for bulk optimizing past and future images.
A simple and intuitive user interface makes this plugin stand out from the crowd. If you are looking for an image optimization plugin, I highly recommend Smush Pro.
FAQs
Why do I need to add a credit card for the free trial? What if I forget to cancel?
If you are enjoying their services and wish to keep them, then they need your credit card information to process payments. You can, however, cancel your subscription by contacting their customer support, which will refund your money without asking any questions.
Are there any lock-ins? Can I cancel my subscription easily?
There are no lock-ins, a user can easily cancel their account by going into the "My Account" option. You even have no need to speak to anyone. You can do it all by yourself.
What happens if I use my monthly Smush CDN bandwidth? How do I get more?
Smush provides 10 GB of bandwidth. But if you have already used the monthly bandwidth and want more, then you can get additional bandwidth of 50 GB for only $5. You will also be notified when you have used 75% of your bandwidth.
Does Smush Pro support multisite and what plan do I need?
Yes, Smush Pro offers multisite support and all Smush Pro plans come with a multisite install.
Wrapping Up
If you deliver high-quality images with great resolution and the smallest possible size, then it is more likely to improve your site loading speed which in turn boosts your SEO ranking. Besides, the optimized images can enhance the user experience through the quick loading pages.
A plethora of image optimization tools are available, however, we should prefer an intelligent cum popular resource to get the job done smoothly. In my 10 years of blogging journey, I had a great chance to use many tools, but Smush Pro is a clever one that is worth buying. Just try it now!
It is a wonderful image optimizer for WordPress as part of a WPMU DEV membership, available to WPGlossy readers at a special discount of 20%. Don't miss this great offer!