How Can I Make My WordPress Website Faster through Plugins?
Are you searching for an ideal solution for this question?
If yes, then you have landed to read the right content to install some handy WordPress plugins to speed up your site that load under a second. 
I know you have worked hard to build a great WordPress website.
And now, you have been here to improve its speed, right?
So, you have recognized that the "Page Loading Speed" is one of the factors that define the success of your site.
For the web devotes like you, I have written a comprehensive guide on "WordPress Speed Optimization" which would help you get a fast loading WordPress site so that you can offer a great user experience for your visitors and also get the top positions on search engine ranking results.
Before getting into the WordPress site speed optimization plugin details, I would suggest you check your site speed score so that you can recheck it after installing the essential ones!
I have checked my blog speed with webpagetest.org and got the below results! 

Now, let's get into the topic!
Top Must-Have WordPress Plugins To Speed Up Site
I'm going to suggest the best WordPress speed optimization plugins that would really increase the site loading speed. 
They are
WordPress Cache Plugin (WPRocket or W3 Total Cache)
WordPress Database Optimization Plugin (Autoptimize)
WordPress Image Optimization Plugin (Imagify or Smush.it)
WordPress Performance Plugins (Perfmatters or WP Asset + Heartbeat Control)
WordPress CDN Plugin (RocketCDN)
So, you have to install 4-5 plugins to speed up your site! There might be other WordPress page speed plugins available in the plugin repository, but these are the helpful extensions that improve the loading speed of my blogs. 
Let's see the in-depth details of these WordPress speed plugins now! 
1. WordPress Cache Plugin
When it comes to the WordPress speed, the caching plugin plays a significant role in decreasing the site load time.
As it creates the static HTML pages of your site and offers these lighter pages for your returning visitors instead of generating the dynamic content that includes several database queries and PHP code implementations, you will see a notable boost in the site loading speed.
Reducing the load of your hosting server is another benefit of the Cache plugin. And finally, it would help you integrate the CDN as well. Yes, we have enabled the CloudwaysCDN through W3 Total cache plugin.
So now, which WordPress Cache plugin should you install in 2018?
A plethora of Cache add-ons available for WordPress but my highest recommendation would be WPRocket, the premium cache plugin that makes your WordPress load fast in few clicks.
WPRocket
WPRocket is the most powerful Cache plugin that has a minimal configuration, but yet it can provide the immediate results.
The page cache feature is instantly activated for ultra-fast load time, and hence you could improve the SEO performance.
You can test the features before buying since it has 14 days money back guarantee and best customer support to solve your difficulties.
Best Features Of WPRocket
Cache Preloading – It enhances the search engine indexing of your site.
File Compression – It reduces the weight of the HTML, JS and CSS files through minification.
Lazy Load Images – Images in your site only get loaded when the visitors scroll down the page to accelerate the load time.
Advanced Customizations – It is developer-friendly and open for a superior level of tweaks.
Supports CDN – You can activate CDN through WPRocket, and it has CloudFlare compatibility as well.
If you can't afford this premium Cache plugin, then opt W3 total cache which is a good alternative to WPRocket. 
W3 Total Cache
W3 Total Cache is the popular WordPress Cache plugin that has more than a million downloads because of its wide cum easy settings options.
This WordPress speed plugin is excellent in reducing the CPU usage and bandwidth consumption for your HTML pages. Moreover, it has been designed to work with all types of hosting and web servers like Apache, Nginx, and Litespeed.
Best Features Of W3 Total Cache
Supports caching on Pages, Posts, Coded files, Feeds in memory, disk, and CDN.

Effective minification of all code files and browser cache through ETag, future expire headers and cache-control.

Cache statistics for understanding the performance.

Highly extensible and comprises the security features as well.
2. WordPress Database Optimization Plugin
If you are struggling with the slow site loading time, then it's better to clean up your database as it may contain a lot of extraneous data that might eat up your storage space.
Yes! The MYSQL organizes the information in "Tables," and it gets accumulated when you add new extensions and through Post revisions, spam comments, etc. 
So, how to do the WordPress database optimization?
Autoptimize
Autoptimize is one of the best WordPress database optimization plugins that can tweak the speed performance of your site.
It injects the CSS codes to the header, defers scripts to the footer, minifies the scripts & styles, removes the emoji and much more jobs to optimize the database.
Best Features Of Autoptimize
A lot of things can be done with the API like changing the CSS background images limit to be inlined in the CSS, define the JS files to be moved, etc.

You can exclude a specific file from being minified by adding the identifies to the comma-separated list.

Works well with Cloudflare and other CDN networks.
3. WordPress Image Optimization Plugin
High-resolution images are crucial in attracting more eyeballs, but they may drastically slow down your WordPress site. So, you have to compress the pictures as much as possible without losing the quality.
WordPress image compression plugin can get you this job done, but you have to choose the right one that has the intuitive interface with proactive elements and also offers some exceptional features.
I have a couple of WordPress Image Optimization plugin recommendation; one is premium and other is free. They are
Imagify
Imagify is the best "Increase Website Speed WordPress Plugin" that can optimize all your images in 1 click.
Hence, with the lighter images, you will gain the speed with which you could offer the best user experience and get SEO boost as well.
You don't need to fine tune the images manually since the process is entirely automatic. Besides, your pictures remain with the excellent quality with the measurement you specify.
Best Features Of Imagify
Reduce the load time through bulk image library optimization, on-the-fly optimization while uploading the file, and secure image backup.

Three levels of image compression (Normal, Aggressive and Ultra).

Saves the bandwidth, storage, and backup size to make the server feel lighter.

Fully secured API for the custom development projects.

Try for free and reach the dedicated support for the assistance if needed.
If you don't have a budget to buy this premium WordPress image optimizer, then you may get the freebie – Smush.it which is a great replacement for Imagify.
Smush.it
Smush is an excellent image compression and optimization WordPress plugin from WPMU DEV which is an award-winner for its speed and quality features. It is the best free alternative to Imagify. 
This image smusher has been downloaded by millions of WordPress users and gets regular updates with the improved qualities and bugs fixed.
Smush.it is one of the best WordPress speed plugins as it will scan every image that you upload and removes the unnecessary data before adding it to the media library.
Best Features Of Smush
You can fix the Width/Height size to resize the images.

Optimized unlimited images through advanced lossless compression.

Bulk optimize feature to compress multiple images.

You can track the file size change in the media library through Smush Stats.

It is compatible with NextGEN Gallery and WP Retina 2X to display the high-quality image.
4. WordPress Performance Plugins
You have to minimize the back-end load of the WordPress to boost its speed performance. If you prefer optimizing the performance through the code injection into the functions.php, then it would be a messy task, especially for the non-technical WordPress users.
The WordPress performance plugin comes handy in disabling a lot of unnecessary stuff in the WordPress database you no longer need. Which plugin could do this task? Let's see! 
Perfmatters
Perfmatters is the lightweight performance plugin created to speed up your site by minimizing the back-end load, reducing the HTTPs request, and stripping out the codes. 
This WordPress speed plugin has been developed by Brain Jackson and his brother, who are the great influencers of the WordPress hosting industry.
You can remove and disable a lot of things to shave off the WordPress load time. Moreover, they would often like to launch the new features to ensure a quick database
Best Features of Perfmatters
Easy to use Dashboard with straightforward options 

Size is less than 50 KB and no frontend Javascript

Compatible with other plugins including the Cache plugins

Disable Embeds, Emojis, Pingbacks, RSS Feeds and much more

Remove Query Strings, jQuery migrate, Dashicons, Shortlink, etc.

Affordable pricing plans
Assets Clean up
Asset CleanUp is a page speed booster plugin that can remove the unneeded JS or CSS files of your WordPress site. Yes, it makes the HTML source code cleaner by preventing the needless styles and scripts from loading.
Pros
Removes the conflicts between the plugins and theme

Decreases the number of HTTP requests loaded

Works well with the Cache plugins
Heartbeat Control
You might experience the "WordPress Admin Ajax Slow" issue, and it is due to the WordPress Heartbeat API feature for Autosave, Lock post edits, and much more activities between the browser and the server.
This API uses admin-ajax.php and generates several requests to the admin-ajax.php file which in turn eats up high CPU usage. All these undertakings can slow down your site, and hence you need to control the heartbeat API and lower your server resource usage.
To get this job done, you may use the Heartbeat control plugin which is considered as one of the useful WordPress plugins to speed up the site. 
Here, I would suggest you select "post editor" and set 60 seconds as the Override heartbeat frequency.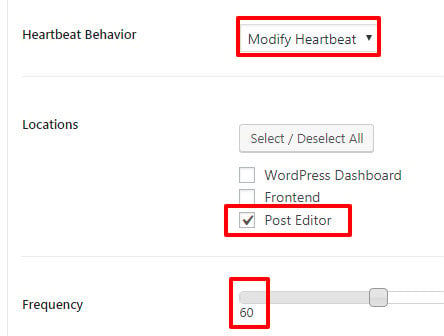 Pros
Easy to manage the WordPress heartbeat frequency.

You can disable API completely and permit for only particular location.

Heartbeat Intervals can be fixed between 15 to 300 seconds to save the server resources.
If you have installed the Perfmatters plugin, then you don't need to use this plugin to change the Heartbeat API frequency because you have the same feature to control the WordPress heartbeat over there. 
5. WordPress CDN Plugin
A CDN is essential to offer the content a lot faster for your site audience as it contains the cached version of your web pages. No doubt it will reduce the latency and RTT and make your site load lightning fast.
RocketCDN
To make the things easier for you, WPRocket has introduced a powerful CDN plugin, RocketCDN with best automatic configuration. Its integration settings are simple and yes, it can be done in a click.
As it has been receltly launched, they are offering the launch price for the first year. So, I would say that it is a great opportunity to tweak your site speed and performance grades. 
Pros
Collabrated with the high-performance CDN provider, Stackpath
Top-notch support for great assistance
Highly affordable pricing plan
Wrapping Up
Maintaining the successful WordPress website is not an easy task. Apart from creating compelling content, you have to make your site load fast to please your visitors and search engines.
Several factors can impact your load times, and hence you need to do a lot of optimization to speed up the WordPress website. When you optimize your WordPress site for speed, then it means you are making it reach its potential.
I'm sure that these WordPress plugins to speed up the site are super professional. However, you should understand that there are other ways to speed up a website for fast loading.
So, did you install the essential WordPress speed Plugins to reduce the page load time? What is your site speed score now? How fast does it load on the browser for your visitors?
Do you need any help for the WordPress Site Speed Optimization? If yes, let me know through the comment section.