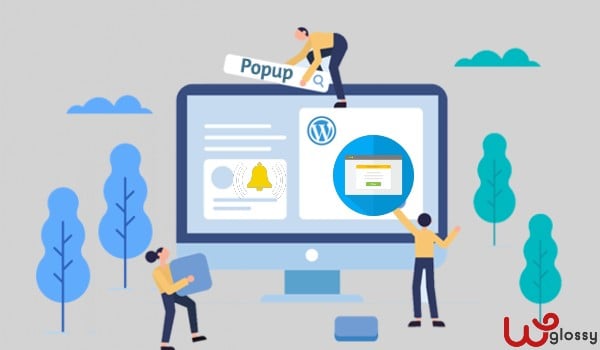 Are you looking for the WordPress popup plugin free? If yes, then you should read this post and get the details of a premium tool to add the free popup forms to WordPress.
WordPress pop up forms? Aren't pop-ups intrusive? Shouldn't contact forms be like banned already?
This isn't your thoughts!
Yours should be more like "How to add pop-ups in WordPress for free" or "How to create a free pop-up form in WordPress?"
And that's exactly what this read is going to be about – the steps to create a free WordPress pop-up form on your website!
But before that, there are a few basics we should be going through for a better understanding like "What are pop-ups?" and "Why should you be adding a WordPress pop-up form?" to your website.
And you've got the answer right below you!
What Is A Popup In WordPress?
WordPress pop-ups are nothing but the flashy windows that appear on your screen bearing information you might find useful. And it's not a given that they'll be appearing as boxes always!
Sometimes, you get to spin to win wheel pop-ups or floating bar pop-ups, which are the different kinds of pop-ups available today!
But at the end of the day, the primary goal of a pop-up (doesn't matter which type it is) is to engage visitors and, on the other hand, capture emails or help drive conversions for your business.
Pro Tip: Since you're relatively new to this whole "WordPress pop-up" thing, it's best if you start with a free version and take it slow. Because paying a hefty price to buy a plugin that you haven't used before is not a very good idea.
There are a considerable number of WordPress popup plugins that come with a free version where you can use them to drive conversion and later decide about upgrading to Pro. Speaking of which, I've also come up with a plugin you should consider using – Let's see that later!
Now, let's look at the benefits of using a WordPress pop-up form on your website!
5 Benefits Of Adding A WordPress Pop Up Form
Put aside the fact that pop up forms are obtrusive and sabotage user-experience (which is entirely untrue), adding them to your website can yield a vast number of benefits like,
1. Lead Generation
Pop up contact forms are a great way to collect leads and capture emails for your website. As it is always said, a business that has no new leads/email subscribers is known not to perish in the long run!
Using the pop-up contact forms at the most appropriate places on your website can help capture emails and grow your email list. Eventually, you can convert these leads into business by engaging with them!
2. Reduce Abandoned Carts
Abandoned carts are one of the biggest nightmares for eCommerce store owners, and WordPress pop-up forms are considered as an ideal fix to this particular long-lasting menace.
Displaying pop-ups at the time when a visitor is about to abandon his/her cart (most of the time with a coupon/percentage discount) helps reduce cart abandonment to a great extent.
3. Promote Sales Deals & Offers
The only way to increase sales on your website/eCommerce store is to let your visitors and customers know that something big is happening! And WordPress pop-up forms are just the thing that's going to help you do it.
Displaying pretty pop up forms with offers and your store happenings captures the attention of your visitors and drive sales eventually.
4. Increase Cart Value
Pop up forms are not only used for reducing abandoned carts and capturing email subscribers.
You can also increase your customer's cart value by simply upselling/recommending products using personalized pop-ups.
5. Collect Feedback And Conduct Surveys
Another great thing you get to do using WordPress pop up forms is collecting feedback and conducting surveys. Knowing what your web visitors think about your business plays an essential part in growing your business.
Create pop-up contact forms with options to leave feedback. You'll get to know what's holding your business from growing. Also, an added benefit – the email of the person leaving the feedback. It's a win-win situation.
So, that's how powerful pop-ups can get! And now, to the part which free WordPress popup plugin should be used to make stunning designs for huge conversions?
Which Free WordPress Popup Plugin You Should Use?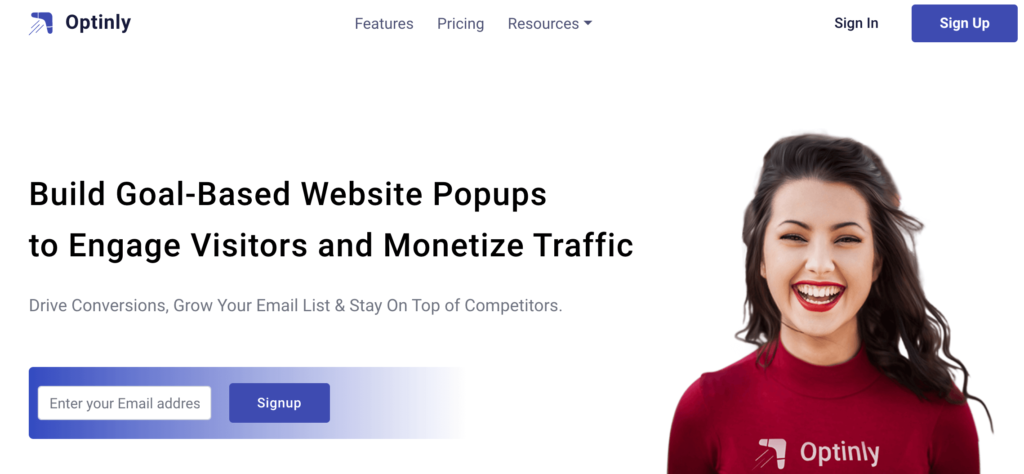 There are many pop-up plugins available today, and one can easily download one from the WordPress Repository. As for this example, I'm using Optinly to create a WordPress pop up form!
Optinly is an excellent WordPress popup plugin free that stands out from other pop-up plugins due to this one reason – pre-existing marketing goals that allow marketers & store owners to create campaigns in minutes!
Exceptional Features Of Optinly Popup Builder
Below mentioned are some of the essential features of Optinly,
Different Types Of Popup Forms – Different pop-ups for different needs. Optinly gives you six various pop-ups, like notification pop-ups, fullscreen overlays, gamification pop-ups, exit-intent pop-ups, and floating sidebars.
Advanced Popup Triggering Options – You can display pop-ups to your audience when it matters the most. You get pop-up triggering options like timed delayed triggers, page-based triggering, and exit triggers.
Powerful Targeting Options – You can target visitors based on their devices (mobiles, desktops, and laptops) or based on their previous interactions.
Growth Marketing Goals – Set your campaign live in minutes. With Optinly, all you've got to do is, choose your marketing goal, a template, and create a campaign.
Mobile-Responsive Pop-up Templates – Optinly gives you 30+ WordPress pop-up templates that are both goal-oriented, responsive, and highly customizable.
WYSIWYG Editor – The inbuilt pop-up editor is both powerful and user-friendly. You can customize pop-up templates precisely the way you want to.
Email Marketing Platform Integrations – You can integrate with 12 of the most popular email marketing platforms like Mailchimp, Constant Contact, Aweber, and more.
The free version of Optinly comes with all the features mentioned above, making it the best WordPress pop up plugin free available around!
So, we've seen the plugin you should be using to create your first pop-up form for free and now let's get to the actual steps, shall we?
How To Create Free WordPress Popup In 6 Simple Steps?
The first step you'd have to do in the process of creating a WordPress pop-up form is to install Optinly. You can simply get this done when you download Optinly from the WordPress Repository.
If you're quite not sure how to proceed with the installation steps once you've downloaded, you can find them in Optinly's docs!
Step 1 – Login to Optinly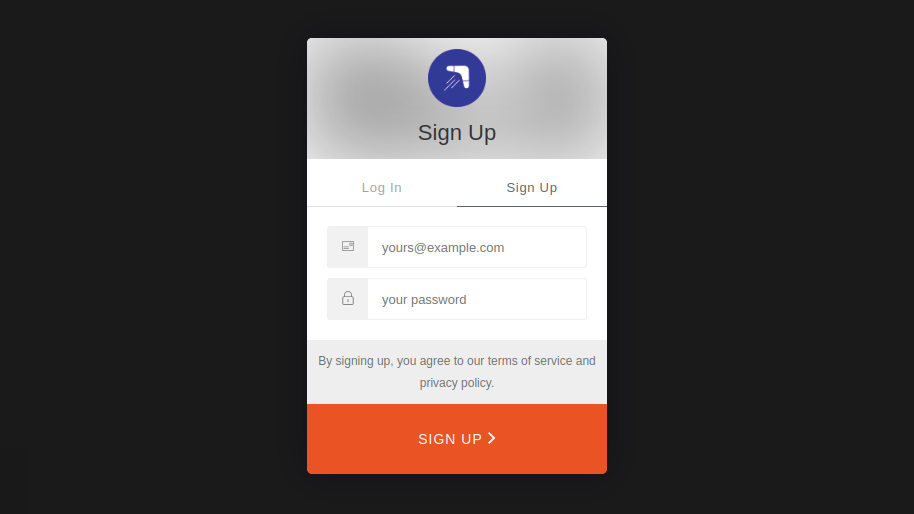 Once you have installed Optinly, head to app.optinly.com, and log in using the email-id and password of your choice (during the installation process, you might have already signed up and connected your domain with Optinly).
After logging in, you'll be taken to Optinly's welcome dashboard.
You'll be able to see the welcome message along with the "Add New Campaign" button. Click the same to proceed.
Step 2 – Choose Popup Campaign Goal
On clicking "Add New Campaign," you'll see a window asking you to choose a goal for your pop-up campaign.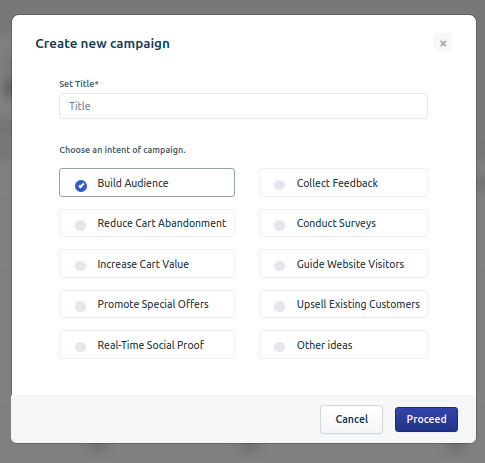 For this example, I've selected the goal "Build Audience." So, the primary purpose of your campaign will be to capture email addresses.
You can also set a name for your pop-up campaign. Once you're done, click "Proceed."
Step 3 – Choose Popup Form Type
After choosing your campaign goal, the next window appears where you have to select your pop-up form type – could be a floating bar or spin the wheel pop-up or anything you think would be ideal for your planned pop-up campaign.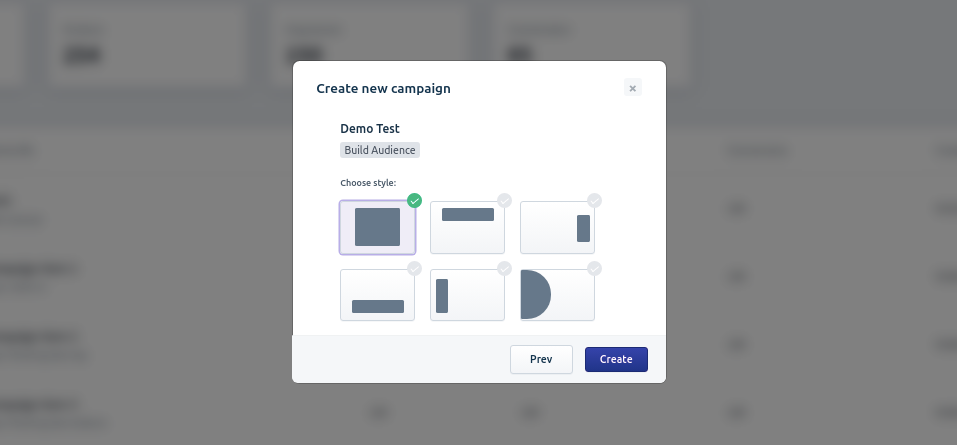 We're going with the standard type here! Click "Create" once you've chosen.
Step 4 – Choose Popup Form Template
This is the best part when it comes to Optinly. You get automatic pop-up template recommendations based on your chosen goal and pop-up form type.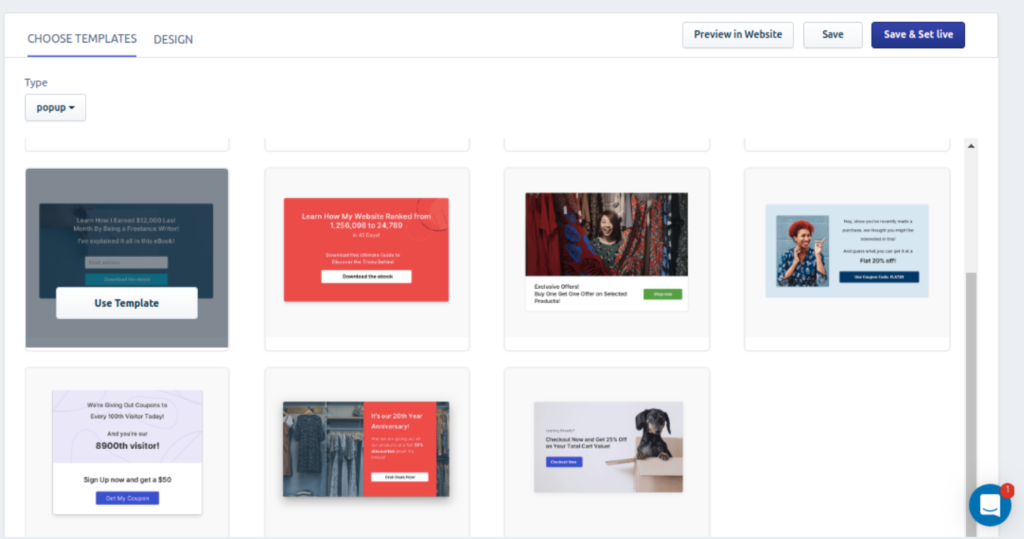 Choose a pop-up template you think would be appropriate for your campaign from the available options.
When you click "Use Template," you'll be heading to the next phase of the WordPress pop-up form creation process.
Step 5 – Pop Up Customization
You'll be taken to the WYSIWYG editor, where you can customize the chosen pop-up template the way you want.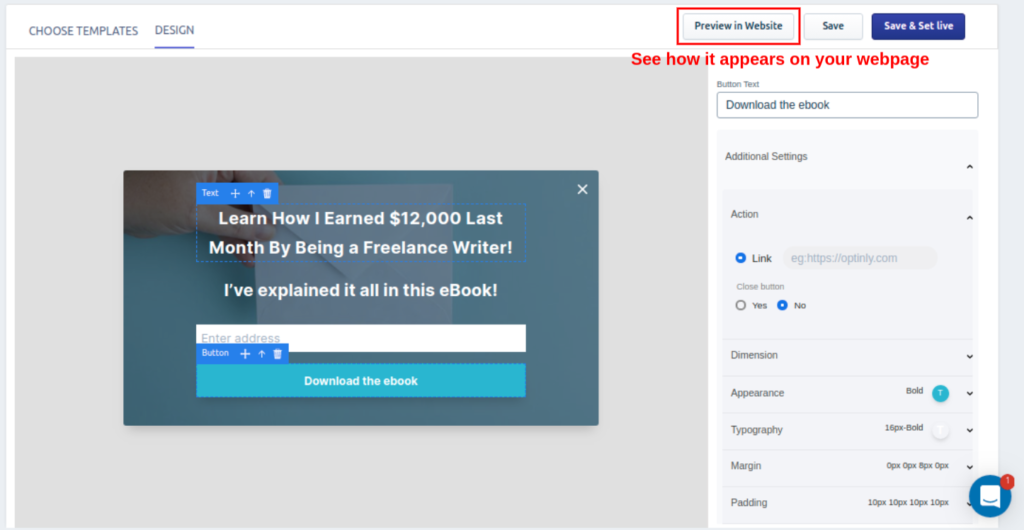 You can edit any part of the pop-up you want. Right from the background image to the call-to-action button link, everything can be customized. All it takes is a couple of clicks and a bit of creativity!
Also, you can have a live preview of the pop up on your website by clicking the "Preview in Website" button.
Step 6 – Pop Up Display Rules
This is where you get to choose when and where you've to display your pop-ups. You'll be able to see the "Display Rules" tab just below the "Design" tab. On clicking the same, you'll get a diverse range of options as shown below,
You can
Choose whether to display your pop-up form on all pages or selected pages.
Choose on which devices your WordPress pop-up form should appear – mobiles or desktops or tablets or all three at the same time.
Set triggering options from the available options.
In this example, we've chosen the time-delayed triggering option – 60 seconds after the visitor spends on a particular page.
Think, the above pop-up would be suitable for a reader in a blog post. And spending one minute on the page means he/she is exceptionally engaged with the blog. Displaying a pop-up at that moment will increase the chances of a conversion to a great extent!
Once you're all done with the display rules section, all that's left now is for you to choose your email marketing platform. As we mentioned before, Optinly comes with 10+ top email marketing platforms.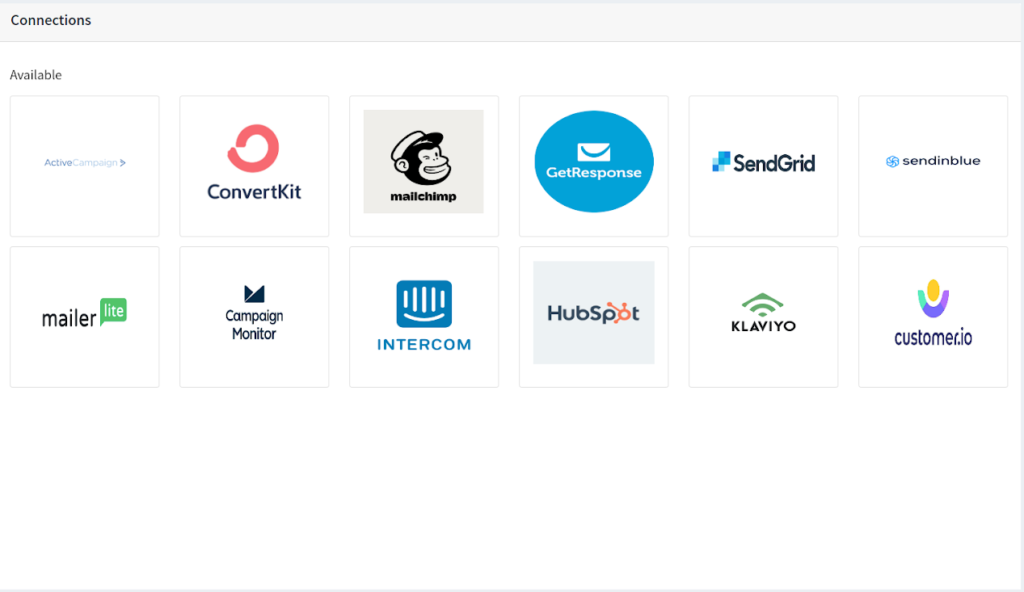 The integration process doesn't take more than a couple of minutes. You can find the steps in Optinly's integration guide.
When you have done integrating, click the "Save & Set Live" button to make your pop-up campaign live.
You'll get a success message as shown below,
It takes an approximate of 60 seconds for your pop-up campaign to go live on your website post, which you can see the changes.
Here's a sample as to how your output is going to be,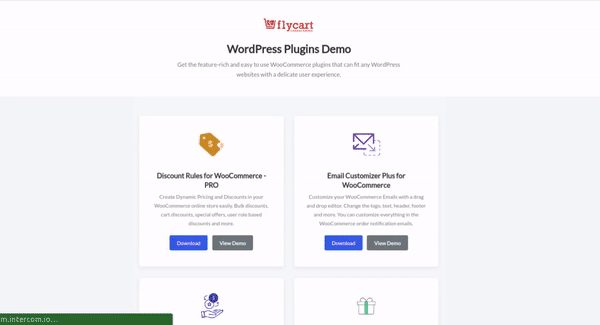 Cool right?
You've just created your first WordPress pop-up form with a pop-up plugin. That's all it takes! It's easier than said!
And if you're asking as to how the plugin costs, here you go,
Free Plan – You can as long as you want with all the features mentioned above – no credit card required.
Growth Plan – Costs you $25 per month. Connect with multiple domains and get access to all premium pop-up templates.
Wrapping Up
WordPress popup forms are a great way to capture leads and drive sales on your website.
Using them at the appropriate places can turn out to be highly beneficial – it doesn't matter whether it's to capture leads or drive sales!
When you've managed to use them right, you can sit back and watch pop-ups do the job for you!
So, you have come to know which is the best WordPress popup plugin free and how to create attractive lead forms with it. I hope you will give a try to Optinly and boost your site conversions.
However, if you have changed the mind and wanna go with a paid tool, then you may check my tutorial – how to create a custom popup optin form using Elementor pro. Good luck to get more leads.
Do you have any questions? Ask them in the comment section, I'll reply you!