Do you want to add the responsive table for your WordPress site? If yes, then this post is for you! I'm going to list some useful plugins to avoid the undesirable user experience on mobile devices and get the SEO benefits.
Let's get into the topic!
Before getting into the details of WordPress responsive tables plugins, I would like to discuss the benefits of having the responsive tables in your site content.
Why Use Responsive Table In WordPress?
In this digital era, smartphone and tablet users are increasing rapidly. A responsive table is nothing but a table that looks fit on mobile gadgets.
It aims to make the design flexible by adjusting the design to adapt to screens of different sizes. And yes, this type of tabular columns make it much easier to read, in comparison to non-responsive tables where some part of the table gets hidden.
Moreover, it has other benefits! Let's see what are they!
1. SEO Advantage
(Featured Snippet)
Google and other search engines always love the sites that have responsive design built with the premium WordPress themes and page builders. Likewise, if you use the responsive table in your content, then it is more likely to grab the featured snippet position in search results.
One of our table got featured in the Google snippet, you may have a look at it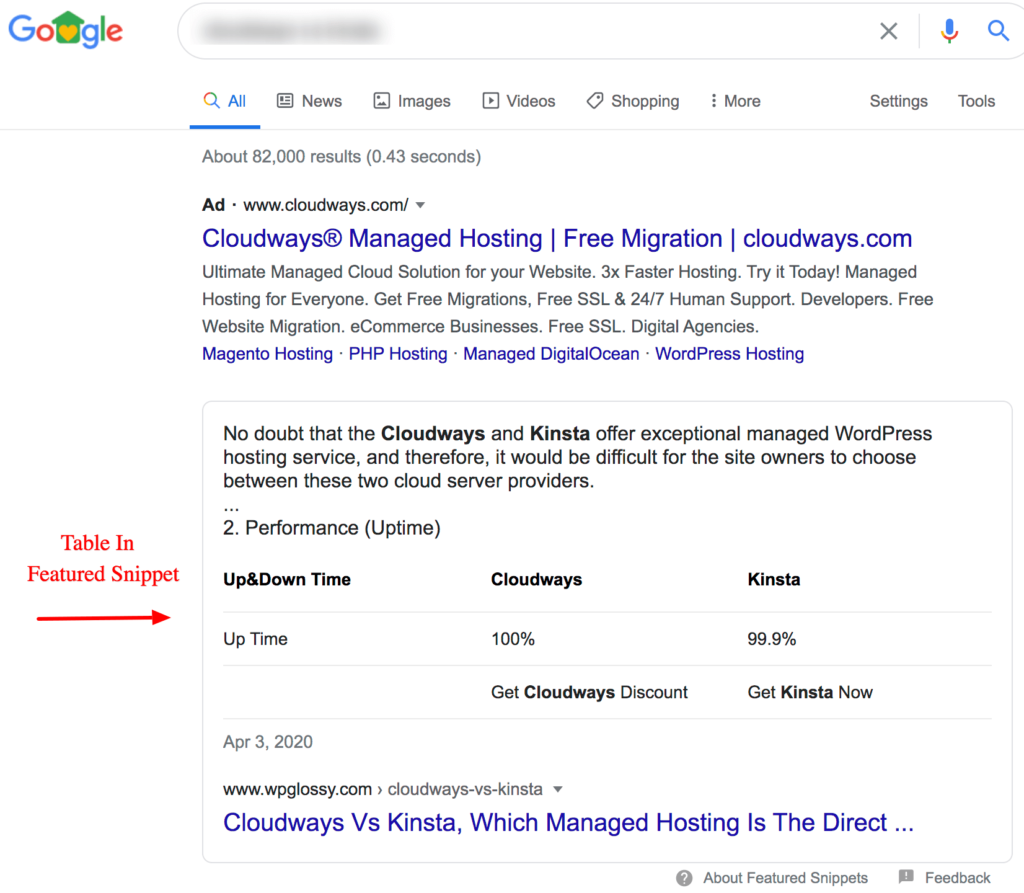 The featured snipped table improves the CTR and brings you a more targeted audience through which you can boost the revenue and increase the subscribers. Don't forget to add a WordPress responsive table in every blog post that you write.
2. Best User Experience
How we are displaying the data table on the mobile screen matters a lot! It has to be done without affecting its readability and intension, then only you can offer a great user experience for your site visitors. Do you agree with me?
When the part of the data in the table gets hide on the small-screen devices, then the readers would get frustrated and skip your website as they are not getting the required information.
When you are adding the CTAs in the table, then making the table responsive is not an option. You must execute it! Especially if you run Amazon niche website, then responsive table WordPress is very much essential to list the affiliate products with the referral links.
Hence you might want to consider including a responsive table in WordPress
6 Best plugins To Add Responsive Tables To WordPress
Below are 6 WordPress plugins that can help you add a responsive table WordPress!
1. Ninja Tables
Now, if you are a noob to the blogging business, then you might find it challenging to edit and manage your blogs. Is there a solution for this? That is where 'Ninja Tables' comes in.
This responsive WordPress table plugin that lets users build tables without having to perform any coding. What's more, users can import and export and make them responsive. Users can utilize Ninja Tables with ease and effectiveness.
Features Of Ninja Tables
Make tables responsive with ease
Choose from more than 100 table styles
Search engine optimization (SEO) friendly
Secure and Efficient with Advanced functions
Unlimited table colors and customization
Does not slow down page speed
Can be easily managed from admin panel
Quickly renders tables
Easily and quickly import and export tables
Good customer support
Frequent updates
2. WP Table Builder
Are you looking for a simple responsive table plugin? Something even easier than Ninja Tables? Fear not! That is where WPTableBuilder comes in. What truly separates WP Table Builder from the other plugins is that this table add-on nudges the users to create and manage through drag and drop features.
This makes it extremely easy to create tables, particularly Responsive tables with WP Table Builder. It is the best WordPress plugin to consider when it comes to blogging and Amazon niche sites. Even though, simple to use and it has a lot of smooth functions.
It comes with basic level features and is not advised for those who are looking for plugins that can perform advanced functions. It is one of the best WordPress responsive table plugins to create nice tables.
We are using this responsive table plugin for this blog, WPGlossy and you may have a look at the table created in just a few minutes!
Desktop Version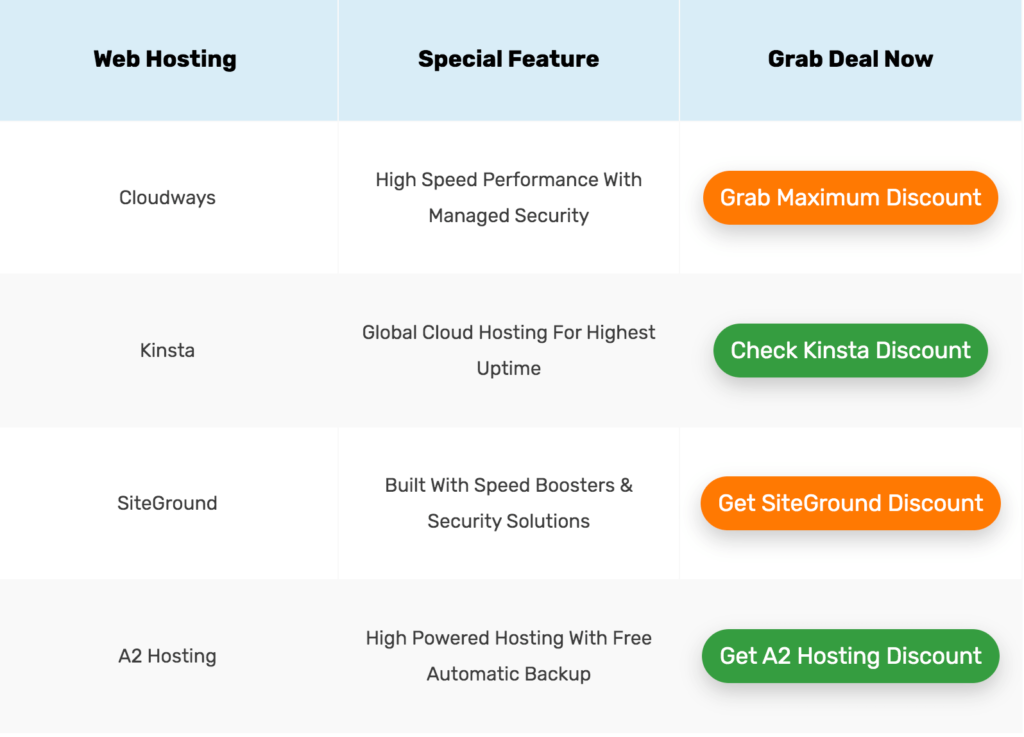 Mobile View
Features Of WP Table Builder
Simple settings and Basic level functions
Construct responsive tables easily and quickly
Drag and Drop plugin
Frequently updated
Good customer support
3. wpDataTables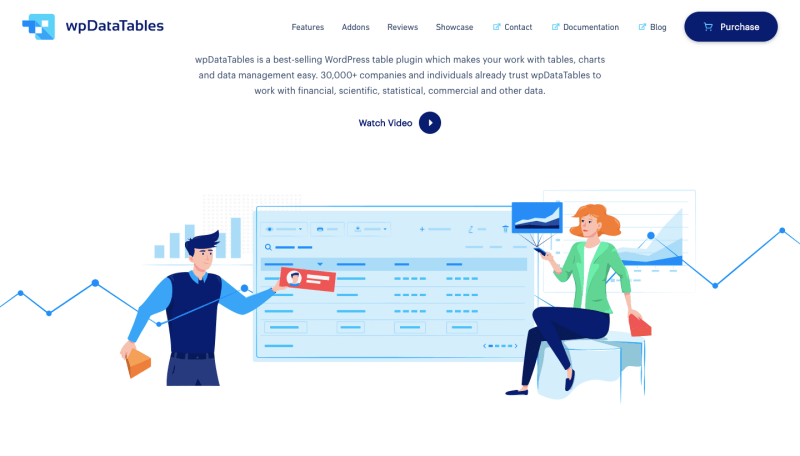 wpDataTables is a very popular WordPress responsive table generator. It offers users the ability to generate and manage tables with less strife. It works well with numerous data sources such as PHP, Excel, and CVS. Users can represent data in aesthetic tables using wpDataTables.
What is more? WpDataTables can help users generate various graphs and pie charts in coordination with Google Charts. wpDataTables comes in two versions: the regular plugin and the premium plugin. wpDataTables Premium offers users a variety of advanced functions. But for beginners, the wpDataTables regular version will suffice.
Features Of wpDataTables
Easy and Quick to use
Can create charts and tables
Create responsive tables & charts with ease
The basic version is suitable For beginners
Coding knowledge not required
Highlights Of wpDataTables Premium
Multiple databases support
Advanced filter and search functions
Can deal with vast amounts of data
Access to a premium support system
4. Visualizer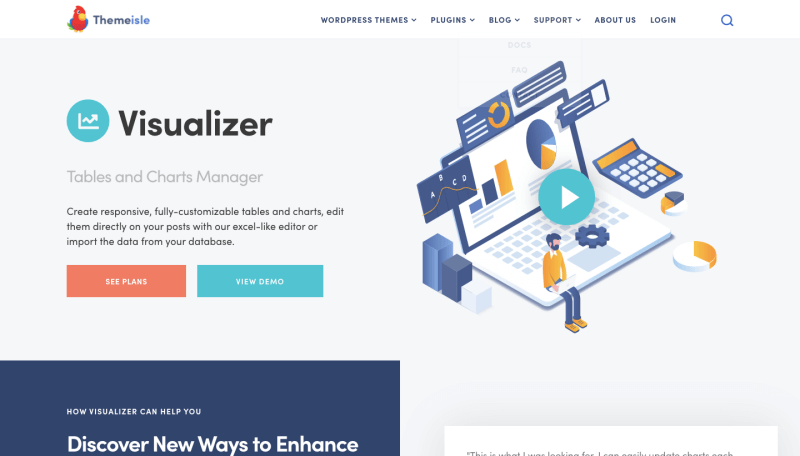 When it comes to responsive WordPress table plugin, Visualizer is as powerful as it gets. Visualizer is easy to use the plugin. It can help users create and manage responsive tables. The plugin works with Google Visualization API, ChartJS, and DataTables.net. It is the best choice if you are looking for a WordPress responsive table plugin free.
This can help users to create not only tables but also charts and graphs as well. Users can easily customize charts and tables. Data can also be imported from a variety of data sources such as CSV, Excel, and Google Sheets with ease. Visualizer has two versions: the basic version and the Pro version. The Visualizer Pro allows users to perform advanced features.
Features Of Visualizer
Flexible and customizable
Compatible with various device sizes
Enables users to import from multiple data sources
Lets users to make responsive charts and tables
Nine chart types to choose from
Qualities Of Visualizer Pro
Extra 6 chart types to choose from
Time-saving features
Perfom advanced functions
5. Magic Liquidizer Responsive Table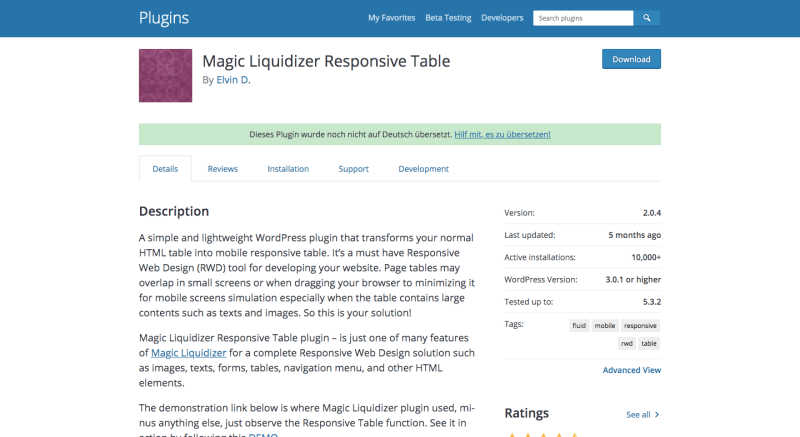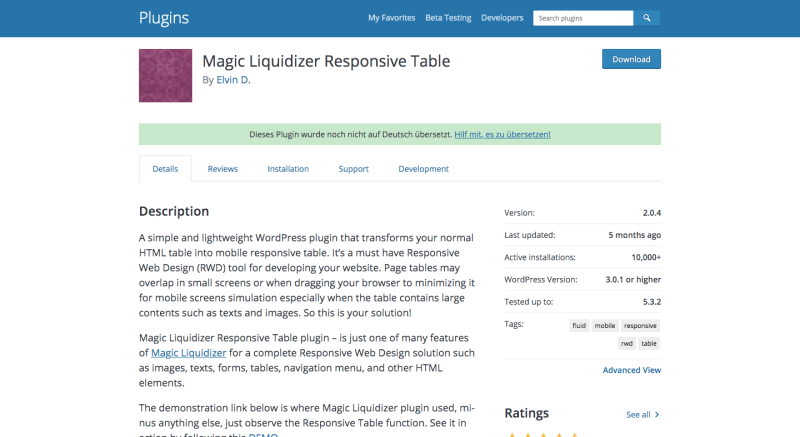 Now, are you looking for a table plugin that is suitable for both beginners and advanced users? Then the plugin that you are looking for is the Magic Liquidizer Responsive Table. With this WordPress Responsive Table extension, users can transform non-responsive HTML tables into responsive ones with ease.
This is the ultimate table plugin that you need! With Magic Liquidizer Responsive Table, users can create magnificent tables that can easily adjust to various device screen sizes and the viewer's convenience.
Features Of Magic Liquidizer Responsive Table
Simple to use
Advanced features made as accessible functions
For both beginners and pros
Create responsive tables and charts
6. JTRT Responsive Tables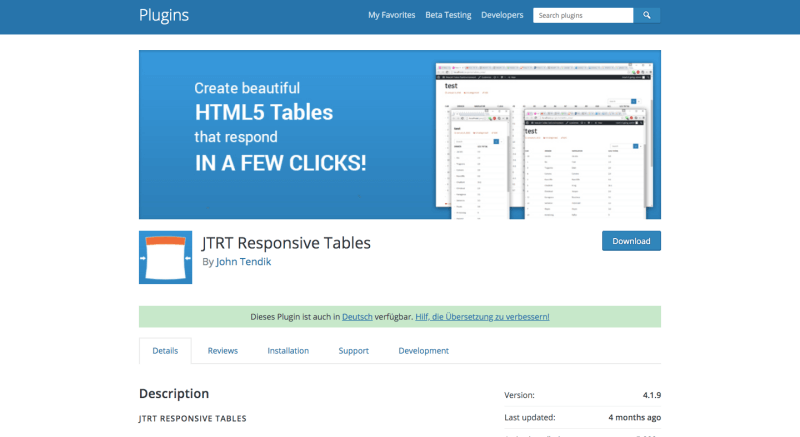 JTRT Responsive Tables is one of the most advanced table plugins when it comes to creating and managing responsive tables without the need to deal with HTML or CSS. This responsive table generator is best for advanced users.
It allows users to perform advanced functions with ease. With JTRT Responsive Tables, users can convert different types of data formats into tables and charts with ease.
Features Of JTRT Responsive Tables
Create responsive tables and charts
Convert different kinds of data into responsive tables
Hassle-free usage and to edit the table
Advanced table sorting and filtering features
No need for any coding knowledge
Wrapping Up
Suppose that you need to incorporate a tabular column into your WordPress content, all is well but what happens to the table when you view the same on a device with a smaller screen, let's say your smartphone.
Partial data may get hide and would affect the user experience. You will not get search engine visibility as well. In such circumstances, a responsive table can come to be much more useful than a rigid and non-responsive one. So, with these plugins, you can just as quickly start adding responsive tables WordPress.
You can add the mobile responsive table without a plugin, and yes, through the CSS ruleset and a bit of Javascript. However, to keep things simple, it is better using any light-weight third party extension to create the tabular column that looks appealing on small-screen gadgets.
Now, you tell! Which WordPress responsive table plugin would you like to install? Are you already using some other extension and want to go with the better one? Share your views and experience in the comment section.