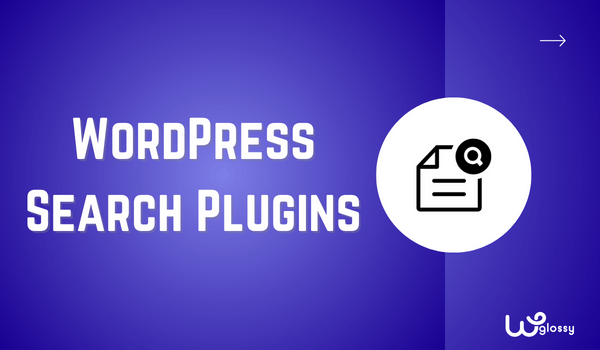 Are you looking for the best WordPress search plugins? Here's some good news, you don't need to look elsewhere about the plugins. I've researched extensively and picked these top 8 search plugins for WordPress sites.
All of these plugins are fantastic; they don't only perform well but also ensure there's no bad effect on the website. For example, many plugins can slow your website, which isn't good for user experience and ranking.
So, sit back, relax, and let me present to you the crème de la crème – the top 8 WordPress search plugins! These extensions will elevate your website's search functionality to a new level and provide a good user experience. 
Why Do You Need Search Plugins For WordPress?
Picture this: your website is brimming with valuable information, services, or products your audience craves. But without a robust search function, it's like trying to find a needle in a haystack. Frustrating, right? That's where search plugins swoop in to save the day!
Search plugins are a must-have for WordPress websites because of many reasons. The first main reason is it guides your visitors straight to the treasure trove of content they seek, providing a good user experience. 
Another benefit of having a search plugin is Google likes it. You may not know, but small things like having essential pages like about us, a clean website structure, a search box, and a contact us form are all plus points that make your website better than your competitors.
Top 8 WordPress Search Plugins To Find Needful Content
Now it's time to get into the details of WordPress's top 8 search plugins. You can read the overview and the best features. Both will help you understand which plugin is best for your WordPress website. 
1. Search WP
Search WP is always my first choice when it comes to installing WordPress search plugins. It's an all-in-one solution for providing the best user experience. What sets Search WP apart is its ability to delve deep into your website's content, including custom fields and custom post types. 
You only need to install and select the features or settings you want. For example, you can select PDF, docs, media, excerpts, posts, listing etc, for the search result. It also provides advanced features like keyword stemming that show partial match results in case of wrong spellings.
Fantastic Features of Search WP Plugin
Index PDF, Office, and text documents in the WordPress Media library.
Automatic integration with native WP search, no coding required.
Search everything, including Custom Fields, Shortcode output, and more.
WooCommerce integration for a product details search.
Easily exclude or attribute search results as needed.
Show better results with keyword stemming.
2. Relevanssi
After Search WP, my second choice is the Relevanssi plugin. It's especially for those who want a good plugin with a free version and a paid one. It's Gutenberg-friendly, meaning you won't face any issues using it. 
Relevanssi doesn't disappoint when it comes to delivering relevant search results. This is why it offers helpful add-ons, like fuzzy matching, highlighting search terms, and more, to enhance your users' search journey.
Excellent Features of Relevanssi Plugin
Enhanced search results with improved relevance
Fuzzy matching for better handling of typos
Searches through PDF content for comprehensive results
Provides keyword suggestions for user convenience
Highlighting search terms for user clarity
Multilingual support for global audiences
Compatible with shortcodes for flexible content display
Free and paid plans both are available for users
3. Fibo Search
If you have an e-commerce store and are looking for a good search plugin, Fibo Search is the best option. It was known as Ajax Search, a plugin designed specifically to solve the search issue of e-commerce websites in the past.
Thanks to the plugin, your customers can search and get results based on product titles, long and short descriptions, image descriptions, categories, tags, etc. The premium version offers fuzzy search features that work even with minor typos.
Great Features of the Fibo Search Plugin
Uses advanced algorithms to provide users with fast and accurate search results
Allow to customize the search interface to match their site's design and branding.
Fibo Search enables users to filter and sort search results based on different criteria.
Work seamlessly on all devices, including desktops, tablets, and smartphones.
Supports various indexing options, including products, images, custom fields, etc. 
The dashboard offers an intuitive interface for managing search settings and indexing.
Comes in a free and paid version
4. WP Google Search
WP Google Search is another famous search plugin. Its popularity is mainly because it caters to customers who want to use a free plugin with all its features. Moreover, the plugin can deliver visitors fast and highly accurate search results. 
Setting up the WP Google Search Plugin is a breeze. Just create Google Custom Search, get your search engine ID, paste it into the plugin settings, and you're ready. Not to forget, the results won't only be based on content, but images, excerpts, categories, tags, and so forth. 
Top Notch Features of The WP Google Search Plugin 
Integrates Google search into WordPress sites
Provides highly relevant search results
Customizable search box and settings
Mobile-responsive and user-friendly design
Allows filtering by content types, images, etc. 
Completely free and available in the WordPress plugin library
Accurate results and Quick and easy setup
5. Ivory Search
Ivory Search is a good alternative to the Search WP plugin. Both are paid, but the Ivory Search is cheaper than the Search WP. What I like about it is, despite being cheaper, it offers fantastic advanced features like premium plugins. 
For example, you can easily change what you want to show, include, or exclude in the search. It also offers features like fuzzy matching, keyword stemming, highlighting the search terms, etc., and the stop words (keywords that should be ignored to improve search results). 
Amazing Features of Ivory Search Plugin
Integration with WooCommerce and other plugins
Inclusion and exclusion of specific content
Keyword highlighting for better user experience
Custom search forms for various post types
Lightweight plugin and fast performance.
Offer free and several paid plans for website owners.
6. Advanced Woo Search
My next recommendation is Advanced Woo Search. As its name suggests, it's designed specifically for WooCommerce or, we can say, e-commerce websites/stores. It has a free version and three paid plans for personal, freelancer, and agency use. 
The best features are that it allows users to search through product names, descriptions, SKUs, categories, tags, attributes, custom fields, and variations. Installation and using this plugin is simple; download, make changes in the settings as needed, and that's it. 
Sailent Features of Advanced Woo Search Plugin
Enhanced search relevancy and accuracy for better user satisfaction.
Easy setup and customizable search settings
Search by product attributes, custom fields, variations, etc.
Support for searching within categories and tags
Comes with a free plan for individuals who don't have a big budget
Multilingual support for global audiences.
Compatibility with 30+ plugins for improved performance
7. Woof Product Search Filter For WooCommerce
Woof Product Search Filter, now known as HUSKY – Woocommerce search filter, is my other recommendation for e-commerce stores. With its feature-rich and user-friendly interface, the plugin empowers website owners and customers to find products more efficiently.
It offers a comprehensive search and filter system that enables users to refine product searches based on specific criteria like title, content, SKU, meta description, etc. All of this is available at a budget-friendly price, you have to pay once, and the plugin is yours to use. 
Best Features of Woof Product Search Filter
Comprehensive search and filtering system
Seamless integration with WooCommerce widgets and shortcode
Refine searches by attributes, taxonomies, price ranges, categories, and tags
Mobile-responsive design for consistent user experience on all devices
Multilingual support for global audiences
Available in free and paid versions.
8. AJAX Search Pro
Last, you should also consider the AJAX Search Pro plugin. It's a fantastic plugin that's inexpensive and comes with a lite version. The AJAX Search Lite is the free version of the same plugin; you can easily download it via the WordPress plugin library. 
The premium version has all features you could have asked for to provide a good user experience with the search bar. Along with the features, you'll get six months of support and lifetime updates for your plugin.
Notable Features of AJAX Search Pro Plugin 
Searches custom post types, fields, attachments, PDFs, text, and more.
Supports all languages, including special characters from Chinese, Hebrew, Hindi, etc.
Works seamlessly with Elementor, Divi Builder, and so forth.
Supported by tutorial videos, documentation, and a Knowledge Base for users.
Allow you to choose between fuzzy or exact matches or even have both.
Caches repeated search results to reduce database usage and save server resources.
Three Search Plugins I Recommend – Why They're The Best?
After reading all reviews, you must think about which one you should choose among all search plugins, right? I understand all WordPress plugins have enticing features that make the decision difficult. So here are my top 3 suggestions: 
Search WP (Paid)
AJAX Search Pro (Free & Paid)
Relevanssi (Free & Paid)
My top recommendation is Search WP (I'm using it on my websites); it's the best. No matter whether you're looking for a plugin for a personal blog, professional website, or an e-commerce store. However, it has only a paid version and is expensive. 
The same goes for AJAX Search Pro; it's also an impressive plugin with tons of features; you have to pay for it (it's less expensive, though). You can use the Lite version (AJAX Search Lite); it's free, don't expect the same features as the Pro version. 
Then comes the Relevanssi search plugin. It's suitable for anyone who doesn't want to buy or subscribe to the plugin. This plugin has a free version, and paid ones both work well, but the premium one has more advanced features. 
Frequently Asked Questions (FAQs)
How do I add a search plugin to WordPress?
Follow the steps below to add a search plugin to WordPress.
Login to your WordPress admin panel.
Find the option plugins in the dashboard and click on "Add New."
Search for the plugin you're looking for, like AJAX Search Lite, Relevanssi, etc. 
Click on download, then activate it.
How do I improve my website search results?
The best way to improve website search results is by using a powerful search plugin. The plugin should offer advanced features like fuzzy matching, autocomplete, and support for custom post types, etc. Below are the few best WordPress search plugins I recommend: 
Search WP. (Paid) – best for all websites
Relevanssi. (Paid & Free) – best for all websites
Fibo Search (Paid & Free) – best for e-commerce store
Wrapping Up
So, I have concluded my guide about the eight best WordPress search plugins to find your preferred content. Although I like all of these plugins, I suggest considering the three plugins I recommended above; they're the best among all. 
You can go with the free or paid version as per your requirements. It's best to use the free version of the search extension for at least a few weeks before purchasing the paid version. This way, you'll know which one meets your requirements.