Are you looking for the best live chat plugins for WordPress? If you are, keep reading this article. Here, I will show you the top seven live chat plugins you should check out!
When you run a customer-centric business like an online store, you should focus on boating the user experience. A better user experience will give you great conversion rates.
By default, when a customer or website visitor must clarify doubts before purchasing your product/service, comment or contact forms are the only way.
But, as you know, it will take longer for you to get back to the customer through email and close the deal. When you respond too slowly, that's a lost lead.
Implementing live chat on your website is the best thing to do in this situation. But many tools are available to add live chat to a WordPress website. Which one should you choose?
To help you with the process, I will cover the top seven live chat plugins for WordPress in this article. Keep reading this post while looking for a complete list of reliable tools.
But first, let's see how a live chat plugin can help the site owners!
Why Use a Live Chat Feature on Your Website?
Using a live chat widget comes with several advantages. They are:
Improve conversion rates: Some customers might need clarification with their purchase decision. Convincing them to complete the purchase will help you improve the conversion rates.
Improve user experience: The user experience can be improved using a live chat plugin. When offering a service or product that's available for sale, a live chat widget could be helpful.
Competitive benefits: Use the live chat widget when you have competitors and need to outrank them in sales.
Real-time interaction: Since you are chatting with a user in real-time, you can quickly solve every question they have. Personalization options are always best for an excellent support team.
Upselling options: Upselling is an option to sell more products apart from the first customer order. When implementing a live chat plugin, you have unlimited opportunities for upselling.
Next, let's see what to look for in a WordPress live chat plugin.
What To Look for In a Live Chat Plugin
Before you select a live chat plugin for your WordPress website, consider these facts:
Features: Using a feature-rich plugin will always help you. This way, the store admin offers excellent support for your customers/website visitors.
Ease of use: A great WordPress live chat plugin with hassle-free configuration. This will help you configure/modify the live chat feature as you need.
Integrations: To make the live chat feature more powerful, you could integrate the feature with third-party tools. This will help you improve the workflow and offer better support.
Reporting & Analytics: The reporting and analytics feature could be a good addition to know how the agents are doing. This will also show you the customer's/website visitors' feedback.
Agents: Some plugins will limit the support agents on their platform. So, look for how many agents the live chat plugin supports.
Support offered: While you need help with the live chat plugin, consider contacting the support team. A live chat plugin with an excellent support team would be a plus.
Pricing: Ensure the plugin selected by you is affordable. You do not need to spend $50/month on a live chat plugin while you handle a small online store. So, check the pricing options before choosing the plugin.
Now you know what you need in a live chat plugin. The next section will show you the top seven WordPress live chat plugins you should use.
Best Live Chat Plugins for WordPress
In a nutshell, the plugins I am going to cover are:
LiveChat
JivoChat
Tidio
Live Chat by Formilla
HubSpot
3CX Live Chat
Tawk.to
Each WordPress plugin comes with unique features. Below, I will explain what makes each live chat plugin different. So based on your preferences and requirements, choose a WordPress plugin.
Without any further ado, let's get into the list.
1) LiveChat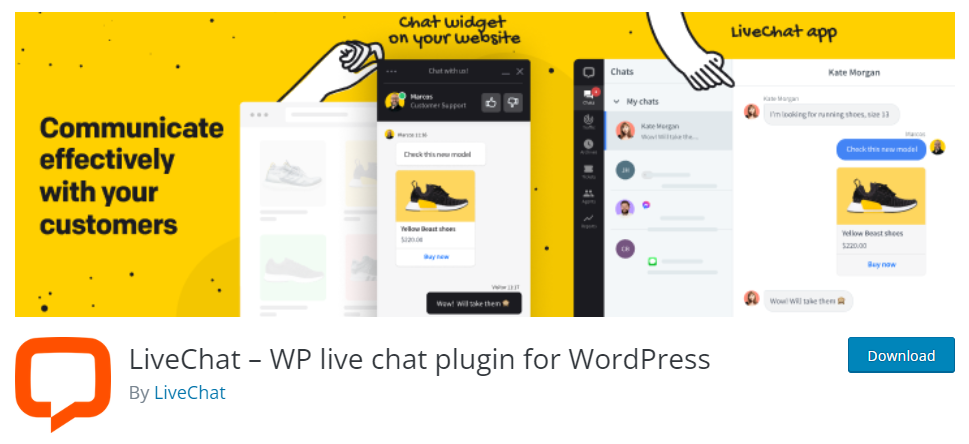 When your main priority is the best live chat plugin for WordPress, you should check out LiveChat. LiveChat is one of the feature-rich WordPress plugins I have tested so far! The notable features of LiveChat are direct chat links, canned responses, and agent ratings.
The direct chat link feature lets the support agent send visitors to any web page you like. This will help every WooCommerce store and support staff redirect customers to documentation archives. The canned responses are another great feature that can be helpful for the business.
The agents can simplify their job by setting up pre-configured messages and assigning them to shortcuts. So, use these shortcut keys to send repetitive texts. It works well with greetings or something similar you use on every chat. The agent rating will help your company understand how each agent handles the conversations.
With the LiveChat plugin, store admins can make better decisions. Since the WordPress plugin can handle the complete chat history of your business, the admin can always find older messages without any hassle.
Notable Features of LiveChat
Direct Chat Link
Ticketing system
Canned responses
Inactivity message
Unlimited chat history
Agent rating
Pricing
LiveChat is a premium tool! Their basic subscription starts at $20/month, ideal for every small business owner.
2) JivoChat
When you need an easy-to-use live chat plugin for your website, check out JivoChat. Once you have added JivoChat to your website, start customizing the chat widget. The development team has added more than 20 languages inside the plugin too. So, no matter if you run a multilingual blog, JivoChat got you covered.
Apart from the WordPress website, the JiVoChat WordPress plugin also connects with social media handles like WhatsApp, Facebook, Instagram, Telegram, Viber, etc. This will help you serve customers interested in your business from a single dashboard.
JivoChat also has call support. Sometimes, the live chat won't be enough. The agents can offer better support by phone. Another notable feature is the chat transferring potion. Using this, transfer cat between agents to ensure maximum customer satisfaction. Some companies will have level 1 and 2 tech support teams. This option would come in handy in those situations.
Notable Features of JivoChat
Multichannel tool
Send files to customers
Spam protection
Transfer chat between agents
Export reports to Excel
Customizable chat widget
Pricing
JiVochat is a freemium solution. The free version plan lets you respond to customers through chat and messenger. The premium subscription starts at $19/month, and it unlocks more powerful features.
3) Tidio
Tidio is another excellent tool to add live chat to your WordPress website. It can help you boost sales effortlessly. Also, this chat plugin can be integrated with Facebook and Instagram Messenger.
One of the most advanced features of Tidio is the live typing option. With the live typing feature, the agent sees what visitors or customers are typing before they hit the send button. This feature will help you prepare your reply beforehand and ease the job. The Tidio WordPress plugin can also be integrated with third-party apps like Google Analytics, Mailchimp, etc.
Canned response is another cool feature offered by Tidio. Since the WordPress plugin also supports multiple languages, you display text in the widget in various languages. The visitors can choose their preferred language.
Finally, multisite support is another excellent feature offered by Tidio. With this, the store owner displays the widget on multiple websites and handles every chat from the same dashboard. This will help you improve your productivity.
Notable Features of Tidio
Analytics
Multisite support
Multilanguage
Live typing
Integrations
Canned responses
Pricing
Tidio is a freemium tool. Their premium version starts at $29/month.
4) Live Chat by Formilla
The next one on the list is Live Chat by Formilla. Formilla is one of the best platforms out there for better customer support. With its WordPress plugin, WooCommerce store admins can seamlessly add a live chat feature to the website. Creating agent accounts based on your requirements and handling unlimited chats would be simple.
The customization options inside the chat widget allow you to tweak the widget's appearance and match it with your brand colors. Since the banned feature is available in LiveChat by the Formilla WordPress plugin, agents can restrict specific visitors who are spamming the live chat widget. Another notable feature of Live Chat by Formilla is the Zapier integration.
Once you have completed the Zapier integration, connect the platform with 2000+ third-party apps and services. Also, it is possible if you have dedicated departments and need to organize your chat agents accordingly. Formilla also got a feature where the admin can add a custom bot to the chat. These bots will work efficiently to help you improve the customer experience.
Notable Features of Live Chat by Formilla
Unlimited live chats
Custom branding
Third-Party integrations
File sharing
Visitor monitoring
Custom bots
Pricing
Formilla is a freemium tool. With the free subscription, you can have one agent. The premium subscription starts at $13.99 a month.
Get Started with Live Chat by Formilla
5) HubSpot
If you have been in the marketing field for a while, you probably know HubSpot. HubSpot offers multiple tools like CMS, marketing, service, eCommerce, etc. With the live chat feature provided by HubSpot, boosting your sales and conversion rates would be easy. Always tweak the design of the live chat widget based on your brand colors.
Another notable feature of the WordPress plugin is the ability to provide real-time support with the widget. On top of that, if you need to do technical things like chat automation and routing, that are possible too. The chat routing option will allow you to transfer the chat to the right person.
Everything will be simple since the HubSpot live chat plugin can be integrated with the HubSpot CRM. It will help your team understand more about the visitor and complete the deal.
Notable Features of HubSpot
All-in-one marketing solution
Reports and tracking
Chat routing
Automation
Customization
Contact capturing
Pricing
Live Chat, offered by HubSpot, is a free solution. When you need more powerful marketing features, their subscription starts at $18/month.
6) 3CX Live Chat
Here is another live chat tool to install on your WordPress website – 3CX Live Chat. Use this WordPress plugin when you prefer a hassle configuration with decent features. The chat widget is also 100% customizable. So, match the widget with your website's design.
The reporting feature is excellent. With it, the admin can see how agents are doing on chat. Plus, connect your WhatsApp and Facebook with your 3CX account. This way, you handle your live chat and social media chats more efficiently.
3CX also has Android and iOS applications. You also have the option to convert every website visitor into leads in the CRM. This way, take your lead generation efforts to the next level. Another notable feature of 3CX live chat is the grouping option.
Grouping specific chats for better organization is another feature the live chat platform offers. Adding video/audio opinions to your live chat widget will also work.
Notable Features of 3CX Live Chat
Fully customizable
Real-time support
iOS and Android applications
Groups
Social media integration
Reporting
Pricing
3CX is a freemium tool. Their premium subscription starts at $175/year.
Get Started with 3CX Live Chat
7) Tawk.to Live Chat
When your main priority is a free-to-use live chat WordPress plugin, you should start using Tawk.to Live Chat. Tawk.to comes with apps for Android, Windows, Mac, and so on. So, interact with your customers from any device you have. Since the WordPress plugin is easy to configure, start using the live chat feature within a few minutes.
There are 27 languages available, which is great. So, it can be used by anyone around the world. Also, the ability to add unlimited agents to this platform is excellent. While you are running a big company with multiple agents, this could be a good addition. Once the chat is ended, the customer/visitor can also rate their overall experience.
Unlimited history will allow you to review old chats and find specific information. The platform also comes with top security features in mind. Hence, there won't be any data breaches. The next exciting option Tawk.to has is the visitor banning option. This option will prevent specific people from accessing the chat widget.
Notable Features of Tawk.to Live Chat
Easy to configure
Custom apps for every device
Personalization
Great support team
Real-time monitoring
Geo IP tracking
Pricing
Tawk.to Live Chat is a free tool.
Get Started with Tawk.to Live Chat
Frequently Asked Questions
Now, let's look at some of the frequently asked questions regarding live chat and WordPress's top live chat plugins.
Which One Is the Best Facebook Live Chat Plugin for WordPress?
Most live chat plugins available in the market can be connected with Facebook. Once you have connected your business page, you can respond to messages you receive on Facebook. A good plugin that comes with this feature is JivoChat.
How Much Does a Live Chat Plugin for WordPress Cost?
The cost of a live chat plugin depends on the selected platform. Some of the tools will charge you based on the agents you have. Others, on the other hand, will charge you a fixed monthly fee as a subscription fee.
Is There Any Free Live Chat Plugin for WordPress?
Yes. You can find several free live chat plugins you can use to add a live chat feature to your WordPress website. I have discovered Tawk.to, which is free and has every feature you need. You can test the platform and see how the tool works for you.
Conclusion
When running an online store or offering service to clients, adding a live chat widget to your website would be a good idea. As you have seen in this article, many live chat plugins are available for WordPress.
LiveChat is a feature-rich option if you prefer a powerful live chat tool for WordPress. On the other hand, if your main priority is an easy-to-use setup, choose any tool like HubSpot, Tidio, JivoChat, etc.
All the tools are easy to set up and come with decent features. If you are looking for a completely free solution, Tawk.to is a good option. However, you can choose one according to your preferences. Which tool will you use to implement live chat on your WordPress website?