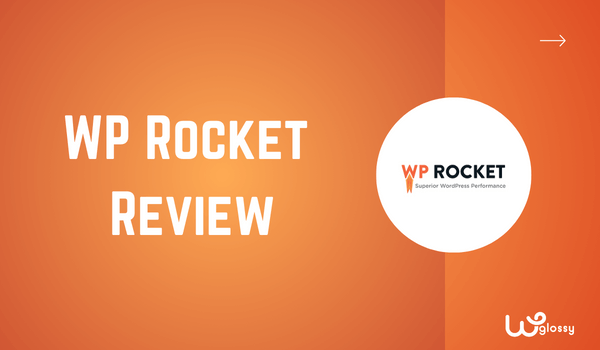 This post is a comprehensive guide to WP Rocket Review 2023. In this article, you will learn about the WP Rocket cache plugin, How it can improve your site's ranking, Real-life examples, and much more.
Cache plugins save the static version of our content and store it in local storage. When a user comes to your site, the cache plugin will automatically display cached data that has already been saved by the plugin, significantly reducing the time compared to dynamically generated data.
When you update your content, the plugin will update its cached data to provide users with up-to-date content. But the question is, why should we be concerned about content load time and web performance?
Google has already announced that page speed is now a ranking factor. If your site's speed is slow, it will positively impact your overall ranking as the side loading speed is directly related to the user experience.
Moreover, research has shown that nearly 70% of people click the back button if a site takes too long to load. This increases the bounce rate and affects your search engine rankings, which in turn reduces the number of users to your website.
Here's where cache plugins such as WP Rocket come into play. They bypass the system between the server and the database, showing data stored in local storage and significantly speeding up web content loading.
Wp Rocket plugin offers additional features to improve your site, such as image optimization, JavaScript minification, and reducing server requests. These features help to improve core web vital, which are an essential part of your website.
Core web vitals are metrics that measure web performance, including three main metrics:
Largest Contentful Paint
First Input Delay
Cumulative Layout Shift
These metrics focus on web load time, user experience, interactivity, and content layout. We will talk in detail about this topic. So, let's dive into this fantastic post.
What is the WP Rocket plugin?
Before jumping into WP Rocket Review, it's essential to grasp how a website works. When a user visits your site, it sends a request to the server and receives the requested page from its database. This entire process takes time to load page content and necessary elements.
Now that we understand what a cache plugin is and how it works, let's address which one is best. WP Rocket is now the number one cache plugin for improving site performance, and it's not just me saying this.
Jonathan Buckley, the owner of a WordPress management agency, has this to say about WP Rocket: "I have installed and configured WP Rocket on more than 30 websites and found it the most effective solution."
Essential Features of WP Rocket
WP Rocket has many features to offer, and in this article of WP Rocket Review 2023, we will explore some of its best features to enhance your website's performance. Let's get started.
Easy-to-Use Interface
WP Rocket's interface is incredibly user-friendly. After activating the plugin, you will find the WP Rocket tab on the left side of your WordPress dashboard. Here, you can access a comprehensive list of features, including the cache tab, optimization tab, and CDN tab.
Click on the section you want to explore, and you'll see all the options on the screen. Choose which options you wish to enable and which ones you don't.
File Optimization
First, input delay can occur due to JavaScript files and CSS files. The good news is that WP Rocket provides solutions in the file optimization tab, addressing this issue in three ways:
Minify JS and CSS Files: WP Rocket minifies both files by removing white spaces and comments. After minification, these files may be unreadable to humans but are optimized for computers.
Combine Files: This option merges all CSS and JavaScript files, reducing the number of HTTP requests and significantly speeding up your server's response time.
Load JS and CSS Deferred: The first input delay happens due to delayed loading. WP Rocket defers file loading until all the content elements are not loaded.
Media Optimization
Images and videos have a significant impact on web performance. WP Rocket's media optimization features are helpful for that.
Lazyload: This feature allows images to load when users scroll to them rather than all at once when the page loads. This improves page loading speed.
Image Dimensions: WP Rocket eliminates layout shifts by specifying image dimensions, as discussed in the Cumulative Layout Shift section.
Imagify: This tool compresses and resizes images without compromising quality, reducing page size and improving load times.
Database tab
Your site accumulates unnecessary data as it grows, such as old drafts, revisions, spam comments, and trashed posts.
This data can slow down your site and increase loading times. WP Rocket's database cleanup add-on lets you remove this redundant data. You can also set it to automatically clean up your database at a specified period (daily, monthly, yearly).
Cache Optimization
WP Rocket optimizes various types of caches:
Browser Cache: WP Rocket creates a static cache version in users' browsers, allowing for faster loading when they revisit your site.
Preload Cache: This feature generates a cache for your website based on its sitemap. When users visit your site for the first time, it's already preloaded.
Preload Fonts: this add-on caches fonts and avoids layout shifts that occur due to different sizes of fonts.
Mobile Cache Optimization: With most users browsing on mobile devices, WP Rocket creates a mobile-optimized cache version of your site for improved mobile performance.
Support
Wp Rocket only has a premium plan, allowing them to focus on support. However, they can't provide live support such as chat or call. Instead, you can send a message from the WordPress dashboard by opening its help desk menu.
Furthermore, WP Rocket guides have most of their documentation embedded with the tabs. Just click on 'need help,' and you will get a guide on how to use that specific feature.
According to the community, most users are satisfied with its support.
WP Rocket offers premium plans, allowing them to focus on providing high-quality support. They can't offer live charts or call support. You can contact them by opening a support ticket.
The WP Rocket guides and documentation are comprehensive and easily accessible, guiding using specific features.
Test WP Rocket
Without this, the WP Rocket Review is incomplete. It's time to test the website and provide real-life examples. We have selected two tools: GTmetrix and PageSpeed Insight. Both are widely used tools for assessing website performance.
Let's start by testing with GTmetrix.
GTmetrix Test:
Here, we tested our site without the WP Rocket plugin, and here are the results:
Next, we tested the site with WP Rocket's default settings. You can see the significant performance improvement: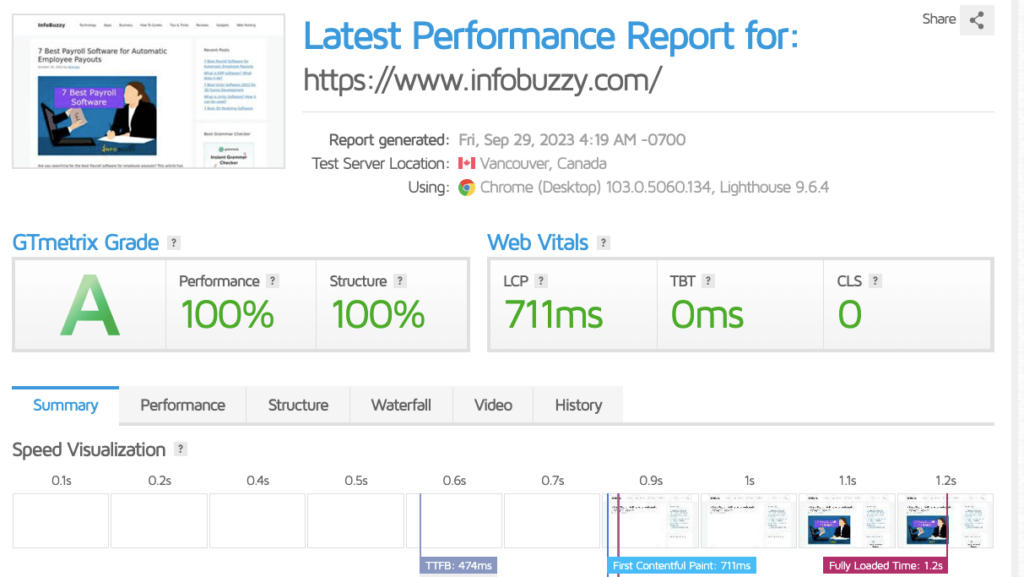 Below is a table for comparison:
| | | |
| --- | --- | --- |
| Metrics | Before | After |
| GTmetrix score | 95% | 100% |
| Performance | 95% | 100% |
| Largest Contentful Paint | 1.1s | 711ms |
| TTFB | 545ms | 474ms |
| CLS | 0 | 0 |
You can check on Google PageSpeed insights. This tool is slightly different from the GTmetrix. It not only scores the site but also provides suggestions. One of its best features is that it analyses the website for mobile and desktop versions.
You can check on both tools and better analyze what creates problems and how you can tackle them using WP Rocket.
Plans and Pricing
This section is crucial for deciding whether the plugin is worth purchasing and selecting a plan that suits your website's needs. Let's focus on a brief overview of the plans and pricing.
WP Rocket offers three plans based on how many websites you want to use the plugin for. Here is the list:
For one website: $59/year
For three websites: $119/year
For unlimited websites: $299/year
All the plans are almost the same, differing only in the number of sites you can use. The features are the same for all paid plans.
One offer that WP Rocket provides is a money-back guarantee. You can try this cache plugin for 14 days, and if you're not satisfied, you will get a refund.
Another aspect of these plans and pricing is that you can't upgrade the support level of the team. You will receive the same level of support at every stage.
WP Rocket offers CDN and image compression features, but they cost additional.
1. CDN: A Content Delivery Network with multiple locations worldwide stores data from the hosting server. When a user visits a site, the browser receives data from a CDN location rather than the hosting server location. This reduces the time it takes to retrieve data from the hosting server to the user's location.
WP Rocket includes CDN features, but you will pay $8.88 per month per site, regardless of your chosen plan.
2. Image Compression: Imagify is an add-on that optimizes images. It compresses and resizes images, helping to reduce the size of web content (pages or posts) and load them faster. Significantly, it compresses files without compromising image quality.
This add-on costs $4.99/month. Like CDN, you will pay $4.99 for every site, regardless of your purchased plan.
If you opt for a yearly plan, the cost will be reduced compared to the monthly plan. Here's a breakdown of plans that include both features:
WP Rocket Cache + Rocket CDN + WP Rocket Imagify = Full WP Rocket for a year
$59.00 + $89.99 + $49.90 ≈ $200 for a single site per year with CDN and Imagify.
Pros and Cons of WP Rocket
Here's a breakdown of the advantages and disadvantages of WP Rocket:
Pros:
Easy to set up, configure, and use.
Necessary settings are already configured by default.
14-day money-back guarantee if you're unsatisfied.
Excellent support and extensive documentation.
It has a user-friendly interface, and you don't need any skill to use it.
It has many features, such as lazy loading, reducing the need for additional plugins.
Cons:
There is no free trial; you must pay to try the plugin.
Live support options like chat or phone are not available.
Additional costs for CDN and Imagify may add up.
Unlike some alternatives, WP Rocket does not offer a free version.
WP ROCKET VS. W3TC VS. NITROPACK
In the review of WP Rocket, Let's do some comparison analysis between the three most powerful and popular cache plugins:
| | | | |
| --- | --- | --- | --- |
| Feature | WP ROCKET | W3TC | NITROPACK |
| Cache | Yes | Yes | Yes |
| Page Caching | Yes | Yes | Yes |
| Browser Caching | Yes | No | Yes |
| Database Optimization | Yes | No | Yes |
| Cache Preloading | Yes | Yes | Yes |
| Minification | Yes | Yes | Yes |
| Mobile Detection | Yes | Yes | Yes |
| Free Version | No | Yes | Yes |
| Pricing | $59 | $99 | $210 |
FAQs on WP Rocket Review 2023
Q: What are the pros and cons of WP Rocket?
Ans: WP Rocket offers many advantages, such as excellent support and ease of use, but it also has some drawbacks, including additional costs for CDN and Imagify and the lack of a free version.
Q: Can I use WP Rocket for free?
Ans: No, WP Rocket does not provide a free version of its plugin. However, it does offer a 14-day money-back guarantee.
Q: Which is better, W3TC or WP Rocket?
A: WP Rocket's premium plan is better than W3TC. If you have the budget, WP Rocket is the better choice. However, for beginners, W3TC is a suitable alternative.
Q: Is Rocket CDN good?
A: Rocket CDN is a leading content delivery network and works seamlessly with the Rocket Cache plugin to improve web performance.
Q: What is the best caching plugin for WordPress?
A: WP Rocket is considered one of the best caching plugins for WordPress. It offers a wide range of features that can reduce your work.
Wrapping Up The WP Rocket Review
In summary, WP Rocket is one of the best cache plugins for improving web performance. Its wide range of features helps your website in various ways, such as optimizing images and videos and providing a CDN to improve page load times.
Additionally, features like browsing cache and preloading cache provide faster results. WP Rocket focuses on core web vitals by offering options such as minifying JavaScript and CSS files and deferring files.
WP Rocket's excellent support has made it more popular than other plugins. It will be the best choice for WP Rocket if you have a budget. You now have all the information on the WP Rocket Review. You must decide whether this WordPress plugin is the right choice for your website.