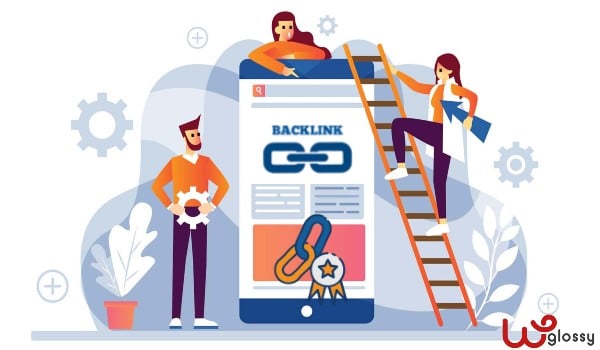 So, you want to build backlinks for Fashion blog! You have arrived at the right place to implement the best link-building strategies for your fashion website.
Backlinks are still one of the most important ranking factors in Google. However, get links for your site from trusted and relevant blogs & websites.
In simple words: More Authority backlinks = Higher SEO Ranking.
But getting backlinks for a fashion blog is not an easy task. Because Google has become too bright these days, and you can't even think of building backlinks using some spammy techniques.
Here's why in this post, I'm going to share with you seven proven link-building strategies that will help you to
Get higher search engine rankings.
Improve your blog authority.
Bring referral traffic to your blog.
Build a relationship with others in your niche
Boost your sales and subscriber count
So without wasting any further time, let's dive in.
7 Ways To Get Powerful Backlinks For Your Fashion Blog
A study by backlinko found that pages with lots of backlinks outrank the pages that don't have many backlinks.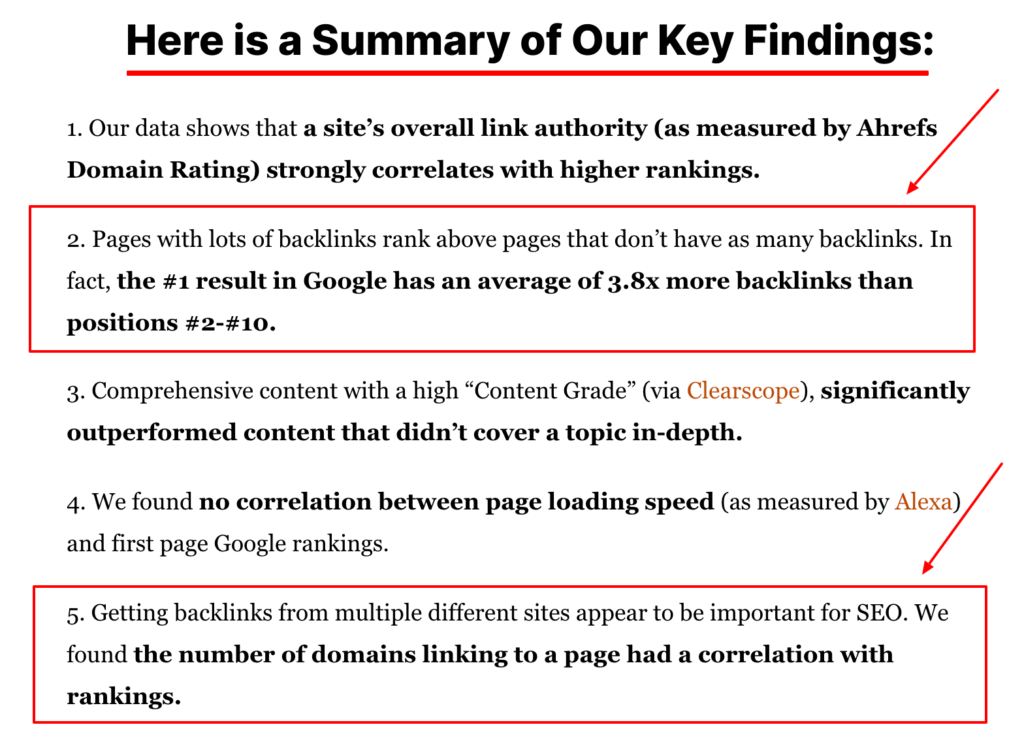 That means you need backlinks from authority websites if you want higher rankings.
But building links for Fashion sites is not as easy as it seems. You have to use the right strategies; otherwise, it will be tough for you to build backlinks.
To make things a little easier for you, I will share the seven most powerful ways to build backlinks for Fashion blogs and websites.
So let's dive into those strategies!
1. Guest on Other Blogs
Guest blogging is one of the best and most powerful strategies for link-building. And that's why more and more blogs are using the power of guest blogging to build some nice backlinks to their blog.
But over the past few years, guest blogging has changed a lot!
In 2014, Matt Cutts (Google's former head of webspam) wrote in his article that guest blogging is not a white hat link-building technique anymore, and doing guest posting for links can even penalize your site.
In fact, one Twitter user asked John Muller (Webmaster Trends Analyst at Google) about guest posts, and he clearly said: "I wouldn't guest-post for links, and it's not a safe practice."
But the reality is, guest posting is still relevant and can boost your Google ranking only if you do it the right way.
A survey conducted by SEMRush found that most SEO professionals think guest posting is the most effective link-building strategy.
Here are a few important things that you have to keep in mind while doing guest posting for link building:
Always be picky while choosing the sites for guest posting, and try to post on your niche's authority sites.
Publish only high-quality, useful content with detailed explanations.
Don't use exact match anchor texts for links.
Do guest blogging only on the sites that are in your niche?
Now let's see how you can find sites for guest posting.
To find out sites that accept guest posts, head over to Google and use the following search modifiers:
Keyword + "Submit Guest Post"
Keyword + "Write for us"
Keyword + "Become an author"
Keyword + "Guest post"
Keyword + "Add Guest Post"
Keyword + "Submit a Guest Article"
Keyword + "Become a contributor"
Keyword + "Guest post guidelines"
For example, If I want to search for sites in the fashion niche that accept guest posts, I'll head over to Google and search for Fashion + "Submit Guest Post." I have written a detailed post for fashion bloggers on how to perform guest blogging and take its benefits.
And as you can see in the picture below, I've got plenty of sites in the fashion niche that accept guest posts. Now open a spreadsheet and list all the sites that accept guest posts.
Once you get the list of the sites that accept guest posts, you have to start pitching them with amazing fashion blog post ideas. After your pitch gets accepted, create a mind-blowing piece of content, and send it to them.
That's how you can build quality links to your blog using the power of guest posting without violating Google's policy.
2. Squeeze Out Your Competitors' Backlinks
Hijacking competitors' backlinks is one of the easiest ways to build backlinks for Fashion blog.
In this technique, you have to find out the sites that your competitors are getting backlinks from, and then you have to follow the footprints of your competitor and try to get backlinks from those sites using similar techniques that your competitors have used.
This technique might seem complicated, but it's straightforward to implement the method.
Let me show you how! First, open a spreadsheet and make a list of all of your competitors.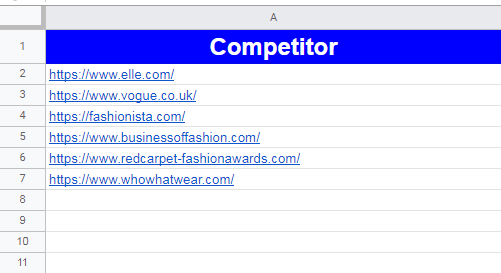 Once you get a list of your competitors, you will need a backlink analysis tool called Ahref. It is the best backlink analysis tool on the planet right now, and using this tool, you can easily find out all of your competitor's backlinks in just a few minutes.
Let me show you how it works in action!
Open Ahref and enter your competitor's domain name on the site explorer.
Now click on "Backlinks" from the left sidebar.
Then click on "One link per domain." And now you'll get a list of all the sites from which your competitors are getting backlinks.

You can export this list into a spreadsheet file by clicking the "Export" button from the right corner.
From now on, you have to go through this list and figure out how to get a backlink for your fashion blog from those sites.
3. Get Listen On RoundUp Posts
Everyone loves roundup posts! It does not just help the user find useful information, but you can also use it for your fashion blog link-building.
And the best part is the success ratio of getting links from roundup posts is way higher than other link-building methods. If you don't know what roundup posts are, here's an example of a link roundup post in the fashion niche.
You'll find these kinds of link roundup posts in almost any niche. But before building links using this method, you must find sites that post link roundups.
Finding sites that post roundups is very easy. Head over to Google and use the following modifiers:
Keyword + "Link roundup"
Keyword + "Roundup"
Keyword + "Weekly roundup"
Keyword + "Monthly roundup"
For example, for finding sites that post roundups in the fashion niche type in fashion + "link roundup," you'll get tons of sites that post link roundups.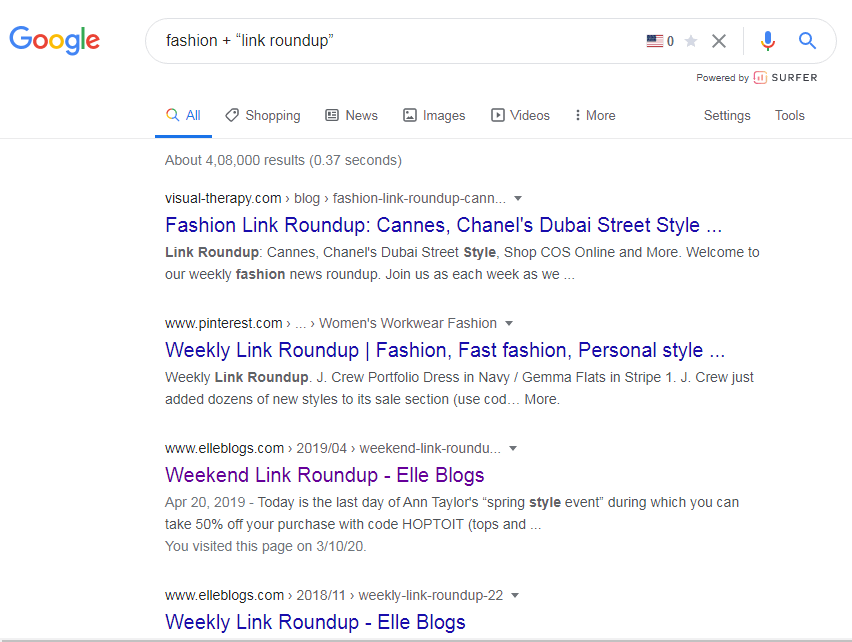 Put all those sites into a spreadsheet and start pitching them individually. If you do the pitch correctly and if your content is good enough, you can place your links to those roundups very easily.
4. Build a Healthy Relationship With Fashion Bloggers
There's a popular business saying: "Your network is your net worth." It's true!
If you have a good relationship with fashion bloggers in your industry, you will be effortless in building backlinks.
See, everything in this world depends upon trust. If you build trust with fellow bloggers and influencers, you'll automatically start getting natural backlinks to your blog without asking for it.
But the real question is, How to build a good relationship with other bloggers and influencers?
The answer to this question is straightforward – Make friends just like you do in real life.
Share other bloggers' content, leave comments on their social media and blog, engage with them, start a conversation on social media or email, and appreciate their work.
And that's how you'll make friends in your industry.
Remember, never ask for anything right after you start conversations with fellow bloggers and influencers. Keep building the relationship and provide them with some value before you ask anything from them.
5. Get Featured On News Websites & Publications
News websites and publications are not just good for publicity, but it's also excellent sources of high-quality links.
But before I tell you how you can use strategies, I want to make one thing clear: This strategy is challenging to implement, and it will take a lot of your time and money.
To use this strategy, first, you must list all the news websites and publications where your target audience hangs out.
If you're doing it for the first time and don't have much authority, I recommend you go for the less popular news websites rather than break your head to get backlinks for Fashion blog from entrepreneurs or NYTimes.
Because there's a very high chance that most of the super-popular news publications aren't going to respond to you if you don't have a good authority Fashion site.
Once you create a list of the news publications, you have to find out the email addresses of the editors of those news publications. After that, contact those editors and try to give them something newsworthy.
For example, you can write an article on any trending topics in your niche and then provide a link to your blog post as a resource on that article.
It's just a simple example. You can brainstorm some more creative ideas to capture the attention of editors.
6. Get Links From Unlinked Mentions
Link building is somewhat complicated! But what if I told you there's an easy way to get thousands of backlinks to your blog without spending too much effort and hours?
Yes, it's true, and that method turns unlinked mentions into backlinks. If you have some reputation online, there's a high chance that people are mentioning your brand online.
Well, that's a good thing. But sometimes, people mention the brand but do not link to the website.
From an SEO perspective, it's not a good thing for us. But still, there's an opportunity for us. We can turn those unlinked mentions into quality backlinks just by dropping a simple email to them.
But the biggest problem is finding those unlinked mentions. To be frank, it's a very time confusing process.
However, using the brand monitoring tool of SEMRush, you can cut down those long hours of manual work and easily find your brand mentions within a few minutes. This tool is a lifesaver for this method.
Let me show you how you can use the brand monitoring tool of SEMRush to find out your brand mentions online. First, head over to SEMRush, and under the "Content marketing platform," you'll get an option called brand monitoring.
Now enter your brand keyword, and your domain, and click 'Set up".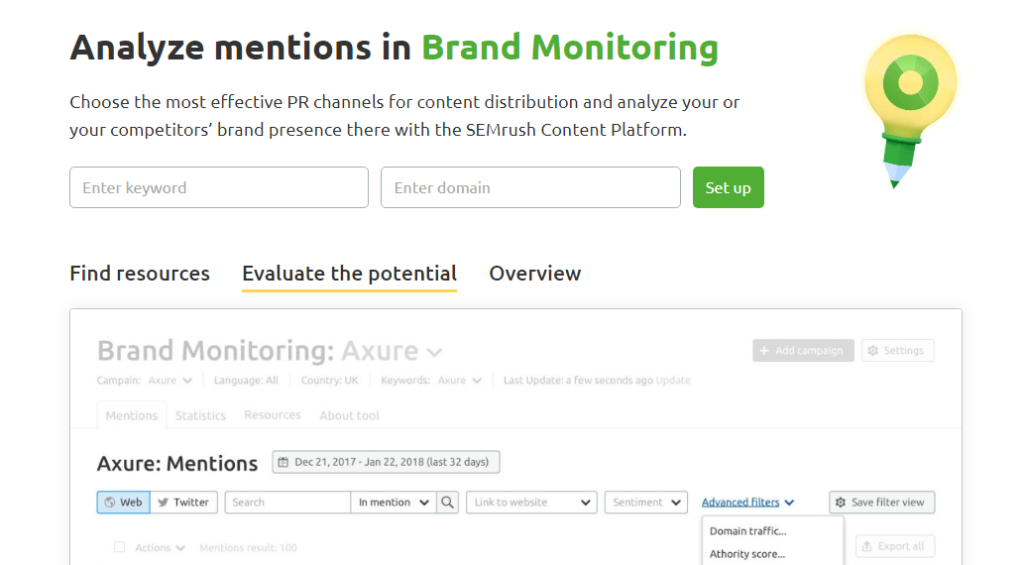 Once you do that, you'll get a popup wizard to select the targeted country. And you're all done. It will take some time to fetch the data; after that, you can see all your brand mentions.
Wait, one more fantastic feature will make your task a lot easier. You can even filter out your brand mentions without a backlink.
Once you get a list of your unlinked brand mentions, reach out to the site owners and ask them to link to your site.
7. Be Active On Quora And Popular Forums
Forum links are straightforward to get. But most of the forum links don't provide any value at all. Most web forums use no-follow link attributes, and no-follow links don't pass any link juice, including Quora.
However, there are still some forums available on the internet that have do-follow link attributes. But those forums are tough to find.

My point is, it doesn't matter whether you get no-follow or do-follow backlinks; having some forums link on your backlink profile will always give you an extra edge. On top of that, you can drive an insane amount of traffic to your blog using forums.
So in simple words – Forums are a powerful way to gain backlinks to Fashion sites! But the burning question is – How can you find out forums in your niche?
Well, it's pretty simple. Let me show you how! Open Google and use the following search modifiers.
Keyword + forum
keyword + discussion board
keyword inurl:/forums
For example, to find forums in the fashion niche, use "Fashion + forum" and hit search.
And you'll get tons of forums specified in the fashion niche.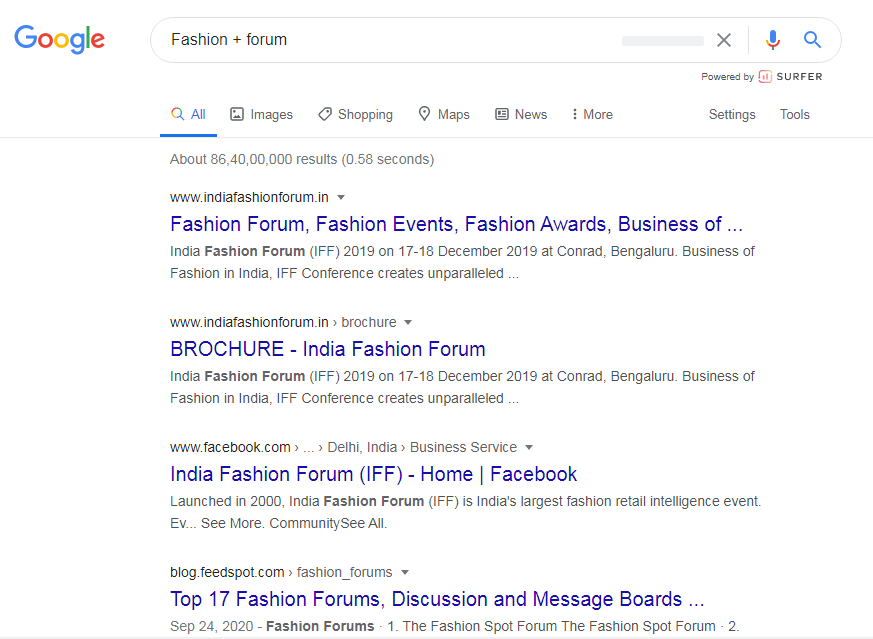 Now list all those forums in a spreadsheet and jump into people's discussions.
And then leave your link whenever you find your blog post adds value to the discussion. But remember, never spam your links. Otherwise, you'll be banned from those forums.
FAQs In Building Backlinks For A Fashion Blog
Are Backlinks still important?
Definitely, yes, backlinks are still one of the major ranking factors for Google. Without backlinks, it will be tough to rank on Google, even if you have quality content.
Are No-Follow Backlinks Valuable?
No-follow backlinks are not as effective as Do-follow backlinks, but no-follow backlinks are also valuable from an SEO perspective. The right combination of Do-follow and No-follow backlinks makes a great backlink profile.
How many backlinks should a Fashion blog have?
There's no ideal answer to this question. For example, having 10 backlinks from reputed sites is way more valuable than having 1000 backlinks from low-authority sites.
Are Backlinks Good for SEO?
Yes, Backlinks are good for SEO, but only if you do it correctly. Building backlinks using black hat techniques is not ideal for a healthy and long-term SEO. So, always focus on building backlinks correctly, even if it takes too much time.
Wrapping Up
Link building is hectic for many bloggers and small business site owners. But you don't have to be scared. Because you can build hundreds, if not thousands, of backlinks for your fashion website using the strategies I've shared with you in this article.
Pick 3 of your favorite link-building strategies from this list that you think would be a good fit for you and start implementing those with complete dedication. I hope you liked these seven fashion blog backlinks strategies, and if you did, don't forget to share them with your friends and colleagues.