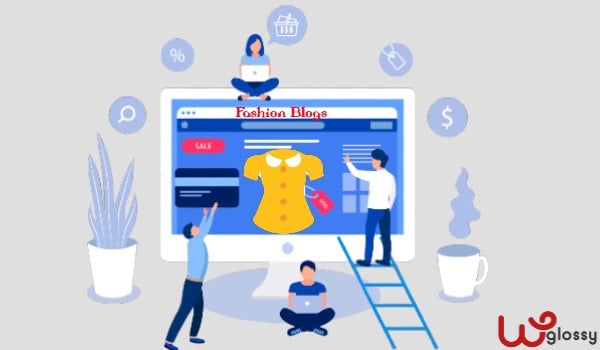 Are you a fashion enthusiast searching for some best fashion blogs to follow in 2023 and connecting with the top fashion bloggers?
Are you looking for some incredible fashion apparel for purchase, or perhaps you are looking for inspiration of some sort?
If you nod your head with the answer "Yes," then you seriously need to check out these top 25 Fashion blogs on the internet that are sure to blow your mind away!
Undoubtedly, the fashion niche is trending, and you can make money through affiliate marketing. So, get ready for a fantastic, aesthetic fashion journey out of this world!
20 Best Fashion Blogs 2023 To Follow And Get Inspiration
Let's get into the list of the best inspirational fashion blogs to follow without further ado!
1. Vogue – The Ultimate Fashion Paradise
Vogue is the definition of fashion experience. What's more? It is you "must-go to place" for art, fashion, and lifestyle. The website beautifully classifies its various themes and editions based on countries. Check out the latest innovations in fashion and current trends all under Vogue – Best Fashion trend blogs!
About The Founder
Vogue.co.uk, the digital version of the famous fashion magazine Vogue. The digital director of Vogue.co.uk is Ellie Pithers
Reasons To Follow Vogue
Want to get a quick update on trending fashion and style? Vogue.co.uk is your one-stop destination. Get the latest update in your inbox about fashion, beauty, art, lifestyle, catwalk, and lot more by subscribing to their newsletters.
Monetization Methods
The monetization of Vogue includes getting paid to feature top brands and labels. The team also curates and publishes sponsored blog posts about brands and businesses to make money. It also generates excellent revenue using affiliates, clicks-per-pay programs, banner ads, etc.
It is the best Top best fashion blogs 2023 which have a Domain Authority Value of 86
2. The Business Of Fashion – For The Best Fashion Reads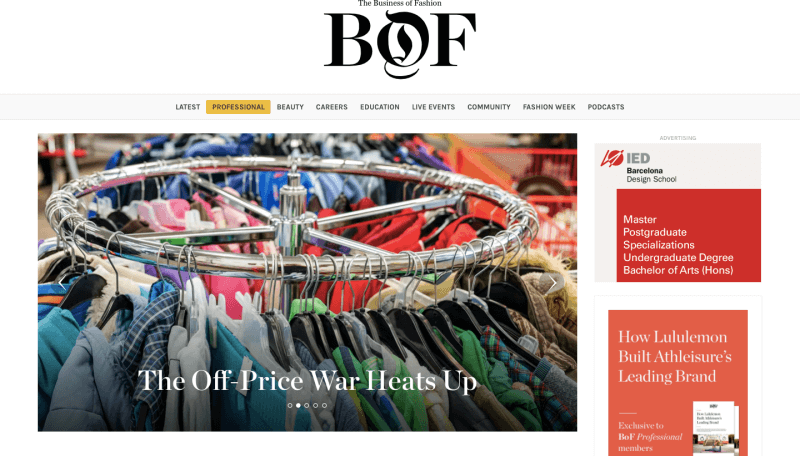 The Business Of Fashion means business when it comes to fashion. It explores current fashion trends and lifestyles. What's more? It has incredible columns for fashion-related literature. It offers fashion and lifestyle podcasts, and more importantly, it offers online courses on various fashion, lifestyle, and business-related subjects.
About The Creator Of Business Of Fashion
Imran Amed – The man behind the Business Of Fashion. He is one of the trending global fashion industry's leading writers, creators, founders, and thinkers. He dons the role of editor-in-chief of Business Of Fashion with perfection.
Why Follow The Business Of Fashion?
The Business Of Fashion includes in-depth details about global fashion, beauty, and luxury. Get information about live events and fashion weeks, and a lot more. The Business Of Fashion has a community where users can discover and connect with companies and individuals who are passionate about the fashion industry.
How Does the Business Of Fashion Make Money?
The Business Of Fashion makes money via banner ads, click-per-pay programs, affiliates, mailing, and writing sponsored posts on their blog.
The business of Fashion is also a renowned name and the Best Fashion blogs Domain Authority of 77.
3. Refinery29 | Fashion – Anything And Everything About Fashion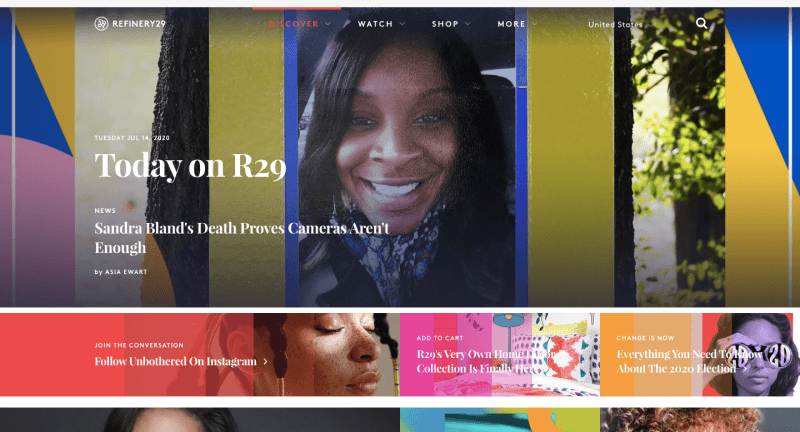 Are you looking for a place where you can find anything and everything related to fashion, lifestyle, jewelry, home decor, and art? Then look no further, as Refinery29 is the best place to find it all.
The online shop is filled with the trendiest grabs you won't find anywhere else. If you have doubts about what to buy, you can view the exquisite collection of literature that will give sparkling ideas—an incredible website, which is also the Best vintage fashion blog.
Who Is The Founder Of Refinery29 Fashion?
Refinery29 is founded by 4 individuals Justin Stefano, Philippe von Borries, Piera Gelardi, and Christene Barberich in the year 2005.
Why Follow Refinery29?
The Refinery29 website is power-packed with an exquisite collection including jewelry, home
decor, and outfits. If you love vintage, Refinery29 can the best choice.
How Refinery29 Is Making Money?
Refinery29 makes money via brand-specific content generation, brand building, in-store promotions, video, and photo promotions.
The DA value of Refinery29 | Fashion is 84.
4. Fashionista | New York Fashion Blog – To stay updated about the fashion world.
Fashionista is the place where you ought to go if you want to know all the latest news about fashion, lifestyle, and beauty.
This amazing fashion blog offers its viewers amazing videos, literature, editor's picks, and fashion-related career opportunities. Also, find out all about fashion events and all other happenings under this Best WordPress fashion blog.
Know About The Mind Behind Fashionista
Fashionista is the brainchild of Breaking Media. The current editor in chief of Fashionista is Tyler Mccall.
Reasons To Follow Fashionista
The digital platform Fashionista offers insightful information about the latest fashion events fashion weeks apart from providing information about trending style, beauty, and shopping options. You can find everything about fashion news at Fashionista, be it criticism or career advice, and you got everything here.
How Fashionista Makes Revenue?
Fashionista makes use of affiliate links in addition to the online advertisement and paid content for fashion banners to generate revenue.
The DA of Fashionista is 84
5. The Curvy Fashionista – Especially For The Plus Size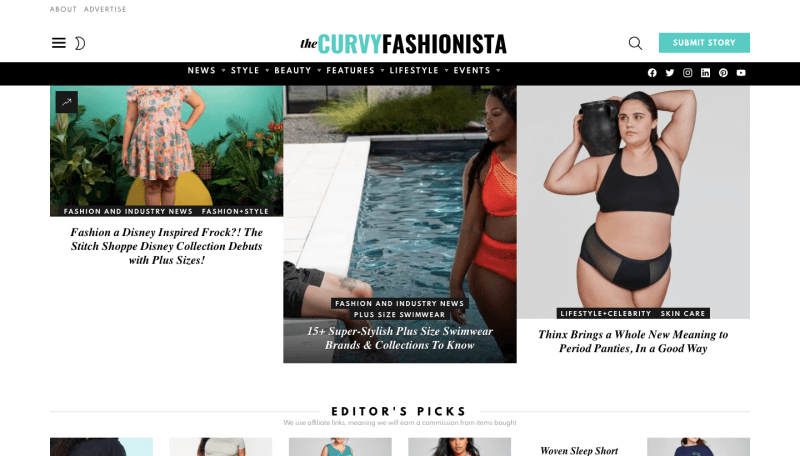 Are you worried about your weight and size? Is it difficult to find anything that fits you? Are you concerned about people judging you for your size? The Curvy Fashionista is where you need to be. With fashion choices for plus-sized women and inspiring testimonials from other plus-sized women, don't let your size undermine your confidence!
The Person Behind The Curvy Fashionista
The Curvy Fashionista was founded by Marie Denee who inspire, educate, and celebrate plus size women.
Why The Curvy Fashionista?
The Curvy Fashionista is a go-to destination for all plus-sized ladies who want to follow fashion in their way. The website offers a space for every lady who wants to stay in style without worrying about their body size.
How Does The Curvy Fashionista Generate Revenue?
The Curvy Fashionista has its list of boutiques which designs clothes for plus size women. The Curvy Fashionista also encourages small businesses and brands to advertise their business via content and sponsored promotions. The monetization method includes product reviews, feature posts, sponsored videos, campaigns, dedicated newsletters, contests, and giveaways.
DA (Domain Authority) Value = 76
6. Marie Claire- Your Royal Fashion Boutique
Are you specifically looking into a British perspective of fashion? Then check out Marie Claire. This fashion blog is your go-to place if you want to know about all the juiciest fashion news, from all-time favorites to innovative, creative ones. But go beyond and find out inside scoops about the Royal Family and their fashion tastes!
The Name Behind Marie Claire
Jean Prouvost and Marcelle Auclair are the two behind the famous fashion magazine Marie Claire
Why One Should Checkout Marie Claire
Get to know every single detail about trending fashion, beauty, and lifestyle. Marie Claire is one of the leading online fashion magazines which caters fashion reequipment of both men as well as women.
Methods Used By Marie Claire To Make Money
Marie Claire provides a platform for major fashion labels to connect and sell their products to fashion enthusiasts; they also make more significant revenue. Fabled by Marie Claire has a wide array of handpicked fashion labels to choose from; it works as a retail website in exchange for a commission.
Domain Authority of this unique fashion blog is 86
7. Topshop Blog – Fashion And Beyond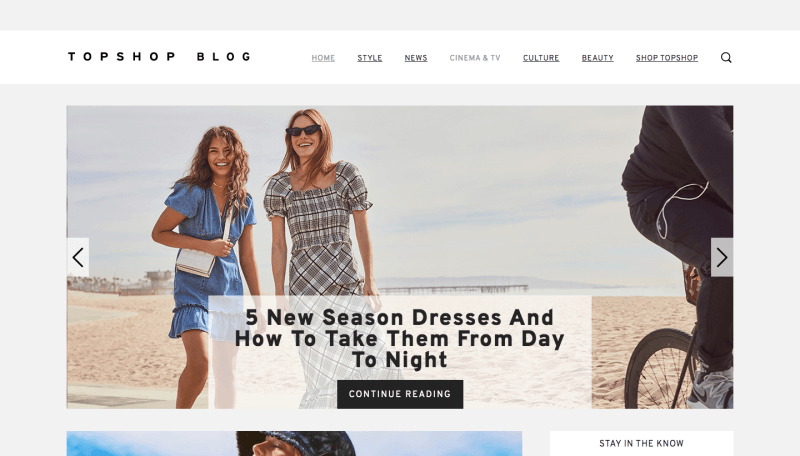 The Topshop Blog offers its viewers all the hottest news about fashion. What's more? Visitors to the blog can also find out a lot about news, culture, cinema and tv shows! If you want to be in "the know", then you need to check out this sustainable fashion blog.
Know About The Person Behind Topshop.com
The current CEO of Topshop.com is Ian Grabiner, and it was founded back in 1964 as a retail outlet. Now, 75% of the stock is owned by Arcadia Group.
Why Check Out Topshop.com?
Topshop.com is a sea where you can literally look for all the trending style, fashion, and beauty related stuff within just a few taps. It seems like a hub for some incredible styling and fashion tips that can never go wrong. Do checkout their cultural tips offs and yes, they are exceptional.
Ways Topshop.com Makes Money
Topshop.com have their own eCommerce shop where you can witness trending fashion clothes, dresses, jeans, shoes, accessories, bags and a lot more.
Topshop Blog has domain authority valued at 86
8. Who What Wear – The Name Says It All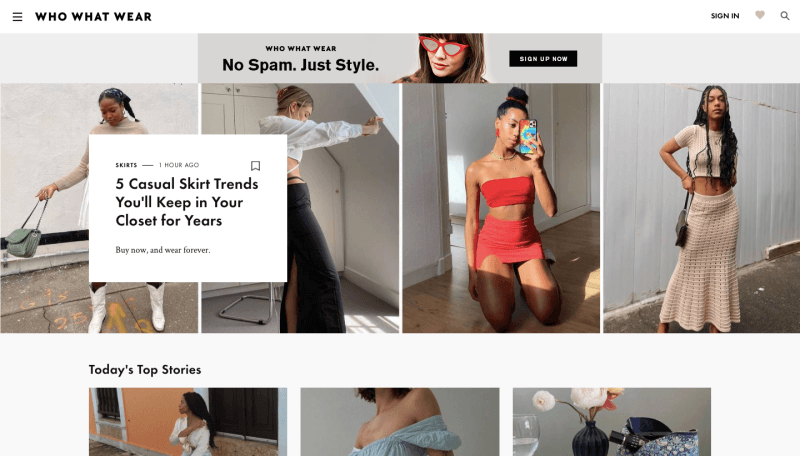 Who What Wear, a fashion blog that has it all and says it all. Find out the most current fashion trends, what your favorite celebrities wear, and fantastic shopping guides so that you know what you are looking for. What's more? This is one of the best fashion blogs 2023 with a specific focus on wellness and well-being.
The Person Behind Who What Wear
The Who What Wear website is an international fashion company, and Katherine Power and Hillary Kerr founded its digital edition in the year 2006
Why Follow Who What Wear
Who What Wear offers sneak peek into the fashion world of celebrities and style icons. Who What Wear offers an affordable, all size, and trendy clothing and accessories collection.
How Does The Website Who What Wear Makes Revenue?
The Who What Wear makes money via affiliate marketing, ads banner, and dedicated newsletters for brands and businesses.
The DA of this successful fashion blog is 83
9. Fashion Gone Rogue – Join The Fashion Rebellion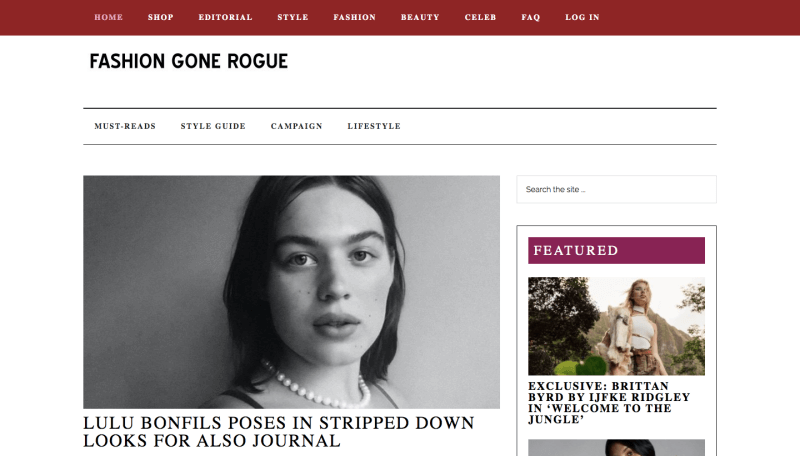 Fashion Gone Rogue is a fashion blog that makes a statement which is the place that you need to check out if you are all about limitless and unbound fashion. Plus, it has all the need-to-knows in fashion, style, and celebrities. It has a fantastic collection of must-read literature.
Who Founded Fashion Gone Rogue?
Fashion Gone Rogue was created back in the year 2008 by Joanna Elizabeth.
Why Follow Fashion Gone Rogue?
Fashion Gone Rogue is an all-in-one website that offers excellent online exposure to fashion and celebrity lifestyles. You can get incredible fashion and beauty tips from this leading fashion portal.
How Fashion Gone Rogue Is Making Money
Fashion Gone Rogue is making via sponsored posts, Google AdSense, pay per click program, and ad banners.
This excellent fashion blog has a Domain Authority score of 68.
10. Inside Out Style – Easy Style Solutions For Every Woman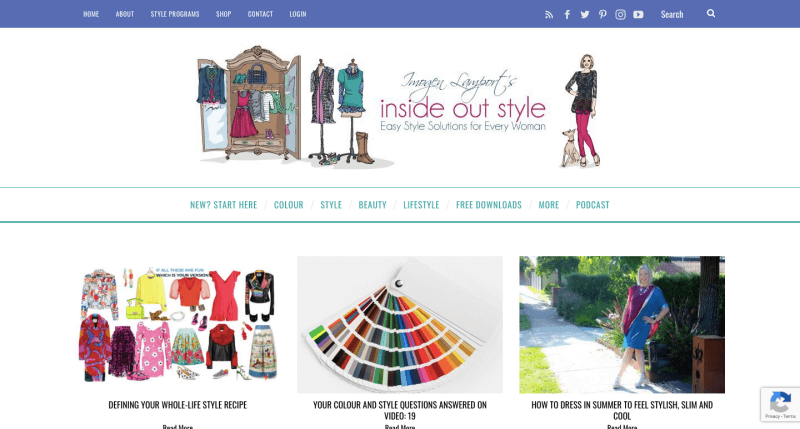 Inside Out Style, a unique fashion blog that is all about easy fashion solutions for women. So be it, girls or ladies, all can check the Inside out Style fashion blog that offers fabulous fashion and grooming tutorials that you can do at home! One of the best fashion blogs that makes fashion seem down-to-earth and available to all classes of women.
Who Started Inside Out Style Blog?
Imogen Lamport, proud creator of Inside Out Style Blog.
Why Follow Inside Out Style Blog
The Inside Out Style Blog has an extensive collection of trending style, beauty, and lifestyle news, and it also includes excellent tips and tricks. The biggest highlight is the podcast which offers you the right styling advice on the go.
Monetization Strategies Of Inside Out Style Blog
The Inside Out Style Blog makes money via online advertisement and guest posting and offers personal styling services.
It's great to know that the Domain Authority of this best women's fashion blog is 53
11. College Fashion (Teenage Fashion) – A Purely Teen Fashion Statement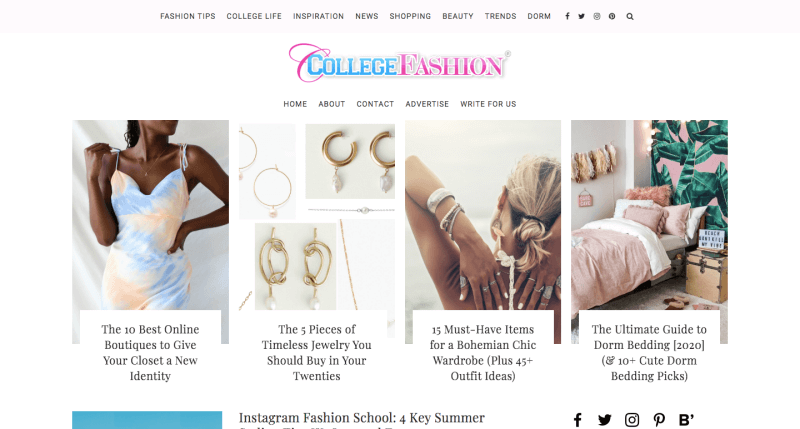 Now you may wonder what College Fashion has to offer that other fashion blogs don't; well, College Fashion is all about trendy teenage styles and fashion. So, we're looking at what the kids wear these days, all those fresh stuff.
This fashion blog offers fantastic fashion ideas and inspirations. College Fashion is the go-to destination for all fashionistas and the Best Blog for teenage fashion.
Founder Of College Fashion
The name creator and founder of College Fashion is Zephyr Basine.
Why Checkout College Fashion
College Fashion is a destination for all college-going girls to get amazing fashion inspiration. You can also shop for trending fashionable clothes and accessories using the coupon code.
How College Fashion Generates Money?
Cross promotions of fashion brands, sponsored posts, newsletters, promotion of coupon code. This website also includes sponsored giveaways and customization of packages based on the need.
College Fashion website has an authoritative domain authority value of 64
12. 40+Style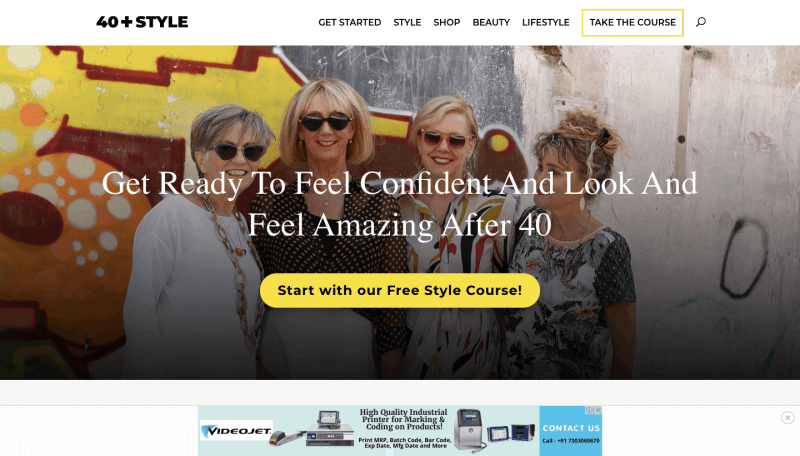 (For 40 plus folks) – Fashion has no age bar.
Now, if you believe that fashion is for all young people, you are mistaken. 40+Style is a unique fashion blog for all those aged 40 years and above. A go-to destination is one of the best fashion blogs for 40-year-olds.
Who Is The Founder And Creator Of 40 Plus Style?
The founder and editor in chief of 40 Plus Style is Sylvia Vandelogt.
Why 40 Plus Style?
40 Plus Style, a perfect website for those who are in their late 40s and want to keep the fashion game on with trendy yet comfortable outfits.
How 40 Plus Style Does Business?
40 Plus Style offers a platform to shop trending fashion outfits and accessories for 40 plus folks. You can also enroll for their 21 steps style course and sign up the newsletters.
The Domain Authority of this exciting plus-size fashion blog is 53.
13. The Modest Man (Men's Fashion) – Fashion Is Not Restricted To Women Alone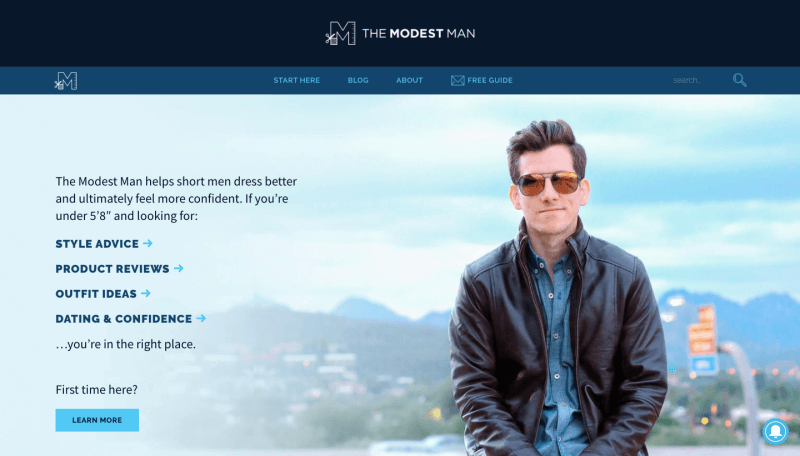 Now, you may be puzzled about men's fashion. But let us remind you that fashion is not something only for women. The Modest Man is a brilliant fashion blog specifically and specially dedicated to all the latest fashion trends for men.
We're not talking about something too attention-grabbing, but minimalistic and yet something that will garner you some attention. The Modest Man is one of the best men's fashion blog.
Founder Of The Modest Man
The Modest Man was started by Brock, according to him, a man should be ready and well dressed for all the occasion in life.
Reason To Check Out The Modest Man
The Modest Man has thoughtfully curated collections of blogs to dress up and style up man to look amazing. You will find the perfect way to style up for all occasions and events.
Money Making Techniques Of The Modest Man
The primary money-making strategy of The Modest Man is to make money via sponsored posts and affiliate links.
The domain authority of this best fashion blog for men is 54.
14. Glam & Gowns- It Doesn't Get Any More Glamorous Than This!
Faviana is a modern styled fashion designing firm that creates designer dresses for all occasions. So we're looking at Glam & Gowns, the blog of the fashion firm, Faviana; they are up to date in everything regarding fashion, health, and lifestyle. So with Glam & Gowns, you won't miss out on any new updates in the fashion world.
The Person Who Created Faviana
Shala Moradi is the creative director of Faviana she has made dress-up fantasy a full-time job
Reasons To Checkout Faviana
Faviana is synonymous with fashion, beauty, health, and lifestyle. You get to explore the best content on fashion and lifestyle at Faviana. They have also launched a YouTube channel, where you can explore alluring fashion trends in one go.
Various Strategies Followed By Faviana To Generate Revenue
Money-making strategies involve affiliate links, sponsored posts, and brand-specific newsletter promotions.
The DA of this modest fashion blog is 54
15. Un-Fancy – The Art Of "Shopping With A Purpose"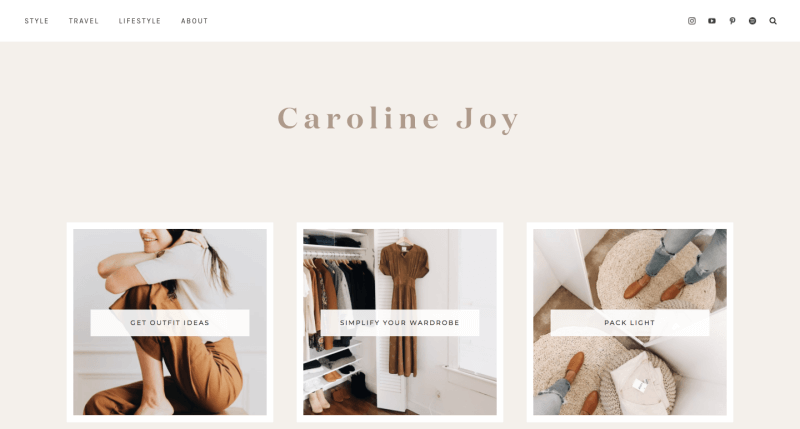 Un-Fancy – A super stylish and best fashion blog that was created by Caroline Joy for the sole purpose of acting as a guide to meaningful and purposeful shopping.
Un-Fancy is more than just a fashion blog, and it is an experiential journey of a woman who wishes to contribute meaning to the fashion world. An ideal hub for those who are looking for Best fashion blogs for college students.
Who Is The Founder Of Un-Fancy?
Un-Fancy is the creative child of Caroline. the website was launched in the year 2014
Why Un-Fancy Is Unique?
Simplicity is the key to success; Un-Fancy follows this motto. You will find everything classy yet straightforward, be it outfits, books, music, or interiors you got the best.
Money Generating Tricks By Un-Fancy
The first trick followed by Un-Fancy to monetize its website is via affiliate marketing.
This minimalist fashion blog holds a domain authority score of 57.
16. STYLE DU MONDE – Street Style Fashion Is Officially In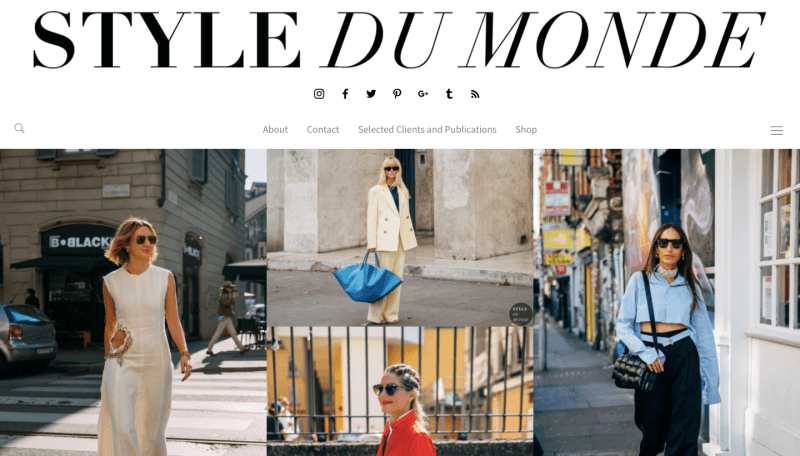 Style Du Monde is a great fashion blog that is based in Belgium and is also renowned Best street fashion blogs. It also carries the pride of being the first street-style website from Belgium. It was founded in 2008 by Acielle, the most prominent photographer in the world.
So if you are looking for street-style fashion photos, then this is your website. It is one is a brilliantly designed and among the best cheap fashion blogs.
Founder Of Style Du Monde
Style Du Monde came into inception in the year 2008, Acielle is behind this street style fashion website.
About Style Du Monde
Talk about incredible street style fashion, Style Du Monde is your perfect choice.
Ways To Monetize Style Du Monde
The website Style Du Monde follows paid partnerships and sponsored posts to generate profit via their website.
The authority of STYLE DU MONDE is 50
17. Girl With Curves – Empowering Women Through Fashion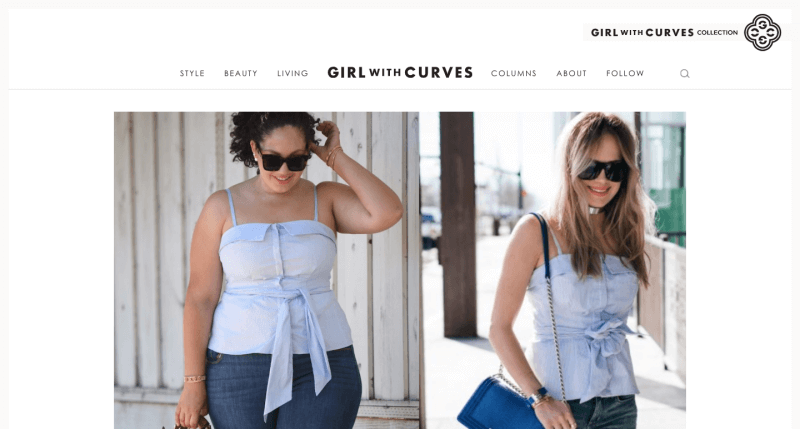 Girl With Curves is an award-winning best fashion blog created by Tanesha Aswathi. The goal of Girl With Curves is to empower women through fashion, with the strong belief that fashion is for all women irrespective of age, race, size, shape, and weight. Best fashion blogs for daily all the plus-sized ladies.
Creator Of Girl With Curves
The creator and founder of this Award-winning fashion blog is Tanesha Awasthi.
Why Is Following Girl With Curves Good?
Girl With Curves has tailor-made their website and its content for plus-size women, and you will find fantastic makeup, lookbook, outfit, travel, wellness, and lot more here. Girl With Curves is giving primary fashion goals to all the plus-sized women out there. This website is a hub for excellent plus-sized fashion clothing lines.
How Did Girl With Curves Monetarize
The Girl With Curves follows affiliate links to generate sales and earn revenue.
This Domain authority of this one of the best Women's fashion blogs is 59
18. Irene's Closet – The Closet Story Of A Young And Bold Woman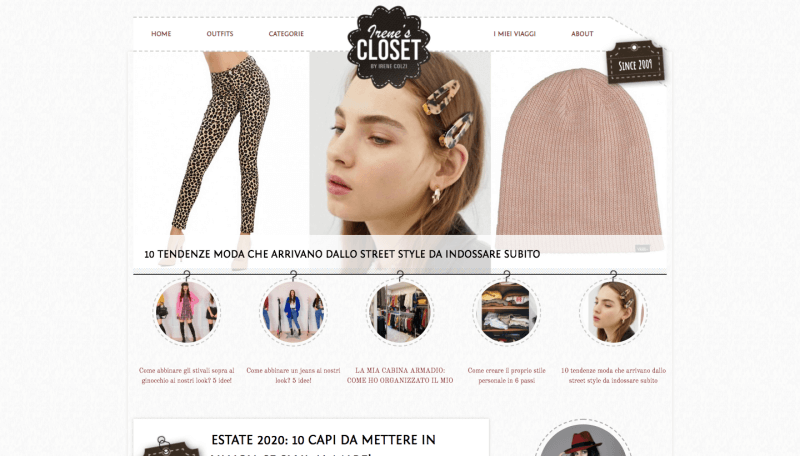 Irene's Closet, a Best fashion blog created by Irene Colzi. Irene's Closet is an Italian blog. Irene offers some amazing fashion tips and guides. Be it beauty, trends, travel, and videos, Irene's Closet has it all.
This website is a must-visit page for young fashionistas. Explore the world of fashion through the eyes of Irene. Irene's Closet has managed to grab a space for itself as Best fashion blogs.
Who Founded Irene's Closet?
Irene Colzi founded Irene's Closet in the year 2009.
Why Follow Irene's Closet
Irene's Closet offers handpicked collections of trending outfits, makeup, videos, and fashion events.
How Irene's Closet Is Making Money
The monetization is done via paid promotions, sponsored posts, and affiliate links.
Irene's Closet has got a DA of 49
19. Over 50 Feeling 40 – The Story Of Fashion That Defies The Limits Of Age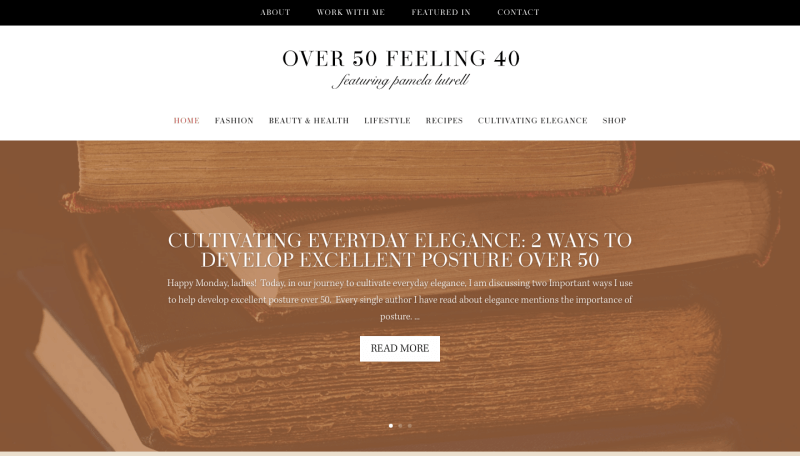 Over 50 Feeling 40 is an amazing fashion blog depicting the journey of Pamela Lutrell, a professional communicator. What's special about the blog is that Pamela started it when she was 50 in 2010. This wholesome blog that has it all, from fashion to lifestyle to recipes. A go-to website for Best fashion inspiration blogs.
Who Founded Over 50 Feeling 40
Professional communicator Pamela Lutrell founded the website 50 Feeling 40
Unique Pointers Of Over 50 Feeling 40
The Over 50 Feeling 40 is not only an inspirational fashion website, but this website also offers while a range of recipes, lifestyle tricks, beauty tips, and healthcare advice to stay healthy
Monetization Of Over 50 Feeling 40
The monetization is done via brand promotions, events, and various other marketing strategies.
Over 50 Feeling 40 have a 35 as DA.
20. The Style Fairy – A One-Stop Destination For Everything Fashion And Lifestyle-Oriented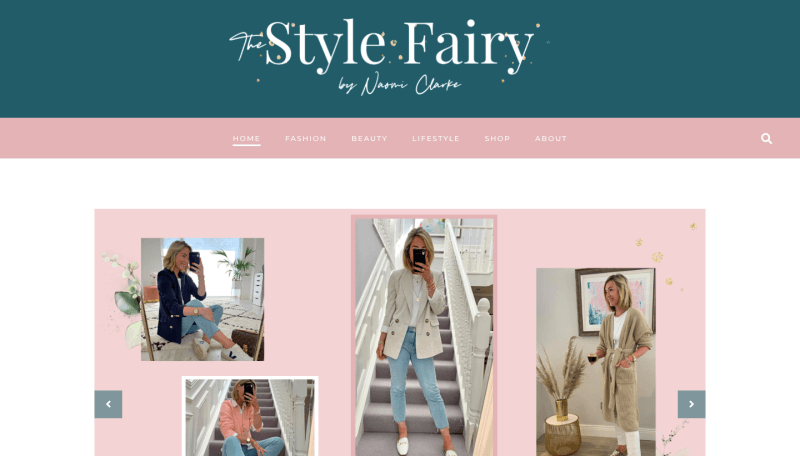 The Style Fairy, is a fantastic fashion blog that was created by qualified fashion stylist Naomi Clarke. It is a culmination of 12 years of experience in fashion, personal shopping, and styling. The Style Fairy aims to be a one-stop destination for fashion inspiration and advice, lifestyle, beauty and even parenting. Don't miss out on checking out the Best DIY fashion blogs.
Who Started The Style Fairy
Naomi Clarke creates the Style Fairy.
Special Factors About The Style Fairy
The website caters to incredible fashion tips and ideas, starting from everyday fashion to dressing for occasions.
How The Style Fairy Makes Revenue?
The website makes money via selling accessories, outfits, looks. This website also promotes affiliate links etc.
The DA value of this top fashion blog is 20 and growing with every passing day,
21. Jo-Lynne Shane – For Everyday Casual Fashion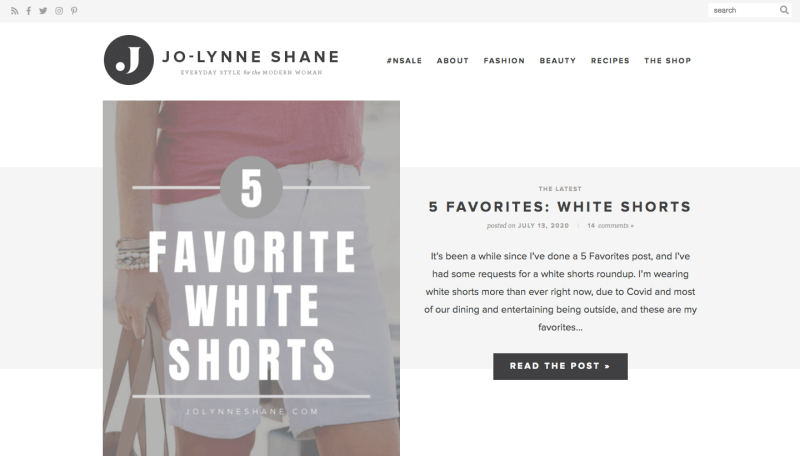 Jo-Lynne Shane is a mother of three kids. What sets this fashion blog apart from the others is that Jo-Lynne offers casual fashion advice that isn't too attention-grabbing but is sure to make you look great! Jo-Lynne styles casual looks, work apparel, date night look, and also work-at-home costumes.
Who Started Jolyn N Shane?
Jo-Lynne is behind the flourishing website Jolyn N Shane, she is 40 years old mommy, who believes in sharing everyday fashion for modern women.
Who Should All Follow Jolyn N Shane?
Those who are looking for everyday fashion, Jolyn N Shane is a worthy pick. Grab your casual-chic style fashion inspiration from Jolyn N Shane.
Monetization Jolyn N Shane
The website of Jolyn N Shane makes money via ads, sponsored posts, affiliate links, eCommerce shop, etc.
Jo-Lynne Shane has a DA of 57
22. Not Dressed As Lamb – Age-Appropriate Dressing Is A Myth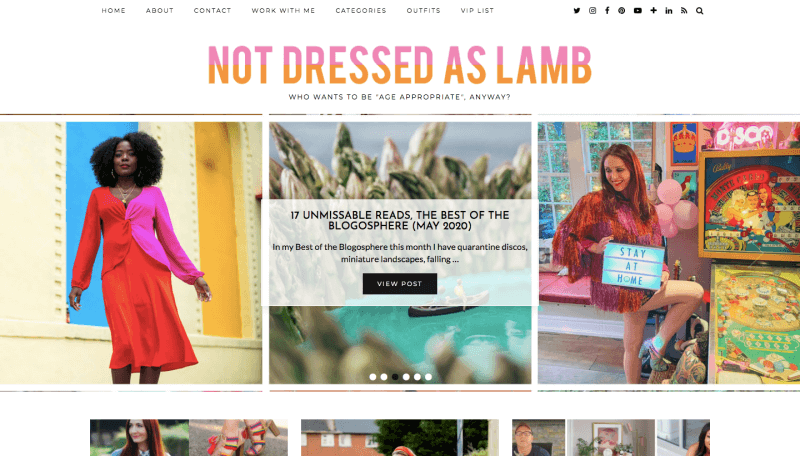 Not Dressed As Lamb is an exciting fashion blog by 47-year-old Brit, Catherine Summers. What's more? Not Dressed As Lamb has won: UK Blog Awards Best Fashion & Beauty Blog in 2017 and 2018, the Thirty Plus Awards" Most Addictive Blog and the Bloggers" Lounge award for Best Fashion Blog 2015.
Creator Of Not Dressed As Lamb
Catherine Summers is the girl who started the website Not Dressed As Lamb.
Reason To Follow Not Dressed As Lamb
You will find occasion-appropriate outfits at Not Dressed As Lamb. A perfect place where you can pick fabulous outfits based on your age and body type.
How Not Dressed As Lamb Monetizes?
Selling wardrobe on eBay, affiliate links, and sponsored posts are ways that Not Dressed As Lamb makes money.
The Domain Authority of Not Dressed As Lamb is 46.
23. The Middle Page – For An Interactive Fashion Blog Experience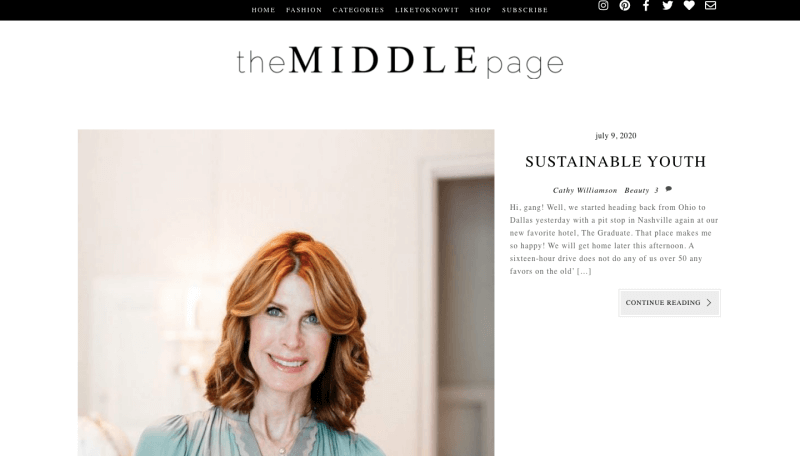 The Middle Page is a stunning fashion blog by Cathy Williamson. With a funny name, this fashion blog is one of the interactive yet best fashion blogs. Cathy Williamson is active on social media, plus there are lots of frequent giveaways (so don't miss out on them)!
Who Started The Middle Page
Cathy Williamson, the fashion enthusiast who is the creator of The Middle Page.
Reasons To Follow The Middle Page
The Middle Page follows the ideology of being chic at all ages, and you will find handpicked picked fab fashion collections perfect for all occasions and life events.
How The Middle Page Make Revenue Out Of This Fashion Blog
The Middle Page has its eCommerce shopping site where fashion lovers can pick outfit, blazers, shoes, and accessories,
Domain Authority Value is 32
24. Dress To Kill – The Name Strikes Fear In The Fashion World
Dress To Kill is definitely a Canadian fashion blog and fashion magazine. The fewest fashion blogs that devote importance to men's fashion apart from fashion for women. Be it beauty, fashion, rides, sports culture, or even technology, Dress to Kill slays it all.
Reasons To Follow Dress To Kill Magazine
This website offers handpicked and super-elite fashion outfits that can be used as inspirations and recreate looks.
How Does The Website Dress To Kill Magazine Make Money?
The Dress to Kill Magazine encourages sponsored posts and affiliate links. They also have their eCommerce website.
The Dress To Kill ranks top among the Best men's fashion blog with a Domain Authority of 35
25. Scent Of Obsession – Fashion That Stimulates All Senses
The Scent Of Obsession is a nice fashion blog by Nicoletta, an Italian girl who loves to travel and talk about fashion. This unique blog takes a personal diary-like approach to blog about fashion, beauty, books, travel, and shopping. In short, a magnificent fashion blog with a quirky name.
Founder Of The Scent Of Obsession
Nicoletta, an Italian girl, started this fashion blog.
Reasons To Follow The Scent Of Obsession
This website offers a unique and stylish collection of trending fashion, beauty, designer wears, and look book. An ideal hub where you will find the latest fashion week updates along with information about fashion events.
How Scent Of Obsession Makes Money?
They have their eCommerce website to showcase outfits, accessories, bags, and shoes.
The Domain Authority of Scent Of Obsession is 42
Posts You May Like To Read
1. Best Fashion Blogging Courses
2. Best WordPress Fashion Themes
3. Best Apps For Fashion Bloggers
Wrapping Up The Best Fashion Blogs To Follow In 2023
Planning to buy some trendy fashion outfits with great discounts? Perhaps you are planning to start your fashion blog? Whatever be the reason, this list of the best fashion blogs 2023 would meet your requirements.
You may follow these fashion sites to get great inspiration, keep yourself updated with the trending dresses, and make your purchase meaningful. Connecting with influential bloggers through the contact form or social media helps grow your fashion interest.
I picked these blogs based on factors like content quality, audience size, and domain authority. Ensure you have installed essential plugins for WordPress fashion blog and follow your preferred blogs from the list. You may also suggest some great fashion sites to add to the list.