Kudos to you for using the Elementor Page Builder for WordPress! So, do you want to extend the design potential of Elementor? You have arrived at the right place to know the best Elementor addons to stretch its functionality.
Undoubtedly, Elementor is ruling the WordPress community through its exceptional styling flexibility. However, you might look for plugins to personalize your website features and strengthen the design options.
We are using the Premium version of Elementor to design our blog pages better. When we were looking to add some advanced design options to our blog, we realized that there exist hundreds of elements, widgets, and add-ons to get the job done.
How to pick the best Elementor addons from a plethora of options? To help you choose the right ones, I'm going to list some excellent extensions, and hence your job is to click and install the suitable one for your site requirements.
Top & Best Elementor Addons For WordPress 2022
Here is the list of top Elementor extensions to enhance its ability and produce high-converting business sites.
1. Droit Addons For Elementor
Droit Addons for Elementor is the all-in-one solution for your page building & customization needs. Designed and built from the ground up to improve your Elementor page builder experience with its robust suite of powerful widgets, modules, features, elements, and an expensive library of presets that will surely enhance your existing website with responsive UI/UX and stunning premium looks.
This addons plugin gained popularity for its ease of use and giving the users the ability to build and customize their websites in no time, saving them both time & money. Before getting into the premium version, you may look at the features of the free version of Droit Addons. Just give it a try after looking at its exceptional features; I'm sure you will like it!
Highlight Features
Fully responsive widgets, blocks, and templates
Live copy-paste straight from the live demo page
Advance animation & Lottie animation support
Header, Footer & Mega Menu builder
Popup builder
WooCommerce widgets
2. Ultimate add-ons
With this ultimate add-ons, you will build a website that can stand out from the crowd. Whether you are a design professional or a newcomer, exceptional designs can be easily achieved with complete ease. Your website can be built from 100+ professionally designed websites, and customization of even the tiniest details of the templates will be easier.
The modular architecture gives you complete control to switch off and on the widgets as you require. For endless design possibilities, powerful Elementor widgets like mega menu widgets, WooCommerce widget, marketing button widget, etc., can be used. It is a Brainstorm force product (the company that created the WPAstra theme), so you don't need to worry about Speed, Security, Updates, and Tech Support.
Highlight Features
200+ section blocks
40+ widgets and extensions
100+ Pre-built website templates
Form styler widgets to get more leads
Widgets for Sortable Table, Mega Menu, & WooCommerce
3. Stratum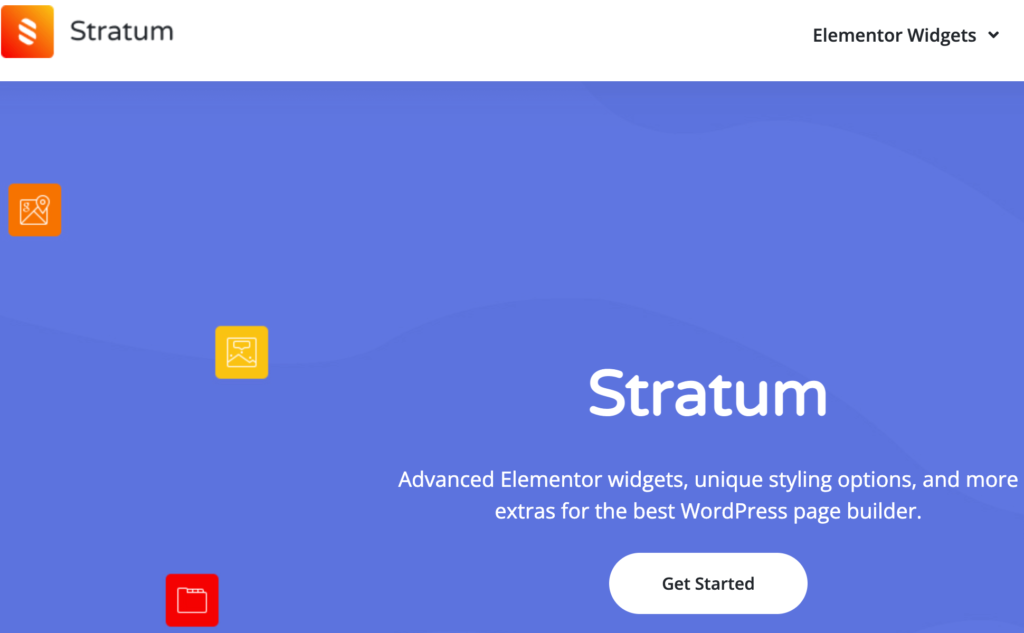 Stratum is an Elementor addon by MotoPress that you can download at zero cost to extend your site editor's powers. It equips you with a collection of 20+ Elementor widgets developed for multiple website sections.
These widgets have a minimalistic and fast-loading design. Also, you get a set of customization tools. They cover image promotion, tables and forms, integration with third-party services, and more options.
Highlights
20+ free widgets to choose from
6 premium-only Elementor widgets are available for free
Template Library for some widgets
Inherits the style of your WordPress theme
4. Premium add-ons (Free & Pro Version)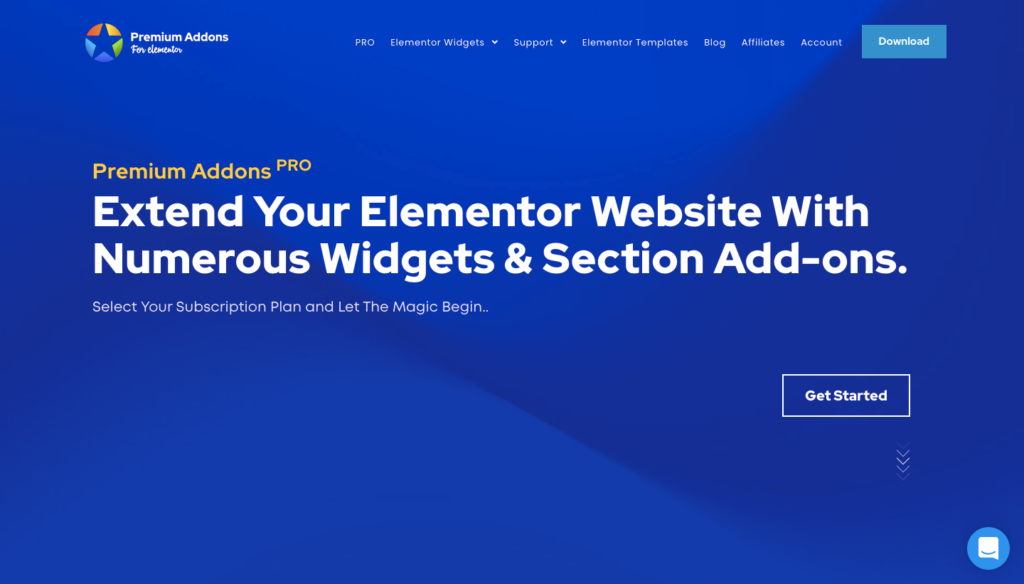 The fully responsive add-on will let you create a professionally designed website and perfectly work with all the popular themes like GeneratePress, Ocean, Astra, etc. The premium Elementor addons has been tested on all the major web browsers like Mozilla Firefox, Safari, Opera, Internet Explorer, and Google Chrome.
You could enable the elements you use and disable the rest for faster performance. The add-on has a 5-star rating on both WordPress and Envato marketplace because of the friendly and supportive experts. Just start creating sophisticated business sites with minimal effort.
Highlights
55+ Widgets & Add-ons
Premium templates and content widgets
Modular & Lightweight
Crossed 8 Million downloads
Compatible with WPML
5. Crocoblock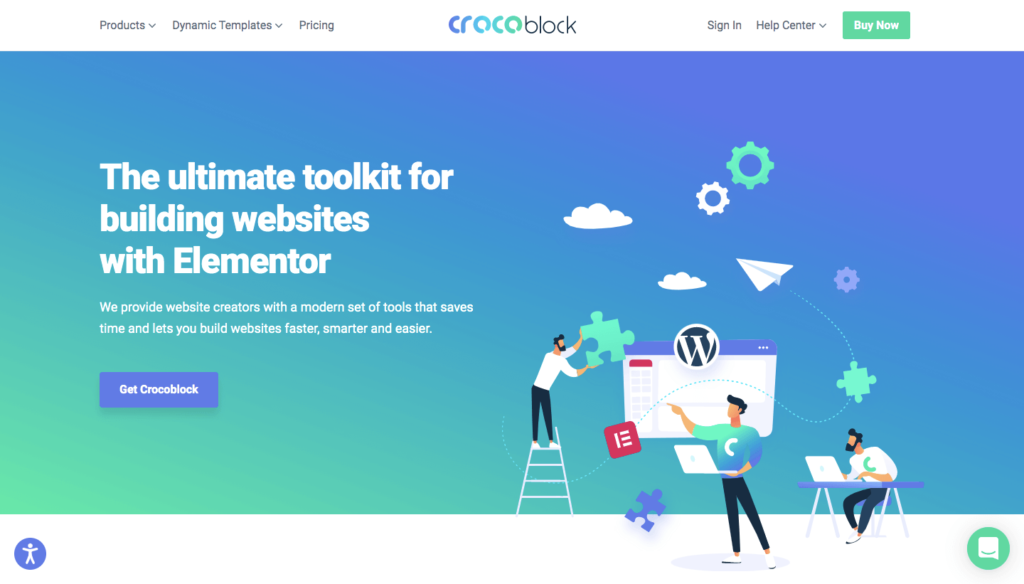 Save time on building a website through the modern set of tools and build a powerful website easier, faster, and wiser. At Crocoblock, you are free to create the design that you dream of with hundreds of available widgets along with the eye-candy effects.
With this best Elementor addon, it is more likely to customize every detail according to your needs, and you can set them on any widget or page. It has a great community and receives regular updates.
Highlights
Real-time Zoom support & text chats
Combine Jetplugins to build business sites
47 templates and 18 jet plugins
Supports dynamic content and stylish visual effects
30 days money back guarantee
6. ElementsKit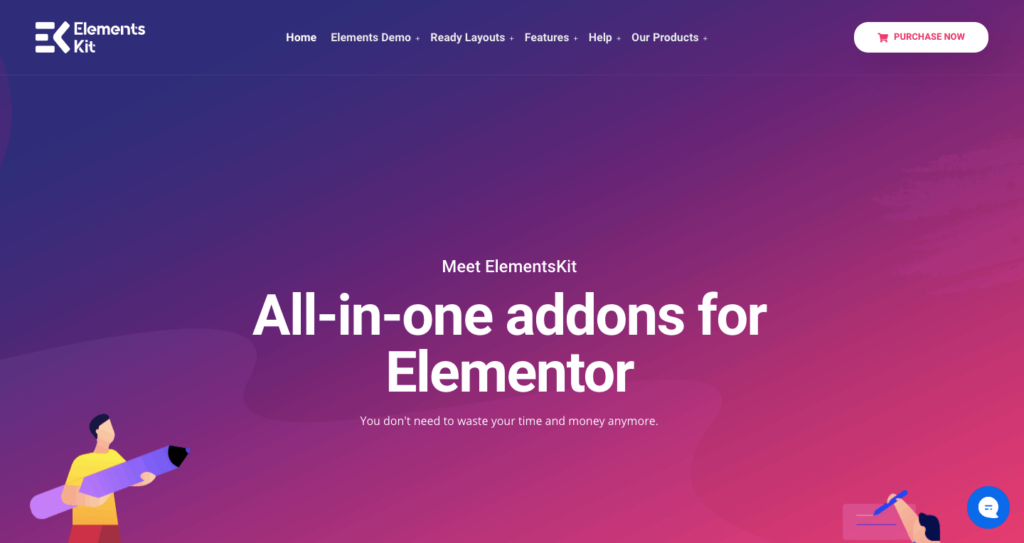 ElementsKit's pre-made layouts can obtain a beautiful design for your website in a few seconds. In the layout library, you will get 20+ complete home pages and 450+ blocks which could be used to create a unique, creative, and trendy website.
Besides, be ready to grab 50+ exclusive widgets that will be much needed for your site, like client logo, faq, countdown timer, etc. Yes, make sure to be amazed by the creative demos and customizable widgets. Both free and paid versions are available.
Highlights
Advanced sticky, parallax, and table
Megamenu builder
Header & Footer Builder
Works with the free Elementor version
Conditional content
7. Essential Add-ons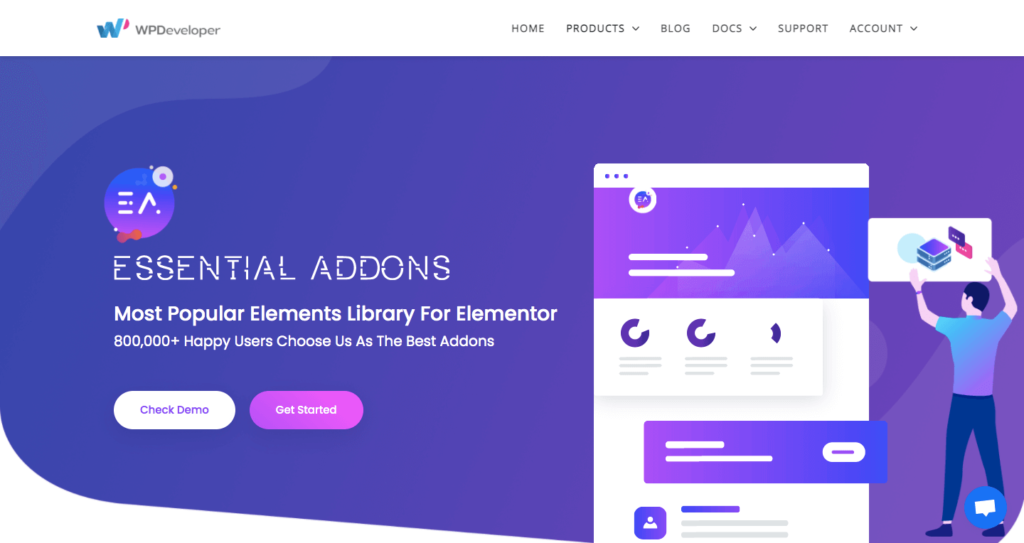 By using the easy-to-use and creative elements of the Essential Add-ons, you add power to your page builder, and your website will be prettier than ever before. You will get each element with many options to personalize every possible thing.
Millions of users have downloaded essential Add-ons for Elementor because of its design flexibility, extreme customization, and affordable pricing. Without any coding skills, stunning websites can be created through these free essential elements.
Highlights
Impressive free elements
14 days money back policy
70+ premium elements
1900 five star reviews
25% renewal discount
8. Livemesh Add-ons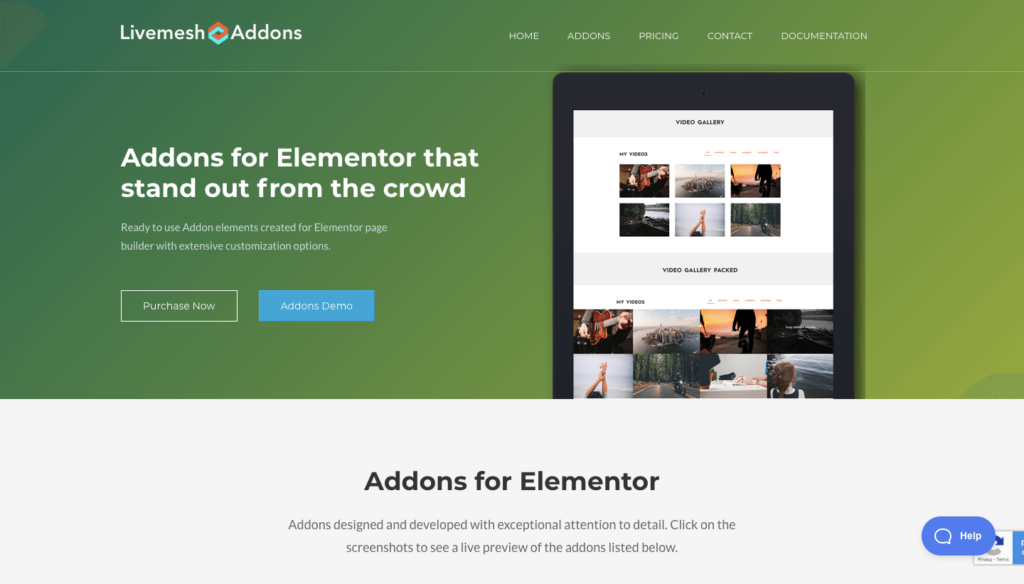 You do not need to switch to a premium theme to work with the Elementor; the Livemesh add-ons cover everything with premium elements. The prebuilt website will let you create an elegant website. The plugin's premium version comes with demo data import, enabling you to start quickly on the add-ons.
Every addon has been designed and developed with exceptional attention, and hence you would feel easy to add a lot of functionalities to design stunning websites. Being a fast-loading and mobile-optimized plugin, your site's loading speed and responsiveness will be top-notch.
Highlights
Quality code with over 8 years of experience
Receiving regular updates to ensure the compatibility
Excellent support to fix your issues
Lightbox & Animations support
100% money refund if you are unsatisfied
9. AnyWhere Elementor Pro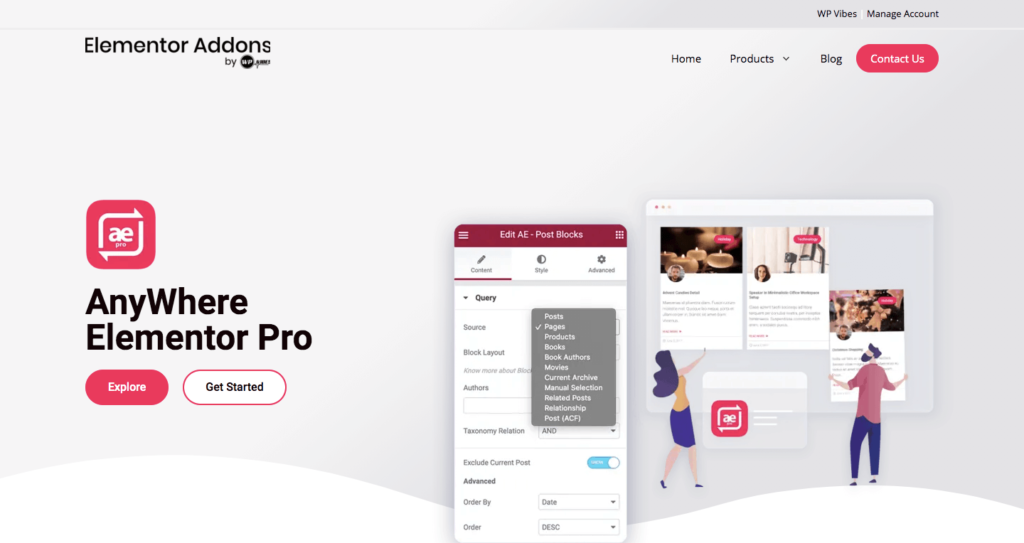 The AnyWhere Elementor Pro is one of the versatile and flexible themes that will let you make the website that you dreamed of a lot. Just override any WordPress section, and it gives you endless design and layout options. There are many widgets to a particular place, and design all the individual components in your layouts.
It has full support for WooCommerce, and thus, you will get complete control over the single product, shop layouts, and category archives.
Highlights
Versatile post blocks to design your archive layouts
Flexible Pricing Plans with support & updates for 1 year
50% renewal discounts
Fantastic widgets to be placed in your layouts
14 days refund policy
10. Extras for Elementor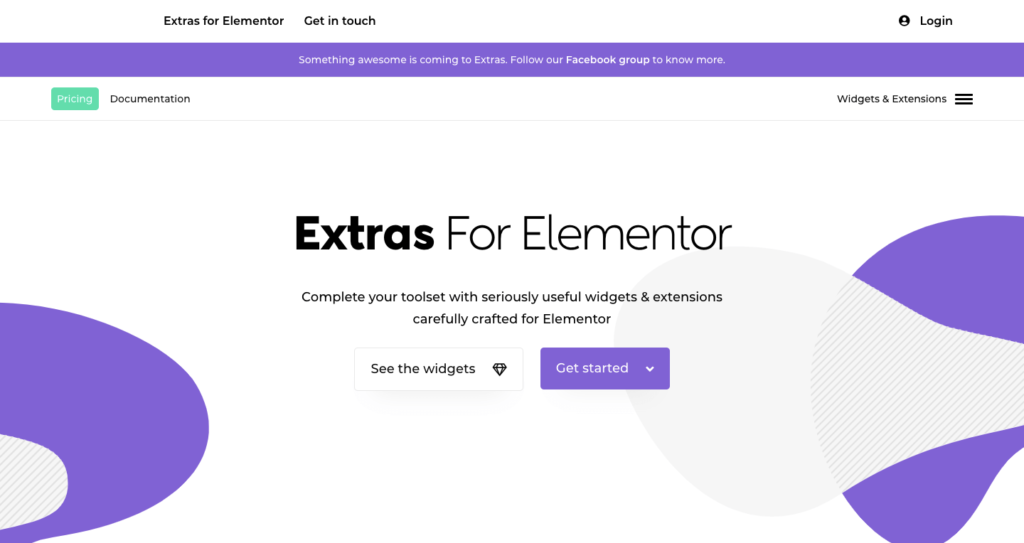 The Extras for Elementor will give you an exciting and easy-to-create beautiful experience. Moreover, the powerful add-ons widget will provide you with extensions that will help you to make a stunning website.
The widgets and extensions available at the Extras for Elementor are as unique as they are helpful. Also, customization of every detail is made possible on the pre-built theme, and you could create a fantastic website.
Highlights
Unique widgets
Reliable support
Compatible with WPML for translation
Does not affect the page speed
Powerful extensions
11. Master Add-ons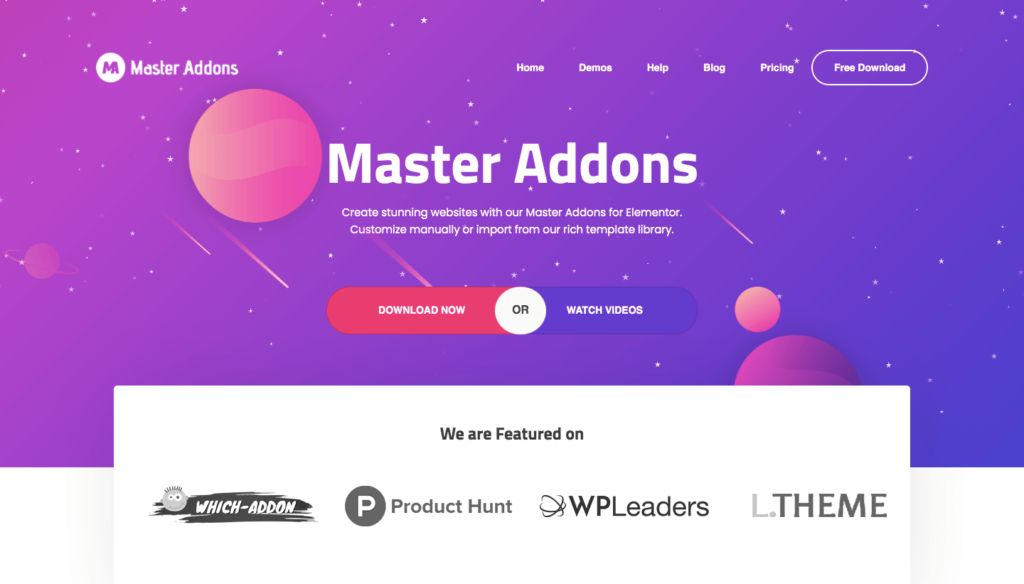 Master Add-ons gives you unique and excellent designed add-ons and element widgets that will boost your design creativity. It has a mega menu feature, a highly requested feature by the users.
The custom CSS will let you customize any section or elements you require. From the template library, download the fantastic pre-built templates. Also, from the template library, you can select any landing page and import it to your website with just a single click.
Highlights
Widgets are added and modified every week
Ready landing pages
Header, Footer & Comment builder
Custom CSS for elementor.
14 days free trial with 30 days money back policy
12. Element Pack Pro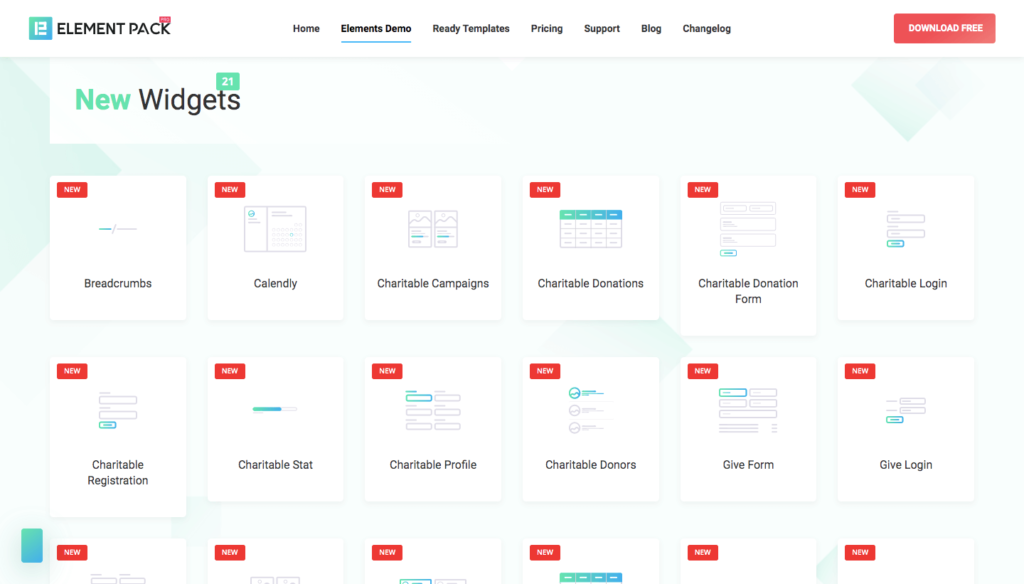 Element Pack Pro lets you build websites with unlimited possibilities. It is one of the essential Elementor addons that bring incredibly advanced widgets and A to Z add-ons to the Elementor page builder for WordPress.
You do not need coding knowledge to make an eye-catching site; simply, the Elementor Pack Pro will power up your site. You can edit style any widget piece by piece, like editing the text, title, icon, button, etc.
Highlights
1700+ pre-made designs and ready blocks
200+ header and footer
Massive hird-party widgets
Biggest templates library with 2200 designs
Lifetime plans are available and they are affordable
Few More Useful Elementor Addons To Install
13. Envato Elements
With Envato Elements, you will have access to try thousands of free pages and block templates to use within the Elementor. Just browse it, import it, and then customize every single detail. You can easily import over 1 million royalty-free photos without leaving WordPress.
Highlights
Royalty-free stock photos
Professionally designed and fully flexible
Premium templates.
14. Happy Add-ons
Happy Add-ons is a powerful Elementor widget that will help you create beautiful and impressive websites. This extension is the complete package for every level of users; create a website more accessible than ever by bringing your creative web designing imagination. If you are working on multiple websites, you could easily copy anything from one site and paste it to others.
Highlights
16+ unique features
Animation
500+ unique line icon.
15. Plus Add-ons
Plus Add-ons is a powerful, innovative, and creative addon to supercharge your Elementor. You can import and customize a pre-built website from the template library. You will get everything necessary, like listing, widgets, design, and extras with the Plus Add-ons to create an eye-catchy website.
Highlights
80+ powerful widgets
Amazing listing builder
300+ UI blocks.
16. Prime Slider Add-ons
The prime slider comes with a modern and trendy design feature, and the drag and drop slider comes with many variations. In the Prime Slider, download the premade website and edit it according to your likes and needs. The best thing about the Prime Slider is, you can manage your off-canvas, menu, and logo in one place.
Highlights
User-friendly design and easy to use
Social share button
Multilingual ready.
17. PowerPack Add-ons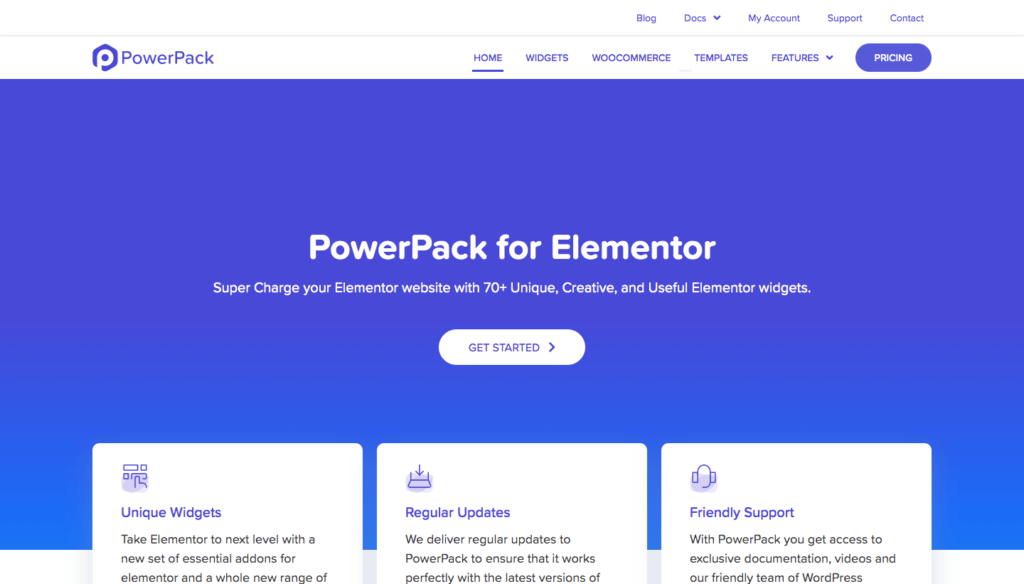 PowerPack gives you a supercharge to your Elementor website with its 70+ creative, unique, powerful, and valuable Elementor widgets. Take your website to the next level through the new set of essential add-ons. Every widget is built with a particular focus on user experience and flexibility. It is the fastest and most lightweight add-on that WordPress members have built.
Highlights
Regular updates
Friendly support
Cross-domain copy-paste.
Wrapping Up
Elementor is a feature-rich page builder for WordPress! However, you may need to unlock its design ability through a range of new extensions that offer huge page design choices. At that time, the best Elementor addons will come to your rescue. Besides you may also check some amazing Elementor compatible themes to create your business website.
I hope these free and paid resources will help you get complete control of your site elements and exploit your innovative design skills. Out of these 15 preferences, we would highly recommend the top two Elementor add-ons – Ultimate Add-ons & Premium Add-ons to design your dream site.