Without a doubt, Elementor is one of the most popular page builders today. More and more features, plugins, and customization capabilities are created and added to it every day in order to make the page building experience even better.
Many choose Elementor as their preferred page builder for a reason!
Building pages with it is quite easy and – if done properly – fast.
But while Elementor made the page building process pleasant with the amount of freedom it offers with all the features and customization possibilities, designing your pages can also be a daunting task if you're a bit inexperienced or short on time.
There are ways to overcome this issue – two of which I'll cover in this post to help you increase design efficiency in Elementor: reusable content and premade content.
The problem of legwork in Elementor
With the amount of customization and features it offers, Elementor allows you to create pages from scratch, giving you control over nearly every design detail.
But while we're happily designing our pages in Elementor, we might forget the fact that there are some shortages that can slow us down and make the process less efficient.
Let's say you've figured out a nice button design for a project you're working on. You realize that you need to apply the same design to all of the buttons in all of the pages to keep the design consistency.
Well, the bad news is that you have to redo and restyle every single button you're creating over and over again! That's a huge waste of time and energy.
Or let's imagine you're finally done with stylizing your widgets or a specific section of the website – the hero section, for example.
And you find out you can use a similar hero design on another Elementor project. Is there some type of magic that allows you to move your precious design completely from this website to another one?!
Unfortunately not! If you start a new project, all your time and effort is lost, and you have to start all over again.
How to solve the problem?
So is there a way to solve this problem and increase design efficiency in Elementor?
Of course! That's where reusable and premade content comes in handy.
To save you a lot of time, you can choose premade templates already available in the Elementor template library and in some other third-party plugins.
This will allow you to quickly and easily put together your content. And to save you the hours of work you have put to design a widget or a section, reusable content lets you save the work and reuse it whenever you want.
Currently, this best page builder allows you to save a section content, but you'll be able to reuse it only in the same project you're working on.
In order to save and reuse your styles and templates in various Elementor projects, you have to use third-party plugins and tools.
Below, I'll explain the options you have with the possibilities they offer.
Reusable styles and templates
Elementor transformed the complicated process of page building into a matter of a simple drag and drop. But in fact, it's not as easy as just dragging and dropping some widgets into the page!
Elementor widgets are raw-looking and are not ready to use per se. You have to put time and effort to stylize and beautify them, and to apply these styles to all widgets across your website.
Imagine you've painstakingly stylized a widget with much care and you realize there are dozens of similar widgets in other pages of your site that need to have the same style!
You already designed it and you have to put that much time and design it again and again for all these widgets? Sounds frustrating, right?!
Luckily, there are ways to save your styles and reuse them anywhere around your website whenever you want. Here are two of them:
Elementor Global Theme Styles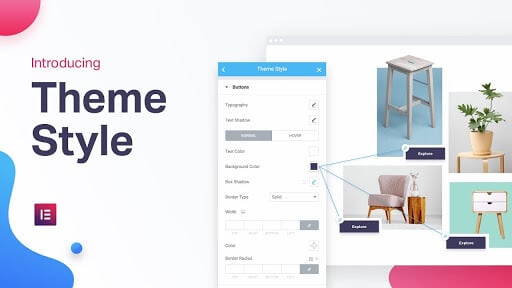 One solution to save and reuse styles on widgets is to use the Elementor Global Theme Style feature.
Elementor introduced the Global Theme Style with its version 2.9. With it, you're able to apply fixed styles to different elements and widgets and maintain design consistency across the entire website.
All you need to do is set a default styling to different elements such as backgrounds, typography, images, buttons, form fields, and more, and all such elements throughout your website will be changed to that global style.
With this new addition, you have more control over the design of your website and don't need to change every single element separately which takes too much of your time, and the final look usually is not as consistent as you expected.
You can find more information regarding this addition and how to design your WordPress website using these styles in Elementor documentation and this blog post.
WunderWP reusable widget styles & templates
As I mentioned earlier, currently you can't save and reuse widget styles in future Elementor projects.
A free plugin called WunderWP is making it possible to increase design efficiency in the Elementor.
You'll no longer be overwhelmed by the amount of work you have to put to design widgets from scratch or lose all your work when you switch to a new project.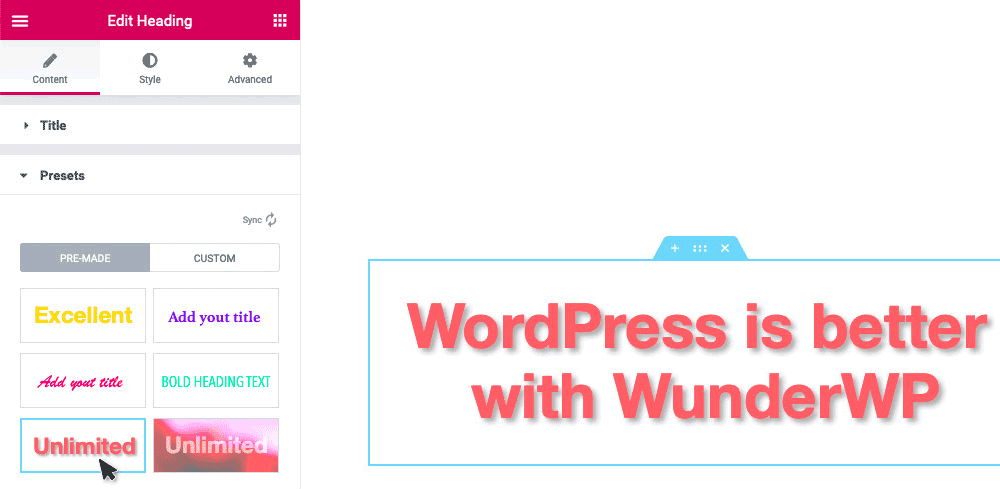 Other than the premade widget styles which will be explained in the Premade Content section below, with WunderWP you would also be able to save and reuse your own widget styles – not only in the same website you're working on but also in any other Elementor project whenever you want.
Just save the widget style you created in the WunderWP Cloud, and use it whenever you wish and as many times as you want. Isn't that a huge timesaver?!
Premade content
Imagine you have a design in mind for an About Us section of your website. And you've already thought of all the details, its structure, the elements you're gonna use, a big image of your team, team members introduced, a short text about the company, colors, headings, learn more button, etc.
What if I were to tell you that an expert has already designed what you had only in mind and it's ready to use? Who doesn't want that?! Just think of the time you had to spend to put everything in order, now you have it all ready.
Premade content is becoming more and more popular as most website design projects are tightly time-dependent.
It would be great if you have a library of premade templates that are designed for specific purposes and can be used in a variety of contexts, whether it's a premade widget style or a premade section template.
You just choose, tweak it to your needs, add your content, and ta-da! You can get premade content from different sources, I'll list some of the popular ones below:
Envato Market
Envato Market is probably the largest marketplace with thousands of pre-built templates and WordPress themes and plugins. You'll find various templates for Elementor tailored for different purposes and also a vast number of WordPress themes and plugins.
TemplateMonster
Template Monster is a digital marketplace that features a large number of premade high-quality templates tweaked for different businesses and purposes in mind.
Most of the templates on Template Monster are premium but there are also free templates you can choose from.
Essential Addons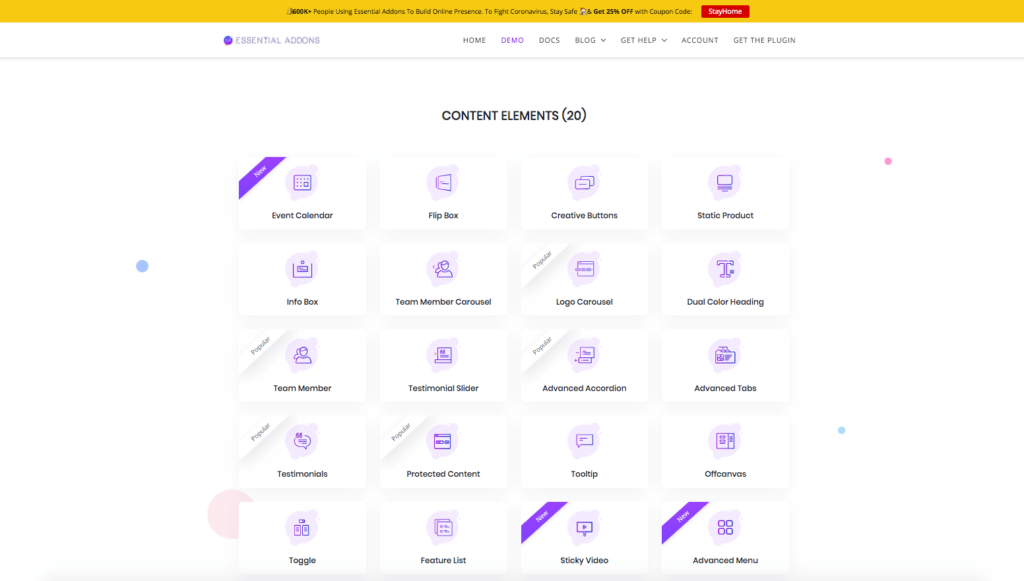 Essential Addons is a WordPress plugin and is considered the most popular elements library for Elementor that offers creative elements, extensions, premade blocks, and templates to make the page building process easier and more interesting.
It comes with both free and premium versions with 40+ free widgets and 30+ elements on the premium version.
Premium Addons for Elementor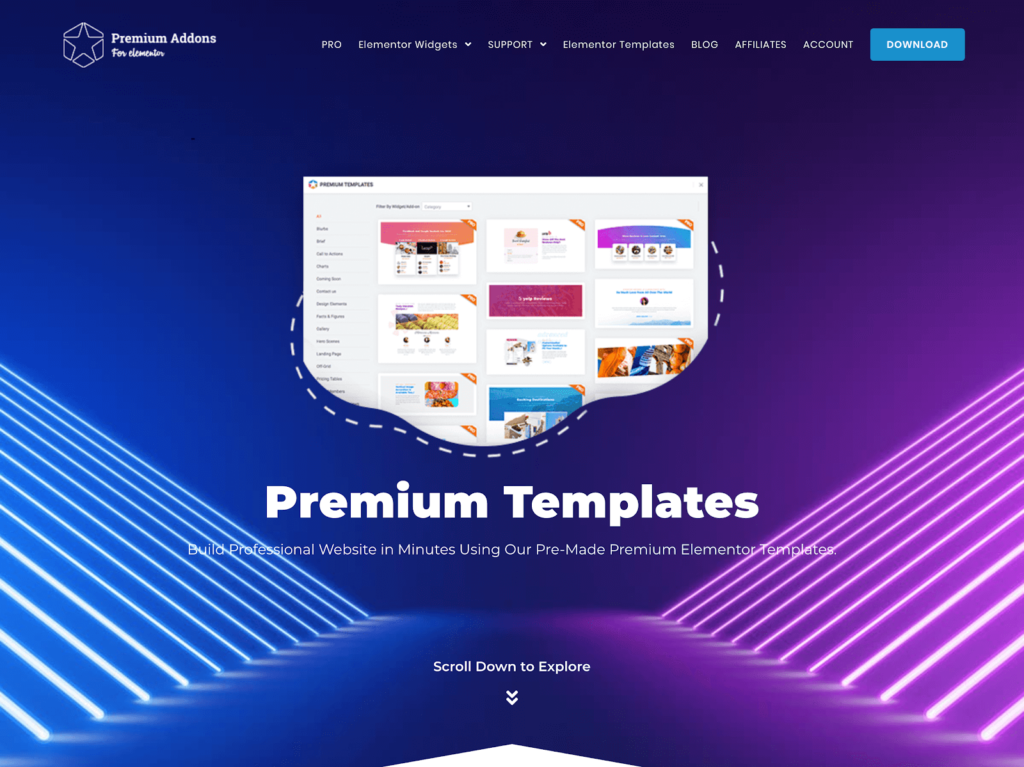 Premium Addons for Elementor offers highly customizable widgets and addons to put up your Elementor website in minutes. It also has both free and pro versions.
The Elementor templates library is available on both versions that you can search, choose, and insert in your page however you see fit.
Elementor Header, Footer & Blocks Template
Elementor – Header, Footer & Blocks Template is a WordPress plugin that allows you to create unique layouts for headers and footers on your Elementor website or to simply set the layout as a section block anywhere on your website.
WunderWP premade section templates in the cloud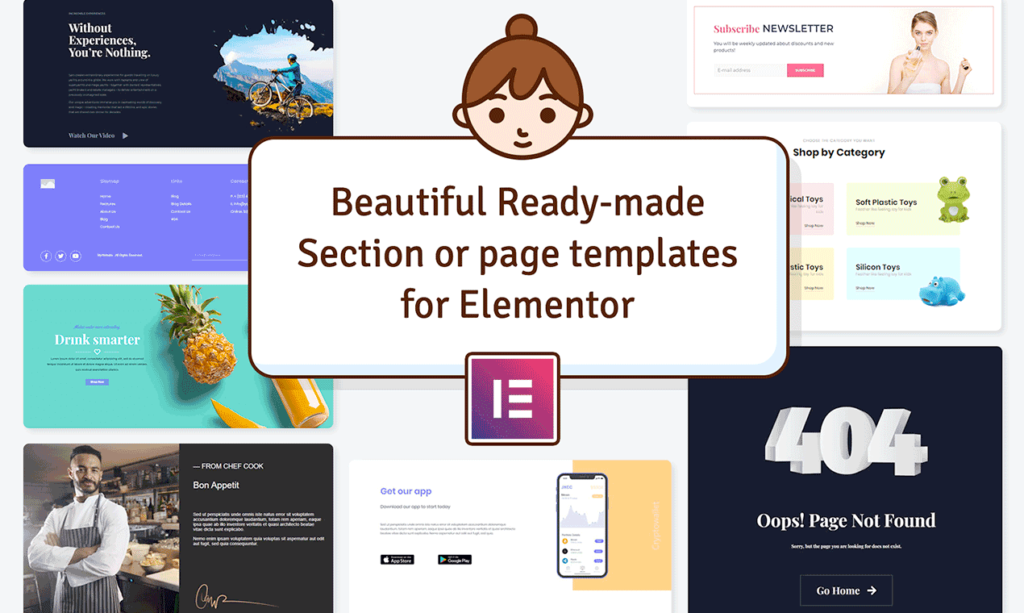 As mentioned above in the Reusable Styles and Templates section, WunderWP is a free WordPress plugin that allows you to save and reuse your Elementor styles and templates in the Cloud to use later or to choose from the many pre-made templates and quickly beautify your pages.
Upon installation, you have access to a number of premade widget styles for headings, galleries, buttons, forms and many more which can be applied with just a click.
If you're short on time, you can either choose one of the preset templates created with different purposes in mind, such as service, contact, about us, etc. or save your own custom templates – either the full page or just a section of the page – in the WunderWP Cloud and use it whenever you want.
Wrapping up
Page building with Elementor is already easy and pleasing, but just like any other phenomenal product, it grows and evolves. So in order to keep up with the pace of new tools, plugins and features are introduced to increase design efficiency in Elementor.
Which one of the tips and tools introduced above you have used or found helpful to give it a try? I've handpicked our favorite ones here but for sure there are many that we might've missed. Please do share your tips for those who are looking for inspiration.