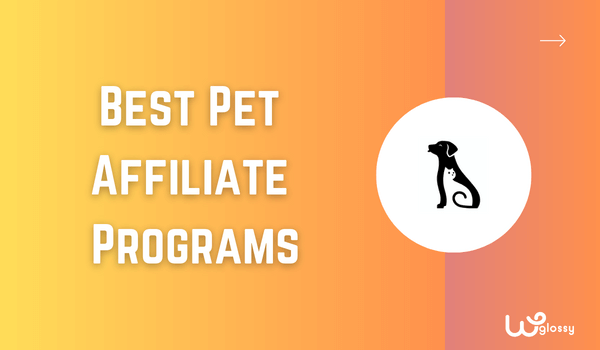 Are you a pet lover looking for ways to monetize your passion? Pet affiliate programs are the best way to make commissions by promoting pet-related products and services on your website. After starting a pet blog, I hope you began getting visitors through the best blog posts.
Don't forget to follow some pet blogs and get inspiration to earn a passive income every month. With so many programs available, it can be overwhelming to choose the right one. But worry not; I have compiled a list of the top 21 best pet marketing affiliate programs to make it easier.
In this article, I will introduce you to some of the best pet affiliate programs and explain why you should consider them. So whether you are a blogger, YouTuber, or social media influencer, keep reading to find the perfect pet affiliate marketing program. Let's get started without any delay.
Top 21 Best Pet Affiliate Programs
Are you ready to turn your pet passion into profits? I have your back covered as I have brought the most profitable pet affiliate programs. These affiliates are the industry's best programs and have the best commission rates and product offerings. Let's move to our top list:
1. Petco Supplies
Petco is a well-known American retailer that has been around since the 1960s. They specialize in pet care, offering everything from food to veterinary services. You may not get high commission rates from this pet store affiliate program, but their EPC (Earnings Per Click) is very high. If you are interested in promoting pet care products, Petco is worth considering.
Why Petco Supplies
Commission Rate: 0% to 4%
Earnings Per Click: $45.95
Cookie Duration: 7 Days
Join The Petco Affiliate Program Now!
2. Ollie
Ollie is a dog food brand that prides itself on producing meals from human-grade meat. For affiliate marketers, Ollie offers some of the best numbers in the industry. When a customer buys through your affiliate link, you earn an automatic $60 commission. It's an excellent pet food affiliate program to promote high-quality dog food while earning a commission.
Why Ollie
Commission Rate: $60
Cookie Duration: 30 Days
Join The Ollie Affiliate Program Now!
3. Live Pee Free
Live Pee Free sells a product to help pet owners eliminate the urine smell. It's one of the best pet product affiliate programs if you produce pet-related content. So, to monetize your pet-related blog or page, consider promoting Live Pee Free. Your readers will appreciate the recommendation, and you'll enjoy the extra income.
Why Live Pee Free
Commission Rate: 30%
Cookie Duration: 90 Days
Join The Live Pee Free Affiliate Program Now!
4. PetPlate
PetPlate is a food subscription service that lets pet owners make a human-grade meal plan for their pets. They operate in the USA, and you must promote the brand and its products only there. So, PetPlate is among the best pet affiliate programs in the USA. The best part? You will earn a commission of 25% on every sale made within a 30-day cookie window.
Why PetPlate
Commission Rate: 25%
Cookie Duration: 30 Days
Join The PetPlate Affiliate Program Now!
5. Holista Pet
Holista Pet is a company that offers CBD-infused edibles and oils for dogs, cats, and other pets. Don't look any further if you're looking for pet care affiliate programs. They offer their affiliates competitive rates and high EPC, making it a lucrative option. You can easily make a decent amount by promoting CBD-based products.
Why Holista Pet
Commission Rate: 25%
Earnings Per Click: $239
Cookie Duration: 30 Days
Join The Holista Pet Affiliate Program Now!
6. Whistle
The Whistle is an innovative GPS device for dogs to track and monitor their activities. It's the best product to promote if you have a pet health website or channel. You should work with Whistle to promote this device because they are in demand. They have a one-month cookie duration and offer a perfect starting point for any aspiring affiliate marketer.
Why Whistle
Commission Rate: 20%
Earnings Per Click: $97. 34
Cookie Duration: 30 Days
Join The Whistle Affiliate Program Now!
7. Chewy
Chewy, unlike other affiliates, does not offer commissions on sales through your affiliate links. Instead, you receive a flat fee of $15 for each new customer you bring to the store. All you need is to sign up for Chewy's official partner, Partnerize, to sell and promote affiliate products for pets. The only downside of this program is you get a commission for new customers referred.
Why Chewy
Flat Fees: $15/New Customer
Cookie Duration: 15 Days
Join The Chewy Affiliate Program Now!
8. FitBark
FitBark, like Whistle, is a state-of-the-art GPS tracker for pet owners to locate their dogs. It can monitor the health status and provide detailed reports. As these devices are becoming popular, joining their affiliate program can be a good idea to make some bucks. FitBark offers a low commission per sale for new members, but it'll be relatively good.
Why FitBark
Commission Rate: Starting At 12%
Cookie Duration: 60 Days
Join The FitBark Affiliate Program Now!
9. King Kanine
You might not have heard about this brand before, right? Yes, it's a unique brand with only a few products, including CBD oils for pets and pet treats. As CBD products are in demand for pets, pet owners prefer them for their furry friends. Although they don't sell many products, affiliate marketers can earn a good commission.
Why King Kanine
Commission Rate: 15%
Cookie Duration: 30 Days
Join The King Kanine Affiliate Program Now!
10. Petplan
Petplan offers a pet insurance affiliate program for pet owners who buy pet insurance. In such an affiliate program, you earn through lead generation and get paid $25 per lead. Although it's a competitive field, it's still the best option. If you are looking for pet industry affiliate programs in the US or Canada, target Petplan to earn a decent amount through leads.
Why Petplan
Commission Rate: $25/Lead
Cookie Duration: 30 Days
Join The Petplan Affiliate Program Now!
11. Yumwoof
Yumwoof, like Ollie, is a natural pet food company that manufactures dog food with natural, human-grade ingredients. This makes the Yumwoof affiliate program highly profitable as the company's food has a broader audience. For me, it's the best affiliate program for pets to earn a good commission and high EPC rates.
Why Yumwoof
Commission Rate: 15%
Earnings Per Click: $200
Cookie Duration: 45 Days
Join The Yumwoof Affiliate Program Now!
12. TruDog
TruDog is another dog food company that manufactures food, supplements, and treats. Pet owners can buy subscriptions to have customized meal plans for their dogs. As an affiliate, there are various ways to earn income through the company. With a 90 days cookie duration, you have enough time to promote your affiliate links.
Why TruDog
Commission Rate: 10%
Cookie Duration: 90 Days
Join The TruDog Affiliate Program Now!
13. Pet Care Supplies
Pet Care Supplies is a company that focuses on selling pet health products only. So, if you are in the pet niche affiliate marketing, Pet Care is the one to consider. Although they offer a low commission, 10%, the product price starts at around $100, earning you about $10 per sale. It's the best pet supplies affiliate program for those who create pet supplies content.
Why Pet Care Supplies
Commission Rate: 10%
Cookie Duration: 60 Days
Join The Pet Care Affiliate Program Now!
14. Pet Warehouse
Based on calculations, Pet Warehouse does not offer a good affiliate program. But based on facts, this program is worth considering. Its commission rate starts at 6%, which seems too low. However, this company sells more products at an affordable price. As a result, more people buy their products, earning affiliates more commission.
Why Pet Warehouse
Commission Rate: 6% to 8%
Cookie Duration: 10 Days
Join The Pet Warehouse Affiliate Program Now!
15. Embark
Embark is a DNA testing kit for dog owners to check their pets for any health risks in the future. This kit provides a report to identify the dog's health at the genetic level and make proper and timely decisions for its well-being. You earn up to 10% commission and a decent EPC rate as an affiliate marketer to make enough money from a few sales.
Why Embark
Commission Rate: 10%
Earnings Per Click: $73.75
Cookie Duration: 30 Days
Join The Embark Affiliate Program Now!
16. Animal Den
Animal Den is a company where pet lovers can buy unique products to send to friends or family members. If your target audience loves to gift pet-based accessories, you can consider joining this affiliate marketing for pet products. By making a $1000 sale, you'll get a 12% commission. And by closing sales over $1000, you'll earn a 13% commission. 
Why Animal Den
Commission Rate: 12%-13%
Cookie Duration: 45 Days
Join The Animal Den Affiliate Program Now!
17. Bark Potty
Like Live Pee Free, Bark Potty is a product for pet owners to eliminate the pee smell from their pet's pee. It's a pad made from bark and can fulfill the need for up to 50 pee pads. As a pet affiliate marketer, you want to find the best-selling product. And your search stops here. Bark Potty is one of the most selling affiliate pet products so that you may earn a high profit.
Why Bark Potty
Commission Rate: 10%
Cookie Duration: 30 Days
Join The Bark Potty Affiliate Program Now!
18. Dog Med Laser
The Dog Made Laser is a revolutionary product for pet owners to help reduce pain and promote healing in their pets. This product is in trend these days as it's easy to use. It's an excellent product for affiliate marketers to promote. You may earn great commissions from huge sales as most pet owners would like to buy it.
Why Dog Med Laser
Commission Rate: 10%
Cookie Duration: 30 Days
Join The Dog Med Laser Affiliate Program Now!
19. Revival Animal Health
Revival Animal Health is the most trusted pet health products-related website selling various medicines, supplements, and vaccines. They have more than 1500 products, offering the best opportunity to affiliate marketers. I love this pet products affiliate program as you can make thousands of dollars from sales.
Why Revival Animal Health
Commission Rate: 10%
Cookie Duration: 45 Days
Join The Revival Animal Affiliate Program Now!
20. VetShop
VetShop is a leading online pet store in the United States that sells high-quality pet medications at affordable prices. Most pet owners prefer VetShop medicines for their pets, thanks to their reliability. And this platform is where affiliate marketers can enjoy more commission through promoting different brands' drugs.
Why VetShop
Commission Rate: 10%
Cookie Duration: 7 Days
Join The VetShop Affiliate Program Now!
21. PawHealer
Lastly, PawHealer is another best pet affiliate programs for you to promote and earn a commission. This company sells herbs for dogs and cats to improve their health. As an affiliate, you have two affiliate options: FlexOffers and ShareASale. Both programs offer different rates and can reach up to 15% for each sale through your link.
Why PawHealer
Commission Rate: Up To 15% Per Sale
Cookie Duration: 30 Days
Join The PawHealer Affiliate Program Now!
Takeaway Thoughts On Pet Affiliate Programs
Involvement in pet affiliate marketing programs can be a great way to monetize pet-related content on your website or blog. You can earn a commission as an affiliate while helping pet owners with their pet needs. So, how does it feel to help others and make money?
If you are still confused about which affiliate program is best for you, here are the two. One is Live Pee Free with a 30% commission, and the other is Holista Pet with a 25% commission rate and $239 EPC. There are the highest-paying affiliate programs for pets on my list you can go for.
With many pet-related companies offering great pet affiliate programs, there is no shortage of opportunities for pet-loving affiliates. So, just focus on building an authority blog and get the targeted audience to make a huge sales from this pet blog monetization method.