Are you a pet lover and a person who has adopted pets? Do you want to learn how to start a pet blog and make money from it? If yes, it's great. Pet is a mood lifter! It's a good companion as well. If you build a blog for pets, you can share your feelings & experience with it.
Do you know you're not the only one? According to the American Pet Organization, 70% of households in the United States have pets. Not only do they adopt pets, but they also spend billions on their food, treatment, and vet care products.
The good news is that it is an earning opportunity for people like you who have pets! Yes, they can start a blog and share their knowledge with pet parents by giving answers to some basic and essential questions like:
How much do they need to spend on pet care per month?
How can they make their pet happy?
What things do they need for a pet dog?
How long can a pet stay alone?
What does pet care include?
Answering the above questions is a cash-in opportunity; you might wonder, "Do pet blogs make money?". This article is a goldmine of knowledge to monetize your pet blog. I'll share the answer to "How do I become a pet blogger" in easy steps. So let's dive into the topic!
Are Pet Blogs Profitable?
The answer is a "big yes"; it's a profitable niche. You can see above that millions of people are parents of pets. The first thing people do when they face any problem is search for the answers on the internet. If you can provide the ideal solution, you can make money with a pet blog.
Affiliate marketing, Displaying Advertisements, Sponsored posts, and Selling Ebooks & other products are some of the best ways to earn from a pet blog. This way, you can share your knowledge and make decent revenue.
However, there are a few things that you should keep in mind while starting a pet blog and making income from it.
Step-by-Step Guide To Start A Pet Blog
It's time to follow my step-by-step guide to start a pet blog in 2023.
1. Find Your Niche
The first step is finding the niche and subtopics or, in other words, pet blog ideas. This is the most important part, and most people fail here. Bloggers always choose a big niche without understanding that they always have high competition.
So instead of starting on a niche like "pet," you should choose a micro-niche. For instance, you know you want to start a pet blog, but can you cover topics about all pets? Indeed, no. Choosing the entire pet niche means competing with all blogs in the "pet" niche.
You should write about your expertise, like your pet and how you maintain it at home. For example, you have a pet dog like Labrador, Golden retriever, or german shepherd, and how you care for it at home. This is how you can pick a sub-niche.
2. Get A Domain
After picking a sub-niche, you should start thinking about a domain name. If you're worried about what's a domain name, it's the online address of a blog. The easiest example is seeing our website's address (domain) above in the search bar.
All domain names look like that: www.xyzmyblog.com (it's just an example).
Everyone has www in their domain name, but after that, you've to choose. For example, we used xyzmyblog; this is the domain name. After that, you can choose .com or .net. It depends on what you want and what's your budget.
You may choose any domain name you want, but it should be available and not picked by anyone. For instance, you can pick "Mypoodle," "Thebulldoglife," or anything; Check for the availability on the following websites to get a domain for your pet blog.
Some famous domain service providers.
Domain.com
GoDaddy.com
Namecheap.com
Name.com
Google Domains
3. Buy A Hosting
Once you purchase a domain name, it's time to consider a good web hosting plan. Hosting means purchasing your blog's online server, storage space, and security. A hosting plan provides a secure place to save your content (the article, images, videos, etc.).
There are many hosting service providers, and you can decide where to buy hosting. They offer different plans; basic, premium, or standard. Each plan has a different price and features. The more services or features you get, you'll have to pay.
Hosting I Recommend
Cloudways
Cloudways is one of the most famous hosting service providers. It provides the best speed, performance, and up-time necessary for a blog. Moreover, the basic plan starts at $10 a month, which is reasonable.
You can check other plans and have an exclusive discount through the Cloudways Coupon Code – WPGLOSSY. There's one more thing that you should know: you can use the hosting service free for three days; it's a free trial to check the features.
A2 Hosting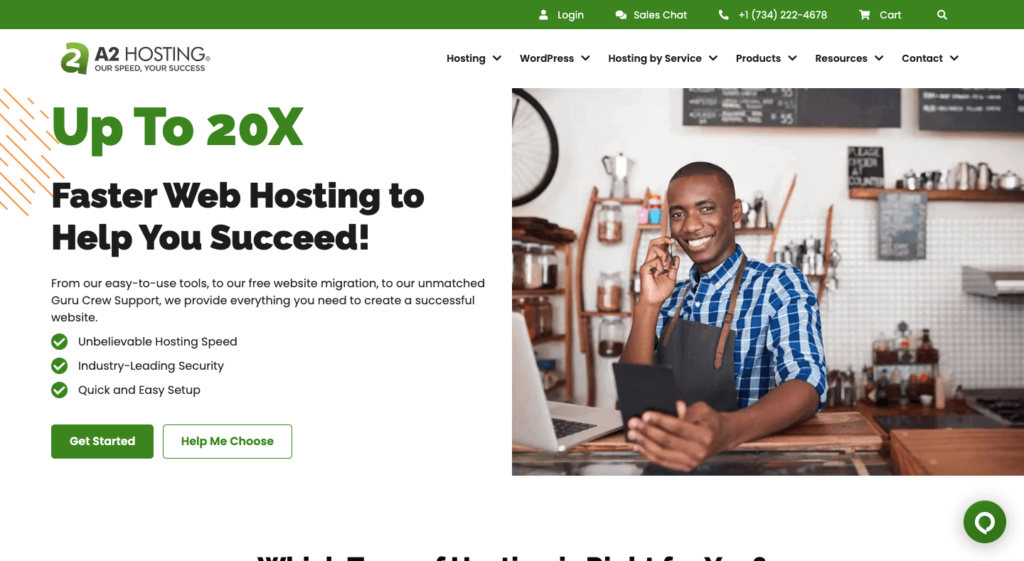 If you don't want to go with Cloudways, you can choose A2 hosting. It is a cheap hosting service that offers different hosting plans. Their customer service is excellent. You can contact them 24/7 through live chat, email, or phone if you face any trouble.
4. Set Up Your Blog
After choosing a domain name and hosting, it's time to think about how you can set up your blog. So if you've purchased a hosting plan, install the WordPress software and sign-up through the admin panel.
I suggest WordPress because it is the best content management system for beginners. The software is easy-to-use anyone can build a professional blog without coding knowledge.
Once you sign-up, you'll be redirected to the WordPress dashboard. In the dashboard, you'll see the menu on the side of the screen. The first option will be home, post, comments, media, appearance, plug-ins, tools, settings, etc.
Each option will help you throughout your blogging journey. However, there's one option that you need to use right after logging into the admin panel. The option is about changing the theme of your blog.
Pick A Blog Theme
The theme is an important part of the blog. Most of the time, bloggers neglect its importance and choose cheap themes that don't work well. So always choose a good and responsive theme because it is important for a good user experience.
Recommended WordPress Themes: WPastra and Generatepress
If you've no idea which theme is the best and most responsive, I recommend WPastra and Generatepress. You should get a fast-loading, SEO-friendly WordPress theme to offer the best user experience for your site visitors.
WPastra is a light and responsive theme; it will not affect your website badly. This theme is used in over 1 million websites, and the bloggers are quite happy with its results. One more theme that I recommend is Generatepress. It's perfect for you if you want a high-speed design.
How To Install Theme In WordPress?
After choosing the theme you want for the website, it's time to install it. Don't worry; it is not a technical process.
The first step is to download the theme you choose from Themeforest. Go to the WordPress dashboard page, Select Appearance > Theme > Upload in the WordPress menu bar.
Now you'll see the theme page of WordPress. Click the "Upload the Theme" option and upload the theme file. Wait for a few minutes for installation, and that's it.
Remember that only the installation process is complete now. After that, you can customize the theme the way you like.
5. Create Pages
Once you're done with the theme installation and customization, create pages for your blog. Bear in mind that you're not only starting a blog; instead, it's a business. And in business, the key part is to provide your information services so the audience can contact you when needed.
You need "Contact Us" and "About Us" pages. These two pages will help your audience understand you better.
Contact Us: On this page, you'll share social media links of blog pages, official email, and add the contact us form.
About Us: Here, you'll provide information about you, your team, your goal, your authors, and your business.
Note: Aside from these two pages, you should also create a privacy policy page and disclaimer page. Look at the below image for a better understanding!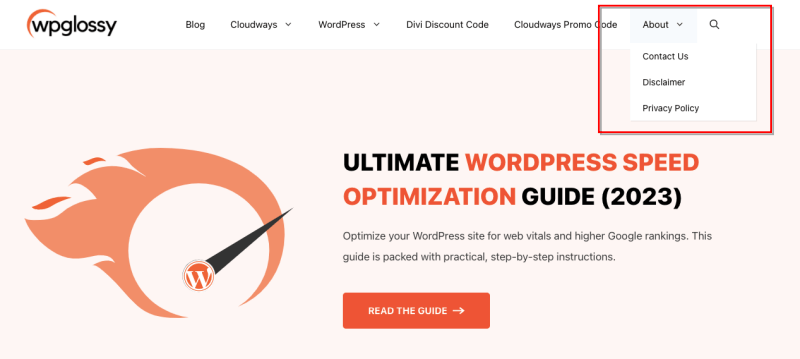 6. Keyword Research For Content
One of the most common questions that ring the bell in everyone's mind is: How do I make a successful pet blog? How to get target visitors to my blog?
The answer is SEO. It is an important factor; neglecting it means bypassing Google's algorithm. You should execute a proper SEO strategy to help your blog rank and generate organic traffic.
You can follow my SEO guide if you've no idea how to optimize your blog and create a strategy.
Keyword Planning
The first and most crucial thing for SEO is keyword planning. Keyword means the words and phrases people from a worldwide search on Google and other search engines. It is the best way to know what people or your audience want.
Suppose you've started a pet blog about "Bernese dogs," and it's your niche. How can you choose the topic and keywords? You need to purchase a keyword research tool, or you can use the free ones.
First, pick topics in your niche, such as why Bernese dogs drool excessively. The topic you've chosen is a serious problem that Bernese dogs owners face. So assume we will write a detailed blog post regarding this issue. Now you've to choose keywords related to this topic.
To choose the keyword, we've to use the keyword planner. When you write a topic like "Bernese mountain drooling" in the keyword planner, see the keywords related to this topic. To show you the entire process here, I'm using the Keyword Tool. It is paid, but you can search a limited number of keywords daily.
Now you can see the keywords or phrases people search for on this topic. The search volume and CPC is blurred as it's free, but you can see them after purchasing. See which keywords have low search volume in paid version, select them, and use them in the blog post.
I suggest you choose low-competition keywords because they are easy to rank. They have low competition so that you can rank high even with your new pet blog. Otherwise, your blog posts will rank low on high-competition keywords because Google prefers high domain authority sites for top rankings.
Aside from the keywords, research tools suggest questions to add to the blog post. You can see them in the below image.
I have consolidated the best keyword research tools for your convenience, and you may pick the suitable one for your project. Fix the primary keyword, collect the secondary keywords (relevant search phrases for your main keyword), and start writing the articles.
7. Plan and prepare The Content
After selecting keywords, create a file and add them to check all keywords when writing a blog post. Do the same process again to find other keywords for the topic. This is how you can plan the content for months.
Later, make a schedule and stick to it, and publish blog posts at the scheduled time. For instance, if you want to post four times a week, decide the days and timing, and follow it.
Write Quality Content
After that, consider the question: How do I write a pet blog? Or How can you write quality content?
Writing a pet blog post is not rocket science, nor is it not an easy-peasy task. There are points that you should always remember while writing a blog post.
Make sure to write for your audience, not for search engines.
Don't stuff the keywords; use them naturally.
Write easy-to-read sentences.
Generate unique content, don't copy others.
Add your point of view, story, or anything that can make the content engaging.
After publishing a few posts, make sure to do interlinking.
Add external links to popular websites; it can help you in ranking.
Create 160 characters of meta descriptions for every blog post.
Add the primary keyword in the Title and meta description.
Do image optimization using ALT text in the image.
Use helpful videos and infographics for high user engagement.
Don't forget to edit your old blog articles.
8. Do Marketing
Now it's time for you to think about marketing. After all, it is difficult to survive in the blogging world without marketing since the competition is too high.
The best marketing method is using social media platforms because everyone uses them. You can easily connect with your audience on social media platforms and gain loyal followers for the blog.
Final Words – How To Start A Pet Blog In 2023?
Starting a pet blog is great when you have a pet at home. It is the best way to share your experiences which would help other pet owners to take care of their fondle, and for you, it will be a good income source and better time utilization.
Now you know the answer: how to start a pet blog? And yes, you can make decent revenue from blogging monthly through sponsored posts, guest posting, brand collaboration, offering services, or promoting pet care products.
Start your journey now because the competition is tough. When you get stuck somewhere, like installing and using the WordPress CMS or experiencing other issues like getting visitors to your blog, reach me through the comment section. I'll get back to you with helpful answers.