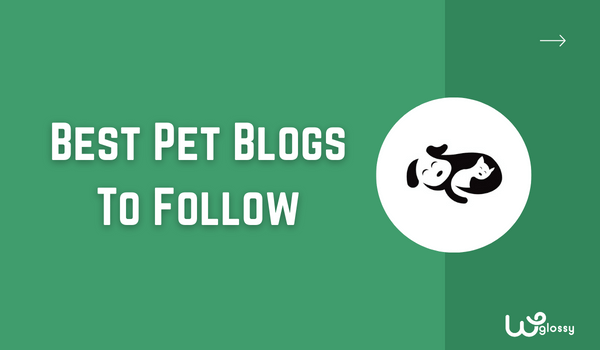 Are you looking for the best pet blogs to follow? After starting a pet blog, do you want to take it to a new height by following the best resources to offer valuable information to your audience? Also, do you need some inspiration to maintain consistency? If yes, you have come to the right place.
Animals provide us with endless love and companionship, making them an essential part of our lives. Pet blogs offer valuable information and fun for a better relationship between you and your pet. You can earn from pet affiliate marketing when you grow as a seasoned pet owner.
Today, we'll explore the best pet blogs to follow, with various topics including pet care, training, nutrition, health, and lifestyle. These blogs can provide valuable insights and delightful stories that will make your pet ownership journey all the more enjoyable. So, let's dive in!
Top 21 Expert-Picked Pet Blogs To Follow
Knowing where to find reliable advice and tips on keeping your furry friends happy and healthy can take a lot of work for a pet keeper. That's why we've rounded up the best pet blogs by experts with plenty of experience looking after pets. Let's get started with the best one:
1. Adopt A Pet
Adopt A Pet is one of the big pet blog sites operated by pet experts with many categories. It's a perfect place for advice on rescuing a pet or adopting your favorite one. Their blog features articles on care, health, safety, and training. For us, this website is the most reliable source to read on pets.
Organic Traffic: 2.1M
Site Authority: 83
Domain Authority: 66
2. Take Paws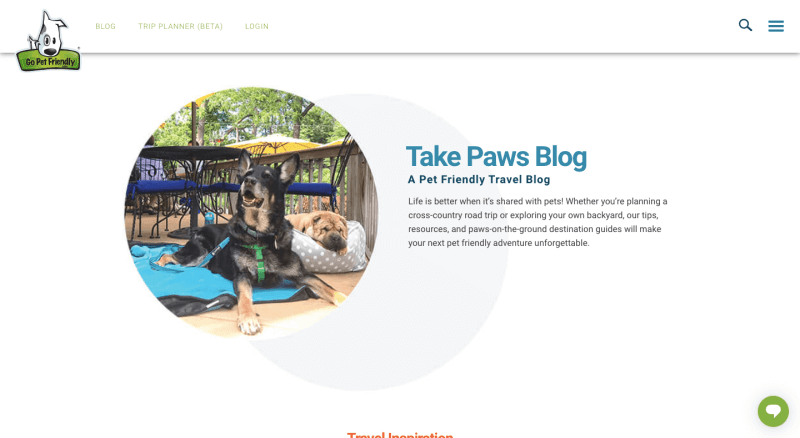 Take Paws is a blog offered by Go Pet Friendly. If you love traveling and are looking for ways to have pet-friendly travel, check out this blog. They share detailed reviews of pet-friendly hotels, attractions, and activities worldwide. Their blog also covers topics such as how to keep your pet safe while traveling.
Organic Traffic: 109K
Ahrefs Domain Rating: 68
Moz Domain Authority: 54
3. The Conscious Cat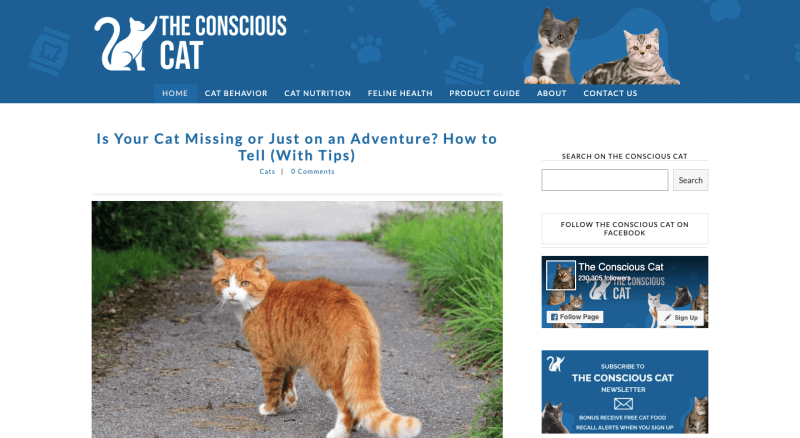 You and your cats deserve a joyful life, don't you? We have another blog, The Conscious Cat, for you. It's a blog specifically for cat owners, and its posts cover cat behavior, nutrition, and health topics. Pangolia, a pet-focused digital media firm, now owns this website, aiming to enhance pet and human lives.
Organic Traffic: 91.5K
Ahrefs Domain Rating: 61
Domain Authority: 55
4. The Dogington Post
If you own a dog and wonder how to entertain your dog and yourself, The Dogington Post is the best place. This blog covers lifestyle, health & diet, training, and reviews categories. They post regular updates from their expert writers with tips and insights on keeping your dog happy and healthy.
Organic Traffic: 55.5K
Ahrefs Domain Rating: 67
Moz Domain Authority: 58
5. Dogster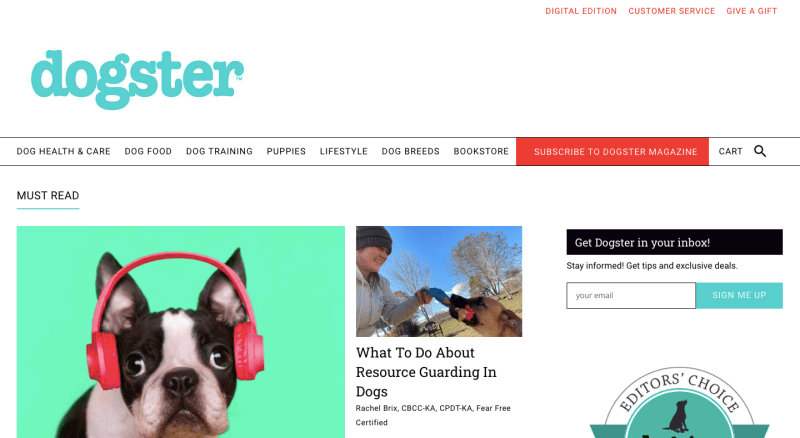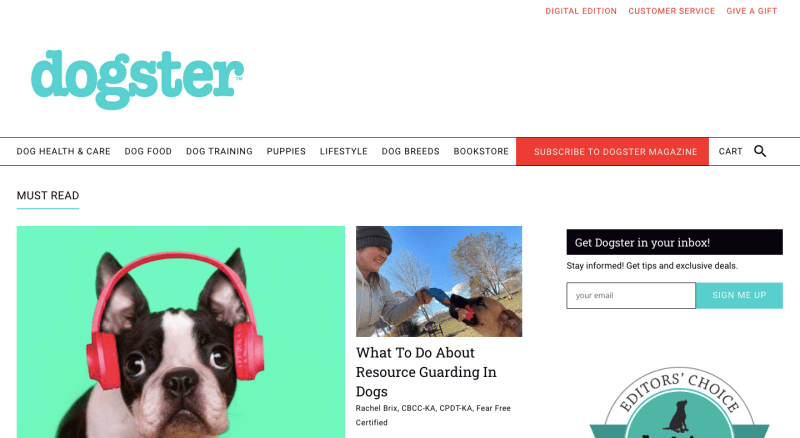 Do you have a puppy or dog at home and love to read newspapers and magazines? If so, that's wonderful. We have Dogster for you on our list of best pet blogs. It's a bimonthly magazine and website for dog owners. This blog brings together dog lovers to learn about dog health, lifestyle, behavior, and entertainment.
Organic Traffic: 314K
Ahrefs Domain Rating: 76
Moz Domain Authority: 73
6. Walkin' Pets BlogDogTipper
Walkin' Pets BlogDogTipper is a blog by Handicapped Pets for pet parents with disabled, senior, and special-needs pets. They provide helpful advice and product reviews from experienced vets and pet owners. So you can ensure your furry friend receives the best care possible.
Organic Traffic: 128K
Ahrefs Domain Rating: 69
Moz Domain Authority: 57
7. Freshpet
Freshpet is an American pet food company offering cat and dog food products. Its blog section provides pet keeper tips on nutrition, feeding, wellness, and fun with pets. Moreover, you can find Freshpet recipes to feed your pet with homemade foods using Freshpet products.
Organic Traffic: 133K
Ahrefs Domain Rating: 65
Moz Domain Authority: 56
8. Pet Keen
Pet Keen is a blog operated by a team of expert vets. It's the best blog for pet keepers looking for better health, nutrition, and lifestyle tips. Following this blog can make your and your pet's life easier and more enjoyable. We love this blog for its detailed discussion in its blog posts.
Organic Traffic: 3M
Ahrefs Domain Rating: 72
Moz Domain Authority: 54
9. Oh My Dog
Oh My Dog blog is another best blog specifically for dog owners by dog owners. Maggie, a mama, writer, and pet lifestyle pro owns and runs this blog. Although they now talk about cats, the primary focus is dog life. Their posts cover nutrition, training, grooming, and lifestyle tips.
Organic Traffic: 4.8K
Ahrefs Domain Rating: 41
Moz Domain Authority: 37
10. Pawsitively Pets
Pawsitively Pets is a pet blog for Hoomans looking for advice on cats and dogs and the best products for them. Ann Staub, a professional pet blogger and veterinary technician, owns this blog and shares her expertise. So, you can rely on product reviews and guides from this blog.
Ahrefs Domain Rating: 40
Moz Domain Authority: 40
11. Pet Life Today
Pet Life Today, now called Pango Pets, is a blog by expert writers and vet experts. It's a detailed blog for pet owners who want tips and advice on pet care, health, travel, etc. They publish pet news, tips, and pet product buying advice for owners of cats, dogs, hamsters, and horses.
Ahrefs Domain Rating: 22
Moz Domain Authority: 21
12. Champion of My Heart
Champion of My Heart is a pet blog that provides helpful tips and advice to help Hoomans take better care of their furry friends. This blog is written by renowned veterinarian Dr. Roxanne Hawn. It covers topics such as nutrition, health, behavior, safety, and much more.
Ahrefs Domain Rating: 34
Moz Domain Authority: 36
13. Wide Open Pets
Wide Open Pets, with multiple pet categories from cats and dogs to birds and rabbits, is a great blog for animal lovers. You'll find tips from expert writers reviewed by vet experts on enjoying a good time with your pet. If you're thinking about adopting or caring for a long-term pet, this blog can help.
Ahrefs Domain Rating: 65
Moz Domain Authority: 65
14. Simon's Cat
Simon's Cat is an excellent pet advice blog and website with a YouTube channel. They focus on informative guides and stories called The Simon's Stories, which you might find interesting and valuable. Their videos are great for engaging your kids in the stories and providing useful cat-care tips.
Ahrefs Domain Rating: 60
Moz Domain Authority: 63
15. Pressplay Pets
If you are looking for a pet health blog, don't go anywhere, Pressplay Pets is the best place. This blog focuses on healthcare and reviews about pet products you can get for your pets. You can find video content on this website and learn several things to implement. So, it's a blog for pet lovers by a pet owner.
Ahrefs Domain Rating: 14
Moz Domain Authority: 20
16. My Dog Likes
My Dog Likes can help dog owners provide their furry friends with what they deserve. This blog provides in-depth dog product reviews, travel guides, and tips for proper dog care. They have a team of animal behaviorists, veterinarians, and entrepreneurs in the pet industry. So, it's a fully reliable blog for pet parents.
Ahrefs Domain Rating: 31
Moz Domain Authority: 37
17. Pet Bucket
Pet Bucket is a pet supplies store for pet parents. However, their blog section is helpful for pet lovers looking for reliable pet care advice. Their categories cover exciting tips and tricks, health and well-being, and product reviews. Following this blog can give you helpful advice on caring for your pet.
Ahrefs Domain Rating: 50
Moz Domain Authority: 42
18. Pet Food Industry
As the name indicates, the Pet Food Industry focuses on pet food information. If you are concerned about what to feed your pet, start following this blog today. You'll get the latest dog and cat food news. They cover the world's top 10 food companies, and their blog has about 8 categories for readers.
Ahrefs Domain Rating: 73
Moz Domain Authority: 58
19. Pet Loves Best
Pet Loves Best, now called We Need Pets, is one of our favorite websites in pet blogging. We Need Pets is the perfect place for pet owners looking for tips and the best products (buying guides). Currently, they cover 4 categories: dog, cat, fish, and bird. So, if you own any of these pets, start following this blog now!
Ahrefs Domain Rating: 32
Moz Domain Authority: 29
20. The Animal Foundation
The Animal Foundation is a non-profit website with a clinic in Las Vegas to save the lives of pets. They are pet experts, and you can check their blog for articles on pet health and training. They post daily life tips from their team of experts who share their advice on how to care for your four-legged friend.
Ahrefs Domain Rating: 63
Moz Domain Authority: 53
21. We're All About Cats
We're All About Cats is a blog focused on cats and provides information for cat owners. This blog covers various categories, from cat names and breeds to cat behavior and health. Backed by a team of behaviorists, veterinarians, and cat product testers, you'll get the best advice for your cat to live the best life possible.
Ahrefs Domain Rating: 63
Moz Domain Authority: 57
Conclusion – Best Pet Blogs
If you want to stay informed on the latest news and trends in the pet industry, these best pet blogs are a must-follow. Whether you're a proud pet parent or an animal lover looking for helpful advice, these blogs have something to offer everyone.
So don't forget to check them out and stay up-to-date with the latest pet trends. Also, if you want to continue your career in pet blogging, these websites are good to go with. These blogs have enough information to build a website and share your knowledge.