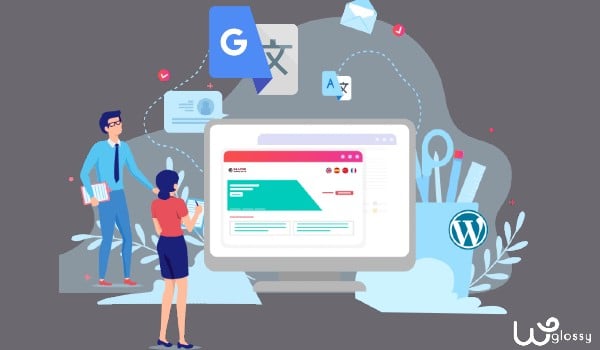 Do you want to create a multilingual WordPress site with the help of the best translation plugin?
Do not worry! I have consolidated some excellent extensions to easily translate your WordPress website and drive international traffic to it.
Why Is WordPress Translation Essential?
You might think, why do I need to translate my website content! Well, here are some valid reasons for that!
You can expand your brand reach and gain popularity overseas
It is a great way to boost search engine rankings and organic traffic
Your global customers will get an authentic online experience and will be regular to your site
Non-English markets are emerging and hence you can outdo your competitors
Of course, it is a nice opportunity to increase your product sales through a worldwide audience.
I hope you have recognized the benefits of translating a WordPress site to other languages. Now let's get into the best WordPress translation plugins to make your site multilingual!
7 Most beneficial WordPress Translate Website Plugins
1. Weglot
Do you want to install a leading translation plugin for your WordPress site? If yes, then your choice should be Weglot. It is a simple extension that is easy to install and manage.
Being trusted by more than 50,000 users worldwide, this best translation add-on for WordPress can increase your visibility so that your international sales and subscribers will get doubled. You can translate 2000 words into one language through its free plan, and for further requirements, you have to move to the premium version of Weglot.
Excellent Features
It is fully optimized for SEO, and Google will automatically index all the translated pages.
You don't need to worry about compatibility; it works well with popular plugins like WooCommerce, Elementor, etc.
As it can automatically detect the site content for real-time translation, you can stay away from manual content duplication.
Its language switcher is entirely customizable, and hence you may make it your own design.
If you use any other translation plugin, you need to deactivate that plugin and migrate easily to Weglot.
2. ConverThis
If there is one genuinely convenient way to translate your website, it must be through ConveyThis!
It is the most translated language plugin in the WordPress directory (over 38 language contributions) and is growing fast. ConveyThis makes it very simple to integrate into the WP website and activate 100+ languages.
ConveyThis uses automatic machine translation to translate your entire site and adds a language switcher button. So within the first couple of minutes, you'll already have a working, SEO-friendly multilingual site.
It comes with both free and paid plans. A free plan that lets you translate up to 2,500 words into one language, the paid plans use SaaS-style billing, which means you'll need to continue to pay for as long as you want to use the service. Paid plans start at €4 a month for one language and up to 10,000 words.
Excellent Qualities
It is the best SEO-friendly plugin that adds hreflang tag that informs about your translated pages to the search engines;
Its trained AI delivers exceptional translation quality; you need to spend only a few minutes to proof-read.
You can see the machine translations through the live editor and control all the tasks in a secure place.
Its server infrastructure is highly scalable. Besides, its efficient cache system takes care of your translations, and hence there will not be any load on your server.
ConveyThis is one of the best WordPress translation plugins that has been integrated with several biggies to offer great flexibility.
3. Polylang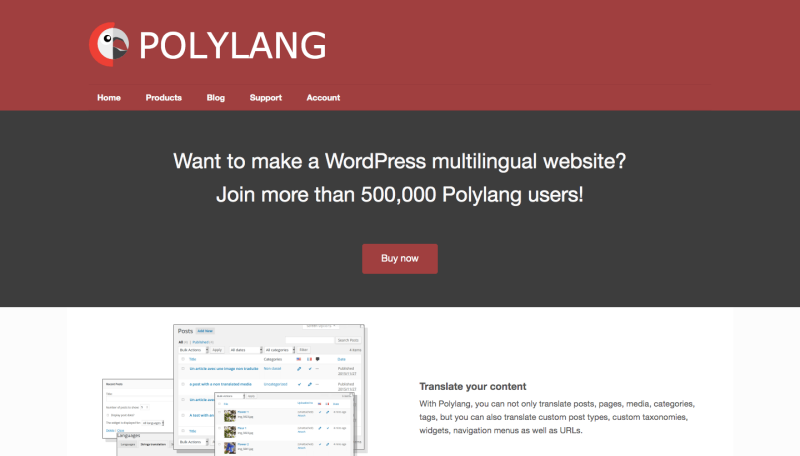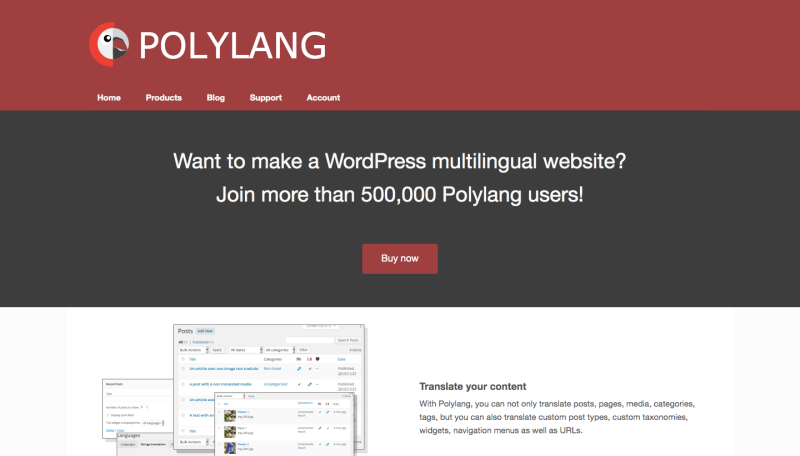 If you want to create a bilingual or multilingual site, then Polylang is one of the best options as it supports several languages and RTL language scripts.
You can translate every part of the website with this WordPress extension. Receiving regular updates, this plugin has crossed six hundred thousand active installations and thousands of 5-star ratings so far.
Best Features
Apart from posts, pages, categories, widgets, and menus, Polylang supports custom post types, sticky posts, RSS Feeds, custom taxonomies, and default WordPress widgets.
If you are using the WPML plugin, then you can easily migrate from the WPML to the Polylang plugin, which is available for free in the WordPress repository.
Your site can be made compatible with WooCommerce through its affordable premium add-on.
A customizable language switcher is available in the widget form that can be placed anywhere on your site and even on the navigation menu.
If you get any difficulties with this plugin, you may refer to the screenshots & documentation or visit the community support forum and get help.
4. TranslatePress
TranslatePress is one of the excellent WordPress translation plugins that allows you to translate your site directly from the front-end through the user-friendly interface.
Since it is a self-hosted plugin, you will be storing all the translations in your server's database. Here, there is no need to switch between the editor & string interfaces, and hence it can be an ideal alternative to Polylang.
Major Upsides
Real-time translation with live preview feature.
Fully compatible with all themes & plugins; it supports images & sliders as well.
Language switcher can be placed anywhere like on the Menu or as a floating dropdown.
It is possible to translate several HTML elements together.
Premium add-ons and keyboard shortcuts are available.
5. WPML
WPML is the best WordPress multilingual plugin with unique features to translate your website content into 40 different languages.
It is the only paid WordPress translation plugin on my list, and yes, WPML has no free version. However, it has robust translation management quality with reliable support.
Dynamic Properties
You need to use the WordPress API functions to create the multilingual ready themes.
It can build a complete online store, and hence you can easily run a multilingual eCommerce business site.
You can arrange the different language contents in sub-domains or even in the same domain.
Your site will be working and continue to display the translations even if you stop paying for this plugin.
Affordable pricing plans with 30 days money-back guarantee. Customer support is also highly responsive.
6. Loco Translate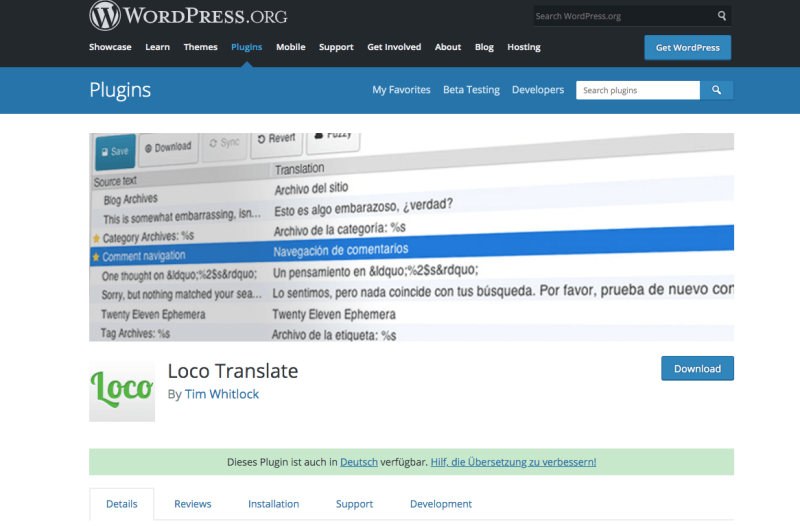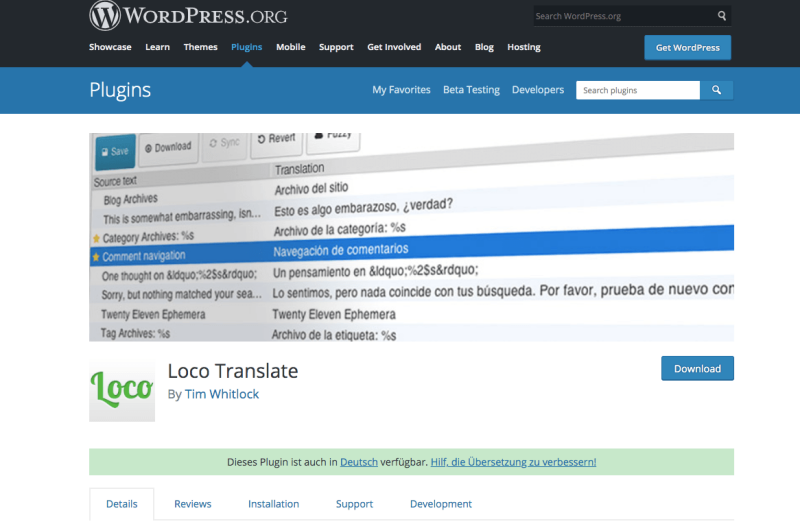 Loco Translate is one of the most excellent automatic translation plugins for WordPress, with one million active installations so far. It offers in-browser editing of translation files and valuable tools for developers like extract strings and generates templates.
Receiving regular updates is the significant benefit of this WordPress translate website plugin so that you don't need to bother about its compatibility with other plugins.
Exceptional Qualities
In-built translation editor inside the WordPress admin and integrates with translation APIs.
It extracts translatable strings from your source code.
Without requiring Gettext on your system, it compiles a native MO file.
You can view the PO source with clickable source code references and provide configurable PO file backup with restored capability.
WordPress locale codes are integrated, and keyboard shortcuts are also available.
7. GTranslate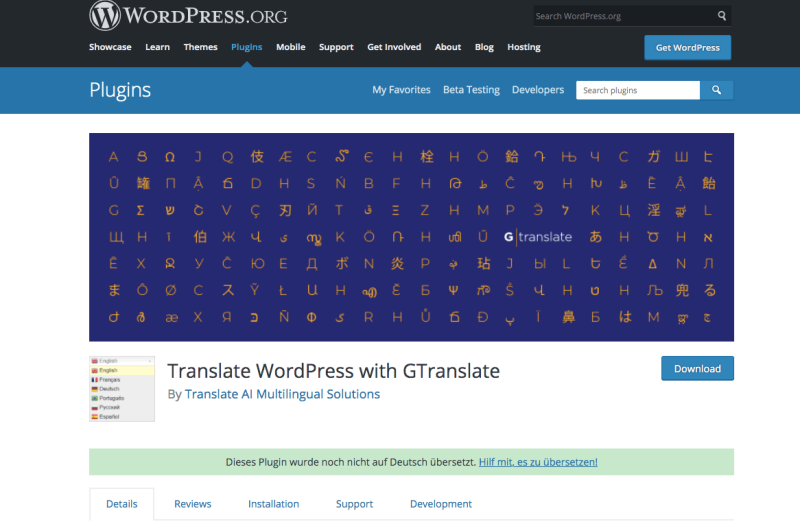 Are you searching for the most accessible translation plugin for WordPress that uses Google Translate automation service to make your site multilingual, then your pick should be the GTranslate plugin.
It uses a cloud-based approach, and thus, your site loading speed will not be affected. In the free version, GTranslate offers translation for seven different languages, and till now, this WordPress translate free plugin has been installed by two hundred thousand users.
Highlighting Features
It can translate your website on the fly, including posts, pages, categories, tags, menus, and widgets.
Auto switch language available in different styles like Dropdown, Flags with Dropdown, Flags with language names & codes, Globe & Popup; Floating language selector is also present.
For speed performance, this best language translator WordPress plugin contains a lazy loading feature for language flags.
Multilingual interface and language names in the native alphabet.
The automatic translation is free in its paid version. Moreover, the SEO qualities are top-notch in the premium version, and hence it is worth buying.
Which WordPress Translation Plugin Should You Use?
Does the whole world speak English? No, right?
The best way to extend the reach of your website is through content translation into other languages. As a result, your international sales would increase, and you will be gaining a competitive edge over your business competitors.
If you are looking for a flexible plugin with the free version and advanced features in its Pro version, then your choice should be Weglot or ConveyThis. Its interface is simple and supports SEO for your more fabulous online presence. However, you need to pay every month for usage.
To stay away from the monthly payment and if you wish to go with the one-time fee, choose WPML with exciting features like stability, security, and reliability.
When you are on a tight budget and want to install the best free translation plugin for WordPress, you may go with the Polylang extension, allowing you to create a bilingual or multilingual WordPress site.