Are you looking for the DigitalOcean free credits to launch your new business site? Here is a surprise for you! Yes, DO offers $200 free hosting credit to host your applications.
Without further ado, grab the DigitalOcean promo code now!
Nw, let me tell you, how to get free credits, what DigitalOcean offers, anThrough the highest discount, don't forget to use it and save huge bucks.
Understanding DigitalOcean Free Credits Offer
DigitalOcean is a cloud-based platform that provides digital infrastructure services. It is a virtual machine provider system that includes all cloud services like APIs, cloud storage, web tools, etc.
DigitalOcean free credits are a demo service to test the usefulness of DigitalOcean. With the value of credit, don't miss to use services free of charge for 2 months.
Currently, DigitalOcean provides $200 worth of free credits for new users. So, you will get $200 in your DO wallet to use DigitalOcean provides, whether it's web hosting, droplets, or API.
Redeem Your Free Credits [Steps]
DigitalOcean is well-known and trusted by a large audience! Follow these steps to redeem your free credits.
Step 1: Sign up
First of all, you must sign up to create an account for DigitalOcean. Remember, this DigitalOcean free credit offer only applies to new users.
Clicking on this link will take you to the DigitalOcean home page. Here, you will see a banner of $200 credits. Click on the "Get Started" button on the banner.
Get into the sign-up page. Sign up with your email or using Google or GitHub.
Now, verify your email address! Then, you need to answer for some questions regarding your business and requirements.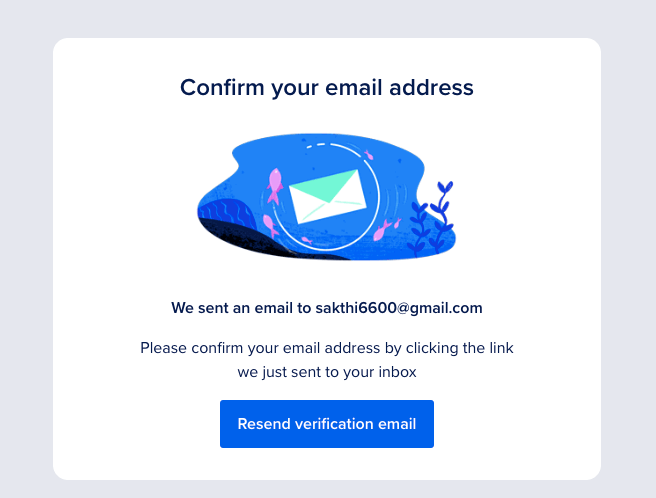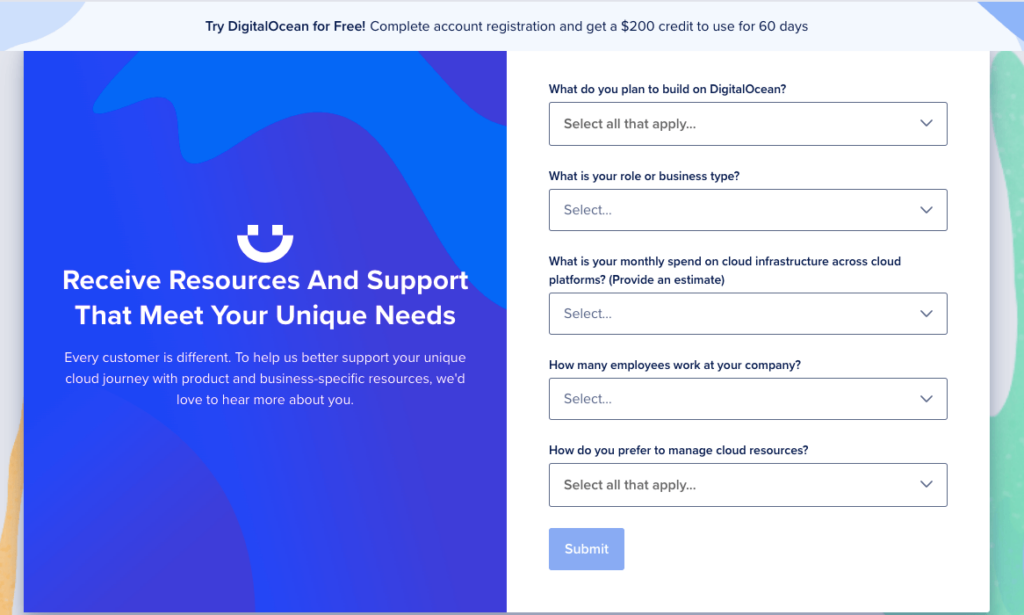 Step 2: Verify Identity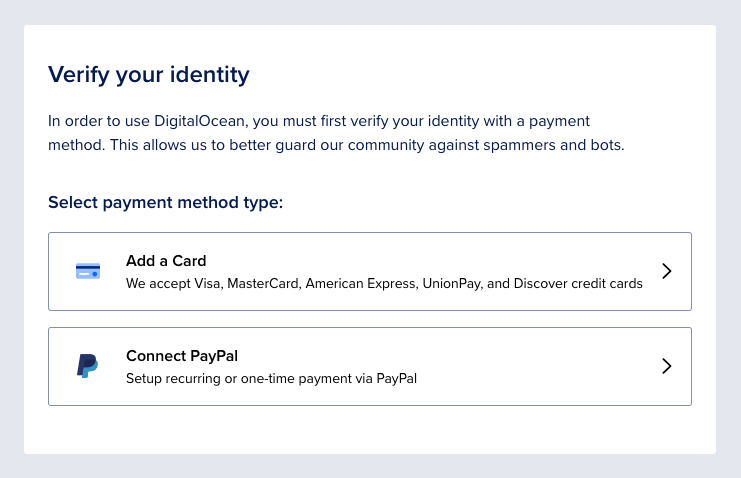 When you sign up, the platform will verify your identity to secure against fraud. So here, you must provide a credit card or PayPal account and transfer $5 for verification. Don't worry; you will only be charged once you use all free credits, or they expire in two months.
Step 3: Navigate Dashboard
Now, if you return, sign up again and navigate the dashboard. You will see your DigitalOcean free credits on the above right side. That's all! You have grabbed the DigitalOcean free credits.
Free DigitalOcean Credits – $30 Credit
You might search for other promo codes to get the DigitalOcean server. If yes, I have an excellent option for you. Yes, it is through Cloudways!
It is easy to install WordPress on DigitalOcean server through Cloudways hosting, and you have an exclusive coupon code – WPGLOSSY to get the $30 discount.
Why should you get DigitalOcean through Cloudways hosting? Check the comparison of Cloudways Vs DigitalOcean. Now, we will look at the features where to use your free credits.
What DigitalOcean Offers?
The main features provided by DigitalOcean are droplets, networking, and Kubernetes. A large number of audiences use these different features. Here are some fantastic products and services provided by DigitalOcean.
Droplets
Droplets are the virtual private server you can customize according to your needs. This VPS includes RAM, storage, internet connectivity, and CPU.
So, if you want to host something, do it here. It can be your simple code or advanced web application. If you are a blogger, host a website; if you are a programmer, host projects.
Networking
Networking options cover various features of DigitalOcean. The first one is the virtual private cloud, a private, isolated network that provides security for your cloud. It is simple and cost-effective. VPC offers you control over your resources' communication.
Cloud firewall protects your cloud infrastructure from any cyber attack. I suggest you create a rule to filter and block unwanted traffic to your cloud infrastructure.
The next one is the load balancer. It distributes your traffic across the cloud infrastructure, making your app more secure and available for customers. Another feature is it monitors availability, and if any issue is detected, it will automatically correct it.
Storage
DigitalOcean has two features for storage. One is space object storage. It gives you the freedom to create unstructured data for storage, which is reliable and easy.
This storage has an ecosystem of tools, plugins, and extensions to use and manage easily. It is designed for applications that require a high number of requests. According to DigitalOcean, it has a maximum performance of 1500 RPS per IP address.
The second storage feature is volume block storage. It provides extra storage to attach to a droplet. This storage is scalable and flexible compared to regular storage space.
It is more likely to move your stored data between vertical private servers. Also, if you delete your VPS, your data will remain in volumes.
Managed Database Clusters
This is a specific section of DigitalOcean for managing the database, and you can use your DigitalOcean free credits to use this service, too.
This section contains many features to manage the database of your cloud infrastructure. You may build a high-performance app using MongoDB cloud services, starting at $15 monthly.
You don't need to focus on other things, such as scaling and provision; focus on building the app. Also, accessing the latest version can enhance it with hedged read, rust, and Swift drivers.
If you want to create a Kafka cluster, this is key. Its features provide you with high throughput and low latency data streams.
The next one is MySQL. It is an open-source database management system. DigitalOcean will handle all the complexity of MySQL. So you don't need to worry about that.
Also, it is a compelling program capable of storing and retrieving data for applications. Same as with PostgreSQL. It focuses on extensibility, data integrity, and speed.
Reasons to Choose DigitalOcean
There are vaild reasons to choose DigitalOcean. Let's discuss them one by one!
User-Friendly Interface
As we know, DigitalOcean has a wide range of services. It may be difficult for beginners to use and manage its services. Right?
No, DigitalOcean's user-friendly interface is easy to use, and you can navigate your dashboard to manage all your resources.
No matter which service you use—droplets, networking, or database management—it will be beginner-friendly. Also, it provides documents too, which lead to guide you.
Scalability
This feature makes DigitalOcean great. No doubt, with time, your app or web will grow, and you will need more cloud infrastructure, and that's where scalability works.
If you want to upgrade the virtual machine (droplets in DigitalOcean language) or want to add more droplets, then it's easy. Also, it is possible to adjust your needs for RAM and storage.
Its scalability doesn't just go vertically but also goes horizontally. When you need extra features to add to your cloud services, such as a load balancer to distribute traffic, you can attach them anytime.
Pricing
Having high-quality service, its pricing is lower than competitors like AWS. Initially, because you have DigitalOcean free credits, you will not need to pay a single penny.
But after that, the platform will charge you according to how you use the service. Yes, DO provides this system to pay for what you use based on RAM, storage, and CPU.
However, this cloud hosting is fully transparent regarding the price; you don't need to worry about hiding fees. It also has some plans for droplets and Kubernetes, starting from $4 to $12 monthly.
Support
DO's support is excellent and ensures user satisfaction. It provides free ticket support for all users at any time. It also has free documents and guides to solve some common issues.
It has paid support plans. It has four plans, primarily categorized based on response time, technical staff, and contact channel.
Usually, users are satisfied with its support team; however, it has a live chat on paid plas to quickly raise your issue.
Security
In terms of security, DigitalOcean is significantly ahead. It provides the best security system to users. It has dedicated features for securing cloud infrastructure from any cyber attack.
It has a firewall that controls incoming traffic. You may create a rule to filter traffic and prevent cyber threats. The monitoring system continues tracking the database to ensure no issues.
Overall, you don't need to worry about your cloud infrastructure. So here is the reason to choose this platform.
FAQs
1. How do I claim free credits on DigitalOcean?
You can claim your free credits by signing up for DigitalOcean as a new user.
2. How long is DigitalOcean free?
The credits provided by DigitalOcean are valid for 60 days. After that, it will expire and charge according to your use of services.
3. Is DigitalOcean free for students?
Although DigitalOcean is not entirely free, it provides developer students with some free credits for their GitHub projects.
4. Can you use the DO promo code several times?
No, you can use the free credits only once as a new user.
Conclusion
In summary, DigitalOcean has many services and features for your digital asset. No matter who you are—a blogger or a programmer.
For testing its service performance, DigitalOcean free credits are available. Just use those credits for any service on the platform, whether it's droplets or cloud hosting.