Divi Vs Elementor Pro, which is the best page builder for WordPress sites?
As I have been surviving in the WordPress theme design field for over a decade, I got good opportunities to build sites for my client with both Divi and Elementor Pro.
So, I would like to compare these two biggies with my experience and believe it would help you pick the best suitable one for your business site or blog.
So, are you looking for a page builder to help you create high-converting and beautiful landing pages without coding?
No doubt! The Elementor and Divi are the leading page builders on the market.
Elementor free version has more than 3 Million active installs; on the other side, Divi has more than 600,000 active installs.
We can see that Elementor has more active installs than Divi; still, Divi has a lot to offer.
Divi Vs Elementor – Quick comparison
Here is a quick comparison to see the differences between Divi and Elementor!
Build Anything Visually With Drag & Drop Builder

Build Lively With Drag And Drop Editor

Responsive Design Editing

No of Elements or Widgets

40+ Elements To Build A Website

90+ Widgets to Construct A Website

800+ Pre Made Designs Available

300 + Design Made Templates Available

100 + Designer Made Website Kits

Woo Builder Available To Build Attractive Woocommerce Layouts With 25 Woo Elements

Create Woocommerce Layout With 24 Woocommerce Widgets

Ecommerce, Lead generation, Builtin with split testing & More

Landing Page Builder - Build High Converting Landing Pages. Turn Clicks To Customers/Sales

Fully Optimized With Speed (Recently Updated For Speed Performance)

Create Fastest Website, With Efficient Code, No Unnecessary Code

Monarch Plugin Is Available

Social Media Widgets Are Available

Bloom Plugin Is Available

Form Builder Available To Build Contact Form And Optin Form.

Shape Divider, Bulk Editing, Effects, Transforms, Hover Stats, Find & Replace, Undo & Redo Revisions, Inline Text Editing, Hover State Styling, Font & Text Styling, Drop & Text Shadow Effects, Animations, Magic Color Manager And Much More Features Available.

Pixel Perfect Design, Custom Positioning, Global Colors & Typography, Margins & Padding, Page Blocks, Pages, Undo & Redo, Dark Mode, Auto Save, Keyboard Shortcuts, Right Click Menu, Navigate, Finder, Multi Select Editing, And More Features Available.

2 Options Available, $89 For Yearly And $249 For Lifetime

4 Annual Pricing
Options Available, $49, $199, $499, $999

Only Pro Users Will Get 24/7 Support
Divi Or Elementor, Which Is The Best Builder?
In this article, let me compare both page builders in terms of
User interface and ease of use
Templates and layouts
Content modules
Pricing
And at the end of every feature comparison, I'll also tell you which is best and why.
#1. User Interface and Ease of Use
Both Elementor and Divi is a drag and drop page builders and pretty handy to use.
However, both page builders have different kinds of front-end editors.
User Interface of Elementor
Elementor has an easy-to-use and user-friendly drag-and-drop editor.
The Elementor's UI is divided into two separate parts:
Live page view
And the sidebar
The sidebar has all the elements and settings of the page. You can drag and drop any element you want to add to your page from the sidebar.
Once you add an element to the page, the sidebar will change the settings for a specific element, and then you can customize that element the way you want.
Elementor also introduced a fantastic feature called "Finder" that you can use to find any element or settings in just one click.
If you are using the Windows operator, you can press CTRL + E on your keyboard to quickly open the finder (If you are a Mac user, press CMD + E).
You can also find the Finder option in the Elementor menu.
Elementor also has a responsive option that you can use to see how your page looks on different devices.
User Interface of Divi
Divi has an entirely different user interface than Elementor. Like Elementor, Divi doesn't have any sidebar.
It has floating buttons, and whenever you click on that button, you will get a popup with all the elements, layout options, and template library.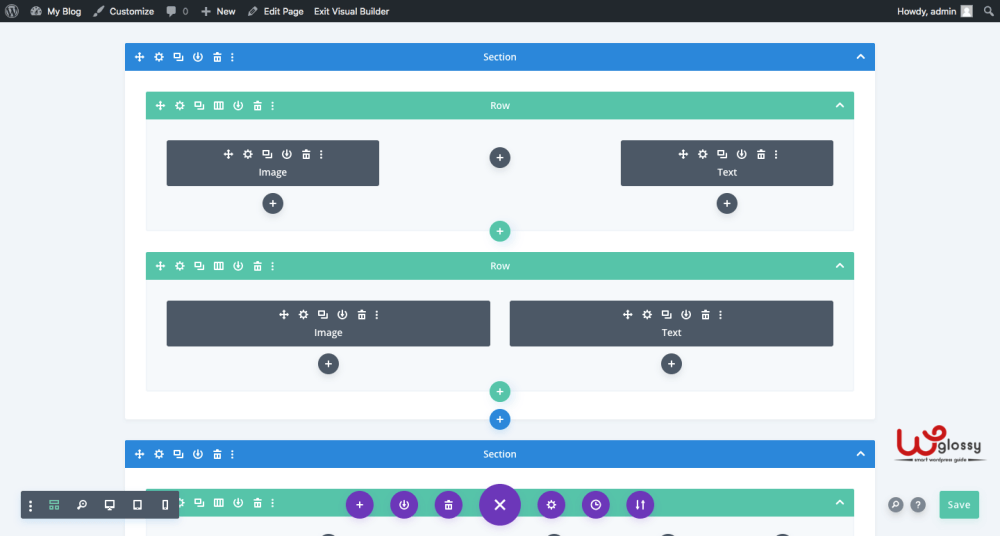 For example:
If you want to add a new element to your page, then click the floating button and select the element you want to add; that's it.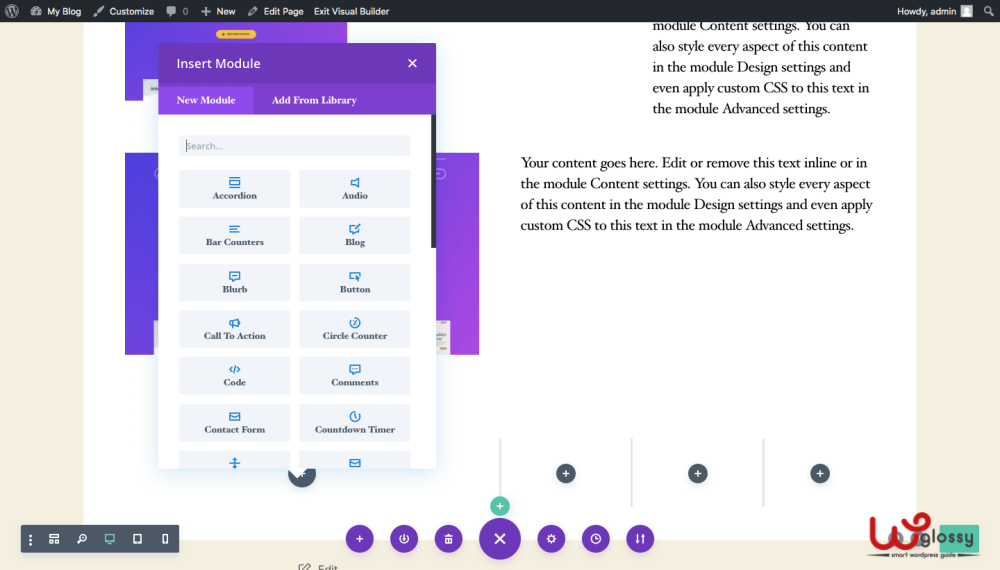 Divi also has a backend editor that lets you see the page structure more effectively. It is straightforward to add and change logo in the Divi theme.
Though Divi now focuses mainly on the visual editor, if you like to design pages from the back end, you can easily do it using Divi page builder. Still, Elementor doesn't have a back-end editing feature.
But I don't think that would be an issue because people mainly use these page builders because of their drag-and-drop visual editor.
Conclusion – Which has a better user interface?
In the battle of the Divi Vs Elementor Pro user interface, my vote goes to Elementor Pro because I always feel comfortable designing a new page with it.
#2. Ready to use Templates and layouts
Building a page from scratch is time-consuming. To save your valuable time, both page builder offers various beautifully designed pre-made templates and layouts that you can use on your website and design your web page in a few clicks.
Pre-made templates and layouts will make your work easier, and you can design your website much faster. So, let's quickly compare the template and layout libraries of Elementor and Divi page builders.
Elementor
Elementor has two different kinds of templates:
Blocks are a section of your page. For example, Footer, headers, etc. On the other hand, pages are full-page layouts.
The free version of Elementor offers 40 different pre-made templates and blocks, whereas the pro version offers 300+ ready-made templates and blocks.
Whether you have a digital agency, gym, law firm or want to build your portfolio, they have templates in almost every popular category.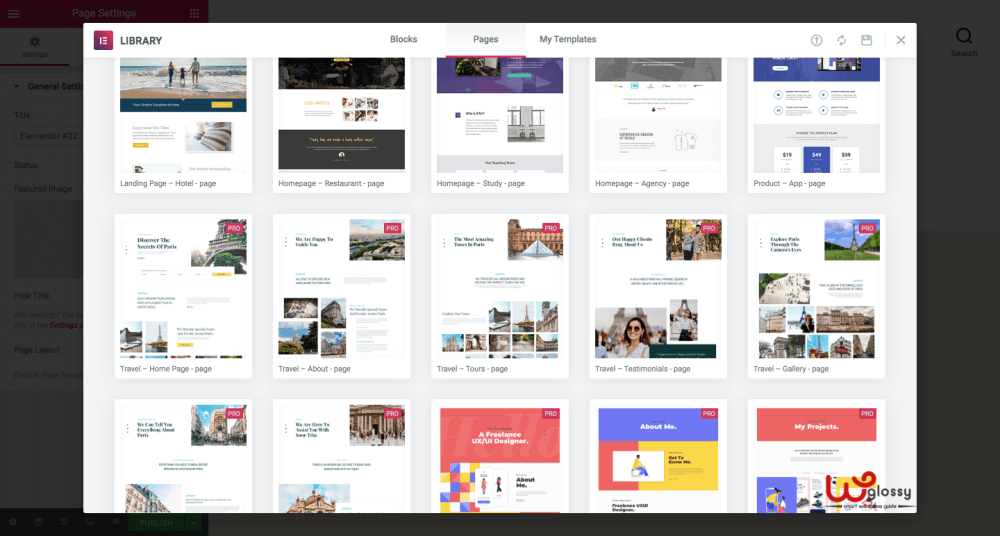 Adding templates in Elementor is also super easy.
Click on the "Add Template" button to select the template you want to add, and your template will be imported into your page.
The best part about Elementor is, you can also use a plugin called "Envato Elements" to add more well-made templates for free of cost.
Divi
Divi has the best ready-made layouts and templates among them. Divi includes 140+ layout packs that include 1036 single-page layouts.
Layout packs include different pages for a whole website.
For example, Layout packs contain various pages like the home page, services page, contact page, about us page, etc. You can use it to build a whole website around the same design pattern.
It has templates for different categories like:
Business
E-commerce
Technology
Events
Beauty
Services
Health
And a lot more!
Since Divi does not offer a free version of their page builder, you'll all have 140+ layout packs with their premium pack only.
Conclusion – Whose Pre-made templates and layouts are better?
After using both the ready-made designs, I'm satisfied with the results of Divi, so it is the direct winner for pre-made templates and layouts.
#3. Content Modules/Widgets
In this theme war, Divi Vs Elementor Pro, it is mandatory to compare the Modules or Widgets since these are the most important things you must look out for whenever you buy any page builder.
Having useful widgets will help you create better landing pages and eliminate the usage of different plugins for different widgets.
Let's look at the different widgets offered by both page builders.
Widgets of Elementor
Elementor offers unique widgets that will take your web design to the next level.
The free version of Elementor offers 25 widgets, on the other hand, if you buy the pro version, you'll get extra 30 advanced widgets.
Here are a few of the basic widgets you'll get with the free version of Elementor:
Heading
Divider
Image Box
Testimonial
Counter
Icon List
Star Rating
And much more…
And the pro version includes advanced widgets like:
Animated Headline
Flip Box
Countdown
Portfolio
Price Table
Call To Action
Testimonial Carousel
And a lot more…
Widgets of Divi
Divi offers 40+ modules and widgets with its page builder. Since no free version of Divi is available, you'll get all of the widgets with their pro version.
Some of the useful widgets of Divi is:
According
Post navigation
Contact form
Countdown timer
Post slider
Pricing table
Header
Testimonial
Filterable portfolio
And much more…
Conclusion – Which Modules and Widgets help design a page that will offer the best user experience and get high conversions?
My experience with Elementor Pro advanced widgets is impressive. I'm pleased with the final designs of my client's page that would surely help them grow their audience and get more sales or leads.
#4. Pricing
We've discussed the most important features of both page builders, and now let's talk about the pricing of these page builders.
Elementor Pricing
Elementor offers a paid and free version of their page builder.
The free version has fewer features than the pro version, but if you are a complete beginner on page builders and don't have a budget, you can use their free version to gain some experience.
You can also look at the difference between the free and pro versions of Elementor.
| | | |
| --- | --- | --- |
| | | |
| | | |
| | | |
| | | |
| Industry Leading Theme Builder | | |
| Design-Oriented Popup Builder | | |
| Visual Form Builder + Popular Marketing Integrations | | |
| Woocommerce Builder + Over 15 Shop Widgets | | |
| Dynamic Content & Custom Fields Capabilities | | |
| Motion Effects Inc. Parallax & Mouse Effects | | |
| | | |
The pro version has three different plans:
Personal plan for 1 site – $49/year
Plus plan for 3 sites – $99/year
Expert plan for up to 1000 sites – $199/year
You will get the same features in every plan, but if you want to use it on multiple sites or your client's sites, you must purchase the bigger plan.
Somehow after purchasing, if you don't like their product, you can ask for a FULL REFUND of your money within 30 days after purchase. But remember that refund is only available for new purchases, not for renewals.
Divi Pricing
The most important difference between these two-page builders is Divi doesn't offer any free version of their page builder, whereas Elementor provides a free version.
Divi is entirely a premium page builder, and to use this page builder, you have to purchase elegant themes subscription plan. However, you have a 10% Divi Theme Discount to avail.
The elegant theme has two different subscription plans:
Yearly plan – $89/year
Lifetime plan – $249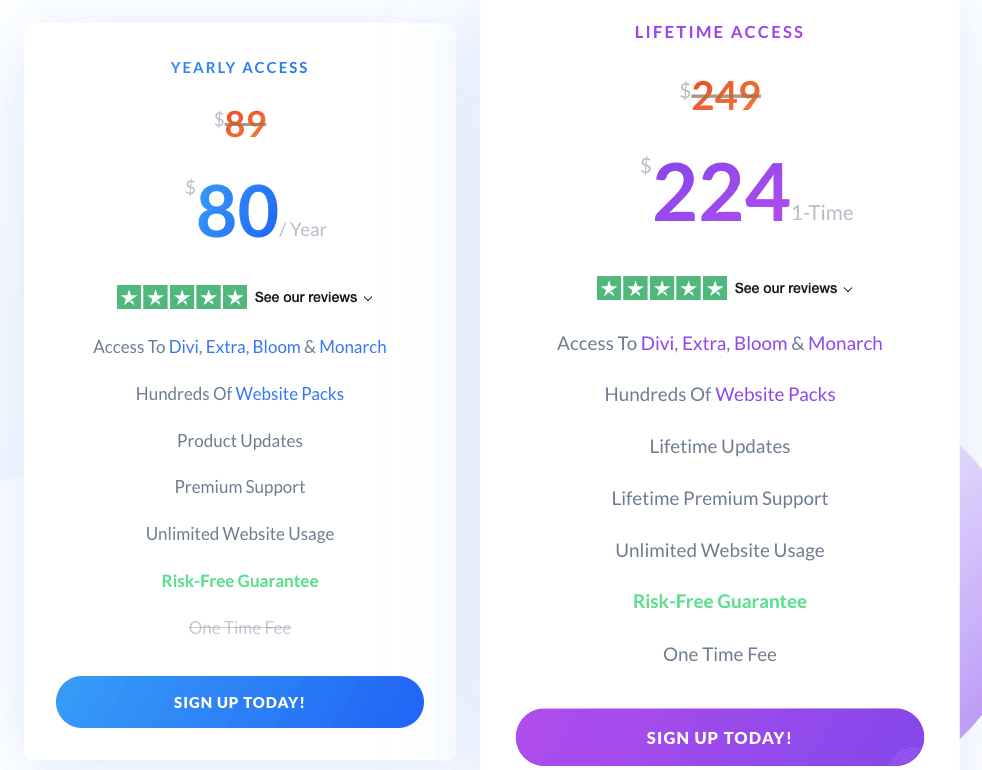 Not only Divi page builder, in both of the plans, but you'll also get more products from elegant themes like:
Extra theme
Bloom Email opt-in plugin
Monarch social sharing plugin
And both of the plans let you use this page builder and extra products on unlimited websites.
Like Elementor, it also offers a 30-day money-back guarantee, so anyhow, if you don't like their product, you can quickly ask for a refund, and they will refund your full payment without asking any questions.
Conclusion – Who's the winner when it comes to the pricing?
If you have a tight budget, you may use the free version of Elementor, and its paid features are worth the money. Its premium qualities are adorable and affordable. However, Divi is not suitable for blogging beginners and small business startups. Here, the direct winner is Elementor Pro.
Pros and Cons of Elementor Pro
Let's talk about the pros and cons of the Elementor Pro page builder.
Pros
It offers a free version
Works with almost every leading WordPress theme
300+ Ready to use templates
It includes a popup builder
Create custom headers and footers
Easy to use drag and drop editor
You can use 3rd party add-ons with Elementor
Cons
Pre-made templates are not up to the mark
Live support is really slow
Pros and Cons of Divi Page Builder
Now, let's talk about the pros and cons of Divi.
Pros
Awesome looking 130+ Layout packs
Drag and drop editor with a stunning interface
Access to their other products, such as Extra, Bloom, and Monarch
40+ modules
Really quick and fast support over email and live chat
Cons
Does not offer a free version
Slow performance sometimes
Other Divi Theme Comparisons
Divi Vs Elementor 2023 – Which Is The Best Page Builder?
Now, here's the essential part that you are looking for. Which page builder is best for making an amazing website that could make more leads and conversions, Elementor Pro or Divi?
Well, both are SEO Optimized themes that have some merits and demerits!
For example, Divi has the best pre-made templates than Elementor, and on the other hand, Elementor is the best for user experience and fantastic modules.
But Elementor wins the race because it's super easy to use and has many modern modules and elements that Divi doesn't offer.
Elementor also offers a free version that is again an advantage for them.
So, if you are looking to buy a page builder for your business startup or niche blogging, then undoubtedly, Elementor PRO is the best choice for you.
However, if you are a serious business that wants to surpass your competitors with a fantastic site layout, I suggest you go with Divi theme builder. Just do some Divi speed optimization and make your site fast!
After reading my Divi Vs Elementor Pro comparison, which page builder would you like to get? You may also check the Elementor Alternatives. Share your viewpoint in the comment section; let's discuss both themes.