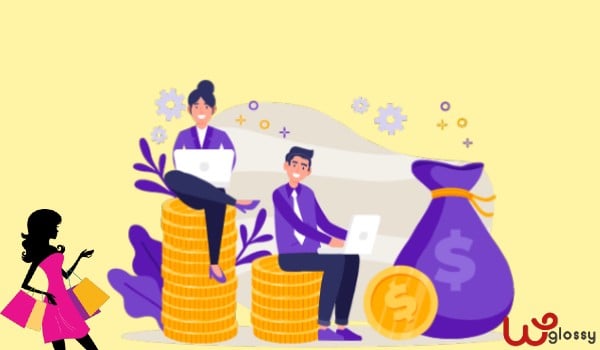 Being your own boss is a wonderful choice for making income! If you are a beginner in make money fashion blogging, then you would have several queries in your mind like
How do fashion bloggers make money?
What are the best ways to earn money from a fashion blog?
How to monetize my fashion blog?
Can fashion blogs make money?
How to earn as a fashion blogger?
And much more!
As I have started writing useful blog articles for fashion blog beginners, I would like to consolidate some best ways to monetize a fashion blog.
I have been surviving as a successful blogger for over a decade, so I can suggest some excellent earning sources for fashion bloggers.
8 Best Ways To Monetize The Fashion Blog
If you are a newbie who is still to earn money from fashion blog, then this post is for you! Read the post till the end, and yes, you will thank me for sharing the "PRO" tips through which you can make a consistent income as a fashion blogger.
1. Affiliate Marketing
Affiliate Marketing is the best way to monetize your fashion blog. It is nothing but recommending someone else's product or service, and you will get paid in the form of a commission. From my experience, I can tell you that Affiliate marketing is a profitable way of making money from a fashion blog.
Here I have consolidated the big and best list of fashion affiliate programs to earn money even when you sleep. Before implementing this monetization method, I suggest you learn the proper execution method and some valuable tips to make more affiliate conversions.
The reason for recommending this earning tactic for your fashion blog because it involves less/no risk and will let you learn how to sell better. You may pick high-priced fashion affiliate products to help you earn huge commissions. Similar to print-on-demand, a blog that already receives organic traffic is likelier to see success if you introduce affiliate links.
The goal of affiliate marketing is pretty straightforward. When someone clicks on your link and ends up on a landing page that sells products or services, they need to spend on the website they landed on while the browser cookies are still active. You get a commission for each sale.
It is worth noting that your blog is still a blog, meaning you should not turn it into an affiliate marketing website. People will be turned off if they find the blog spammed with affiliate links instead of the usual content that they expect to see.
2. Adsense Programs
You might think, Is it possible to make money with Google Adsense from a fashion blog? Yes, you can do it! As you know, Google Adsense is the easiest and most genuine online payment method. It is free to join, and you can display various Ads that can also be customized according to your site branding.
When the visitors click those Ads on your site, you will get paid, and when the earnings reach $100, Google will send the direct deposit to your account. However, getting Google Adsense approval is rocket science. You have to review the terms of conditions before applying for Adsense approval.
Do you think – How can I get Google Adsense approval fast? Well, here are some useful tips for you! Ensure that your site is properly designed and contains high-quality SEO-optimized content. Also, create essential pages like 'About Me,' 'Contact Me,' Privacy Policy & GDPR compliance, and don't use copyright images.
Suppose you still have trouble getting the account approved for your fashion blog. To diversify your income, you may try any Adsense alternatives like Media.net, Infolinks, Skimlinks, PopAds, Adversal, and Taboola. Whatever the Adsense program, ensure you drive tons of targeted visitors to your fashion site to earn well.
3. Guest posts
Speaking of content, if you are having success with a blog and established yourself as one of the industry's authorities, try publishing guest posts who are willing to pay. There should be plenty of fashion bloggers who would love to guest-post on your site with a decent fee and receive a backlink from a strong domain authority.
Besides a backlink, they could also expect direct traffic to their website from your blog. How much money you can make with this idea depends on your blog's standings. The higher the domain authority and other metrics, the more other bloggers would be willing to pay for sponsored content and guest posts.
It would not be a stretch to call yourself an influencer if you made sponsored content publishing your primary income source. Besides making money, you will have more content for your blog, improving its performance in the search ranking results.
4. Product Reviews
Fashion blogs can make money through product reviews. However, they should be real and unbiased after you test out the beauty products or trendy outfits. Several companies are looking for fashion bloggers like you to review their products on your site, and most are ready to compensate.
Working out the deal with retailers who have product programs for bloggers is a clever move in making money fashion blogging. Try to get samples from them and do legit reviews through your honest feedback.
Do you know that you can get paid to review fashion products at home? Yes, there are many websites like JJ Friends & Neighbors and Slice The Pie that are ready to pay you for reviewing the fashion products. So, are you ready to test the fashionable clothes and accessories and get paid for them?
5. Collaboration with brands
Fashion brands always look for influential bloggers to promote their products on their active blogs. If you have a good-authority fashion blog, it would be easier for the brands to notice it and proceed with a paid collaboration. They might reach you for a paid campaign like blog post-publication and Instagram posts for a specific duration.
You may also email a fashion brand for collaboration and grab a paid offer from them. If you have huge social media followers, asking for more money would be an added advantage. A proper marketing strategy will help you make a passive income through the fashion brand partnership.
6. Custom Merchandise
In the competitive fashion blogging world, finding genuine ways to monetize your content is key. One fantastic option to consider is using print-on-demand technology to create and sell custom merchandise related to your blog.
With platforms like Gelato, you can easily design and produce high-quality products like t-shirts, phone cases, and more, without the hassle of traditional printing methods. By offering unique, personalized items that align with your brand, you can boost your revenue and deepen your connection with your audience.
For someone interested in fashion, dropshipping with print on demand could be one of the best options. You could create a custom merchandise line with an emphasis on clothes. T-shirts, hoodies, caps, and even face masks will sell so long as you offer customers high-quality products with attractive designs.
In 2017, 23% of all online sales globally were fulfilled through the dropshipping model, according to Printify, and the number has grown even more. There is room for new drop shippers, but product quality is one of the requirements already mentioned.
Even if you do not have the skills to create designs for the merchandise, you could hire a freelance graphic designer and focus on product promotion. It is also worth pointing out that a print-on-demand venture is more likely to succeed when you have an established fashion blog. Starting from scratch would be troublesome, particularly when entering a competitive niche.
7. Digital Product Promotion
Digital products like educational courses and e-books could also be a good way to monetize the blog. As a rule of thumb, most bloggers tend to promote their digital products. Receiving an offer from someone else asking to put a link on the website may not be an option, even if they are willing to pay a lot of money.
Promoting a mediocre product that will backfire when some readers spend money on it and provide negative feedback is possible. Meanwhile, you can control the digital product quality more if you stick to your creation.
Of course, if you want to profit from digital products, you must write an e-book or create an online course to make money fashion blogging.
8. Crowdfunding Page
It is no secret that more and more content creators leave their financial well-being in the audience's hands. Some platforms have been cutting down on financial support, leading bloggers and vloggers to look for alternatives.
One of the best recent examples could be YouTube and how it changed its algorithm, leading to YouTubers focusing on Patreon. As a blogger, you could also ask for donations from your readers. It could be a crowdfunding page or a direct donation button on the website.
Make Money Fashion Blogging – Wrapping Up
Blogging is an excellent way to make money and express yourself. Despite the monetization possibilities, not every blogger sticks to their website to create a source of income. No, blogging works as a hobby as well.
Nevertheless, it is no secret that most bloggers pursue opportunities to improve their financial situation. If you have a fashion blog or have thought about starting one, do not expect to make money immediately.
It will take a while before you have enough readers. Monetizing a blog without an audience is not an option. Moreover, you will have to emphasize content quality. Otherwise, retaining the readers you have attracted will be challenging.
Once things pick up, you can explore available monetization methods. The suggestions in this article should inspire you if you are uncertain where to start. And remember that you can combine multiple methods for make money fashion blogging instead of sticking to a single idea.