Surfer SEO is one of the best content optimization tools available today. Most SEO experts prefer this excellent tool for On-Page SEO of their articles or blog posts. Yes, the SEO results are pretty good. But there are some reasons you should get Surfer SEO alternatives.
One of these reasons is you sometimes get inaccurate results, leading to incorrect choices. Surfer SEO is difficult for beginners to select and use proper keywords in their content. Further, it doesn't provide NLP queries in the basic plan and offers limited credits.
So, in this article, I'll discuss some downsides of Surfer SEO to make the right decision. As you are looking for Surfer SEO alternatives, I'll review a few best ones. Let's discuss the limitations of Surfer SEO or why you should avoid getting its paid subscription.
Downsides of Surfer SEO
Surfer SEO is one of the most potent tools for On-Page SEO, and many bloggers use it. I've also used it for creating content outlines, briefs, and optimization. However, there are a few things to consider, which this tool lacks, and other tools can do better.
Limited Queries
Surfer SEO offers editor and audit queries to optimize content in their SEO plans. In their basic plan, you get 10 editors and 20 audit queries. It's not enough for a new website or multiple websites where we publish more articles.
In their business plan, you get 70 and 140 editor and audit queries, respectively. In my opinion, it's suitable for big enterprises only. But again, it's almost hard for new bloggers or small businesses to pay for this plan when starting their journey.
Difficult To Use
If you have used Surfer SEO before, you might know how many suggestions you see on the sidebar. The issue with this feature is that you can't pick the correct terms or keywords to fit your article. So, there is a mess, making it challenging to work with it.
Another issue is; some suggestions affect the grammar and readability of your text. If you don't use their suggested terms, achieving the best score will be hard. If you don't want to reduce the quality of content, you should use the Surfer SEO alternative.
Basic Keyword Tool
Surfer SEO provides users with a basic keyword research tool in all plans and is not up to the mark. Its keyword data seems vague, and you can't rely on its metrics. You'll see a big difference when comparing its data with other tools such as Ahref or Semrush.
Surfer SEO is what you will get if you use Ahref, Semrush, or other such tools for your keyword research. But again, who is ready to spend on multiple software and still not achieve the desired results? If you don't want disappointment, Surfer alternatives can help.
6 Best Surfer SEO Alternatives To Optimize Your Content for Higher Rankings
You can't run your blog or website properly without optimizing the blog post you publish. It's a need to get the right tool for it. I have researched the best Surfer SEO alternatives you must try in 2023. Let's dive into my favorite list, and you'll love them:
1. Strell.io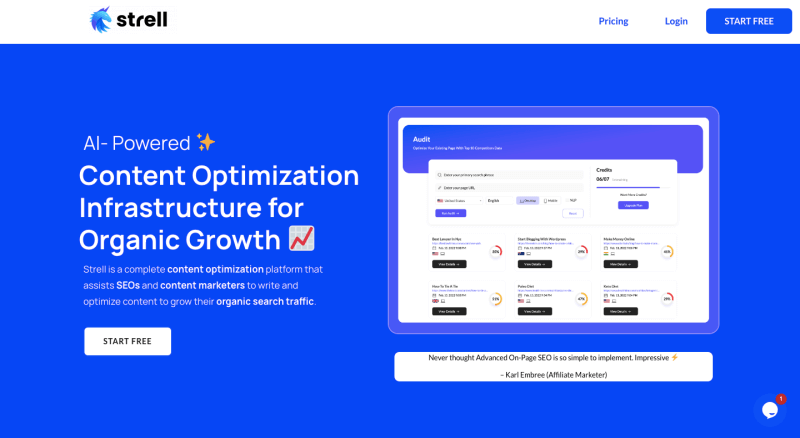 Overview
Strell is one of the best Surfer SEO alternatives and is most common among content writers and SEO experts. Optimizing the content using this tool can increase your website ranking by many folds. Are you striving with no ranking and traffic? Strell.io is for you.
With Strell, start creating compelling content briefs as part of your prewriting step. It's AI-powered and provides you with competitors' data — the one you can't find yourself. This tool works perfectly to help you rank on the first page in no time. 
Best Features
Beginner-friendly, easy-to-use interface
Works at advanced NLP-based algorithm
Analyzes top-ranking pages on Google
Offers top-level SEO metrics for ranking
Pretty affordable compared to Surfer
2. Frase.io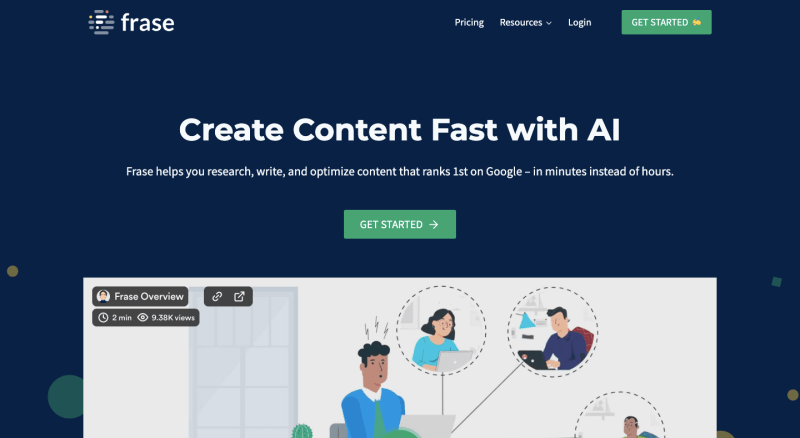 Overview
Frase is another best SEO Surfer alternative for creating content outlines and optimizing your content. You get the Content Brief feature and can create one for your new and old published posts. Its AI-writer tool allows you to generate optimized content.
However, Frase is famous for its Content Optimizer tool to optimize your already-written articles or blog posts. This tool lets you know how your competitors optimize their content and do better. All you need is to get a good topic score, and voila.
Best Features
Easy-to-use text editor and AI writing tool
Create content briefs and outlines quickly
Generate better content using Topic Score
Optimize content with focused keywords
Improve optimization with Analytics tool
Great alternative for users tight on budget
3. MarketMuse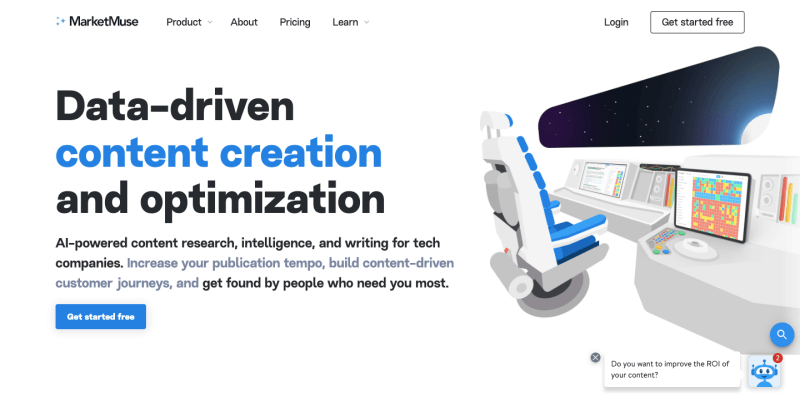 Overview
do you want an enterprise-level SEO optimization tool? MarketMuse is the best option to choose. This excellent tool allows you to create content strategy with automation using AI. It works like Frase and offers content optimization and planning tools.
Using MarketMuse, primarily its research tool, ranks the content easily on Google. Use the LSI keywords in the content to achieve this. And yes, this tool features a content score to let you know how well you have optimized the content.
Best Features
Simple interface and easy-to-use options
Research tool to find plentiful LSI terms
Compete Software to analyze your posts
Optimize tool for optimizing the content
Use content briefs to write great content
Create FAQs related to your blog topics
4. PageOptimizer Pro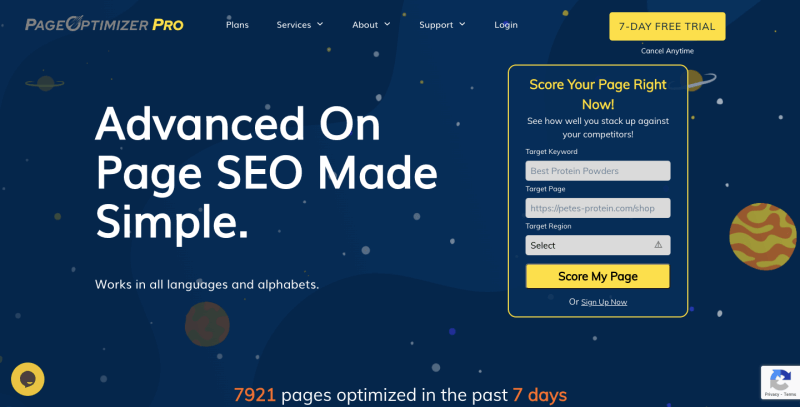 Overview
PageOptimizer Pro is the best tool for On-Page optimization and an affordable alternative to SEO Surfer. You get an AI content creation tool, allowing you to write SEO-friendly articles for your website. Its metrics are pretty reliable and provide real-time reports.
Like other optimization tools, it analyzes top-ranking pages and shows the latest data. I don't recommend its AI writer, but the optimizer is superb. You only need to enter your focus keyword and get enough metrics to apply to your content.
Best Features
Provides AI writer and optimization tool
Offers On-Page SEO tools in all packages
Chrome extension saves you a lot of time
Unlimited reports — its flagship feature
Offers exact keywords recommendations
Advanced content editor for quick work
5. Scalenut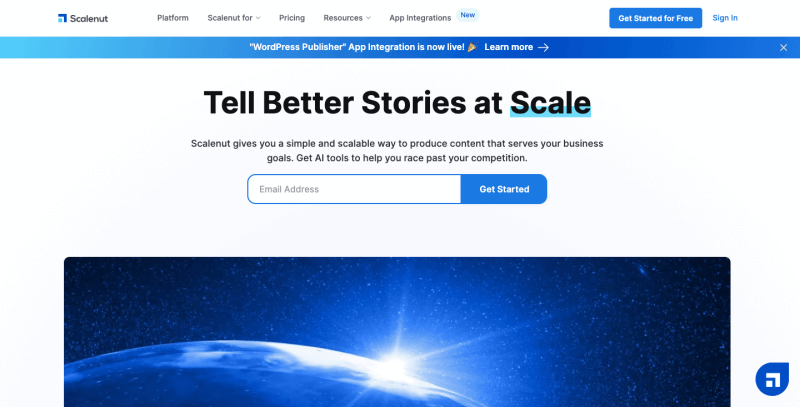 Overview
For people who want to start their blogging journey or have a blog working on it, Scalnut makes a difference. It's an excellent content writing, copywriting, and optimization tool. You shall write blogs and web pages for your website and optimize them for Google.
Once you sign up for Scalenut, you'll see two primary tools, and the AI-powered SEO Assistant is one of them. If I were to use an AI writing assistant, Scalnut would have been my choice. Just use its optimization metrics to optimize the generated content.
Best Features
Its UI is simple, making the tool easy to use
Provide SEO-friendly content outlines for blogs
Offers detailed content reports and analytics
Create perfect NLP terms to use in your blogs
Cruise Mode to write long-form SEO content
Affordable price plans and service is excellent
6. Dashword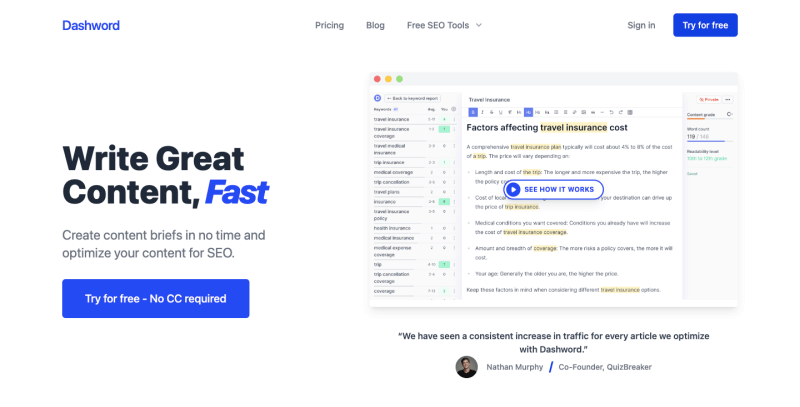 Overview
Dashword is an all-in-one content writing and On-Page SEO tool and works like most other tools. Its content briefs feature and optimizer give the same results as Surfer SEO, Frase.io, etc. What else? It works with AI and NLP terms to improve the content.
Using Dashword, generating high-quality content based on your topic intent is super easy. By looking at the content score, use suggestions for creating engaging and optimized blogs. This helps to rank your content quickly on Google and get traffic.
Best Features
Easy to use and saves time in manual work
Delivers excellent results for its content strategies
Create high-quality and valuable content
Optimizes content for Google to rank better
Generate ideas and write meta descriptions
Content brief is like Surfer SEO and Frase.io
Frequently Asked Questions (FAQs)
Is Surfer SEO any good?
Surfer SEO is great for creating SEO-optimized content or updating your published blogs. I'm using Surfer SEO on WPGlossy, and its On-Page optimization is top-notch with excellent results. But for new bloggers, its price is too high for the Pro plan. Moreover, you will get frustrated with the suggestions for content optimization.
Is there a free version of Surfer SEO?
Yes. Surfer SEO has a free version for your website but with limited features. You may get its extension that shows keyword volume and some crucial data in Google searches. Its SERP analyzer lets you track websites and get optimization suggestions.
Are any Other Surfer SEO Alternatives Available?
Yes! You may try Neuronwriter, Clearscope, Topic, RankScience, SimilarContent, and Postpace, which are available for SEO content optimization.
Which is the best Free Surfer SEO Alternative?
I suggest you utilize the trial versions offered by MarkertMuse, or Frase to test the features and buy an ideal tool for higher search engine rankings.
Conclusion – Best Surfer SEO Alternatives
On-Page SEO is a need of the day, and you must optimize your content to perform on the search engine. Yes, you can optimize your blog posts and web pages without using any free or paid tool for optimization. But that's not enough to conform to what Google wants.
Successful bloggers and business owners use tools like Surfer SEO, Frase.io, MarketMuse, or PageOptimizer Pro. So, you can't deny the importance of any optimization tool. If you want to switch from Surfer SEO, I recommend Frase.io the most.
Frase.io offers similar On-Page optimization features as Surfer. For me, it's the best Surfer SEO alternative to use in 2022 and rank your website on Google. And you know, I sometimes use it along with Surfer SEO for my blog posts, and you may also try it.