Have you ever noticed what's common between giant business brands and personal websites such as CNN, Forbes, The New York Times, eBay, Sony, Mashable, Jay-Z, Katy Perry, and much more?
They all run on the WordPress platform!
Over 7.24 crore websites are powered by WordPress, which means the market share of WordPress is ridiculously HUGE. WordPress is a competent and full-fledged content management system that overshadows and completely dominates over its competitors, Joomla and Drupal.
Reading the above trivia about WordPress, you might be wondering what makes it so accessible, attractive, and the most widely used and trusted CMS ever in the history of the internet.
To quench your curiosity, let's dive into why you want to use WordPress for your personal blog or business website.
*Curtain Rises*
Essential Things That You Need To Know About WordPress
Why should you use WordPress? Without further ado, let's look at the impressive WordPress Features!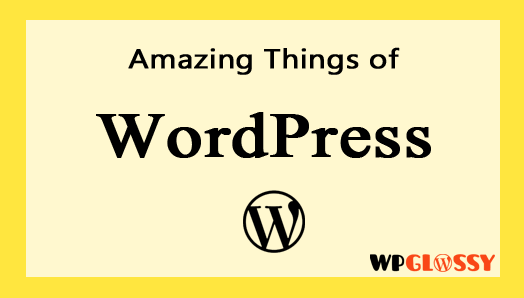 #1. Easy To Learn, Setup, Manage and Maintain
WordPress is a free and open-source tool. You can employ, analyze, tweak, and install the platform according to your requirements.
You don't need to be a programming ninja or an expert coder to modify the platform's source code. Basic technical or programming knowledge is enough to get the job done.
No part of the source code is hidden or away from your reach, making the platform genuinely transparent and open.
WordPress is also cost-saving because one doesn't need to undergo intense training to learn to set up and maintain a WordPress site.
Many resources are available online where learning about WordPress can be free and fun!
WordPress developers and designers find WordPress quite flexible as it allows modification of the codes. Also, extra features and functionality can be added to any WordPress site with the help of WordPress Plugins.
Plugins are a collection of (PHP) code files that add a unique feature to a WordPress site. This powerful benefit of WordPress allows web designers to meet customer demands for unique functionalities.
Another great advantage of using WordPress CMS is that it's easy for you to edit the website content without altering any source code of the site theme.
Even a non-technical staff would be able to publish and update website content. Isn't that great?
#2. Potential to Rule the Mobile Internet Age
You would surely agree that we have started to spend more time accessing the web using our mobile devices than desktop screens.
We have entered a new internet era – "The mobile internet age."
Explosive smartphone sale in recent years has been a game changer for all online businesses. Thus, having a mobile-friendly or responsive web design is so much more important than ever before.
Almost all the latest WordPress themes are designed to be responsive. Visitors can access your site quickly on their mobile devices if the site design is mobile-friendly.
Furthermore, the WordPress dashboard itself is responsive, thus allowing you to manage your site from anywhere using your mobile phone.
In recent updates (last year, 2015), Google recommended responsive web design for all the sites, not to mention mobile-friendly sites are likely to get an edge in search rankings of mobile devices.
#3. WordPress Plugins are a Complete Game Changer
WordPress functionalities are extensible!!!
Since WordPress is an open-source platform, developers, coders, and designers can create extensions.
These extensions, add-ons, or collections of PHP code files are called Plugins.
There are thousands of WordPress plugins that are completely free for you to install and download.
However, some excellent and advanced plugins may require a purchase or a paid upgrade.
Another advantage of the WordPress plugin is that every time you wish to add a feature to your blog or website, you don't have to pay the developer, which saves you hard-earned money.
Sounds good! Doesn't it? *evil laugh*
On WordPress, plugins themselves do most of the work for you. So you don't have to bother about learning to code like a ninja.
All you need to do is download, install, and configure; the rest will be taken care of by the plugin itself.
WordPress extensions, aka plugins, can help you turn your WordPress blog into any of the following:
Photoblog or gallery

Review or Rating the website

Membership site or community forum

Multimedia collection site and much more.
#4. Features and Plugins Make Your Site Loved By Search Engines
SEO (Search Engine Optimization) is the ultimate marketing strategy you could ever employ.
It's a BIG win for you and your business if your site ranks well on the search engine results page (SERP).
WordPress SEO plugins can help you outrank your competitors.
Matt Cutts (an engineer at Google) once said, "WordPress automatically solves many SEO issues." That is so because of the powerful WordPress default optimization options available on the dashboard and plugins.
Switching or moving your site to WordPress might give spikes or surges in search results. If you already have your site hosted on WordPress, you might already have experienced that. 😉
The reason why millions of bloggers, marketers, and business owners are in LOVE with WordPress is that it makes SEO way easier compared to other CMS.
#5. WordPress is Safe, Secure, and Robust
Given the popularity of WordPress, it is not at all surprising that WordPress has always been a target for hackers.
Regular WordPress updates help keep the WP sites secure as all the loopholes and security flaws are corrected.
The security updates are entirely free for you to install.
WordPress is considered one of the most secure platforms. The administrators can also use WP plugins, which may provide many security features and authentication facilitates.
The most basic precaution you can take to keep your sites secure is to install plugins from a trusted source only. It is always recommended to avoid adding any third-party plugins unless it comes from a trusted marketplace.
#6. Fantastic Community Features
Since the advent of social media, building a community and managing it has become necessary to create a buzz around your business or blog.
To create a healthy and engaging community around your blog's content, you should opt for WordPress.
This extremely popular publishing and blogging platform can quickly help you establish membership or community forum sites.
No technical knowledge is required.
The WP Plugins again contribute to adding community features to your blog or website.
There are a few default WordPress features that conveniently add community functionalities like social media sharing and commenting.
To accommodate your needs for having a full-fledged community forum at your blog, you can use modern WP extensions like Disqus, BuddyPress, BBPress, MemberPress, and other available third-party plugin solutions.
One of the most impressive powers that WordPress gives you is the ability to turn your blog into a mini social media site.
#7. Great Community Support
According to an infographic published on yoast.com, it was estimated that 20-25% of all newly published websites would be built using WordPress. (old stats, but they still hold).
The WordPress user's community is MASSIVE. You can solve any issues with your WordPress sites with the help of online how-to guides, WP community forums, and YouTube tutorials.
The official WordPress forum consists of generous, experienced, active users and developers wanting to help you with your WP queries and issues.
The support you are offered at the forums is entirely free. It is impossible for you not to be able to troubleshoot an issue with such an enthusiastic and dedicated community.
#8. Multisite and Multi-Language Support
WordPress offers a multisite feature using which you can override and share the content on other sites.
Using this multisite capability, sites can be piecemeal constructed. Similarly, you can duplicate and customize your site in almost any language or time zone.
Suppose you have a service-based online business site that must be localized according to the geographic location and not necessarily have one site for the global audience.
As I mentioned before, WP sites can be quickly customized and replicated. The content can be easily translated into different languages, and time zones can be set accordingly.
#9. Outstanding Multimedia Support
In the world of endless competition, designing something truly unique and visually appealing has become so much more important.
Multimedia additions like pictures, videos, animations, audio clips, etc., can help you retain your site visitors for a longer duration.
The more time a user spends on your site, the greater the chances they might become returning visitors and, eventually, your customers.
The WordPress CMS will help you easily add, change, or modify any media files you already have or wish to add to your site.
Some WP add-ons allow you to embed social media feeds, YouTube videos, and Soundcloud audio directly into your web pages in just a few clicks.
Why WordPress?
With WordPress, Sky Is The Limit!
It gives you complete power and flexibility to create the site you crave.
Hopefully, this post covers why you must use WordPress over other platforms.
Take your business game to the next level by switching to WordPress today!
Over to You!
Are you already using WordPress for your websites? Are you still wondering if WordPress will be an excellent fit for your business? Give it a try and experience the WP power yourself.
It is an excellent CMS that helps me build attractive sites for my business. You should know the features of its latest Gutenberg editor, which offers blocks to make the website.
Do you have further insights about WordPress? What is your opinion about the above-listed WordPress features? I would love to read your thoughts in the comments section.