Do you want to know "How to put a WordPress site into Maintenance mode?"

Are you looking for a trendy way to tell your readers that your WordPress site is under construction?
If yes, then you will get an exact solution through this post!
Before getting into the details, you should understand the importance of communicating the readers about your site unavailability.
Why Put WordPress In Maintenance Mode?
When you're customizing or doing routine maintenance on your WordPress site, would it be all right to show the blank page for your readers?
They are landing on your website to seek some valuable information but getting the "404 ERROR" would definitely be a frustrating thing for them.
Also, when you face the hacker attack and push your audience to load the unavailable site is the biggest blockade for your site growth. Do you agree with me?
And, if your hosting server went down for an unavoidable reason and back will be soon in few minutes, how will you intimate your visitors that your site will be up after "X" minutes?
As you know that the readers hate the broken site and never visit again! So, Don't miss your loyal visitors for stupid reasons!
When you're building a new site or working on the site design or having a regular maintenance task or facing the Malware attack & server down the issue, you should put up an attractive coming soon or website under construction message and notify your beloved readers that your webpage will be live or back soon.
By doing so would please them and keep away from disappointment. And if you specify the site Uptime & Date, then they will be back at that time for sure.
Now, you might ask, How to activate the under construction or coming soon page on WordPress easily?
You don't need to worry; I have an ideal option for you!
After reading the details, I'm sure that you will praise me for revealing the useful extension that has SEO benefits.
Let's begin!
Under Construction Page Plugin

Web Factory Ltd has launched 5 plugins on WordPress.org, and the "Under Construction Page" plugin is one among them. It is a free application to create the Under Construction/Coming Soon/ Maintenance Mode Page for WordPress sites.
This easy-to-use WordPress plugin has 70,000+ active installs and received 5-star ratings from the hundreds of users. You just need to spend a minute on configuring this user-friendly add-on.
As it comes with great designs and option to add the custom CSS, you can create the eye-catching landing page for the site upholding work by modifying any part of the page as per your requirements.
Why Under Construction WordPress Plugin?
Since it is a freebie, you might think that it has some regular features that other plugins have.
Nope! You will be surprised to know that it has some impressive features; let's check them in detail!
1. Beautifully Designed Templates
Having the dazzling page designs to create the striking landing page is one of the exciting features of this WordPress plugin. Also, the new designs are being introduced once in 2 weeks. You may edit the designs through the source file located at /under-construction-page/themes.
2. Track Your Visitors
You have an option to add your Google Analytics code to know when and where your audience is coming from. Tracking the readers during the site offline is a helpful feature to move your site to the next level.
3. Schedule Everything
You just need to mention the end date and time to terminate the maintenance mode. When the fixed schedule is reached, the page automatically deactivates, and your site will be ready to get access by the public.
4. Social Media & SEO Support
It has the option to add more than 10 different social media profiles (like Facebook, Twitter, etc.) and let the users follow your site on social networks even when your site is offline. You may also include your email & Skype contact through the corresponding icons. To support SEO, this WP maintenance mode plugin has the choice to add the Title and Description as well.
5. Whitelist Users
Does your WordPress website have multiple Admin and Users? When you are fixing something, you can whitelist them to do their work at the backend. Yes, you can create the custom login, and hence they may continue their job without any struggle without seeing the under construction page.
Top Qualities Of Under Construction Page Plugin That I Admire
Lightweight plugin that never slows down the site
Possible to add the site logo and personalized message with images and videos
Contains SEO benefits to avoid the Google penalty
Excellent customer support with instant response
Install, Activate and Use the Plugin
Let's see how to put WordPress in Maintenance mode with the help of this plugin!
Go To WordPress Dashboard > Plugins > Add New
Search Under Construction Page; Find it
Click Install Now and Activate
Now, if you check under the "Settings" option of WordPress Dashboard, you will be able to see this plugin.
Hit it for setting up!
1. Main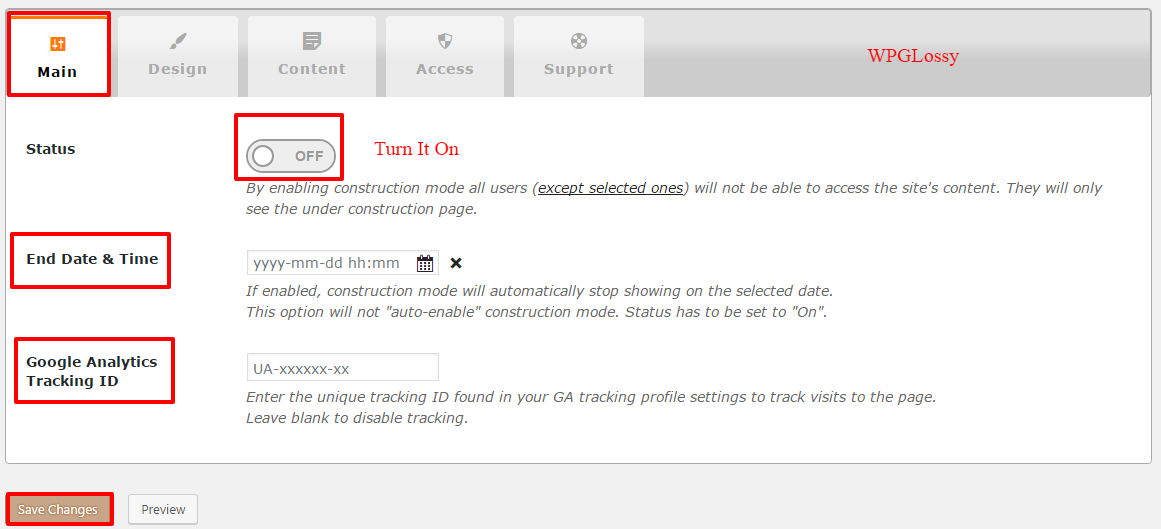 * Turn on the status
* Enter the End Date and Time to stop showing the construction mode automatically
* If you want to track your visitors, add the Google Analytics tracking code
2. Design
* Now, choose your preferred theme for your Coming Soon or Under Maintenance Page
* You also have the Custom CSS option to make changes in the design
* Once you have done, click "Save Changes". You can also see the preview before saving the changes.
3. Contact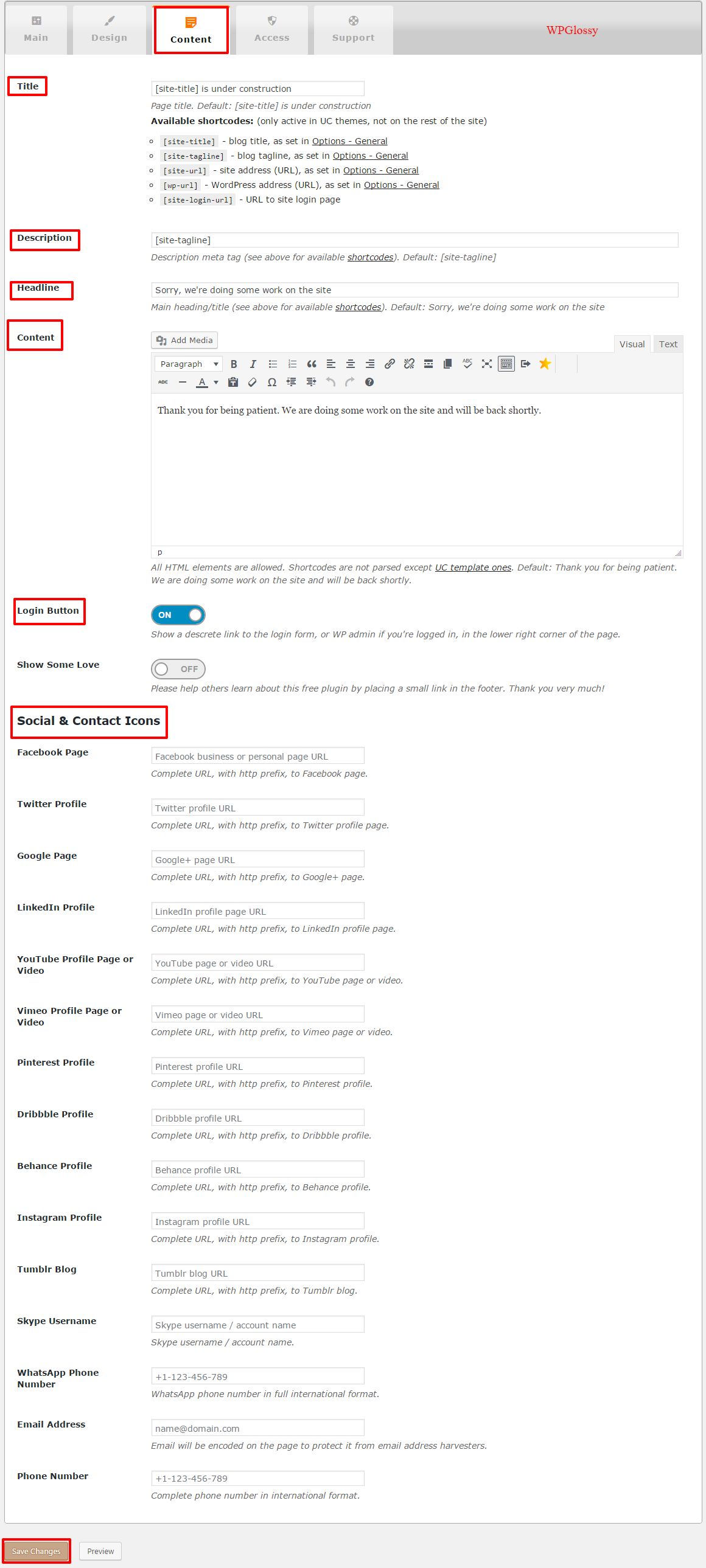 * Include Title, Description, Headline and Text Message for your readers
* Show/Hide Login button for Admin, Contributors Or Authors
* Add Social and Contact Icons and allows the readers to keep in touch with you
* Look at the preview and hit "Save Changes."
4. Access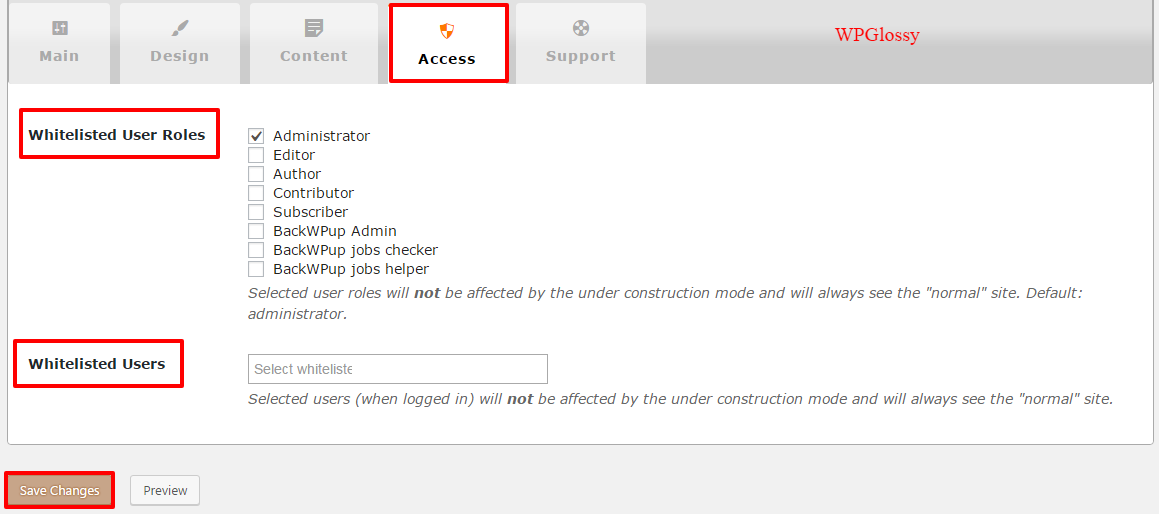 * Give access to user roles and users like Administrator, Editor, Contributors, and Subscribers, etc.
* Click "Save Changes."
Support
* If you have any questions to ask, then use this section to find out the relevant answers.
* Otherwise, learn the way to reach the support team and get help.
Wrapping Up
Maintaining a healthy WordPress website is an art! As this open source CMS is more vulnerable to security holes, I would insist you know the importance of implementing the WordPress routine maintenance and keep the bugs & punks at bay!
While doing such kind of tasks or when you work something new at the backend, consider displaying a customized page and convey the details of your site availability. It would create a pleasurable experience for your readers, and they will also recognize your dedication & care for them.
Putting the WordPress Under Construction mode or Coming soon page is just a piece of cake with the "Under Construction Page" plugin. It is an easy to use the plugin and provides impressive features to get the fondness from your loyal audience and search engines.
I hope that you would like to install this best under construction WordPress plugin to hide your site when you are creating a new site or make changes to the existing site and put a beautiful landing page on view with the personalized message.
Now, you say! How do you put WordPress in maintenance mode? What is your opinion about this plugin? Would you like to get this WP extension? Do you know or use any other better free WordPress coming soon landing page plugin? Share your valuable viewpoint in the comment section.